10 Minute Dinners When You've Done Zero Prep
One common misconception and excuse I hear a lot is that eating healthy takes more time. Likely that comes from the idea that you have to be spending hours meal prepping in order to turn to healthy options, but that's totally not true. If meal prepping is something you enjoy, fantastic! But for a lot of my clients, they're busy and need fast nourishing options to turn to without spending a ton of time in the kitchen. I completely get that!
I'm balancing two careers that I love, but that doesn't leave me with a ton of extra time to prep food in pretty organized containers. What I need are fast nourishing options that fuel me to be focused and energized so I show up as the best version of myself for my clients and patients.
Today I thought I'd share a glimpse of what a meal looks like on a day that I get home from the hospital an hour late, have zero plans for dinner, and want something to eat ASAP. 
This dinner turned out to be totally delicious, satisfying, and everything that I needed for a nourishing dinner to recharge. It came together in about 10 minutes with zero prep beforehand.
Here are the staples I used for throwing this 10 minute dinner together:
Spaghetti Squash
Spaghetti squash stays good when stored in a cool, dry place for up to 3 months. I make sure I always have one available for nights like this when I need something fast. Sure, you CAN roast it in the oven for an hour, but I don't have time for that. I pop the whole spaghetti squash in the microwave and it's ready in about 5-8 minutes. Depending on the size, I recommend starting with 4-5 minutes and then checking it and rotating it each minute. Cook until the exterior has a little give to it. Pro tip: Make sure you poke a few holes in the squash before putting it in the microwave to avoid a pretty epic spaghetti explosion. 
Frozen shrimp
I always have frozen shrimp in my freezer because I can defrost it AND cook it in less than 10 minutes. It doesn't get much easier than that. It's an excellent protein source and delicious!
Kale
Leafy greens are your brain and body's best friend. I always make sure to have a variety of leafy greens readily available for easy meals (I also make sure to have frozen spinach in the freezer for the days when my fridge is starting to look bare). Kale can be a little tough to digest raw, so I like to prepare it in a way that softens it a bit. In this case, I added it to a large pan, added about ¼ cup of water and a little apple cider vinegar, and covered the pan until the kale was soft (less than 5 minutes). 
Capers
I always have my fridge (or pantry) stocked with jars of ingredients like capers, kalamata olives, roasted red peppers, and hearts of palm to add nutrients and flavor when I'm short on time. I adore the salty punch capers add to a dish with zero prep required.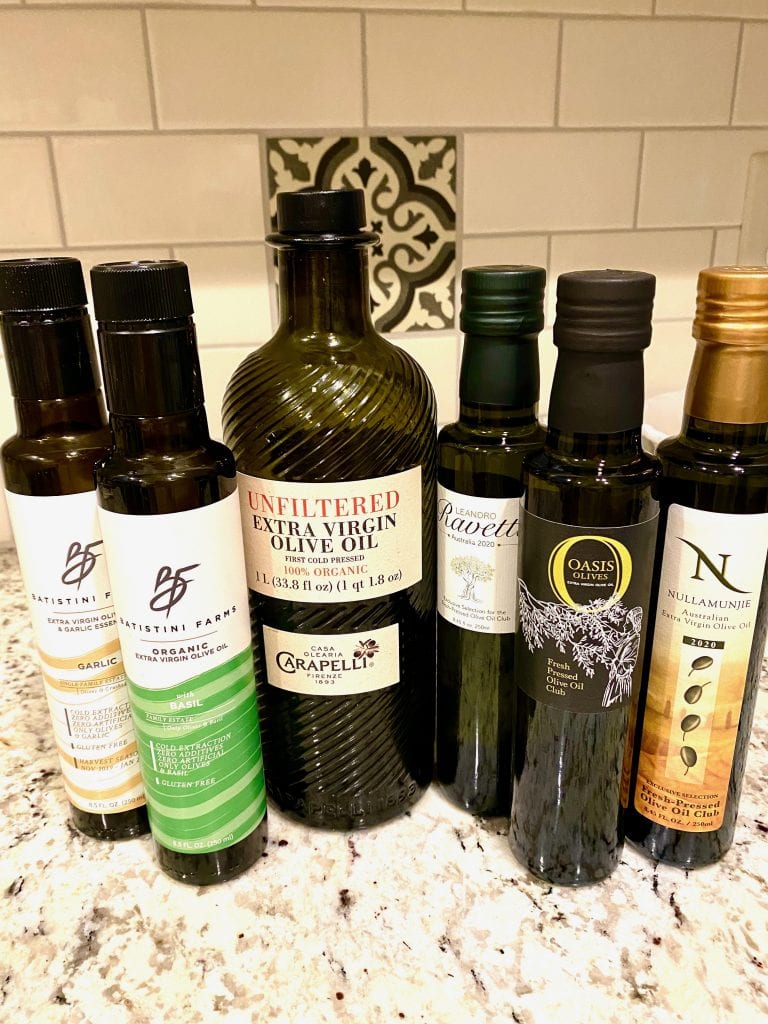 Extra Virgin Olive Oil
This is the secret sauce! I cannot emphasize enough how important it is to have high quality fresh EVOO as a staple in your kitchen. Not only does it deliver an amazing dose of healthy fats (I highly recommend aiming for at least 1-2 tablespoons per day), but it's also an amazing way to add flavor to any dish. I love Batistini Farms for flavored EVOO. If you're a truffle fan, you're going to be obsessed with their truffle version!
Herbs
Having a kitchen well stocked with a variety of herbs and spices is not only an easy way to make a boring dish instantly exciting, those little guys deliver a major punch of antioxidants and other health benefits (ranging from healthy digestion, anti-cancer, anti-aging, and heart health to name a few). I added an Italian herb mix to this dish.
How This Turned Into A 10 Minute Meal:
I put the frozen shrimp in a bowl of cold water to defrost.
I poked holes in the spaghetti squash and cooked it for about 7 minutes. 
While the spaghetti squash cooked, I added the kale to a pan, added the water and a little vinegar, and covered to cook until soft.
As the kale was softening, I ran fresh cold water over the shrimp to finish defrosting then added them to the pan with the kale uncovered. I topped the shrimp with an Italian herb mix.
I cooked the shrimp until both sides were pink (just a couple of minutes per side), then turned off the heat.
As the shrimp finished cooking, I cut the cooked spaghetti squash in half, scooped out the center seeds, and shredded the squash into strands. I added the spaghetti squash to the pan, mixed everything together, and transferred it to a bowl.
I topped the bowl with capers and a generous amount of EVOO and dinner was ready much faster than I could have had something delivered!
Your body deserves nourishing fuel so that it can keep up with your busy lifestyle. When you work with your body instead of against it, you'll be amazed at the boost you experience in your energy, mood, and confidence in your body.
My 5 Week Life Boost Jumpstart Program includes a HUGE guide filled with all of my hacks and tips for throwing together quick, easy, delicious, and nourishing meals on the fly. You also get 18+ exclusive recipes designed for the program. To learn more about the program and what's included click here or send me a message!