Are Smoothies Derailing Your Health Goals?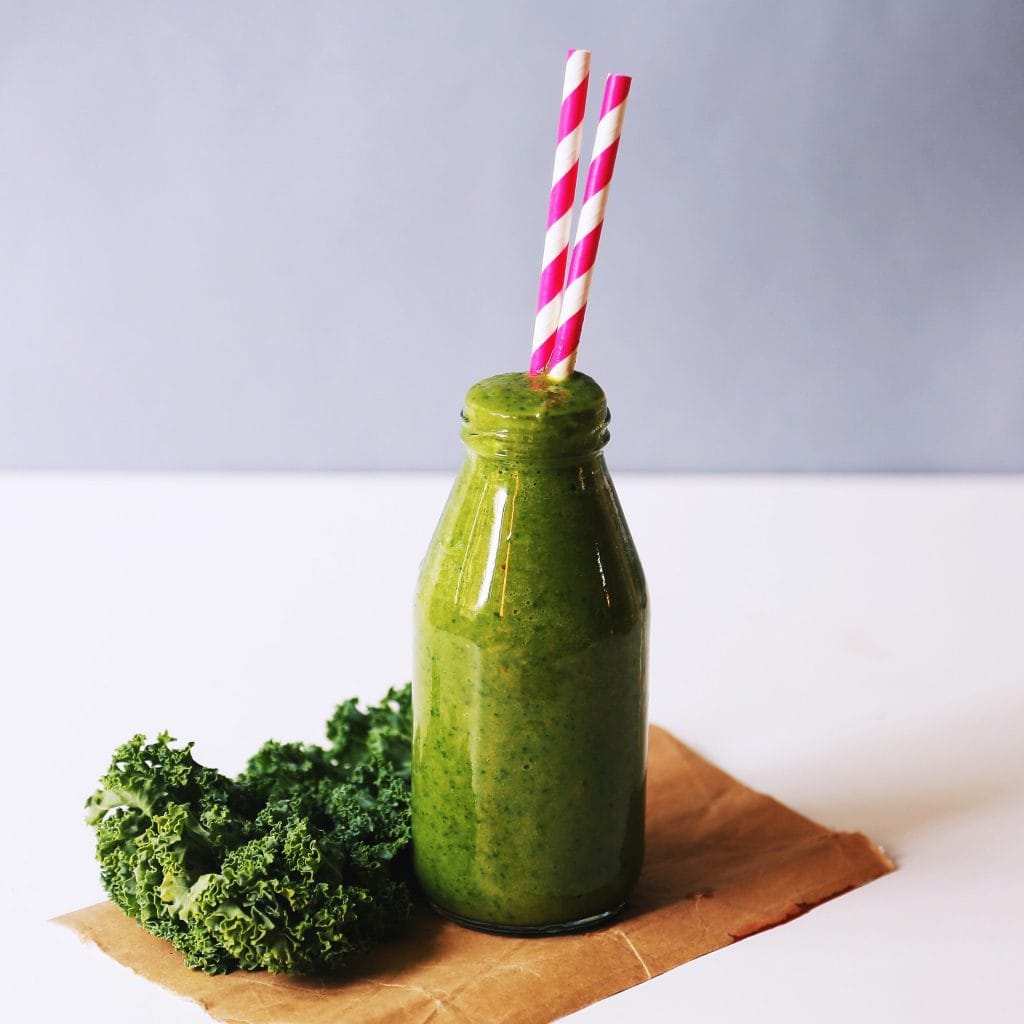 Let's talk about smoothies! Starting your day with a smoothie seems like an uber healthy way to start your day, right? Maybe... But it also might be one of the factors preventing you from achieving your health goals. Today I'm sharing 2 reasons why your smoothie is hurting your health goals and 3 ways to use smoothies to fuel your day for success.
Click to enlarge.
The Top 2 Reasons Smoothies Might Be Derailing Your Health Efforts:
1. You're missing out on chewing.
Chewing is one of the first steps in digestion and an important component for satiety. If you're not getting the opportunity to chew, even if you're drinking an appropriate number of calories and nutrients you may not feel completely satisfied because you didn't actually get to EAT. Pay attention to how you feel after drinking your next smoothie. Do you need to grab something to chew in order to feel totally satisfied?
2. Your smoothie is really high in sugar causing your energy to crash and burn and igniting your sweet tooth for cravings throughout the day.
A lot of the time even green smoothies are crazy high in sugar. They contain lots of higher sugar fruits like bananas or mangoes and lack protein, healthy fats, and fiber for stable energy levels and satiety. I'll give you an example!
I checked out some facts from Jamba Juice. It seems like a great option if you're busy and need to grab a healthy breakfast, right? Not so much.
The super healthy sounding "Greens and Ginger" smoothie (size small) has 48 grams of sugar, 4 grams of protein, and no fat. For reference, the current maximum recommendation for added sugar is 24 grams for women and 36 grams for men (and that should be even lower). The website doesn't say whether the sugar is added or not. In this case, I do think a lot is coming from the actual fruit. However, without any significant amount of protein or fat to balance this out it's not how you want to start your day.
Their small mango smoothie has 65 grams of sugar, 1 gram of protein, and 1 gram of fat. A large has 110 grams of sugar! For reference, a Snickers bar has 27 grams of sugar.
The Matcha Green Tea Blast does have some protein (8 grams) but that comes with a side of 51 grams of protein and zero fat. This doesn't contain fruit so likely almost all of that sugar is added.
None of these are setting you up for success! Let's take about what you can do to transform your smoothie to start getting the results you want.
3 Ways to Use Smoothies for Success
1. Smoothies can be an amazing way to pack in a lot of veggies without noticing them!
If you're trying to add more vegetables into your diet but can't stomach the thought of veggies in your breakfast, smoothies are the perfect option. These are some of my favorite veggies to include:
Spinach - You can add a whole lot of spinach to your smoothies without detecting it! The best part? You look super hardcore drinking something green.
Frozen cauliflower - I get that this sounds totally unappealing, but trust me! Cauliflower has a very mild flavor. When blended into a smoothie with other flavors and fruit the cauliflower blends right in and creates a wonderful creamy consistency. I dare you to try it!
Frozen zucchini or summer squash - Once again, you can't detect this! All you will notice is the creamy texture it helps to create and the boost in energy you'll feel when you're fueling your body with amazing nutrients.
2. Smoothies are an easy way to fuel your body when you're busy.
If you're on the go, smoothies are a wonderful portable option that you can grab and go. They're fast and easy to throw together if you're short on time. Personally, needing to clean the blender is enough of a hassle that I turn to different quick breakfast options that require less clean up. But smoothies might be perfect for you. This is an example of finding what makes the most sense for your preferences and lifestyle!
3. Smoothies can be a very nourishing balanced way to start the day with the right ingredients.
With a few tweaks, your high sugar smoothie can be turned into a recipe for success. Make sure your smoothie includes all 5 of these:
Fruit - Try utilizing lower glycemic fruit like berries. Berries tend to cause less of a spike in your blood sugar for more stable energy. My favorite fruit to add is blueberries. I like to call them "brain berries" because they're amazing fuel for your brain.
Veggies - Add spinach, cauliflower, summer squash, or zucchini to your smoothie for added fiber and to start your morning with at least one serving of veggies!
Protein - Protein is crucial for feeling strong, satisfied, and energized throughout the day. Protein powders, collagen, nut butters, hemp seed, and yogurt are all good options. Just check the ingredient list on protein powders to find the most nourishing options.
Healthy Fat - I can't emphasize enough how important it is to prioritize healthy fats in your meals if you want to feel satisfied and get control of sugar cravings. Healthy fats will NOT make you fat. Great options include avocado (this makes it really creamy too!), nuts and nut butters, or seeds (like chia, hemp, or flax).
Flavor - Make sure you love your smoothie! Cacao powder, peanut butter powder, cinnamon, and vanilla extract are a few of my favorites to create a delicious and satisfying smoothie.
You can check out the recipe for this epic chocolate peanut butter smoothie bowl here.