Your New Favorite Go-To "Cheesy" Cauliflower Soup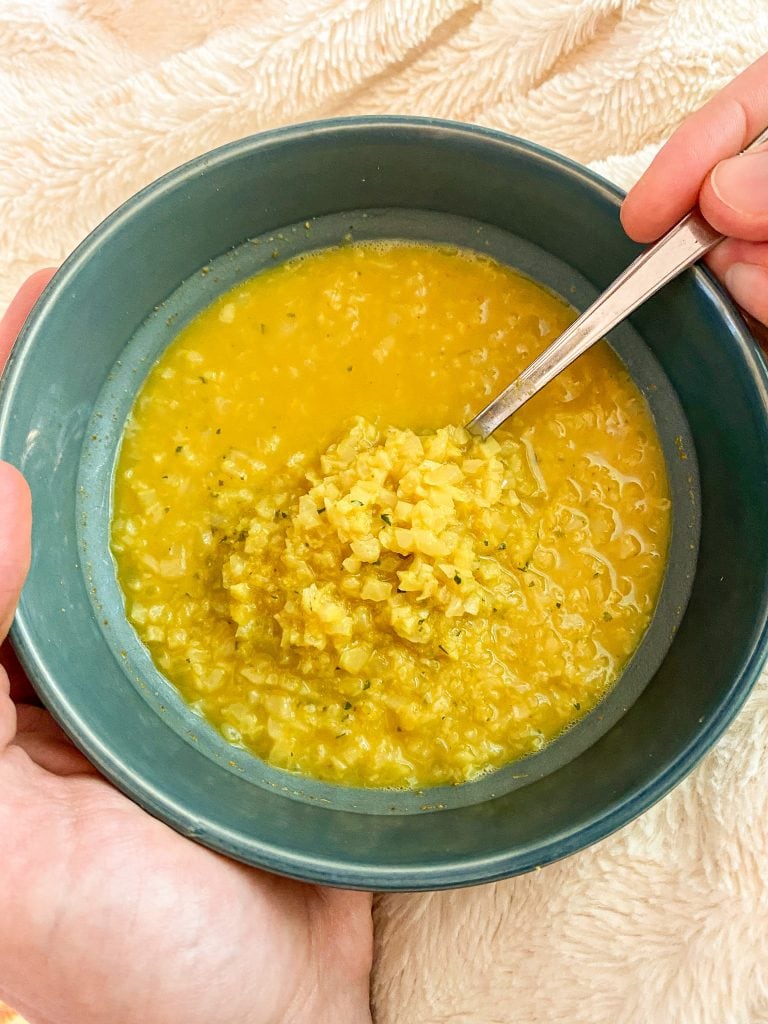 Hi! It's been a hot (haha) minute since I shared a recipe with you guys, hasn't it? I REALLY love creating nourishing delicious recipes like this "cheesy" cauliflower soup. You know what I don't love? Taking photos. I have a huge number of recipes to share with you guys, so if someone would like to just come take some photos for me that'd be great. ;-)
Despite my lack of enthusiasm for food photography, I felt like I couldn't keep this simple, nourishing, totally comforting soup from you any longer. Don't let the photo deter you...this bowl is packed with flavor and I know you're going to love it.
I created this on a whim one night when I still felt kind of snarky (haha..thanks autocorrect...I"ll try not to take offense to that)... SNACKY. For the record, that is a word. I wanted something that was warm, comforting, healthy, and voluminous but not super caloric since this was kind of round two for dinner. I threw together a few of my favorite ingredients and this delightful bowl of soup was born. And then it went on repeat. Last winter I frequently made this for a warm comforting (albeit unconventional) breakfast by adding rotisserie chicken and sometimes a little ghee or extra virgin olive oil.
Here are the things I love about this "cheesy" cauliflower soup:
You can feel really good about every single ingredient you're putting into your body with this soup.
If you can turn on the microwave you can make this soup and it can be put together faster than you can order something or go pick up take-out.
This can serve as a super satisfying snack (it only has about 140 calories but packs 20 grams of protein). This is loaded with flavor while also delivering a hefty dose of vegetables, protein, B-vitamins, and anti-inflammatory spices.
The soup has a "cheesy" flavor thanks to nutritional yeast. I've professed my love for this ingredient before because it's a fantastic way for vegans and vegetarians to get a complete protein and B-vitamins. It has a slightly nutty cheesy flavor that I adore.
Your New Favorite 5 Minute "Cheesy" Cauliflower Soup
This nourishing comforting soup comes together in 5 minutes and makes the perfect snack on a cold day. For only 140 calories it packs 20 grams of protein. You can easily turn it into a meal by adding rotisserie chicken or beans and adding a little nourishing ghee or extra virgin olive oil for fat.
Ingredients:
1 cup cauliflower rice, frozen*
1 cup chicken bone broth
3 Tbsp nutritional yeast
1/2 tsp turmeric
1/4 tsp ginger
salt and black pepper**, to taste
Instructions:
Pour the frozen cauliflower rice in a microwave safe bowl and cook for 4-4.5 minutes.

Add the bone broth to the bowl, stir, and microwave for 1 minute.

Add remaining ingredients, stir, and enjoy!

Optional: To make it a quick meal I love adding rotisserie chicken. For a vegetarian option you can sub the bone broth for vegetable stock and add tofu, tempeh, lentil, or beans.

Optional: Mix in a little ghee or extra virgin olive oil for a dose of healthy fats for a meal!
*I like to use ALDI's frozen cauliflower rice. Both the plain and garlic + parsley versions work great!
**Black pepper helps your body to absorb turmeric so make sure to include a pinch unless you have a sensitivity to it.