Charleston Healthy Eats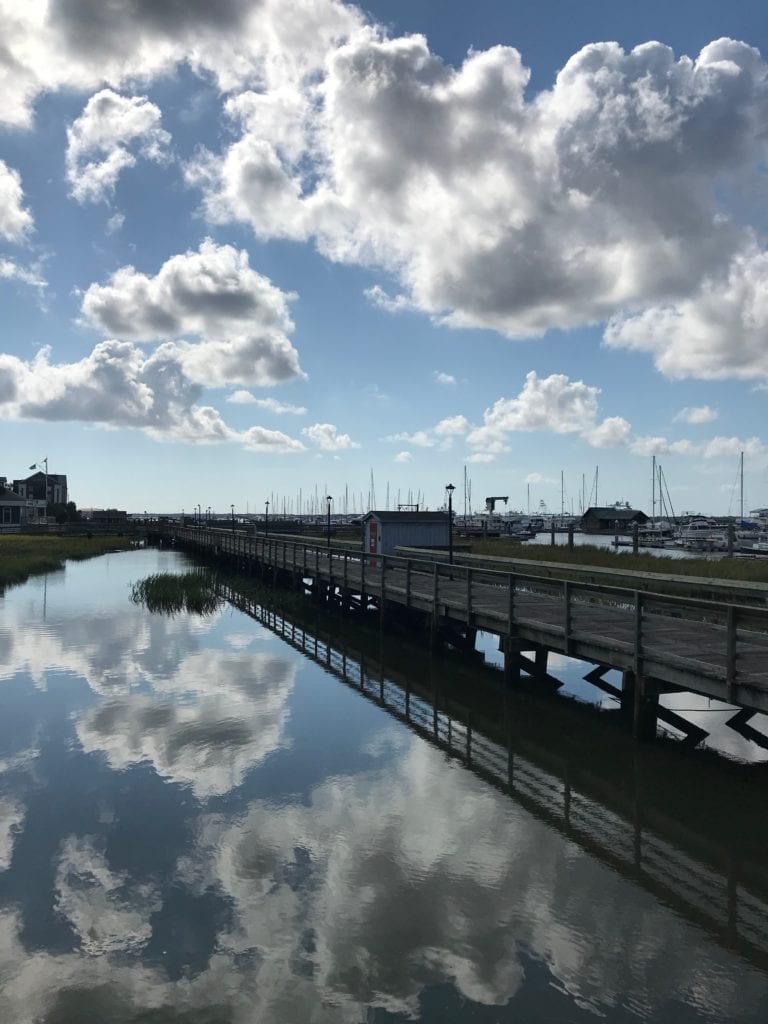 Today I'm sharing our favorite Charleston healthy eats. One of my favorite things about traveling is getting to try new restaurants and food. I am all about enjoying local indulgences when traveling (we're about to go to Belgium and you better believe there will be beer, chocolate, and waffles involved), but I also like to balance that with healthy and delicious options. I like feeling good while I'm traveling AND once I return home, ya know?
Matt and I make a pretty great team when we're traveling. Matt is all about the hotel and flight planning and I do the food research. I seriously love researching places to eat, reading reviews, and finding the spots that have a variety of healthy options that I know are going to taste amazing, too. Charleston is known for their incredible food scene and for good reason. Every restaurant and cafe we ate at totally hit the spot. If you're looking for healthy dining options while enjoying adorable Charleston, here's a summary of the dining options we loved!
Breakfast and Lunch
Beech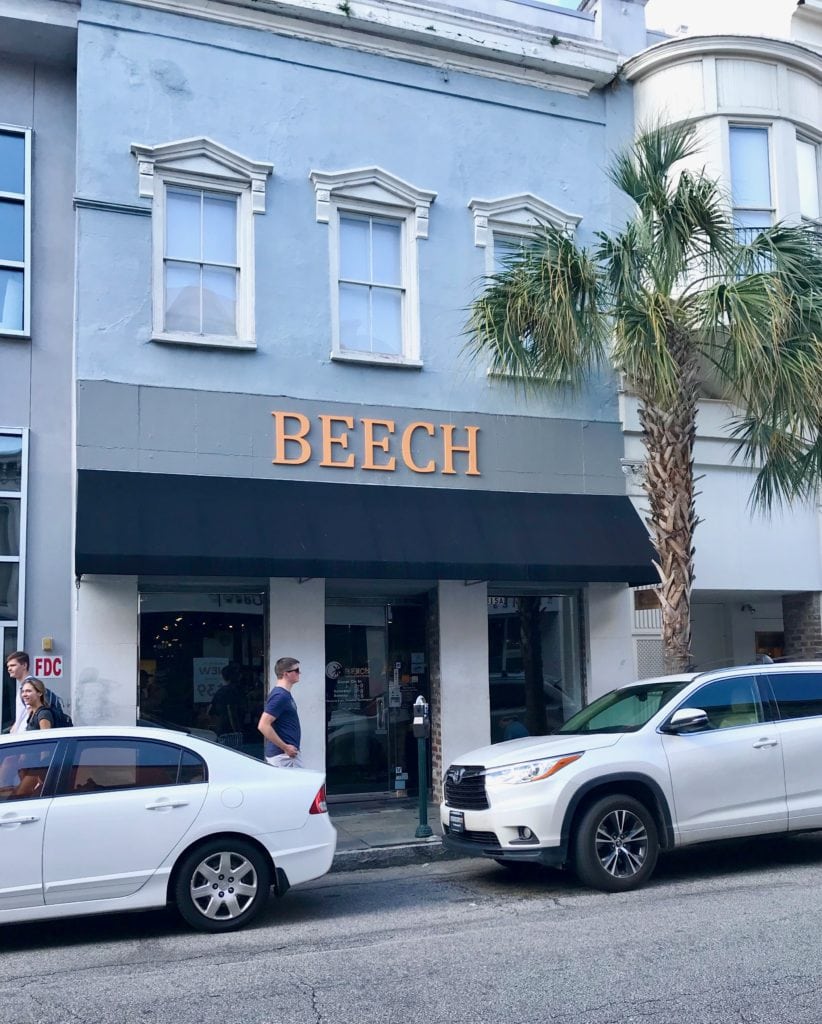 If you're looking for super fresh and healthy food in a fast casual environment Beech is for you. Their menu is full of poke bowls, acai bowls, refreshing smoothies, and cold-pressed juices We headed here the first morning we were in Charleston for a casual breakfast and it exceeded expectations
Since I gravitate towards savory/non-traditional breakfasts, I enjoyed a build-your-own poke bowl. I seriously wish there was a Beech in Charlotte, because I would get these all of the time. My bowl had a base of zucchini noodles (YES) with salmon, mango, carrots, pickled red onions, pickled cucumbers, and wakame topped with ginger dressing. It was perfection. The bowl was also beautiful. Sadly my photography skills leave a lot to be desired, and I was too hungry to take the time to put it behind a backdrop that was more attractive than the table. Someday I might get better at that. Depends on how hungry I am.
Matt ordered one of the acai bowls and proclaimed it the best he's ever had. It was a perfect option after walking several miles from the hotel in the Charleston heat and humidity. This is a perfect spot to keep in mind in the summer! Or the fall when it's still hot... Or anytime you want a healthy amazing bowl of goodness.
The Daily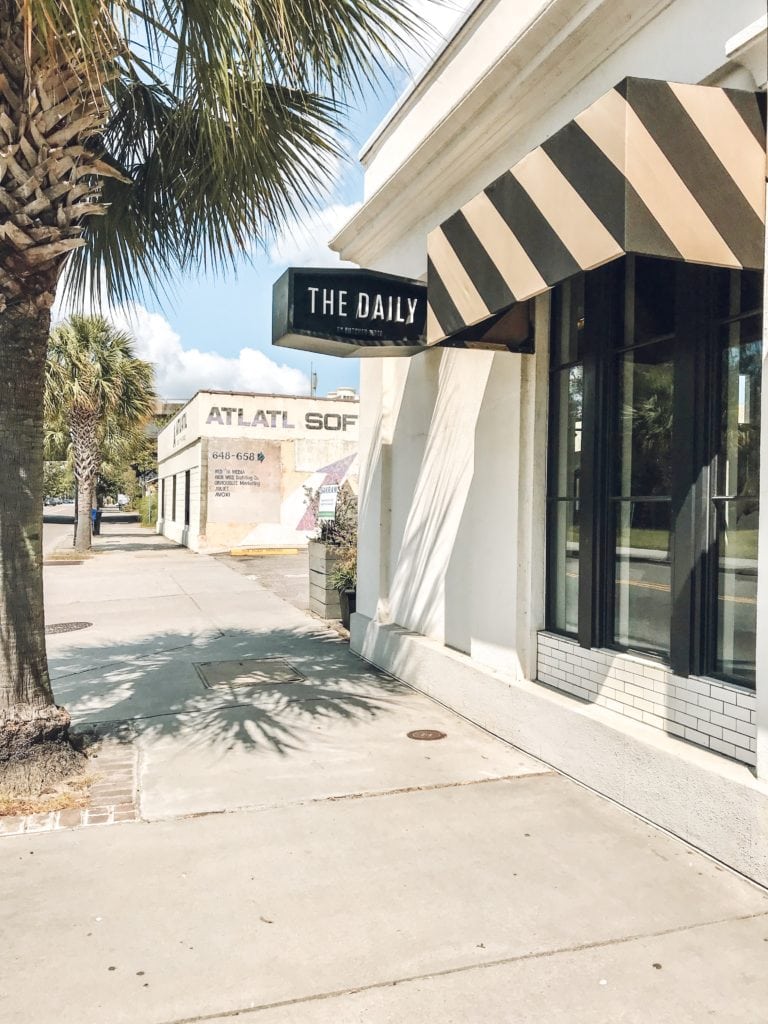 The Daily is an absolutely adorable cafe/restaurant perfect for breakfast or lunch. It's located at the end of King Street (or at least the end of where you want to be walking). We stopped here mainly because we needed a break from the heat in the form of AC and iced coffee. The coffee here was delicious, but next time we're in Charleston we'll definitely go for breakfast or lunch. I want to try pretty much everything on the menu.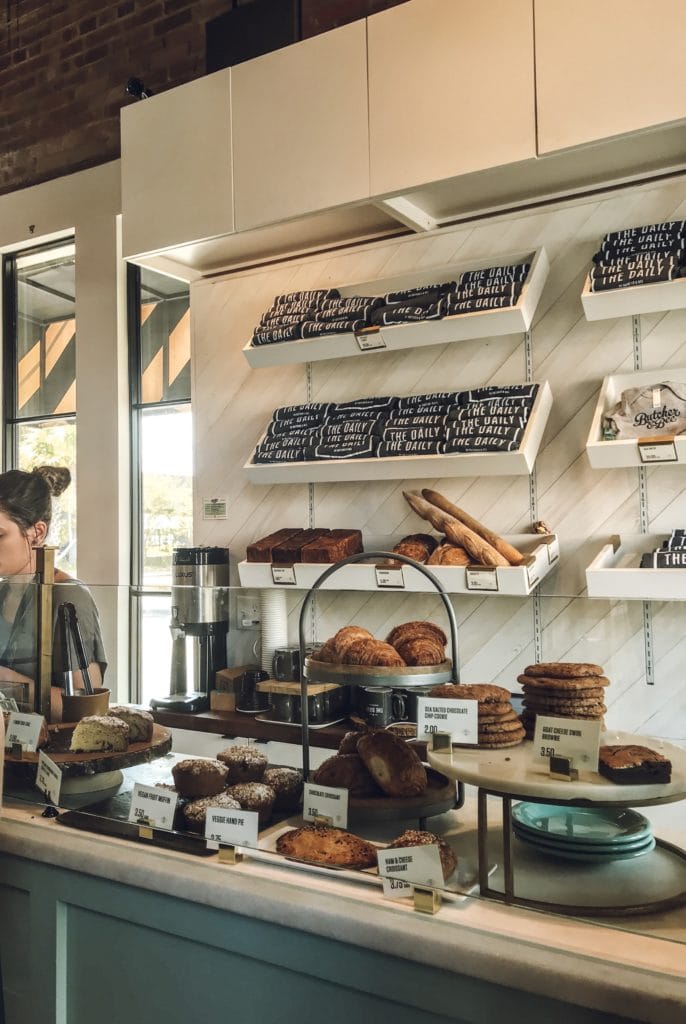 The website says "it's all good and it's all fresh" and by the looks of the food being brought to the tables around us that's accurate. The menu is packed with healthy, amazing sounding dishes and changes seasonally. The Daily is also owned by the same team as Butcher & Bee (see below), so I can guarantee their whipped feta is off the charts delicious.
Three Little Birds Cafe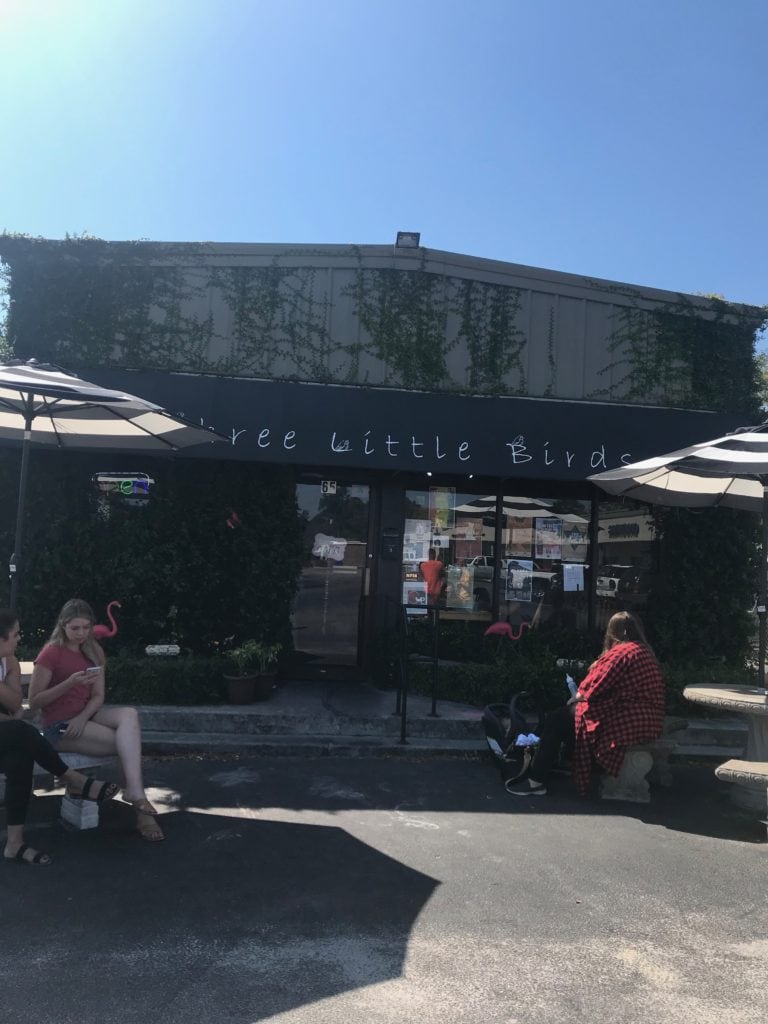 Three Little Birds Cafe is a cute little cafe with an epic menu that doesn't match its petite interior. This is the perfect spot for a group that has different dietary requirements. The menu offers both healthy and indulgent options for vegans to meat lovers and includes plenty of gluten-free options. Their moto is "peace, love, and pancakes", which is awesome and matches the slightly hippy/crunchy pancake-extraordinare vibe they have going.
We dined at Three Little Birds Cafe for brunch on Sunday morning at the recommendation of our friends who now live in Charleston. They always have great recommendations for restaurants and this ended up being the perfect meeting spot. We all had a difficult time deciding what to order because so many of the options sounded appealing. The menu has extensive breakfast and lunch offerings in addition to handmade smoothies and fresh pressed juices. Everyone loved their dishes so you really can't go wrong here.
Verde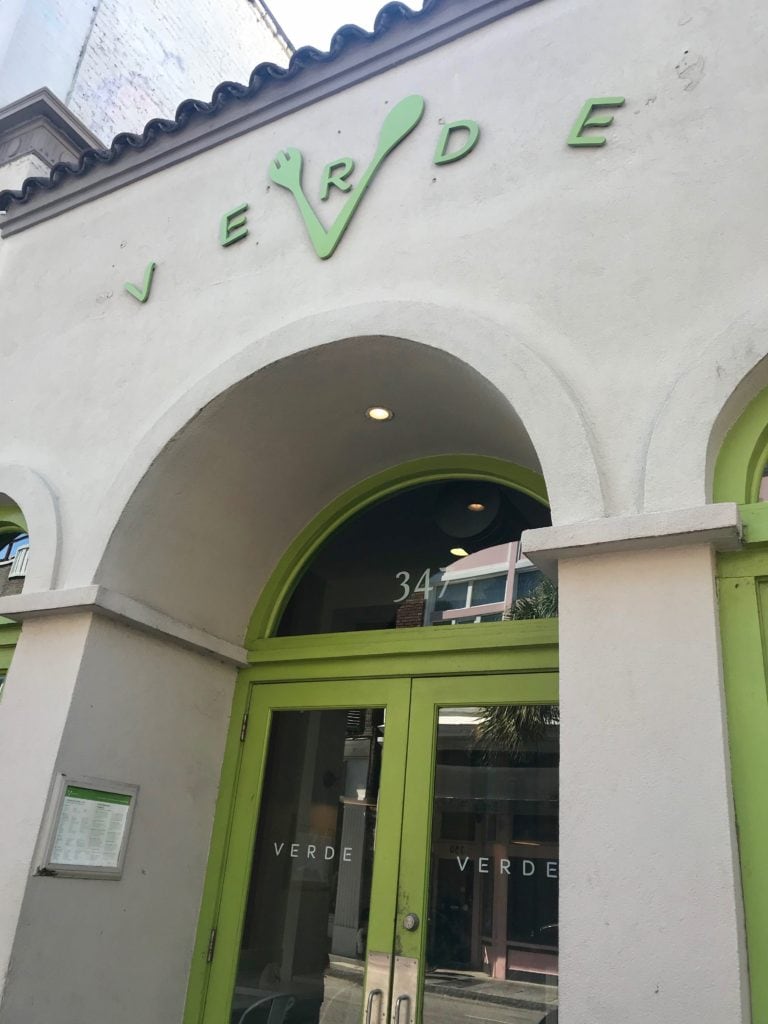 Looking for a delicious and super fresh salad the size of your head? Verde is your spot! They offer local and seasonal ingredients whenever possible and a drool-worthy list of handmade dressings. Their menu has a number of "signature creations" that can be chopped, tossed, or turned into a wrap but you can also build your own.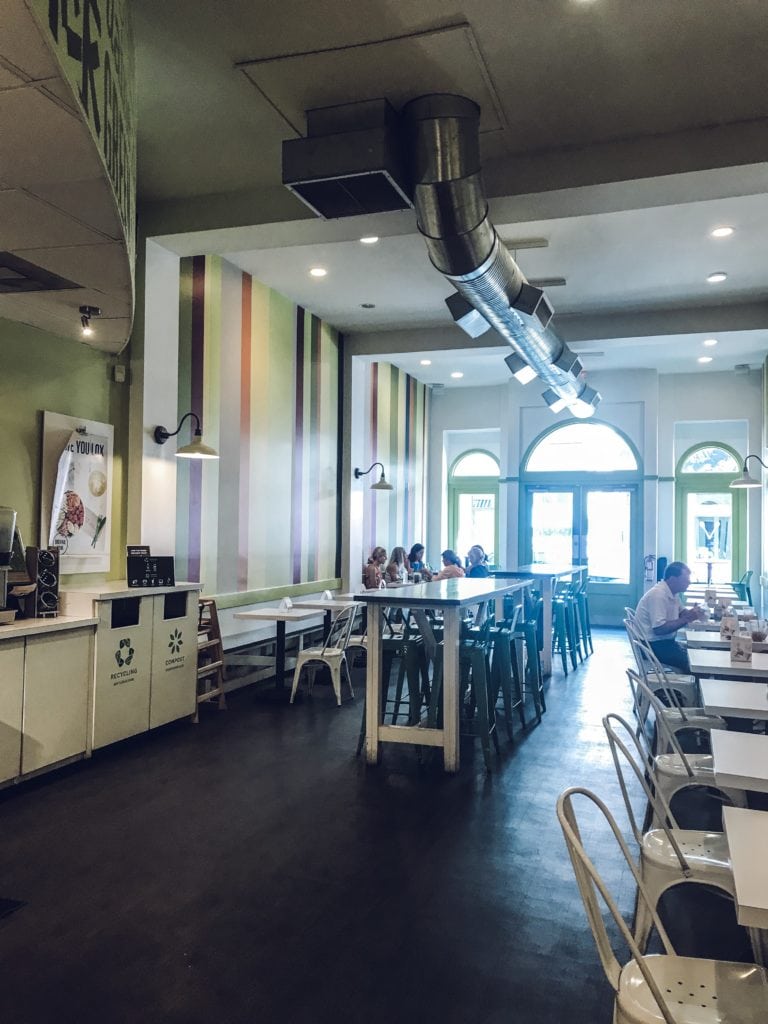 Matt and I picked up salads that we ordered online for a healthy meal on the road as we drove back to Charlotte. The salads totally hit the spot and were "as satisfying as (they were) healthy" - just like they boast on their website. FYI: For any Charlotte locals, they just opened up a location in Ballantyne. Definitely worth a try!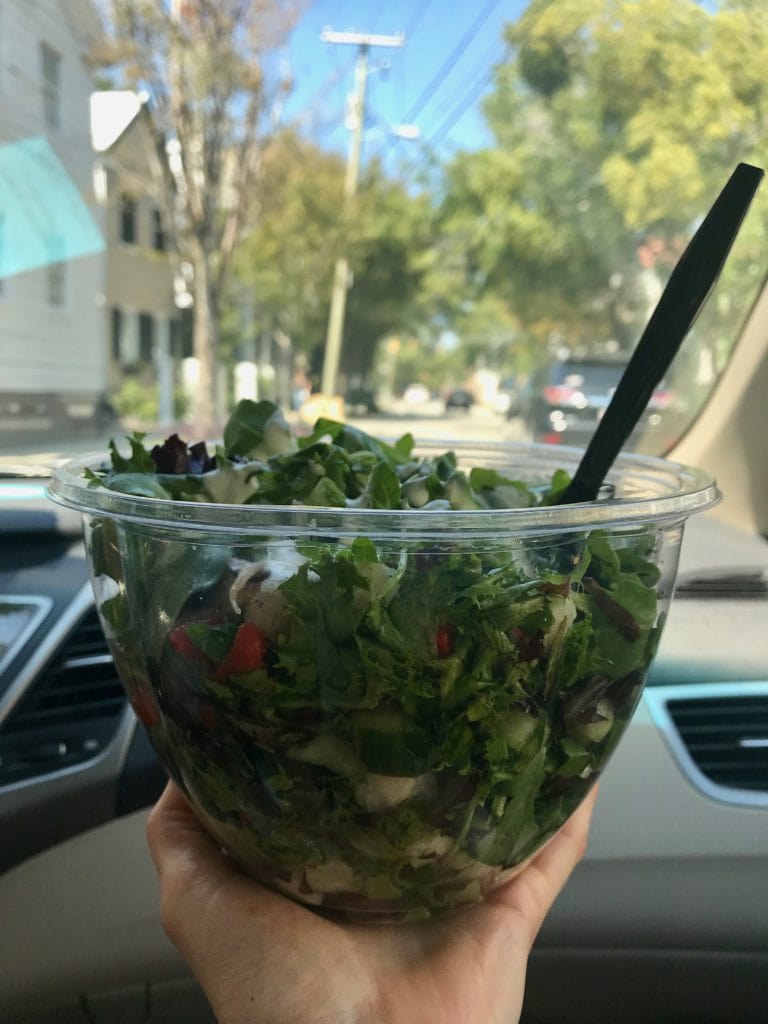 Dinner
Butcher & Bee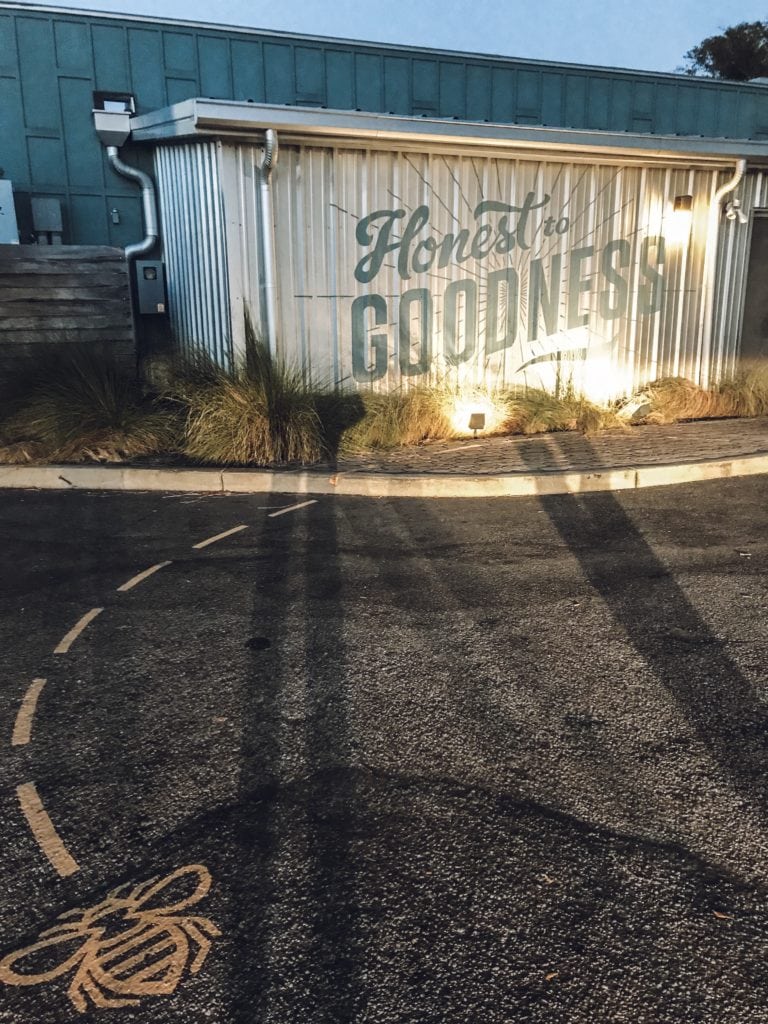 I can't recommend Butcher & Bee enough for an amazing dinner with unique dishes you're unlikely to find anywhere else. The menu offers an eclectic variety of small plates to share or entrees that change frequently depending on what's in season. Over half of the options on the menu don't include meat, so a vegetarian would be in heaven here. Aside from a bacon wrapped date that Matt enjoyed all of the dishes we ordered were vegetarian. Matt is a pretty big meat eater (he's a Texan, after all) and he seemed to be pleasantly surprised at how much he enjoyed the dishes and how satisfied he was at the end of the veggie-packed meal.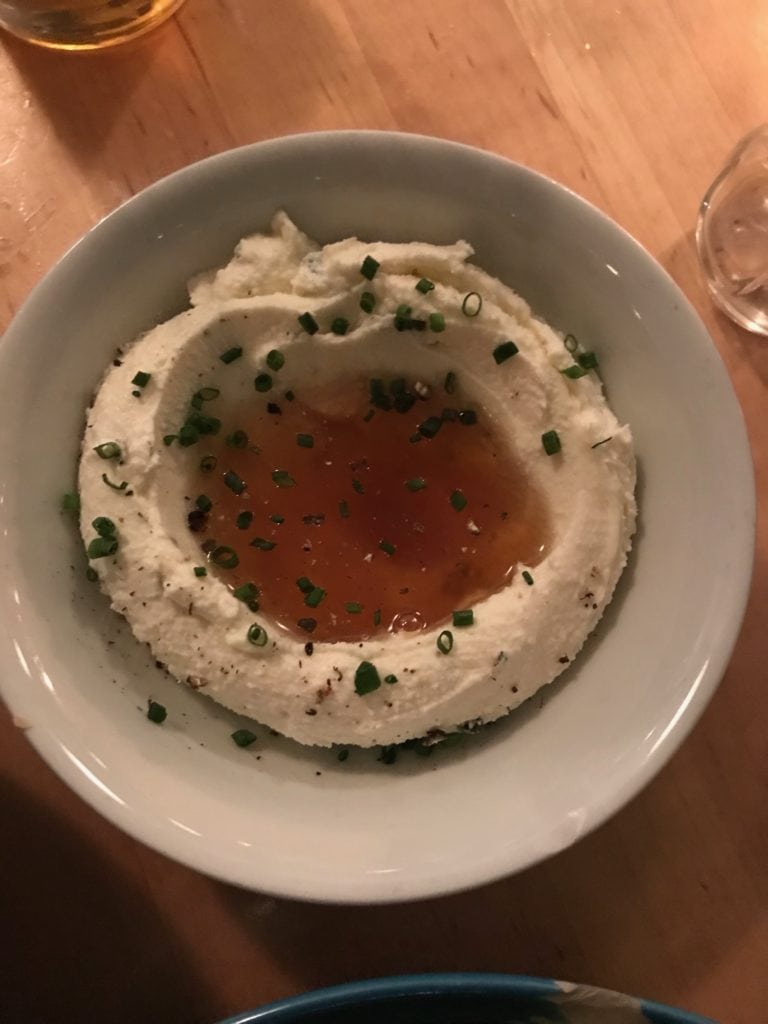 If you are dining with a group, Butcher & Bee also offers an option to have the kitchen choose the dishes that are brought out to you. So fun! We didn't do that, but we did order about half of the menu (not even exaggerating). If you go, you must order the whipped feta with honey, it's life changing. Other favorites were the okra and shishito peppers with buckwheat tahini, sunflower dukkah, and golden raisin honey and the moroccan carrots.
Extras
Off Track Ice Cream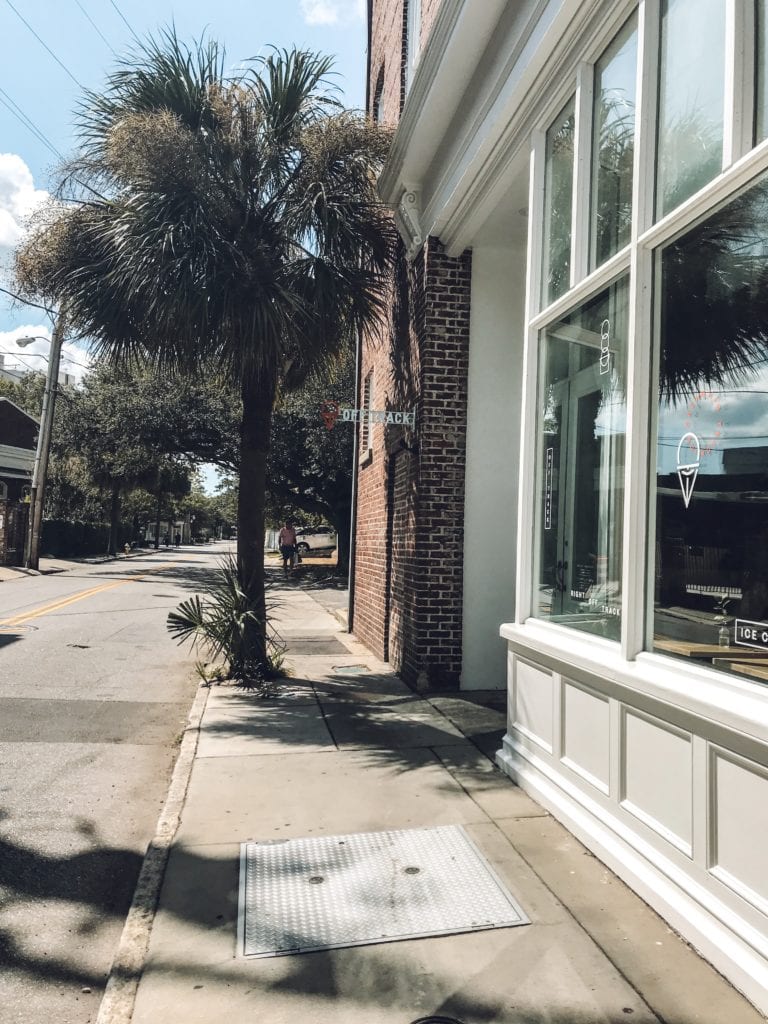 Off Track Ice Cream is what ice cream dreams are made out of. Is this a healthy option? Not really. However, they offer an impressive selection of both traditional and vegan ice cream, so if you're looking for a cool treat to warm your heart look no further. This little shop right off King's Street is healthy for your happiness.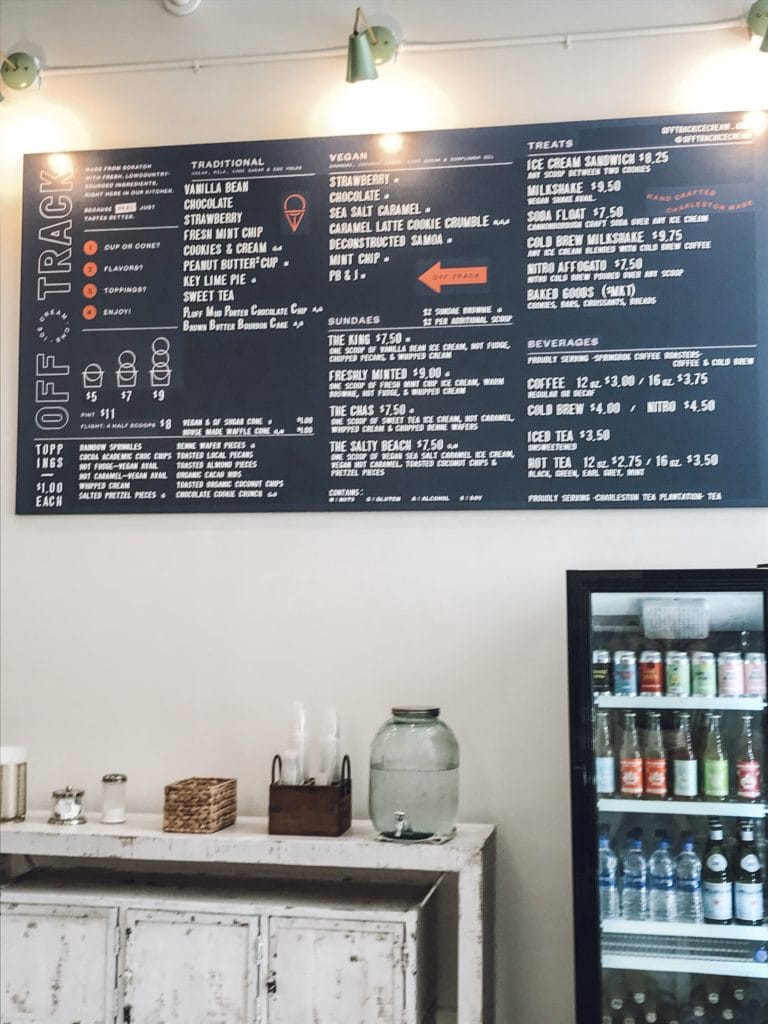 The most important thing you should know is that Off Track Ice Cream offers ice cream flights. This isn't a "we'll put scoops of different ice cream all in one big bowl and call it a flight while it all melts together" situation. This is a legit individual scoops of each flavor cutely arranged on a tasting board situation. It's also my favorite thing ever.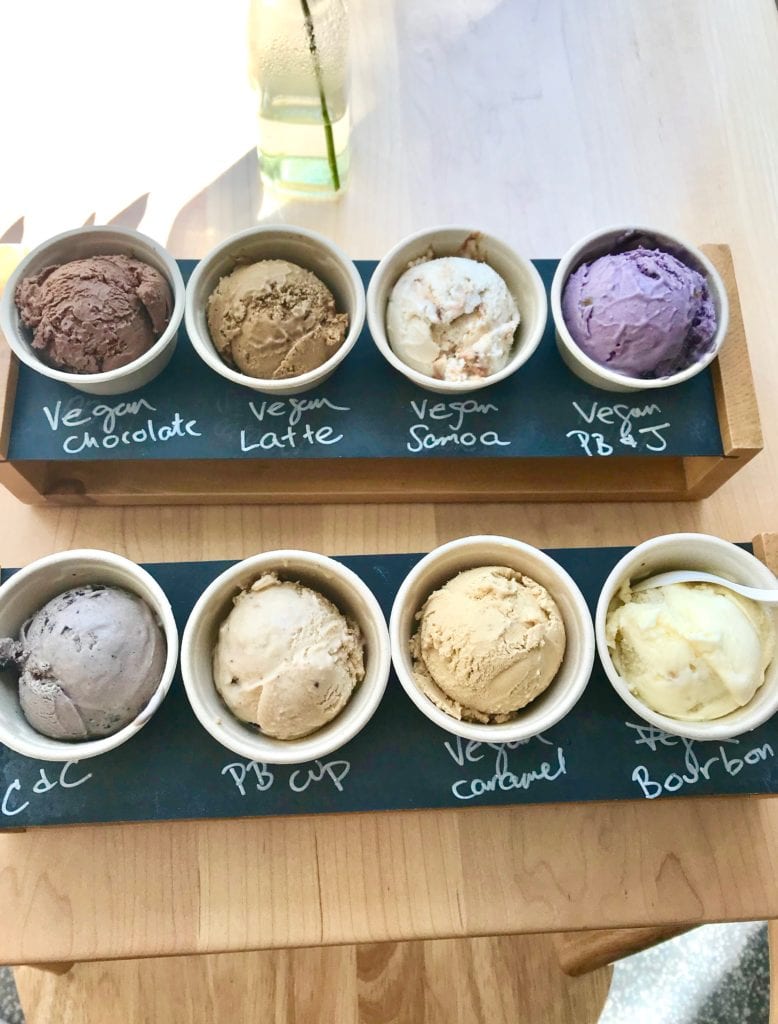 There's a chance we went overboard in the ice cream ordering department, but zero regrets. Matt and I planned to share a flight, but we had different ideas on what flavors to order. One ice cream flight would definitely be plenty of ice cream for two humans - while they say each tasting is a half scoop, it's definitely more of a full scoop. The good news is now that we've tried eight of their flavors, I feel like we can confidently say you can't go wrong with what you order. My favorite was the vegan PB&J mainly because of the giant pieces of peanut butter in it. But truly all the vegan and traditional flavors were great.
One Love Kombucha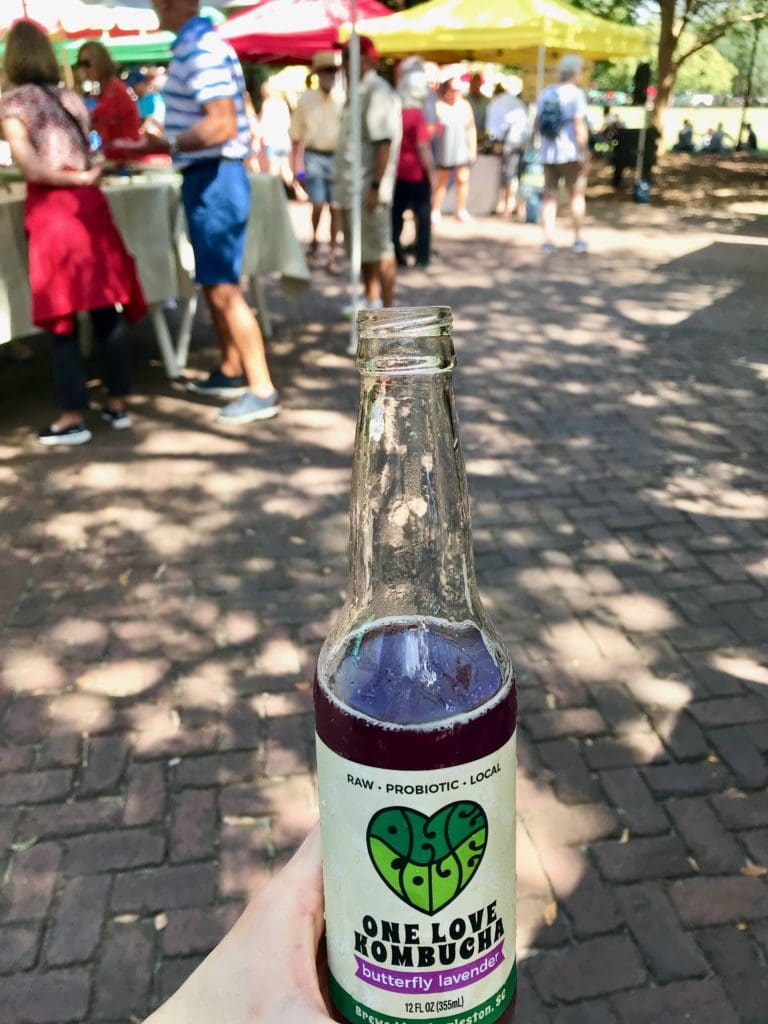 One Love Kombucha was offered at multiple locations throughout Charleston. We sampled some of their flavors when we stumbled upon the Charleston Farmer's Market and sipped a bottle of the Butterfly Lavender flavor while perusing the other vendors. I always love it when I can find new-to-me local kombucha when traveling for a fun alternative to alcohol (though that's fun, too). I'd highly recommend grabbing a bottle if you see it around town. Beech, Verde, Butcher & Bee, and The Daily all carry it!
What are your favorite Charleston healthy eats?
Do you like to find healthy options when traveling or do you like to indulge?