High Protein Honey Almond Butter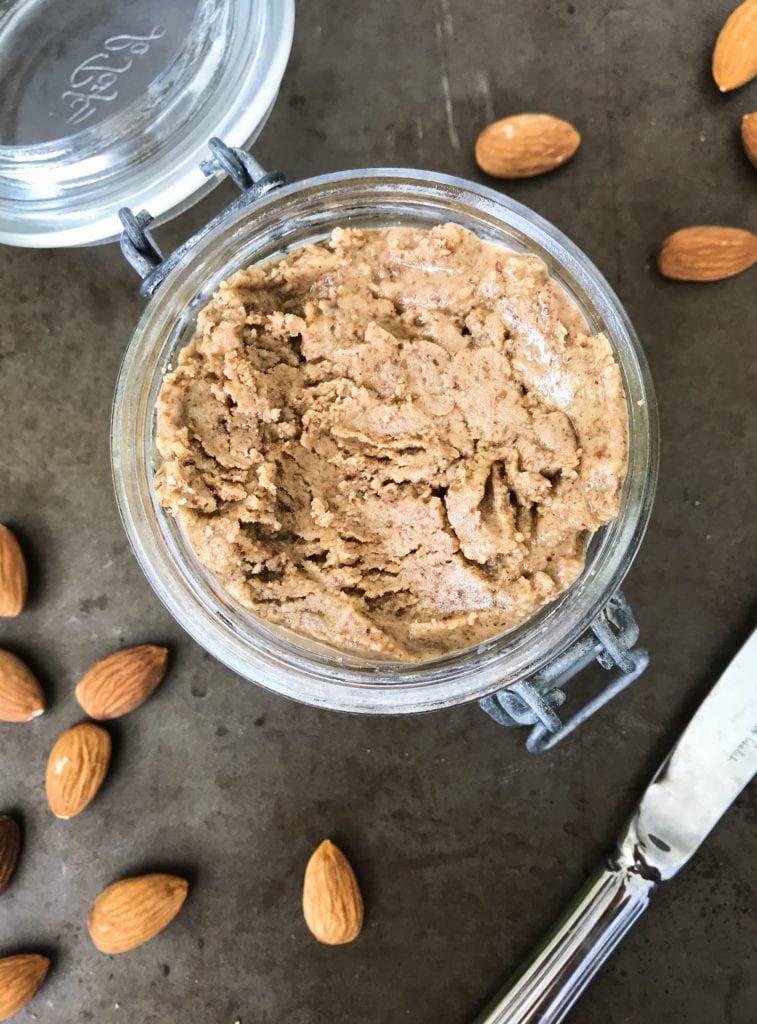 You know what would be cool? If we could maybe add some extra hours to the day. Or if sleeping wasn't so darn important. Sleeping is pretty great so I don't want to completely eliminate it, but if we could rest for 3-4 hours and feel totally refreshed that would be fantastic. I've been holding out on you guys and enjoying this high protein almond butter for a while now. I've been looking forward to sharing it, but sometimes there just aren't enough hours in the day to get that done. I have heaps of other recipes, workouts, and other posts in the pipeline for you guys, so if we could just make that little sleep requirement adjustment I'll have them ready in no time.
I developed this high protein honey almond butter for a few reasons. The first is that my go-to snack is nuts (or nuts with fruit...see amazeballs). Once I started adding more healthy fats into my diet, I found that I felt a whole lot more satisfied. I also noticed that my cravings for sugar are significantly reduced when I'm getting enough fat in my meals. Almonds are a great source of healthy monounsaturated fats, but I always wish they had just a little more protein to make the ideal snack. So I added it!
Another reason I wanted to create this nut butter is because I'm always trying to add more collagen into my diet. Collagen is thought to have a number of benefits including promoting skin, hair, and nail health, decreasing joint pain, helping to minimize bone loss, and potentially helping with gut permeability that can lead to "leaky gut syndrome". A supplement that can help minimize wrinkles AND promote joint health? Yes, please. I swear when I take collagen regularly my knees are quieter (they've got some snap-crackle-popping going on that doesn't hurt but makes me cringe a little every time I hear it). Yet to be determined for the whole minimizing wrinkles thing...
I use this marine collagen powder, and while it's easy to mix into hot coffee I tend to drink my coffee chilled in the morning. If you've used collagen powder, you know a cold liquid + collagen powder = a clumpy mess. Delicious. That means even though it shouldn't be difficult to add collagen into my diet every day, it just doesn't happen. I wanted a new and delicious way to up my collagen intake so I created this delightful high protein honey almond butter.
This nut butter comes out a little on the thicker side since we're adding powder to almonds. Almonds don't have as high of a fat content as some of the other nuts, so they're less oily. The consistency makes it perfect for eating by the spoonful. If you're looking for a nut butter that you can drizzle over something check out my pecan pie nut butter. That nut butter also provides a nice dose of collagen powder. However, almonds have about double the amount of protein per serving compared to pecans (6 grams versus 3 grams). So if you're looking to pack in more protein this is your jam...er nut butter.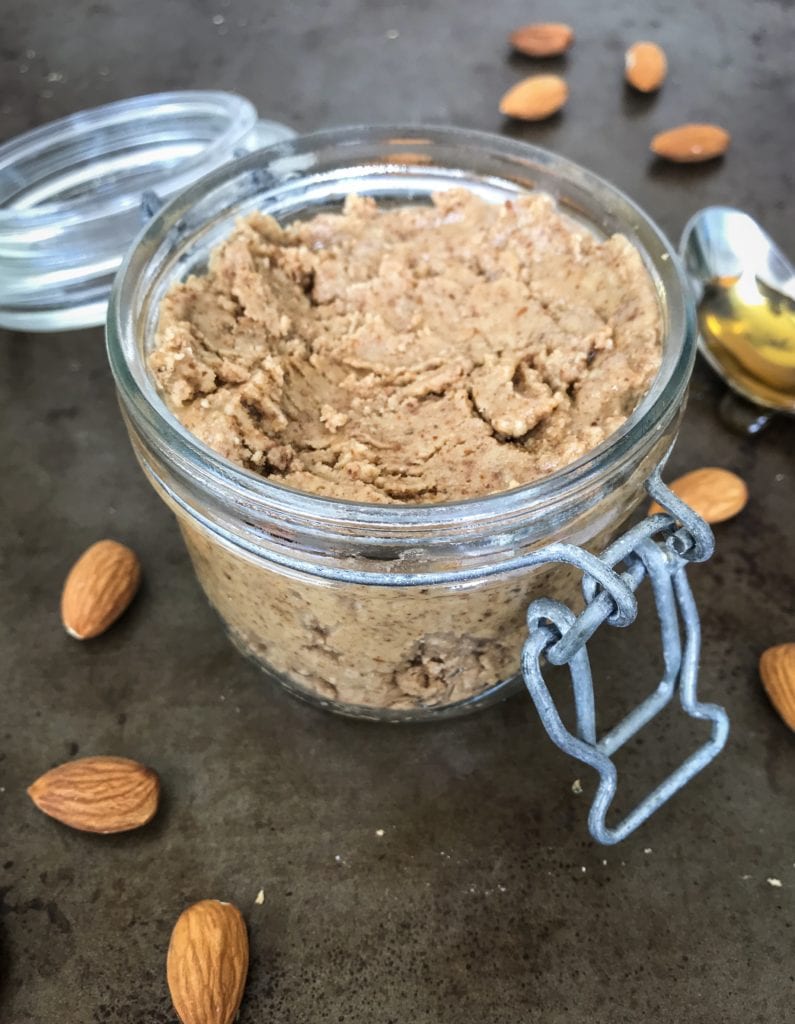 My favorite way to enjoy this high protein almond butter is with a spoon. With the added sweetness from the honey it makes the perfect treat to enjoy before a workout. Or as a satisfying treat after dinner...or really any time I open the fridge. I also really like combining this with a piece of dark chocolate. The nice thing is despite having a little honey each serving only has less than 3 grams of sugar (and a dose of antioxidants!), so you can feel good about adding it to your oatmeal, yogurt, or toast any time of day. Sweet. ;-)
High Protein Honey Almond Butter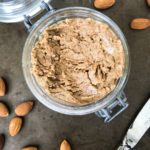 This honey almond butter is crazy addicting and provides a healthy dose of protein (12 grams per serving) and collagen with every bite! It's great on oatmeal, yogurt, toast, and dark chocolate, but there's a good chance you'll just want to eat it by the spoonful.
1.5 cups unsalted almonds
30 g collagen powder* ((3 servings))
1 Tbsp oil**
1 Tbsp honey
1 tsp vanilla extract
1 tsp cinnamon
3/8 tsp Himalayan sea salt
Spread almonds onto a baking sheet or place into the Ninja Foodi basket and roast at 350 for 5 minutes (optional). Let cool.

Place almonds in a food processor or VitaMix and pulse/blend. If using a Vitamix start at the lower speed and gradually increase the speed as the almonds become finer. Stop and use a spatula to scrape down the sides as needed.

Continue to blend/process until desired consistency is achieved. This can take at least 10 minutes in a food processor. Don't give up!

Once smooth add remaining ingredients and blend until well mixed.

Transfer to an air tight container and store in the fridge. Enjoy!
*I used this Marine Collagen 
**I used MCT oil but avocado oil or other neutral flavored oils would likely work.
Let me know if you give this recipe a try!
What's your favorite way to eat nut butter?
This post contains an Amazon affiliate link. As an Amazon associate, I (theoretically could, haha) earn from qualifying purchases. I only link to products I know and love. Thanks for your support. <3