Friday Favorites #31: Maine Edition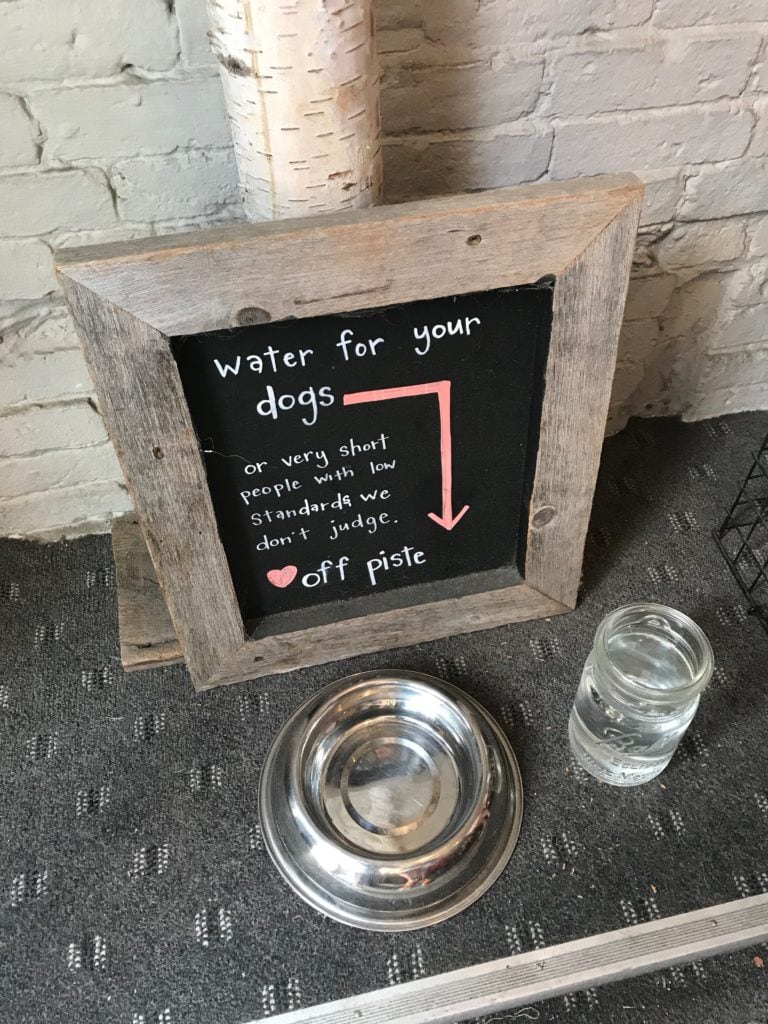 Happy Friday! This week flew by thanks to an extended weekend in Maine. That was definitely the highlight of my week and is going to dominate this week's Friday Favorites. This week is a whirlwind, because I'm flying back out tonight for another fun trip to NY to visit with my high school girlfriends. We're scattered all over the place, so it's an incredible treat when we're all able to be together for a weekend. Can't wait!! What things are you loving this week?
Visiting with Family
My favorite thing was actually making it to Maine, because as soon as I walked into Charlotte's airport Friday night it was looking a lot like that wasn't going to happen. There were Boy Scouts. Everywhere. Did you know that the World Scout Jamboree is a thing? Literally 45,000 Boy Scouts from around the world unite in West Virginia for a weekend. And then they all leave at the same time and try to fly home through Charlotte with very large bags to check. I can't make this stuff up.
When I entered the airport there were lines that weren't moving, giant clusters of Boy Scouts camping (haha) out in the middle of the airport, huge piles of luggage all over the place, and conveyer belts loaded with bags that weren't moving. This was probably the worst day to decide to check a bag, so I obviously had one. It was looking like I was going to miss my flight (since they weren't accepting any bags for the foreseeable future) until an extremely kind American employee saved me. It's an even longer story to explain how that happened. Let's just say I feel incredibly fortunate since I know many people did not make their flights. My suitcase didn't make the flight, but it was delivered to my parents' house by Saturday evening. No big deal.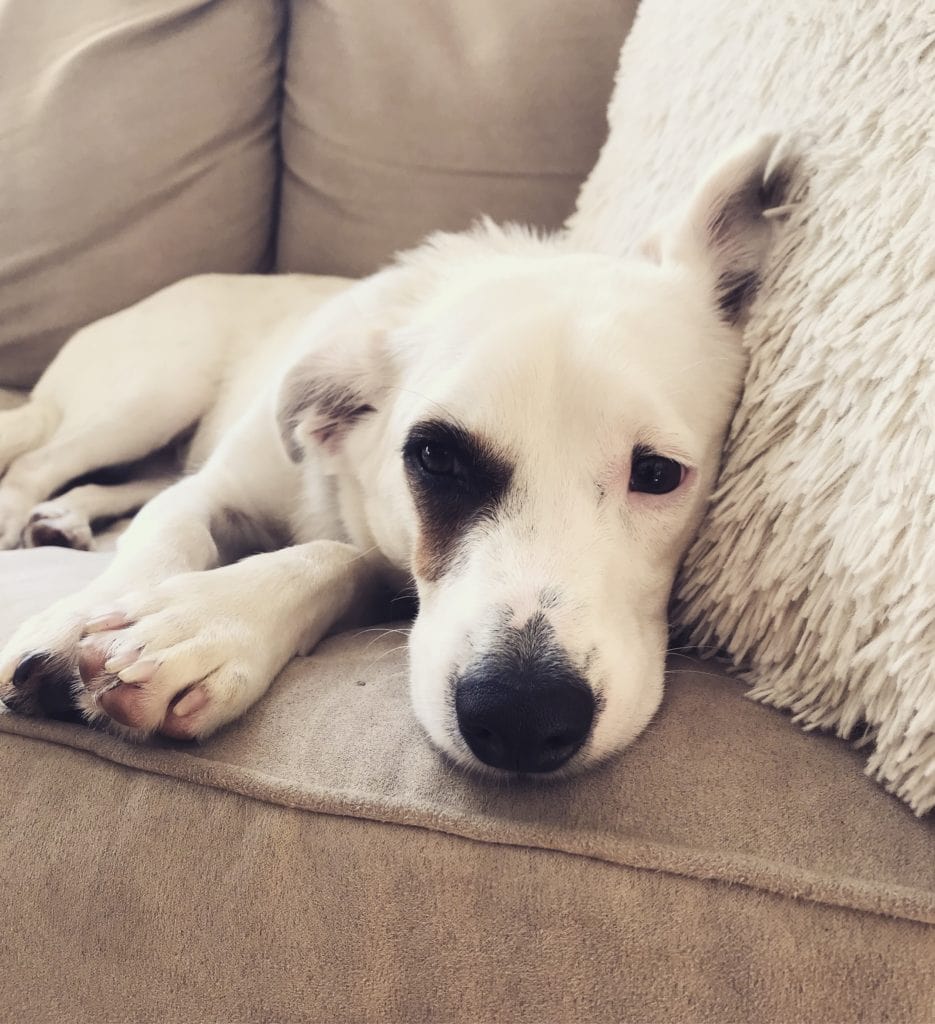 I adore our home in North Carolina, but the hardest part is not living closer to family. Getting to visit with my family in Maine for an extended weekend made my heart happy. It's so therapeutic to be around people who just "get you", ya know? The trip involved a lot of laughter, games, endless good food, and soaking up Maine's beautiful (and slightly cooler and less humid) fresh air.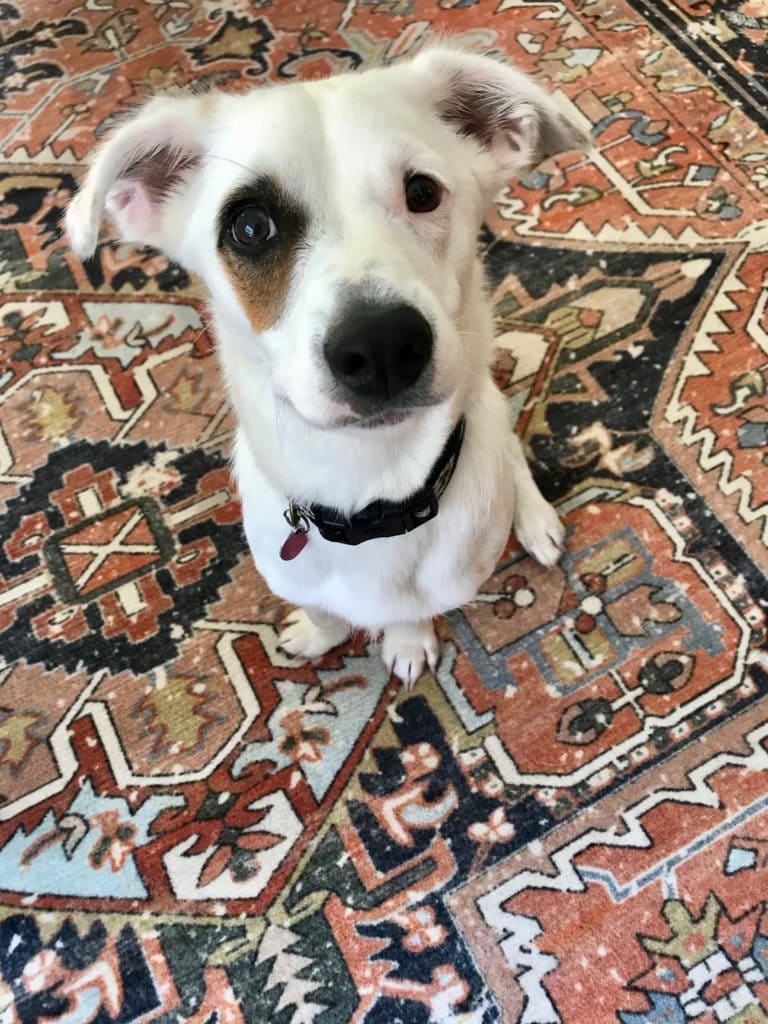 Obviously visiting family included being reunited with my sister's adorable puppy, Arlo. He's a whopping 10 months old now, and I love him so much. I couldn't stop taking pictures of Arlo, because look at him...
Being home was a reminder of how important it is to prioritize spending time with the people who help me to feel rejuvenated and fill me with energy and happiness. Thankfully, this month is going to have a lot of that.
The Friendly Toast
If you're visiting New England, I highly recommend visiting Portsmouth, New Hampshire. It's an adorable city on the coast with loads of great restaurants, small, locally-owned shops, and historic landmarks. Conveniently, on Sunday morning my parents ran their 11 mile training run in Portsmouth in preparation for their half marathon in Alaska. That was the perfect excuse to meet up with them at one of my absolute favorite brunch spots, The Friendly Toast, afterwards.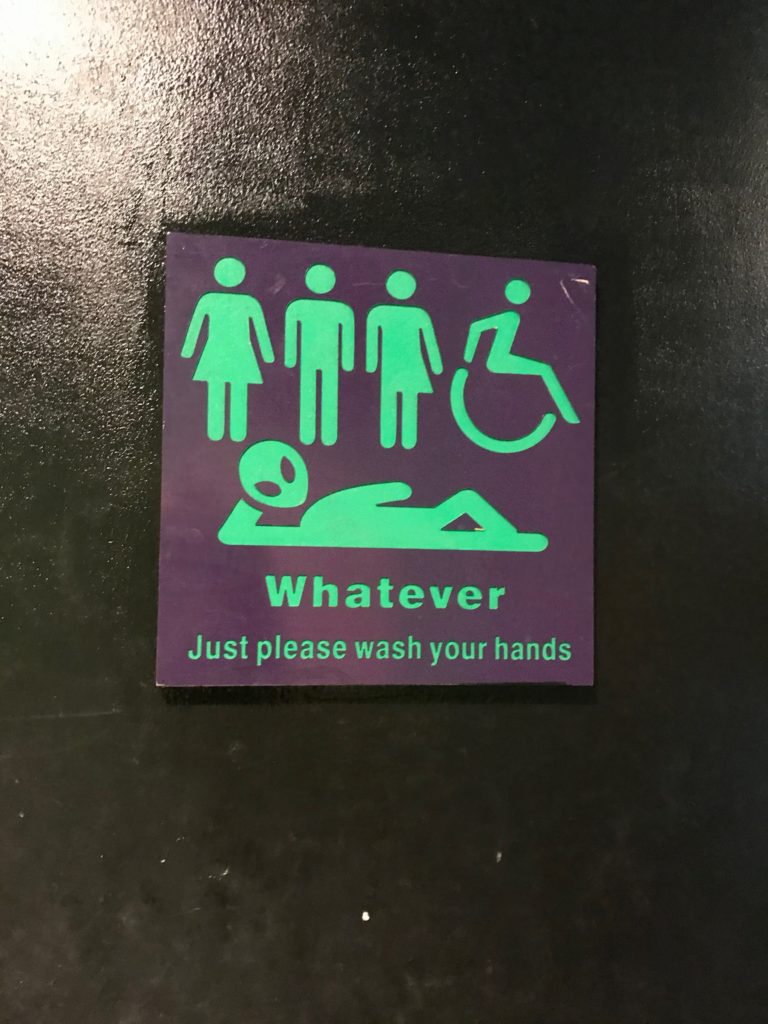 The Friendly Toast now has a few locations in New Hampshire and Massachusetts, but the Portsmouth location was the original. It has a funky, eclectic vibe and an expansive crowd-pleasing menu. They clearly label gluten-friendly, vegan, and vegetarian options. I love that you can eat as healthy or as decadent as you like. Even their bathrooms are all-inclusive, and the sign made me smile. I stuck with coffee, but they do also have lots of fun mimosa and cocktail flights if you're in the mood for an early buzz.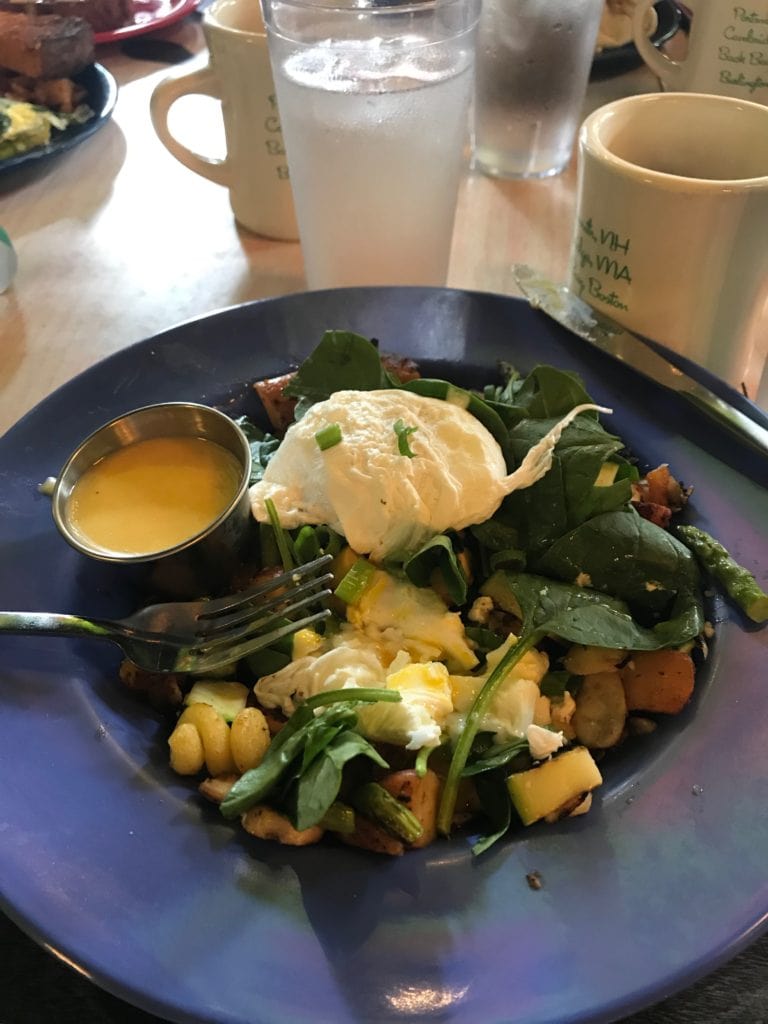 I had the Yellow-Polka-Dot-Zucchini Benny, which was a medley of all sorts of chopped vegetables and potatoes with two poached eggs. It totally hit the spot and was the perfect fuel for wandering in and out of some of the cute shops before we headed "home".
Amazing Eats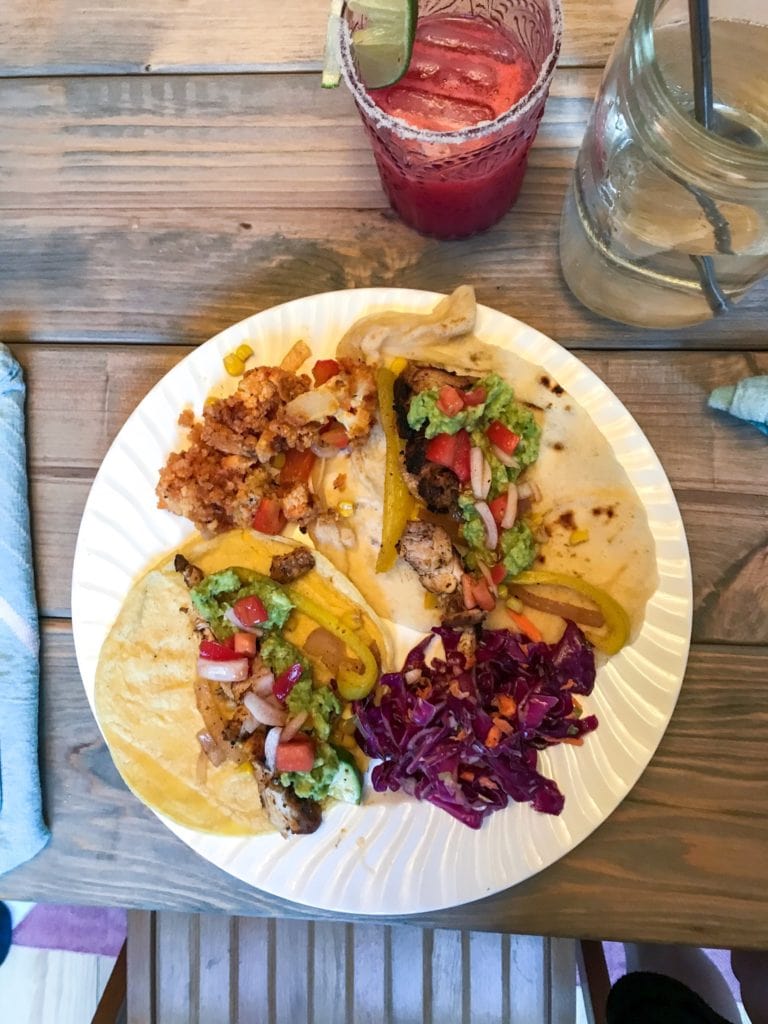 Visiting Maine meant so much great food. On Saturday night, Hannah and her boyfriend, Todd, hosted dinner at their new home. They made an amazing Mexican feast. Hannah is vegetarian and makes super delicious roasted cauliflower that has a Sriracha (definitely took me a while to figure out how to spell that) breading. They also whipped up homemade tortillas (holy-yum), guacamole, a delicious cole-slaw, and more. You see that pretty little pink drink at the top? That's a salted watermelon margarita, and yes it was delicious. Thankfully, I felt fine the next morning thanks to Hannah introducing me to Liquid I.V. Hydration (huge fan and definitely ordering some ASAP) and some Cheers pills.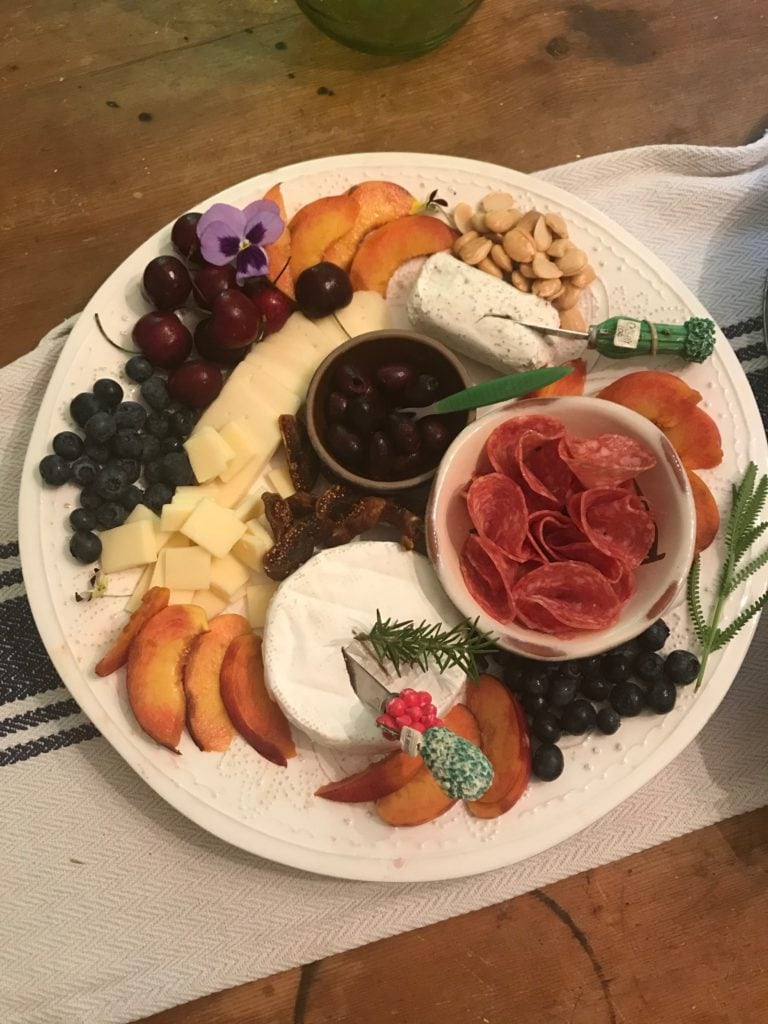 My mom also provided endless amounts of good food. Her cheese board game is on point. This is what we ate while playing corn hole one evening. Normal? For someone who doesn't eat a lot of cheese, I love putting cheese boards together. This one that she created had the perfect combination of sweet and savory, and a wonderful array of great cheeses.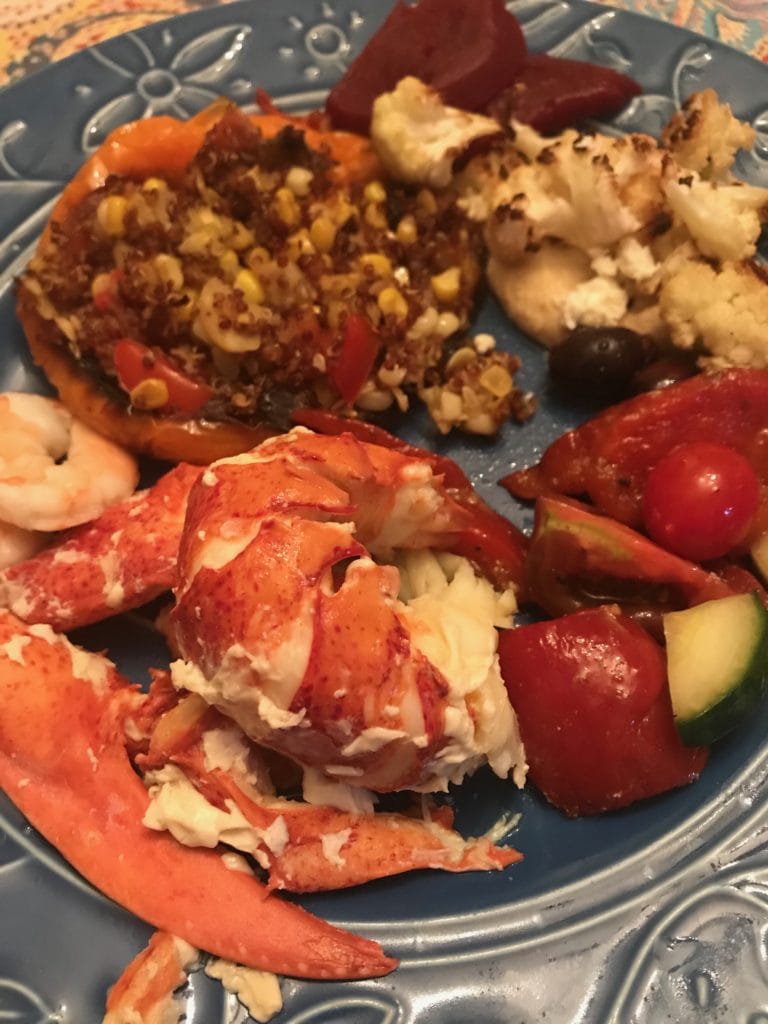 It wouldn't be a trip to Maine without lobster, so we enjoyed that one evening. As if lobster wasn't enough my mom prepared several other amazing veggie sides. My photo REALLY doesn't do the meal justice, but it included quinoa-stuffed peppers and squash, homemade pickled beets (from my Grandma's recipe), a Bon Appetit-inspired Greek salad, and roasted cauliflower over hummus and topped with kalamata olives and feta cheese. So much flavor and all so healthy, too.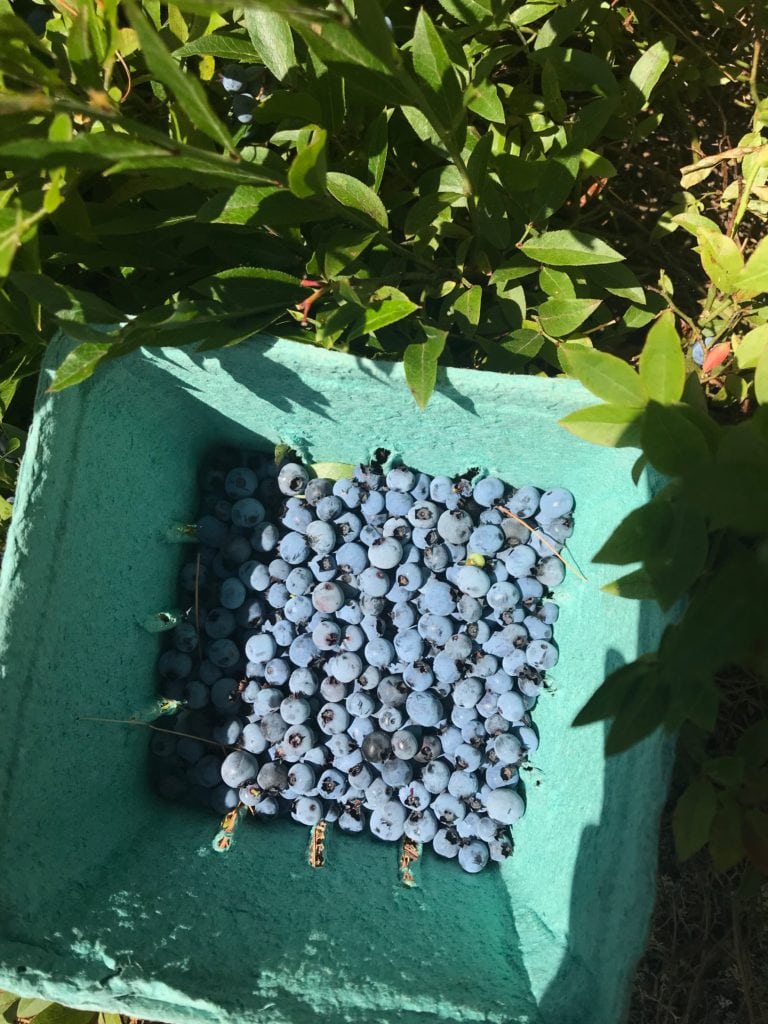 I could share so many more meals, but I'm going to try to curb my enthusiasm since reading about them isn't nearly as fun as consuming good food. We did go on a short hike one day and picked wild blueberries on our way down. They made for the absolute perfect Maine snack - so much flavor in those little nutritious berries!
Going for a Run
My birthday was on Tuesday, and I couldn't resist going for a little run. Running along the quaint rural Maine backroads is one of my favorite things to do and I have missed running so darn much. I decided to give myself a pass from my running break and went on a short run to start the new year on the right foot (hah). Really it was a gift to myself.
Perhaps the greatest gift was that Matt volunteered to join me! Unfortunately for him, the "easy one mile" I had advertised ended up turning into a very hilly three miles. The one mile turn around point came way too quickly, and it just felt SO GOOD to be running. Matt was a really good sport about the run despite the false advertising. Though I'm quite sure I blew my chance of him volunteering to run with me any time in the near future. Fair.
Admiring Green Thumbs
Being home was a big fat reminder of how my entire family is gifted with green thumbs other than me. I'm the black sheep thumb, for sure. My mom's gardens are ridiculous. Sitting on the back porch is stunningly verdant. Flourishing gardens with blooming flowers adorn the property all with a picturesque backdrop of the fenced in fields and my dad's old red tractor. It's quintessential Maine.
Indoors is equally floral. When I arrived at my parents' house I couldn't stop taking photos of all of the arrangements throughout the house. Having plants indoors is both energizing and calming all at once. You know what I mean? She makes it look so easy.
It was so fun visiting my sister's new home, too. She and Todd have done an incredible job turning their home into a gorgeous space. It has loads of natural light with beautiful crisp white walls and natural wood floors that they refinished. Color and life is injected with loads of indoor house plants. I adore the look and I'm so impressed with the work they have done in the short amount of time they have lived there. So much inspiration. It makes me want to give (living) house plants another go. Someone keep me away from the Fiddle Leaf Fig trees.
What is your favorite place to visit?
What's a gift you like to give yourself on your birthday?
Any fun airport stories to share?!
FYI: This post contains an affiliate link. That means as an Amazon Associate I earn from qualifying purchases (theoretically, haha). I only link to products that I own and love. Thank you for stopping by and for your support. <3