Plant Based Queso Dip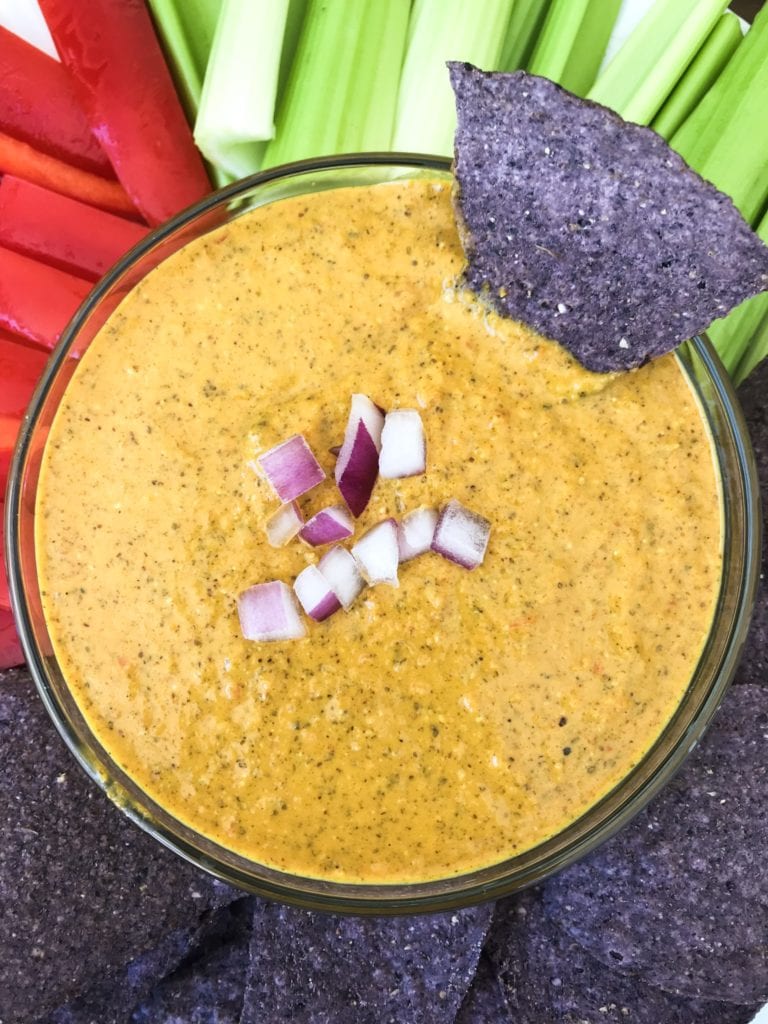 Have I got a dip for you today. Looking for a cheesy dip? But don't want it to have dairy? And also don't want to feel weighed down after enjoying a "healthy" portion? Maybe also want to sneak some veggies in without realizing? But still need it to be so delicious you can't stop eating it? Okay! I've got you. This plant based queso dip is calling your name. Grab a blender - you're only a few minutes away from cheesy goodness.
Remember when I discovered Good Food's pesto and queso dips? It was love at first taste. Since I needed to have them in my life, like every week, I quickly set out to create my own version. I loved that the dips were so flavorful, super light, and that the ingredient list was totally unexpected in a delightful way. They had vegetables! But they didn't taste like vegetables. Perfect.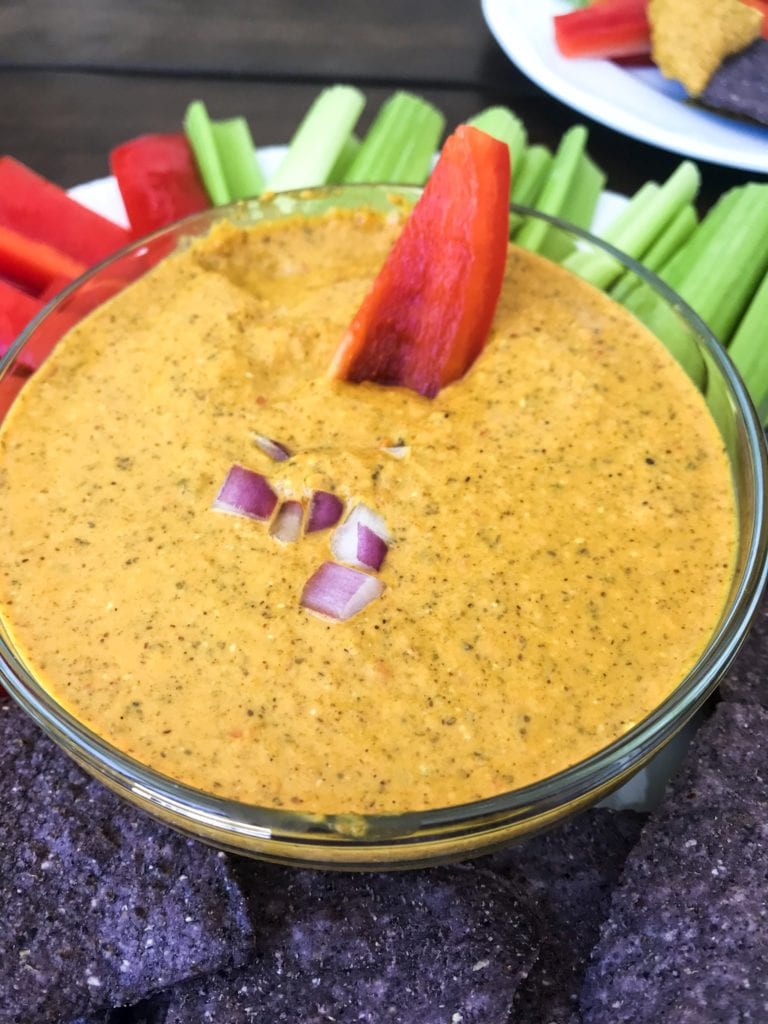 I set out to create the plant based queso dip before the pesto, but this dip took a little more trial and error. In this case, third time was the charm. The first version was good, but I felt like it was missing something. I thought that missing ingredient might be cayenne pepper, so I added that to version two. Definitely went a little overboard. I don't even like spicy food so I'm not sure what i was thinking. If you like a spicy kick, feel free to add more than the 1/16 teaspoon this recipe calls for. I clearly was still scarred from that incident when I was creating the third and final version, so I only added a tiny pinch.
I finally created a vegan queso dip I love on the third try. While not included in the Good Food's dip, I realized coconut aminos were the missing ingredient. It adds a nice umami depth to create a well balanced cheesy taste. Feel free to substitute soy sauce if you have that instead. This isn't an exact replica of the Good Food's dip, but to be honest, I like this version more.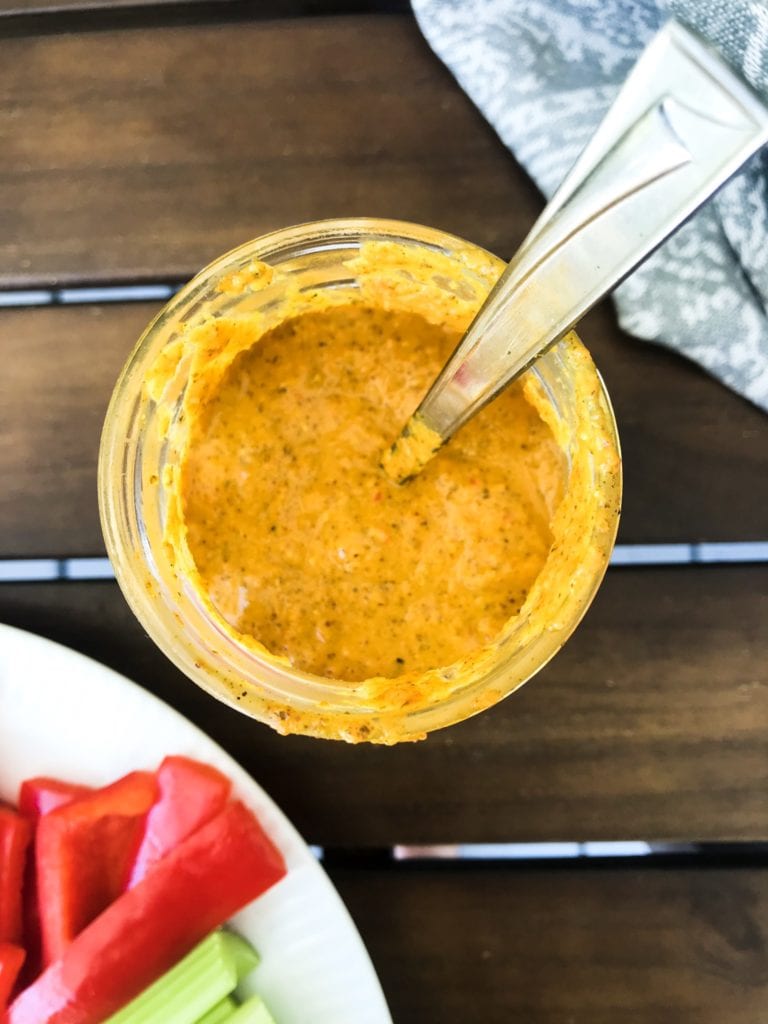 Ever since creating the pesto and queso dips I've been keeping my fridge stocked with mason jars of both. I'm adding these dips to allll the things. The queso dip is a great unexpected dip to offer when hosting or to bring to a party. It's pairs well with chips, crackers, and veggies. I know that's all I'm showing in these photos, but that's because my photography skills are super limited. The options for this dip/sauce/crack are not.
I love mixing cauliflower rice with the queso dip for a yummy and quick snack. Right now I'm eating a bowl of cauliflower, roasted zucchini, summer squash, green peppers, and red onions (roasted in the Foodi Ninja, of course) with rotisserie chicken topped with a heaping scoop of this deliciousness. Earlier I dipped some left over air fried potatoes in it while I cooked breakfast. Ugh, so good. It makes for an awesome creamy salad dressing. It's also the perfect sauce for a nourish bowl, because this dip is NOURISHING.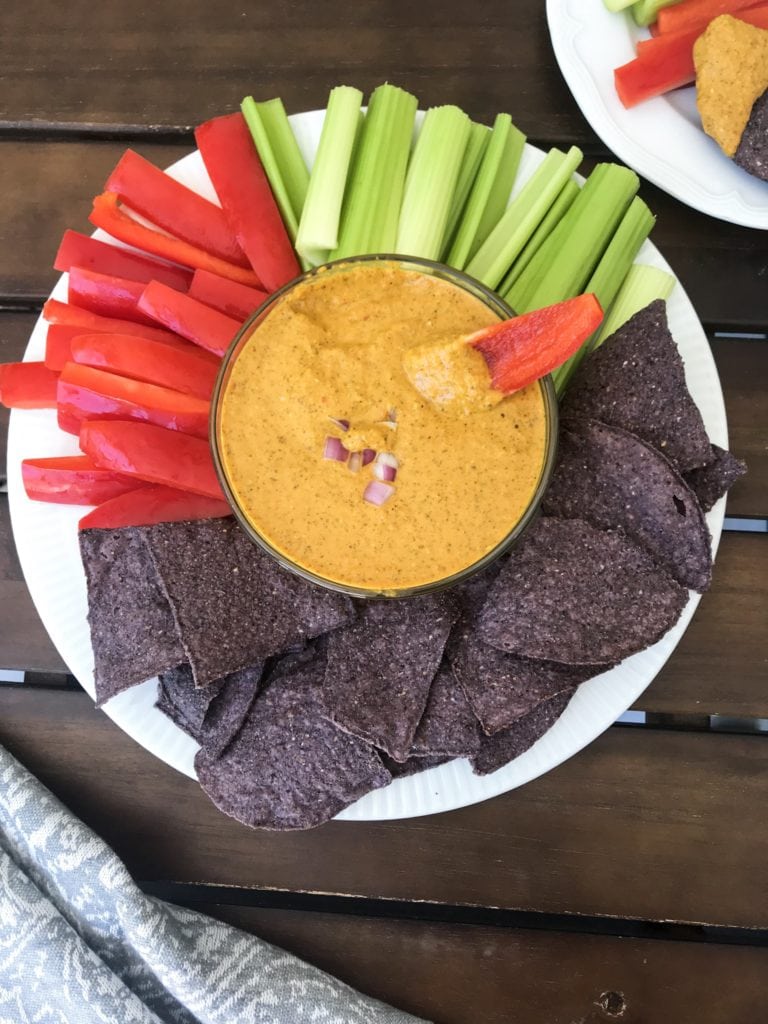 This queso dip is packed with veggies, antioxidants, protein, healthy fats, omega-3's, fiber, and vitamins. Let's break it down. Not like this. Actually, can you please?
Nourishing ingredients in this plant based queso dip:
Vegetables - This dip gets a nice sweetness from red bell peppers and volume (without many calories) from cauliflower rice. Cauliflower is like a chameleon and you really don't notice it at all.
Nutritional yeast - Nutritional yeast is responsible for a lot of the cheesy flavor in this dip. On top of that it adds a nice dose of B-vitamins and it's a complete protein to boot.
Almond butter - This also helps to give the dip's flavor a nice creamy depth. It adds healthy fats, protein, antioxidants, and a nice dose of Vitamin E which help to protect your cells from oxidative damage.
Chia seed powder - You'll probably continue to see this popping up in a lot of recipes, because I'm obsessed. I've been adding it to smoothies, dips, and a couple breakfast recipes I have coming soon. It works so well for thickening without the polarizing tapioca-like texture of whole chia seeds. These little seeds provide an awesome dose of omega-3's, so the powder is an awesome way to sneak that in without even noticing it.
Apple cider vinegar - If you do a Google search for ACV it may lead you to believe it's the elixir of life. While that may be a stretch, it provides a dose of probiotics, B vitamins, and antioxidants. It also has anti-bacterial properties and seems to help control blood sugar levels after eating.
Lemon juice - This provides a lovely dose of Vitamin C. It's also delicious. ACV and lemon juice together seem to have great anti-bacterial properties, so that's awesome if you're using this as a salad dressing.
Turmeric - When I walk into Costco I see giant bottles of turmeric pills. It's also not uncommon to hear from my clients that they are feeding it to their dogs*, so clearly the word has spread that this has some health benefits. Tumeric is known for it's majorly anti-inflammatory properties. There are also some studies suggesting it's great for brain health and may help to lessen symptoms of depression and arthritis. It also adds a lovely color. FYI that color will get everywhere if you're not careful. For some reason my bottle seems to explode tumeric every time I open it.
Cumin - Here's a fun fact: turmeric comes from curcumin. Curcumin is not related to cumin. That's not confusing at all. After reading about cumin, I think this is a great spice to use more frequently. Studies have shown that it's great for digestion. It's also antimicrobial, anti-inflammatory, and a nice source of iron.
I could (clearly) keep going on and on about this plant based queso dip, but really you just need to give it a try. While the ingredient list looks long it comes together in less than 10 minutes. The only prep is chopping up the pepper and red onion before blending away. Let me know if you give it a try!
Plant Based Queso Dip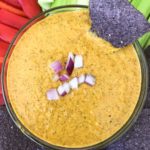 This vegan queso dip has a nice cheesy flavor and is packed with veggies. Enjoy this as a dip, sauce, or dressing! The options are endless.
2 red bell peppers, chopped (approx 2 cups)
2 cups frozen cauliflower rice
1 cup+ 2 Tbsp nutritional yeast
3/4 cups water
1/2 cup almond butter
1/4 cup chopped red onion
1/4 cup apple cider vinegar
3 Tbsp chia seed powder*
5 tsp cumin
4 tsp lemon juice
3 tsp turmeric
2 tsp coconut aminos or soy sauce
1.5 tsp minced garlic
1/2 tsp Himalayan sea salt
1/4 tsp black pepper
1/16 tsp cayenne pepper
Add all ingredients to the blender. Blend and enjoy!

Store in an air tight container in the fridge.
*You can make chia seed powder by grinding 1 Tbsp of chia seeds until fine.
*I highly recommend consulting with your veterinarian before giving your pet any supplements.
FYI: Some of the links included in this post are affiliate links. That means as an Amazon Associate I earn from qualifying purchases (theoretically, haha). I only link to products that I own and love. Thank you for stopping by and for your support. <3