Lightened Up Creamy Vegan Avocado Pesto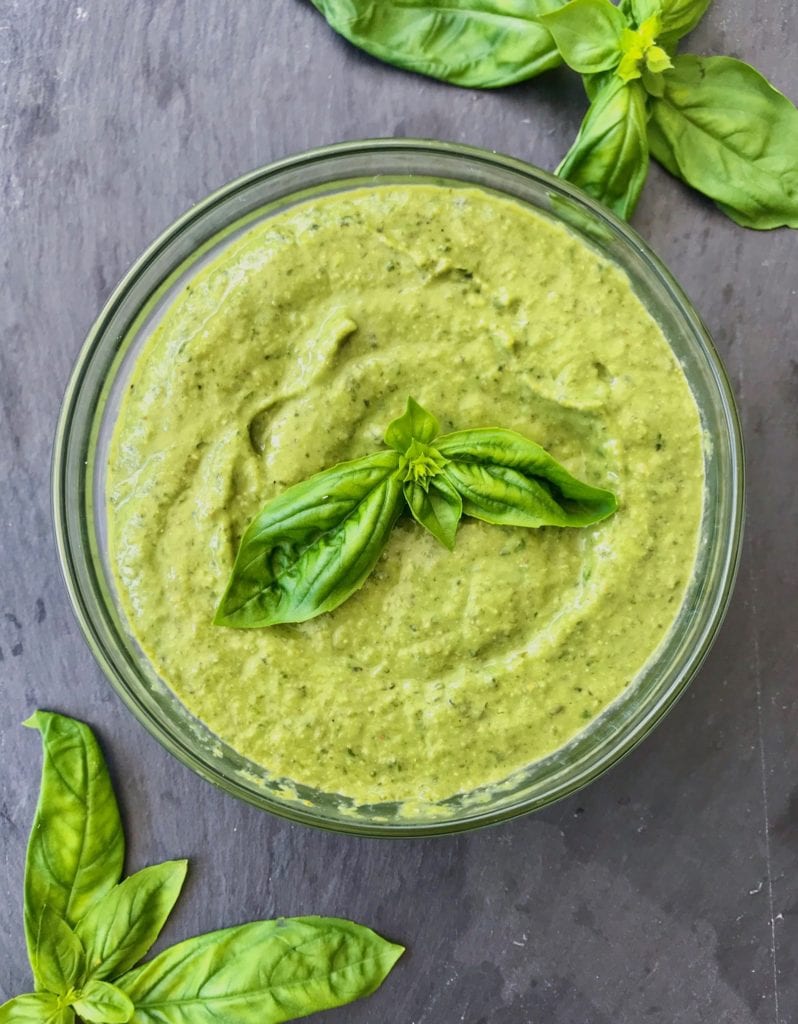 For once in my life I made a recipe and I got my act together enough to share it all in the same week. I feel obligated to share this creamy avocado pesto ASAP while we're in the middle of summer and basil is thriving. Even my basil! It's the only thing I'm growing that's really doing well. Zero complaints here. I adore basil. And when life gives me basil, I make pesto.
Except not traditional pesto, because where's the fun in that. Remember when I discovered the Good Foods dips at ALDI? I instantly fell in love with their plant based queso and avocado pesto dips. So in love that I was afraid of running out and no longer having them in my life. So I re-created my own versions (the queso recipe is coming soon!). Since making this creamy avocado pesto I have added it to every meal I've made. Slightly obsessed.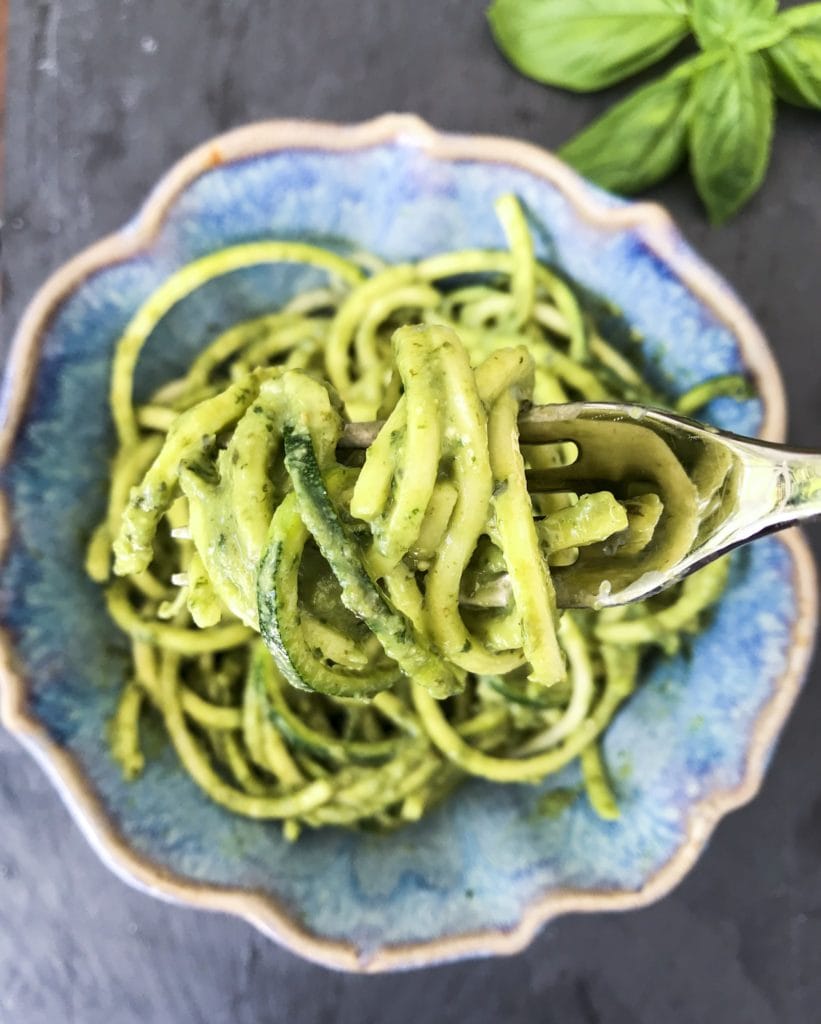 I'm obsessed with this vegan creamy avocado pesto because it's good with so many things! It's the perfect accompaniment to zoodles (aka spiralized zucchini). Side note: I just had to fight autocorrect on zoodles AND spiralized...it's like autocorrect doesn't even know me. But this is delicious with so much more! It makes a great creamy green goddess-type salad dressing, a dip for grilled veggies, or a spread in a sandwich or wrap. I also love adding it to my veggie and egg scrambles and it's the perfect sauce for a buddha bowl. Endless possibilities!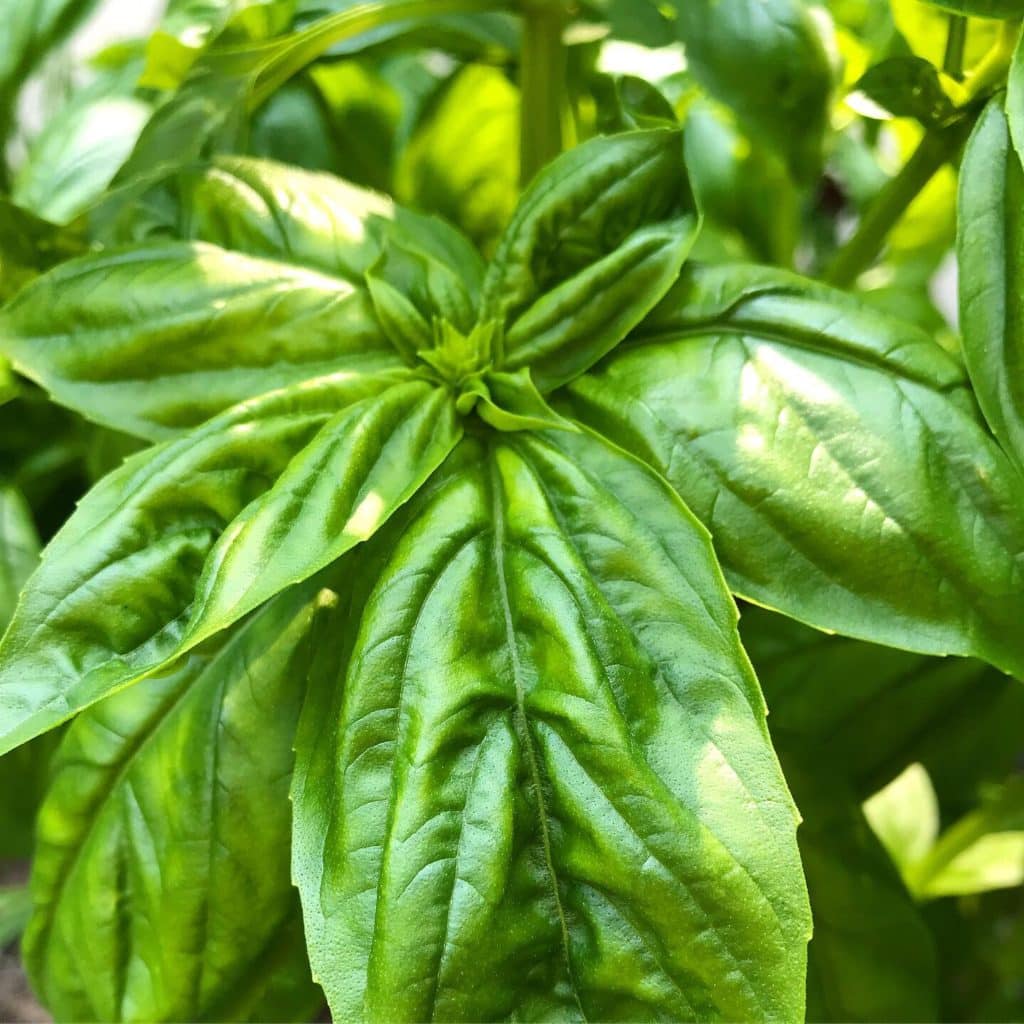 This pesto has some non-traditional ingredients. I promise they all come together to create something delightful. Let's chat about some of the main ingredients:
Cauliflower - Didn't see that one coming, did ya? When I checked out the ingredient list on the Good Foods dips I was surprised to find cauliflower listed first. But they were delicious (and surprisingly low calorie) so I followed suit. I just used frozen riced cauliflower. Super easy and you absolutely cannot taste one iota of cauliflower. What you do get is some added volume and a dose of veggies without realizing it.
Avocado - Avocados are nutrient superstars. This recipe calls for one avocado which added loads of vitamins, potassium, amazingly healthy fats, and fiber to the pesto. This helps give the pesto a wonderfully creamy taste. And no worries: thanks to the lemon juice, basil, and spinach this pesto doesn't turn brown even after a few days.
Basil - What would pesto be without basil? I put loads of basil in this recipe for an amazingly refreshing and summery taste. One thing I learned about basil is that the younger, smaller leaves are less bitter than the large ones. The first time I made this I used large leaves and I still loved the taste, but something to keep in mind.
Chia seed powder - Chia what? I wasn't familiar with this until I read the Good Food ingredient list. Now it's my new favorite thing. And it's easy to make! I just use my Cuisinart coffee grinder to make chia powder. It literally takes five seconds and boom: chia seed powder. I now have a ton of recipes coming for you guys using it, because it's AWESOME. It's my secret (or it was..) weapon as a healthy thickening agent. It has the thickening power of chia seeds without the tapioca texture. I'm not sure why chia seed powder isn't more of a thing. It's definitely a thing in my kitchen now.
Walnuts - Walnuts are awesome brain food and have approximately a billion other health benefits (possibly a slight exaggeration). There aren't a ton of walnuts in this recipe but they can add a little crunch if you're looking for that. If you combine all of the other ingredients until creamy and then add the walnuts at the end for a quick blend you can get a nice little crunchy texture. The first time I created this recipe I just put everything in the blender at the same time and it was delightful and creamy. Your choice.
Nutritional yeast - I LOVE nutritional yeast. Like I buy it in bulk monthly (<- definitely the best deal I've found for it). I get that the name leaves a lot to be desired, but I promise it's delicious. If you're not familiar with this food I highly recommend giving it a try. It has a cheesy slightly nutty taste. It's awesome for vegans (and everyone else) because it's a complete protein and packed with B vitamins. I add it to everything. I think it adds a nice depth to the flavor profile of this creamy avocado pesto.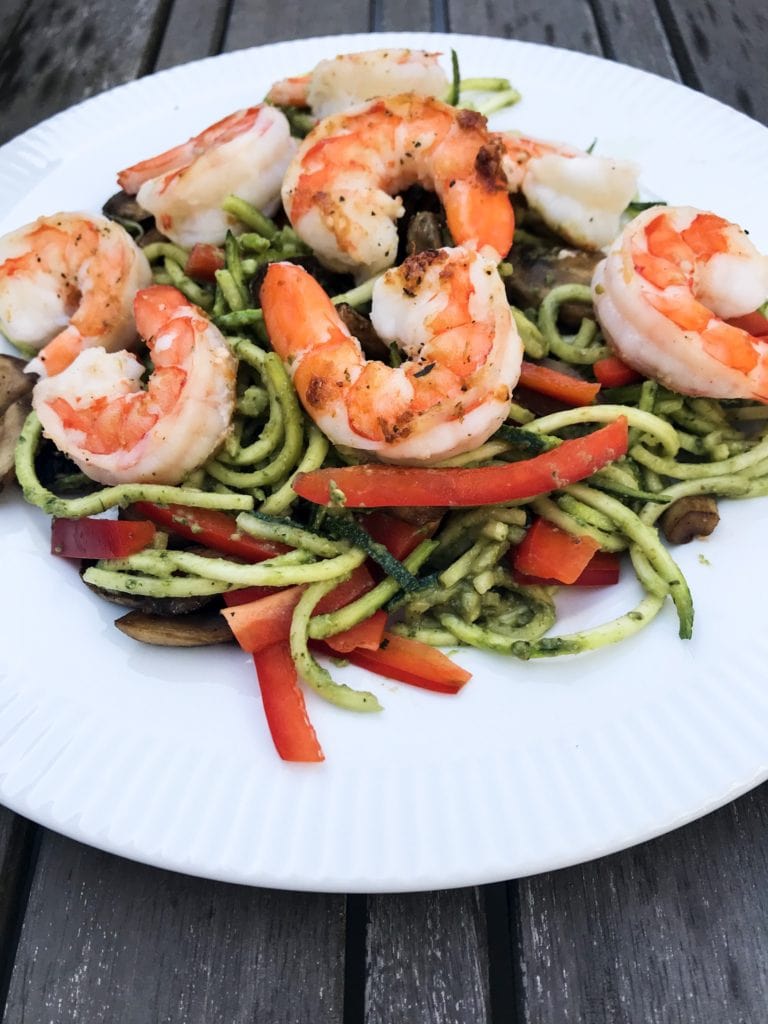 Now that we've covered the ingredients, it's time for you to give this recipe a try!
This creamy avocado pesto comes together so quickly. Throw all of the ingredients in a blender, blend, and enjoy! The only thing that slowed me down was my blender. I do not have one of those beautiful fancy blenders. I have a cheap blender that struggles to do it's one job. But if my poor little blender can make this recipe, I know you can, too! If you don't have a blender I imagine a food processor or even immersion blender would work, but I haven't tried that personally.
The good news is this recipe makes over 2.5 cups of this delightfully creamy pesto. That means you can add it to everything. I stored mine refrigerated in a mason jar and it kept well for 3 days. I think it would keep well for at least 3-4 days if you don't eat it all by then.
The last thing you might be interested to know is this is incredibly light compared to traditional pesto. I'm not a huge fan of calorie counting, but sometimes it's nice to know if you're dealing with tablespoon serving sizes or cups. I remember the day I realized a serving size of peanut butter was two tablespoons (?!!). My world has never quite been the same. This avocado pesto is packed with flavor and has a creamy consistency, but you can have a giant half of a cup of this for fewer calories than a 1/4 cup serving of traditional pesto. Have I sold you? You need this pesto in your life.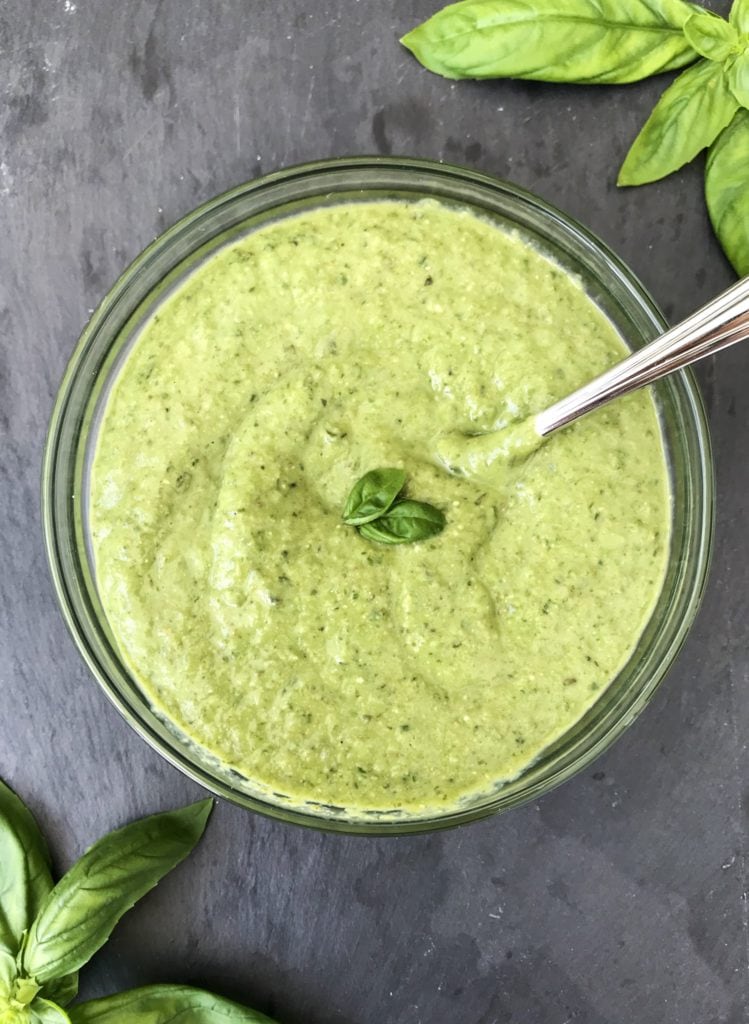 Lightened Up Creamy Vegan Avocado Pesto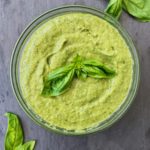 This avocado pesto is creamy, packed with flavor, and amazing with everything. It's perfect with zucchini noodles or pasta, as a low calorie salad dressing, mixed with eggs, as a dip for grilled vegetables, spread onto a sandwich, or as a sauce for a buddha bowl. The options are endless!
3 cups basil (packed)
1 avocado
1 cup frozen cauliflower rice
3/4 cups water
1/2 cup frozen spinach
1/3 cup nutritional yeast
5 Tbsp lemon juice
1/4 cup walnuts*
1 Tbsp minced garlic
1 Tbsp chia seed powder**
1/2-3/4 tsp Himalayan sea salt (to taste )
1/4 tsp cracked pepper
Add all ingredients* to blender and blend until combined and creamy.
*Wait to add walnuts until after ingredients have been combined and then pulse to create small chopped walnuts if desired for a little bit of chew vs completely creamy consistency.
**Place 1 tablespoon of chia seeds in a grinder and pulse until fine to create chia seed powder.  
What's your favorite way to enjoy pesto? Please let me know if you give this recipe a try!
This post contains Amazon affiliate links.