Addicting Pineapple Jalapeño Dip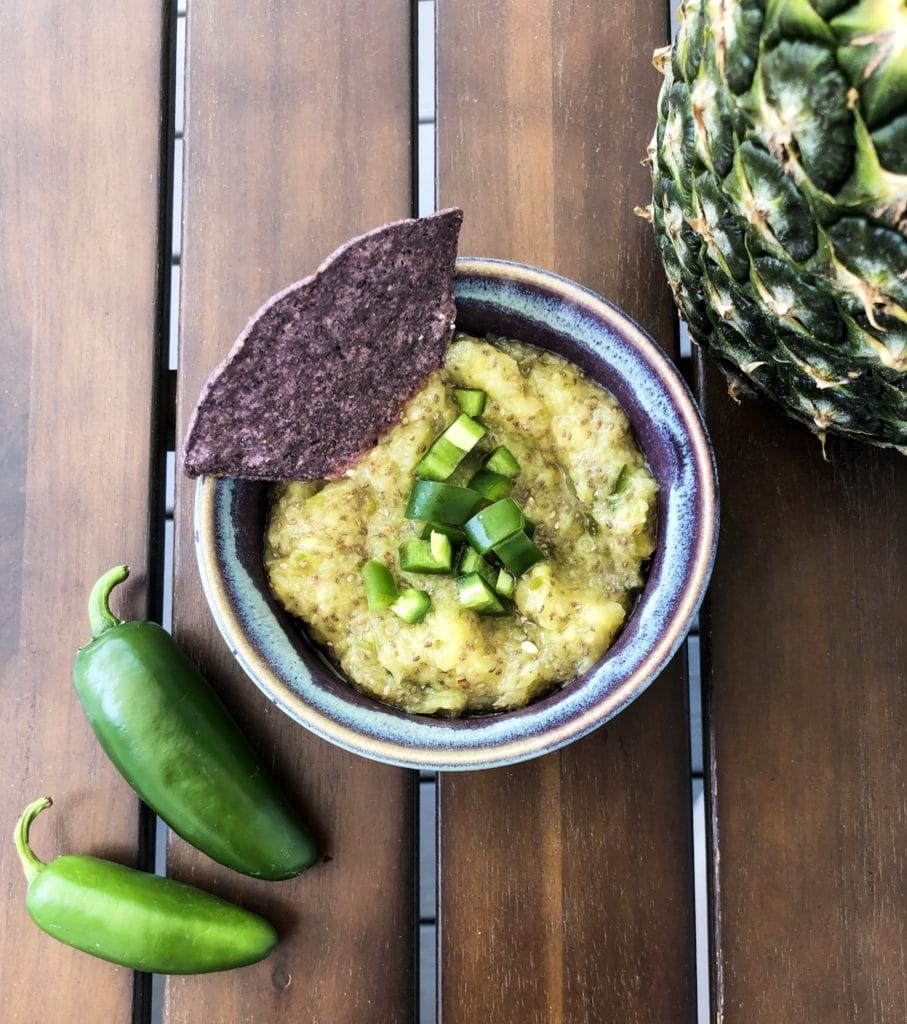 Hello, lovely people. If you're looking for a super easy, unique, and totally crowd pleasing dip for the 4th of July week, I've got you! This pineapple jalapeño dip is sweet, summery, and refreshing with a little kick of heat at the end. It's totally addicting. I created this recipe a while ago, but every time I made this dip it quickly vanished before I could take photos. Oh, and did I mention it's healthy? Yep...this "dip" is the jam. Like kind of literally.
So you know chia seed jam? This started out as an experiment to recreate my absolute favorite pineapple jalapeño fruit spread at ALDI. It's my secret weapon for a crowd-pleasing and unexpected addition to a cheese plate. Whenever I see the spread I stock up, because I'm always afraid it will be the last time they have it. That would be devastating.
So I took my infatuation with this pineapple jalapeño flavor combo and fear of one day running out of the fruit spread and set out to replicate my own version. But ya'll (haha...sometimes I like to pretend I'm southern) know I like to make things healthy. And I'm not a big fan of sugar. Pineapple is perfectly independent and doesn't need any help from sugar to be sweet, thank you very much. So I decided to use the chia seed jam technique I've seen to create a yummy little fruit spread. This can totally be used like a jam, but it turns out it's pretty darn versatile.
Let's chat about the many ways to enjoy this pineapple jalapeño dip. The first time I made this I dipped a blue corn chip in it... for taste testing purposes. And then another. And then Matt joined in. The whole sweet and spicy dip with the salty crunch of a tortilla chip is delightful. It's a fun companion for salsa...or dare I say replacement. This actually would be a fantastic topping for fish tacos!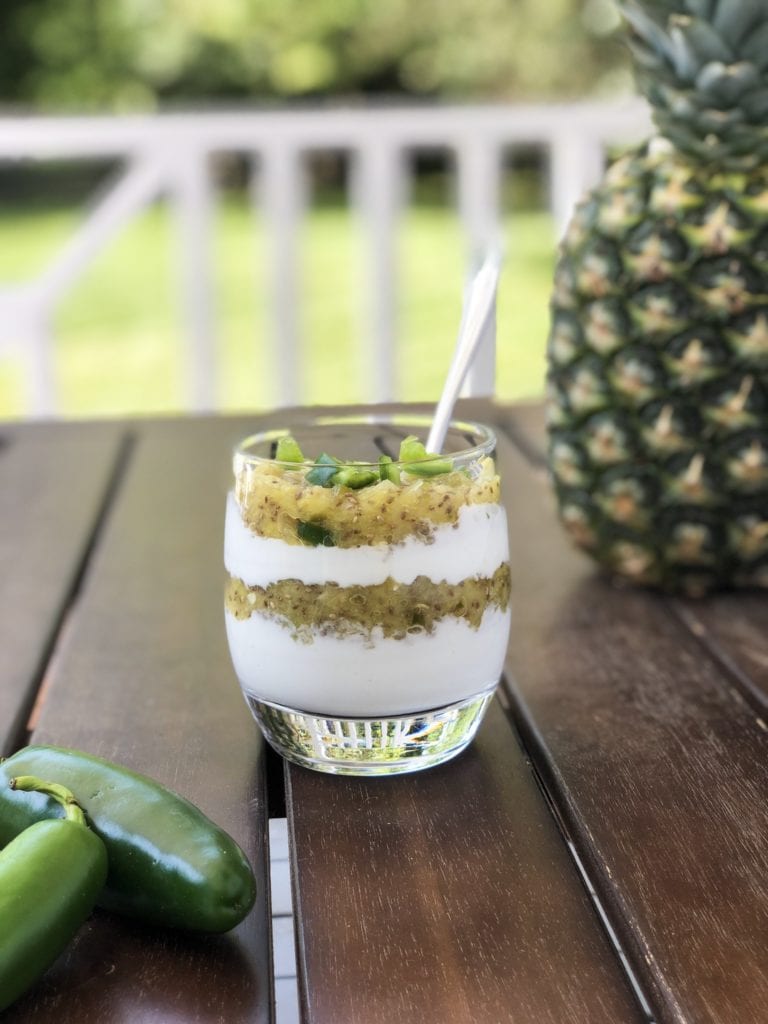 You know what else this dip is great for? Parfaits. It's so so good added to plain greek yogurt. Salads, too! I have been mixing the pineapple jalapeño dip into greens and topping it with a little extra splash of apple cider vinegar. It's a fantastic replacement for salad dressing.
Other things this dip is good with? A spoon. Think of this like a grown up version of applesauce. With the addition of chia seeds, apple cider vinegar, lemon juice, and jalapeños this makes for a pretty epic and nutrient packed snack. Let's take a moment to focus on some of the benefits, because I'm all about those micronutrients.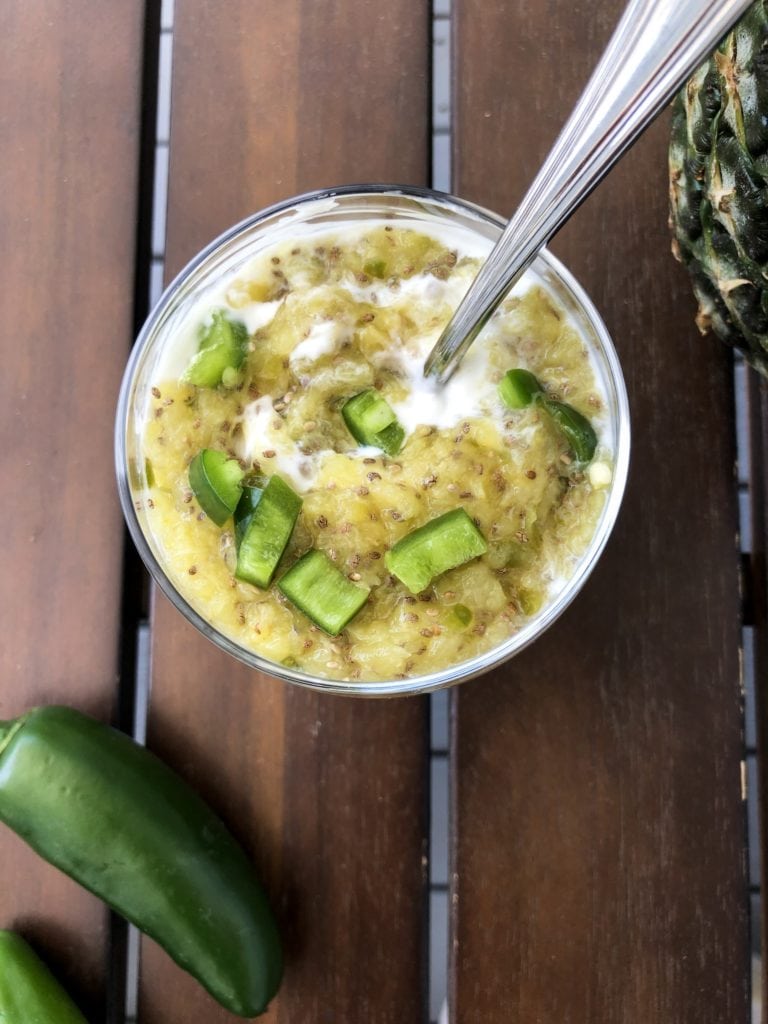 Benefits of Pineapple Jalapeño Dip
Pineapple: High in anti-oxidants, majorly anti-inflammatory, contains digestive enzymes that help to break down protein for better absorption
Jalapeños: High in anti-oxidants, anti-inflammatory, boosts metabolism, may help to relieve sinus congestion, headaches, and prevent stomach ulcers
Chia seeds: Super high in Omega-3's, excellent source of fiber, utilized since ancient times for endurance and stamina (cool)
Apple cider vinegar: Contains anti-bacterial properties, lowers blood sugar, and may aid in weight loss
Do those chia seeds make you nervous? Don't be afraid. They absorb the extra liquid to create a thicker jam-like consistency. That's all. You really don't notice them. Matt is not into chia seeds, and he loves this dip. The chia seeds do, however, add some awesome nutrients and fiber (see above).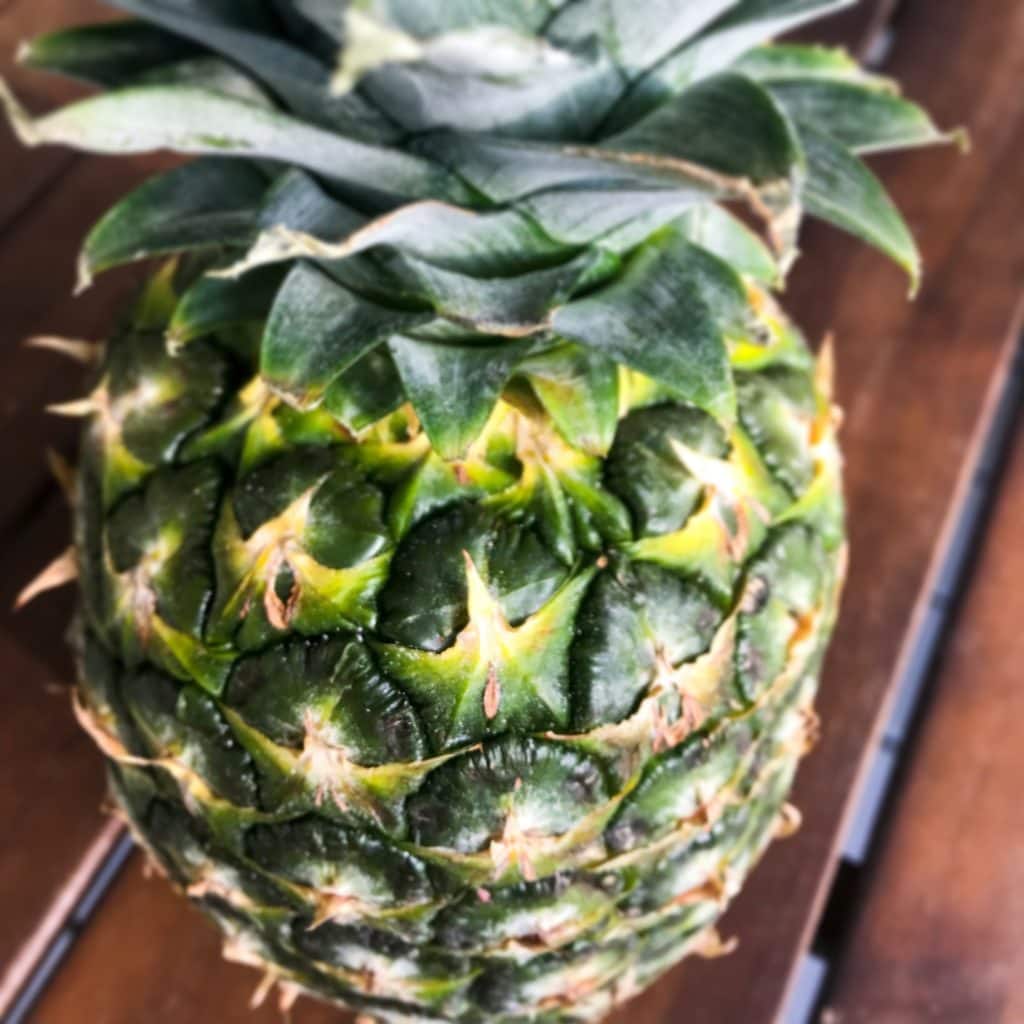 I highly recommend using fresh pineapple in this recipe, but if you're in a pinch you can use canned crushed pineapple (without added sugar). I tried this version and it worked, it's just not quite as sweet or colorful. As a bonus, it does save you a step: no cooking required. Since there's no need to cook the pineapple you simply mix all of the ingredients together. But really, use a fresh pineapple if you can.
Two final things you should know: 1) chopping jalapeños is a dangerous task. 2) I apparently do not learn from my mistakes. In general, I don't like spicy things so jalapeños and I have kept our distance. Until now. When you chop up these seemingly cute little innocent peppers BEWARE. You can wash your hands, but they will still carry invisible jalapeño oil so that when you touch your eyes hours later they will BURN. And apparently I touch my eyes frequently because every time I've made this I feel the burn. Maybe wear gloves when chopping them? I don't know what people do, but I'm doing it wrong.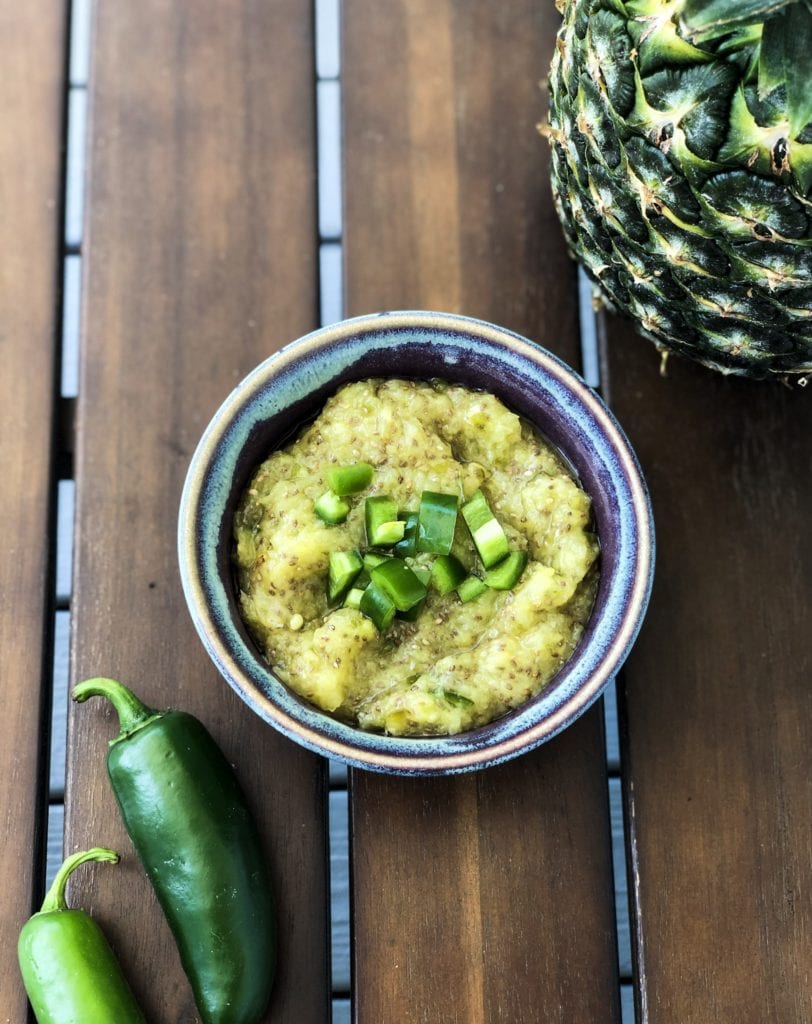 Pineapple Jalapeño Dip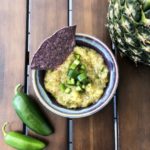 This dip is super easy, healthy, and sure to be a crowd pleaser. It makes for a perfect dip, addition to a parfait, replacement for salsa and salad dressing, or snack straight from the spoon!
1 pineapple*
2-3 jalapeños**
2 Tbsp chia seeds
4 tsp onion powder
1 Tbsp apple cider vinegar
1 Tbsp lemon juice
dash Himalayan sea salt (to taste)
Chop fresh pineapple into cubes and add to sauce pan over medium heat. Cook until softened approx 5-10 minutes. Use a masher or fork to break down cubes for a more even consistency. Use an immersion blender (optional) to create a puree.

While pineapple cooks dice jalapeños and save seeds. Taste a few seeds (or ask your husband to) to identify the level of heat.

Once the pineapple has broken down and released the juices remove from heat. Add remaining ingredients except for the jalapeño seeds. Mix well. Gradually add jalapeño seeds to taste (level of heat varies greatly so add until it reaches your preference).

Chill for 1-2 hours (or overnight) to allow mixture to thicken. Tastes great instantly, but flavors do develop well overnight.
*Fresh pineapple is recommended. However, you can use a can of crushed pineapple.  If using canned there is no need to cook pineapple.  Just skip ahead to 2nd step and mix all ingredients together.
**Jalapeños are unpredictable! The heat level varies so start with fewer jalapeños and seeds and add slowly until desired heat level is achieved.