Friday Favorites #16
Happy Friday! I don't know if it's because the sun finally came out or what, but I've been in a pretty good mood all week. Whatever the cause, I'll take it. I have lots of things I want to share with you today. In case you missed it, earlier this week I shared the lessons I learned from my DIY nightmare backsplash project and my current workout playlist (plus an awesome workout). I have a bunch of recipes I'm hoping to share with you guys soon. One of them is another nut butter recipe, but every time I make it I eat it before I can take photos. I'll work on that.
Once again I'm checking in to share the things I'm loving this week. As always, I'd love to hear about your current obsession or what made your week special in the comments. Thanks for stopping by. <3
Fresh Flowers from the Farmers Market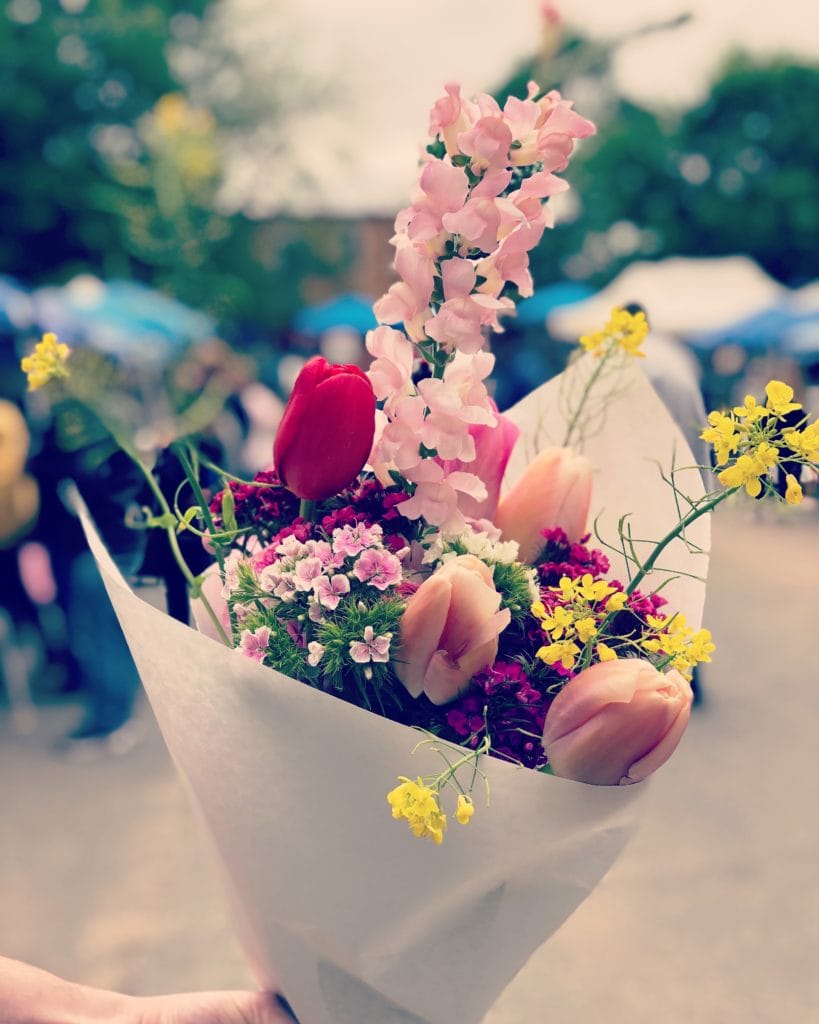 It's amazing how a simple bouquet of fresh flowers can create so much joy. Matt and I headed to the Davidson Farmer's Market on Saturday morning. As soon as we arrived I was instantly enamored by the gorgeous bouquets everyone was walking around with. A new vendor, Herr Fresh Flowers, had buckets overflowing with the most beautiful flowers like tulips, hydrangeas, snap dragons, and irises that they were rapidly turning into stunning combinations.
When I arrived at the front of the line (there was a long one), I was pleasantly surprised to find that they create custom bouquets based on colors and flowers requested. For only $10, they put together this bouquet that now makes me happy every time I see it in my kitchen. Ten dollars well spent for sure. I'll definitely be back soon.
Mighty Nest Delivery: Meliora All-Purpose Home Cleaner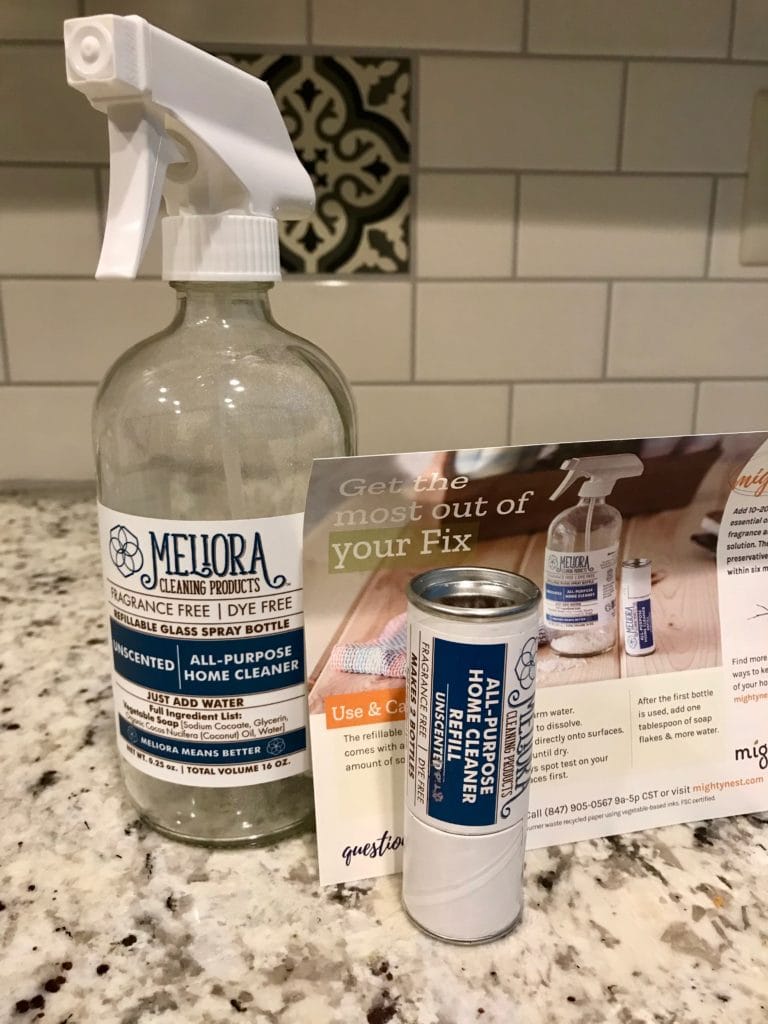 You can probably just go ahead and expect my latest Mighty Nest delivery to make an appearance on these Friday Favorites once a month. I love looking forward to getting a new and environmentally-friendly option for my household. I also like sharing them with you guys in case you're also trying to make little changes towards a greener lifestyle.
This week Meliora's All Purpose Cleaner arrived with a reusable glass spray bottle. The bottle came with little soap granules at the bottom and a pack for refills. All I needed to do was fill the bottle with warm water and it was ready to go - easy peasy! They recommend adding essential oils, so I added lemongrass to give it a nice clean scent. Delightful.
I'm guilty of using those Clorox wipes for wiping down my counters. That's probably not ideal. I'm now trying to use this spray with a cloth to wipe unless I'm dealing with something like raw fish or chicken that needs to be disinfected. I checked out Meliora's website and it looks like they also have body soaps, laundry, and other home cleaning products (like dish soap bars). Meliora means "better" in case you were wondering. I wasn't, but that's what I learned. Now you know too.
Easter Morning Yoga Flow
I decided to do my own flow at home on Sunday morning. Last week walks outside replaced yoga, so I was in the mood for a good flow that moved quickly but also had some good stretches. I randomly chose this video, but it ended up being exactly what I was craving. It starts with some great stretches to help with a tight upper back and shoulders. The instructor then picks up the pace with sun salutations and a few challenging sequences to get a good flow going. The last portion slows down with longer stretches focusing on the hips and hamstrings and some twists. It was exactly what I needed.
I did the flow in my office for a change of scenery. I used some of my tricks to make it feel like a treat by turning on my new diffuser with the "happy" essential oil from my Fab Fit Fun box and one of Jennifer Eddin's Spotify yoga playlists. It totally hit the spot and was the perfect start to a Sunday morning.
A Sweet Treat with Good Coffee on the Weekend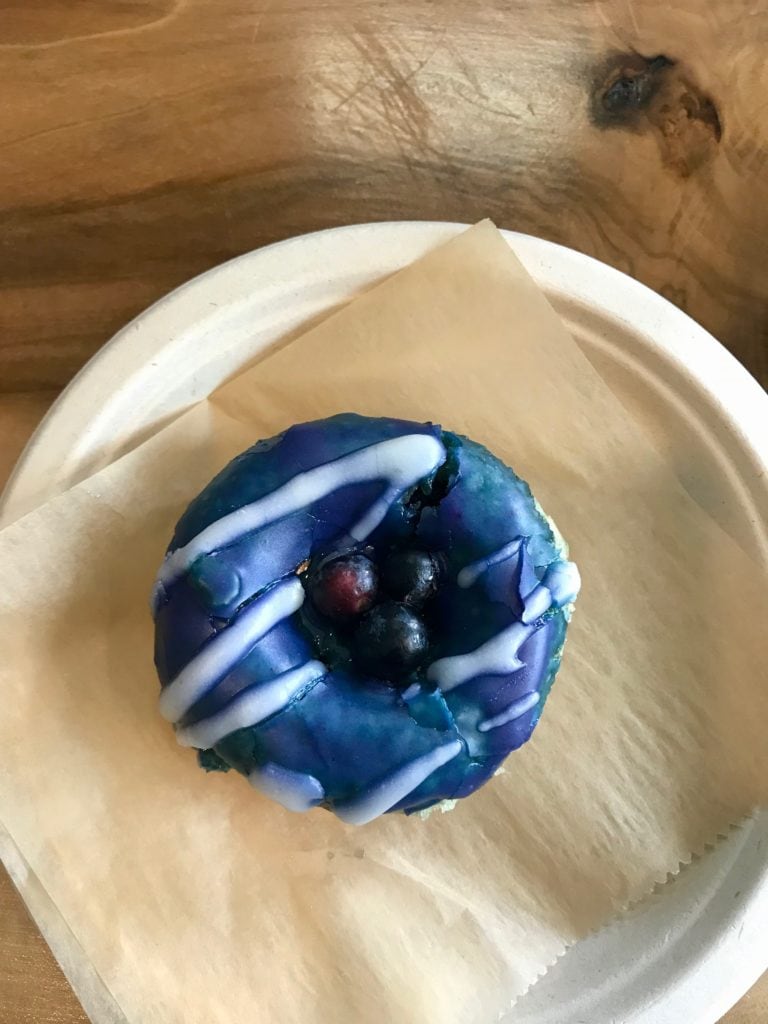 Sometimes I want loads of vegetables and sometimes I want a sweet treat with a delicious black coffee. It's all about balance, people. And happiness. Matt and I went to Urban Grind over the weekend and Move That Dough's vegan treats had just arrived. We chose a lemon blueberry donut and a funfetti roll. I mostly wanted the lemon blueberry donut but there was only one left. True love is sharing a lemon blueberry donut with your husband when you really want it all to yourself.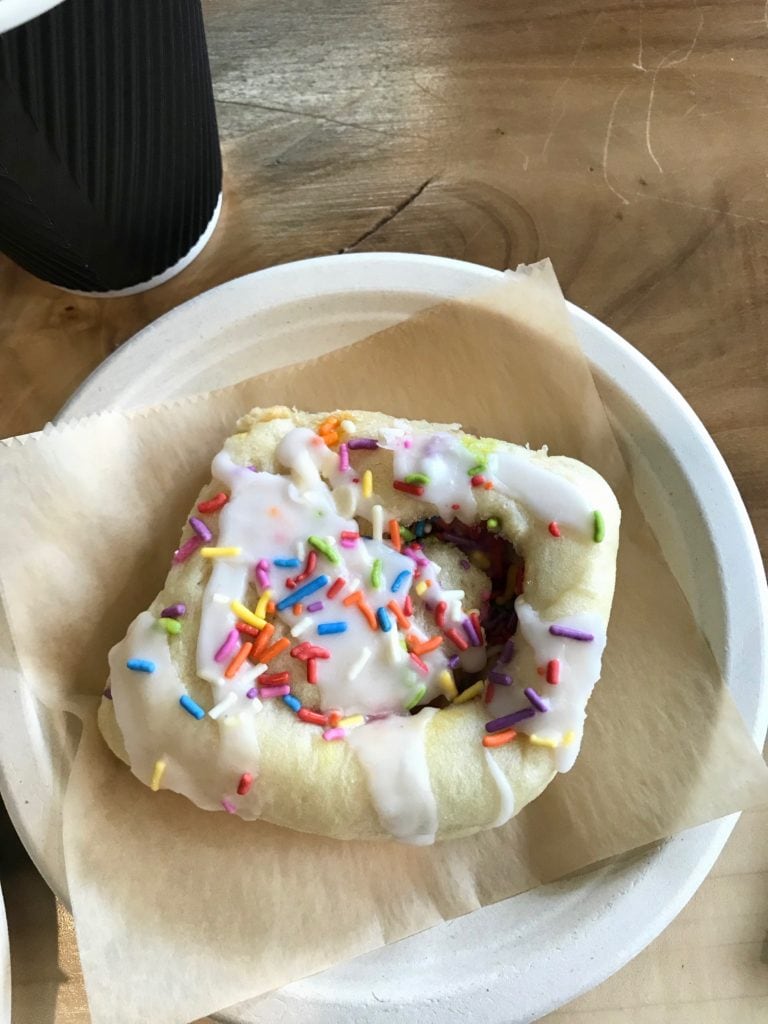 Both treats were super fresh and delicious. They paired perfectly with the simple drip black coffee that I ordered. Out of all the drinks Urban Grind offers on the menu, I've realized that's my favorite. How boring, right? They have really great coffee beans though, and sometimes simple is better. Says the girl who also ordered a specialty $4 vegan donut.
Kwik Brain Podcast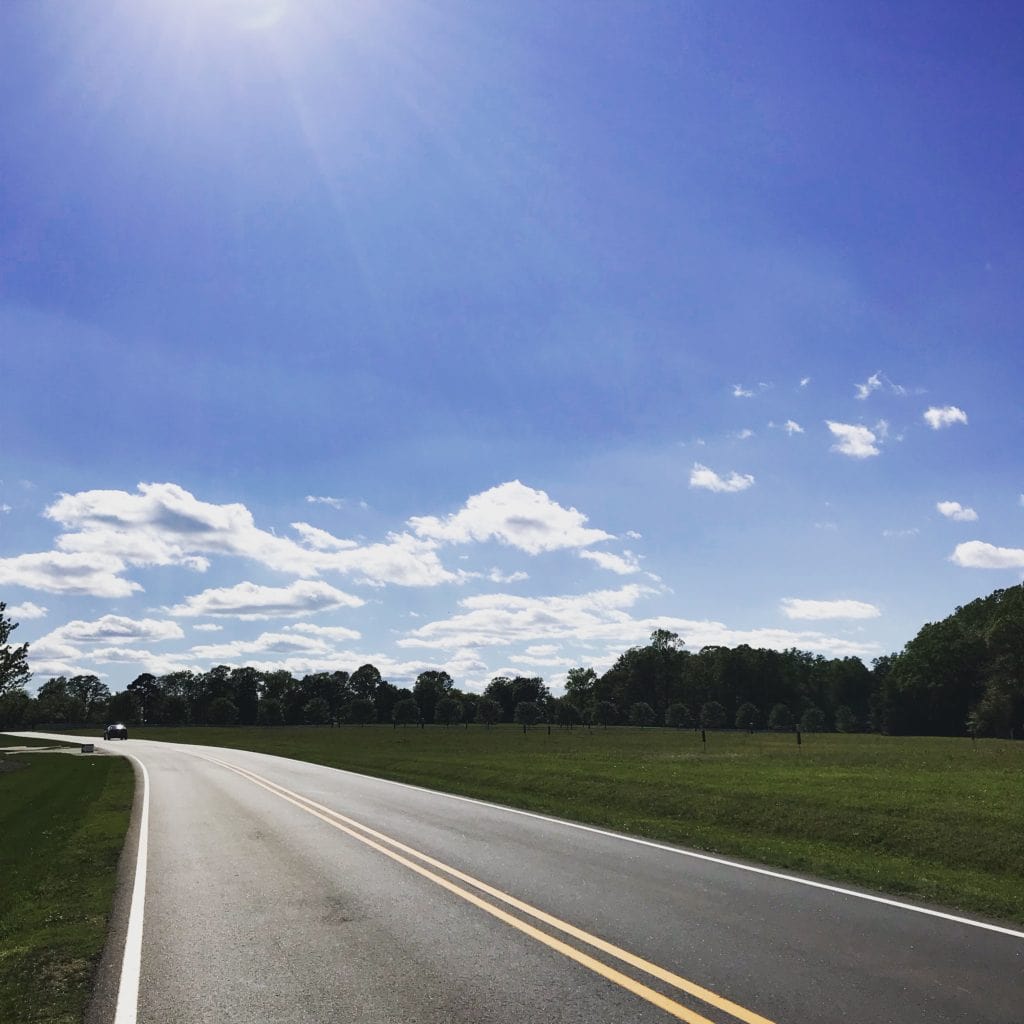 So here's a podcast I'm obsessed with now. Jim Kwik is a brain expert who has coached loads of successful people like CEOs and famous actors (Hi, Will Smith) on how to be a better learner. He refers to himself as the "boy with the broken brain" because he had a childhood brain injury that made it tough for him to learn in school. He came up with different learning methods for remembering things (like names, lists, speeches, etc.), reading faster and better, and changing habits. It's SO MUCH good information.
His podcast has really quick episodes (less than 20 minutes) on a small topic. I'm currently binge listening to all of them. One of the things he talks about that really resonated with me was about reading. Most people who write a book have spent years of their life gaining expertise and experience on the topic before writing. When we read that book we're able to basically get the cliff note version of what it took sometimes a lifetime for someone to learn. While it's kind of obvious, I had never thought of it that way. How cool to be able to get so much knowledge so quickly. I know I'm a nerd, it's fine.
I enjoy reading, but I think of it as a rare luxury to sit down with a good book. This made me want to prioritize carving out a little time to read each week. I also want to read more so that I can put into practice his tips for reading faster with better comprehension. You'll have to listen to the podcasts, but he has some really interesting tips. He also talks about why we often can read a sentence, have no idea what we just read, reread the sentence, and still not really know what we just read. Did that just happen to you? That's because that sentence was confusing. Anyway, he covers how to fix that.
While I want to keep going on about the things I found interesting, it will probably be much more enjoyable for you to check it out yourself. I'm definitely going to start putting his tips on remembering names into practice, because I'm awful at that. Apparently the first step is not telling people I'm awful at that. Off to a good start...
Having Clean Make-up Brushes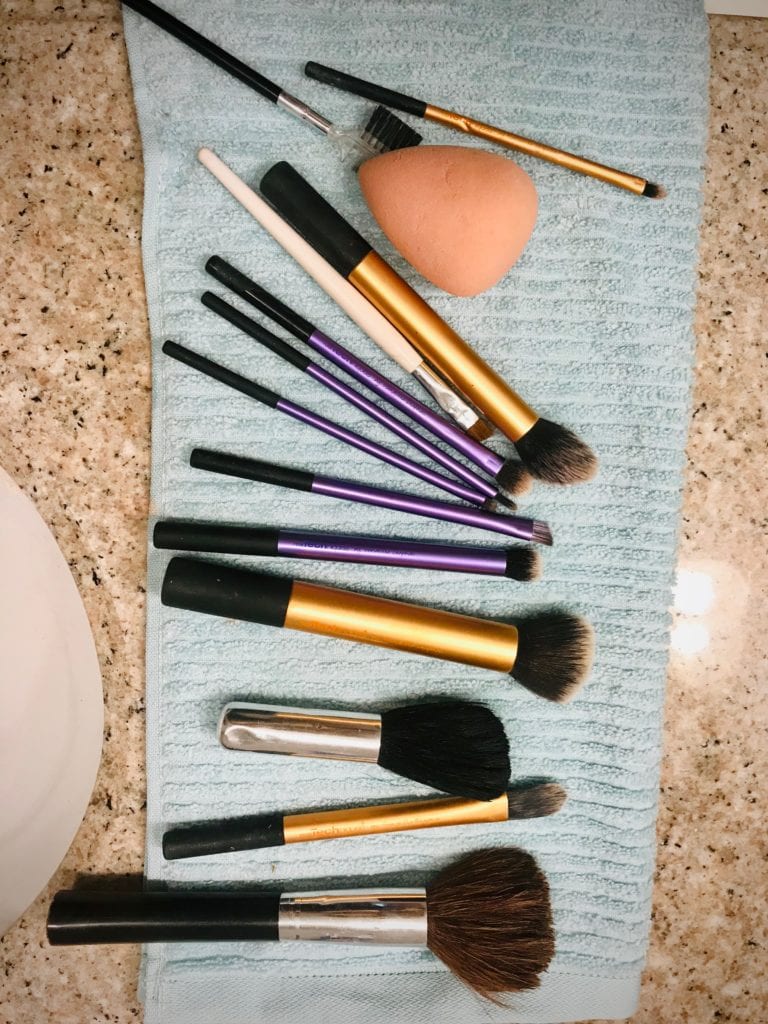 I'm still going strong with checking things off of my to-do list in preparation for Mindful May. Seriously, it has been such a good way of finally doing things that I have put off forever. Forever is approximately the amount of time it had been since I washed my make-up brushes. Full transparency here. I don't know why I put it off for so long because it's really not difficult or that time consuming. The next morning I learned that they work way better when they're actually clean. Go figure.
I also want to note that while I have a lot of make-up brushes, I don't use the majority of them and have zero make-up application skills. There will be no make-up tutorials on this little blog. Every single time I have a formal event coming up where I want to look nice I watch loads of YouTube videos where women just effortlessly throw on eyeshadow in strategic places and blend, blend, blend, and voila! Perfection! A couple hours prior to the event I then try to replicate what looked super simple. It's never simple. I then realize I look ridiculous, remove my make-up, and apply it the same way I always do.
Why do I never try this on days when I don't have a special event in a couple of hours? No clue. If someone wants to teach me how to apply makeup now that I'm in the thirties that'd be cool. I'll bring you a gorgeous bouquet and a vegan donut. <3
What are your favorite podcasts to listen to?
What's your favorite flower? Do you feel like it's worth splurging on fresh cut flowers to have in your home?
What's something that made you super happy this week? I want to hear about it!