Sweet Potato, Cucumber, Goat Cheese, and Smoked Salmon Stacks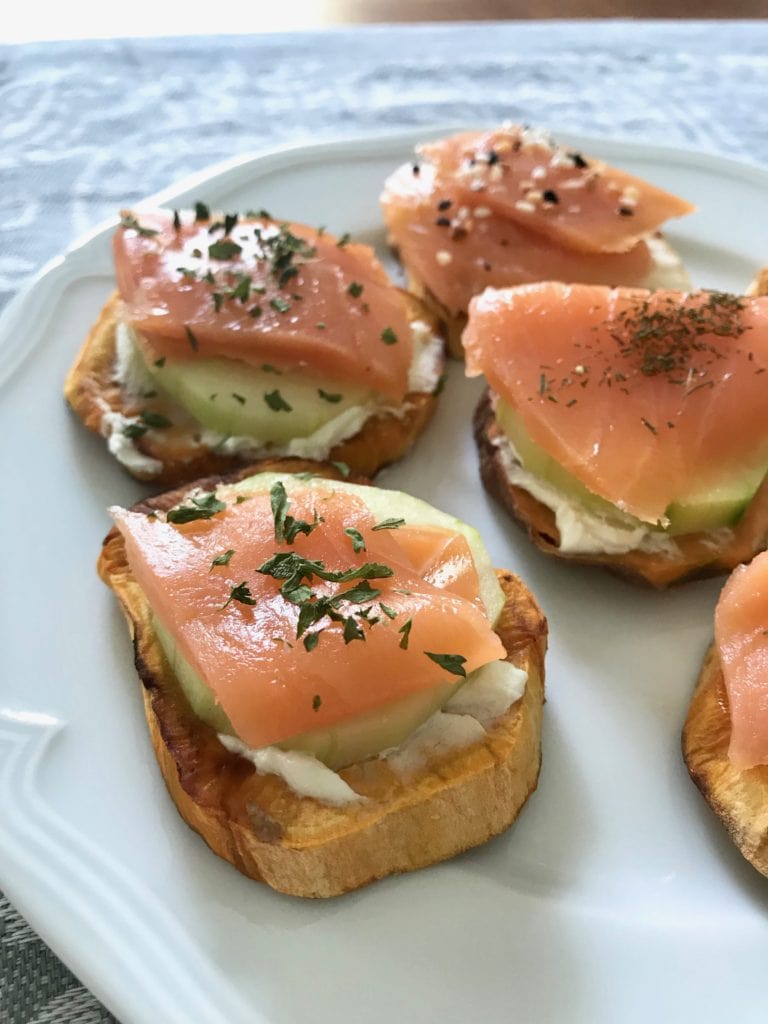 Today I'm taking a break from working on the kitchen backsplash to bring you my latest snack/meal/appetizer obsession. I'm actually making progress with the whole backsplash situation, and I finally finished putting up the tiles. Hallelujah. All that's left is the grout. Simple! Right? Not really.
Nothing about this project has been simple. Once again the videos online make it seem like grout application is a breeze. But yesterday I spent a whole lot of time in the grout section of Home Depot with an employee. He helped to fill my cart with what I needed. Once he left, I read the online reviews of the pre-mixed grout to make sure it was user friendly. It had loads of reviews with stories of DIY projects gone wrong. So I emptied my cart and now I'm stepping away from the @$&#ing backsplash for one glorious evening to share these sweet potato stacks that are SO GOOD. They also don't require much time in the kitchen in case yours is currently a DIY construction nightmare.
The idea for these little guys popped into my head one morning while I was doing my morning workout. I was thinking about this sweet potato toast recipe (as one does at 5 am in the morning) and intrigued by the combo of roasted sweet potatoes with cucumbers. I didn't have all of the ingredients to make Downshiftology's epic sweet potato toast, but I did think of my own combo that I immediately wanted to try.
Right after my workout, I decided I had enough time to throw these together before heading to work. Since I'm constantly thinking about this little blog I snapped some photos of the process in case they turned out delicious. The good news is they turned out perfectly. The bad news is the photos leave a lot to be desired, but I'm still including them for the visual. You know, since stacking a few ingredients on top of each other is pretty complicated. Thankfully, unlike backsplash these actually are straight forward.
This was my first time ever making sweet potato toast. Did you know you can make sweet potato toast in the TOASTER?! This was delightful news to me. During this little sweet potato toast adventure, I did discover that you have to toast the sweet potato slices MANY times in order to get them cooked through. I highly recommend microwaving the sweet potato for 1-2 minutes before to soften and slightly cook it. This cuts way down on the toaster time needed. It also results in nice soft sweet potato slices that are toasted on the outside.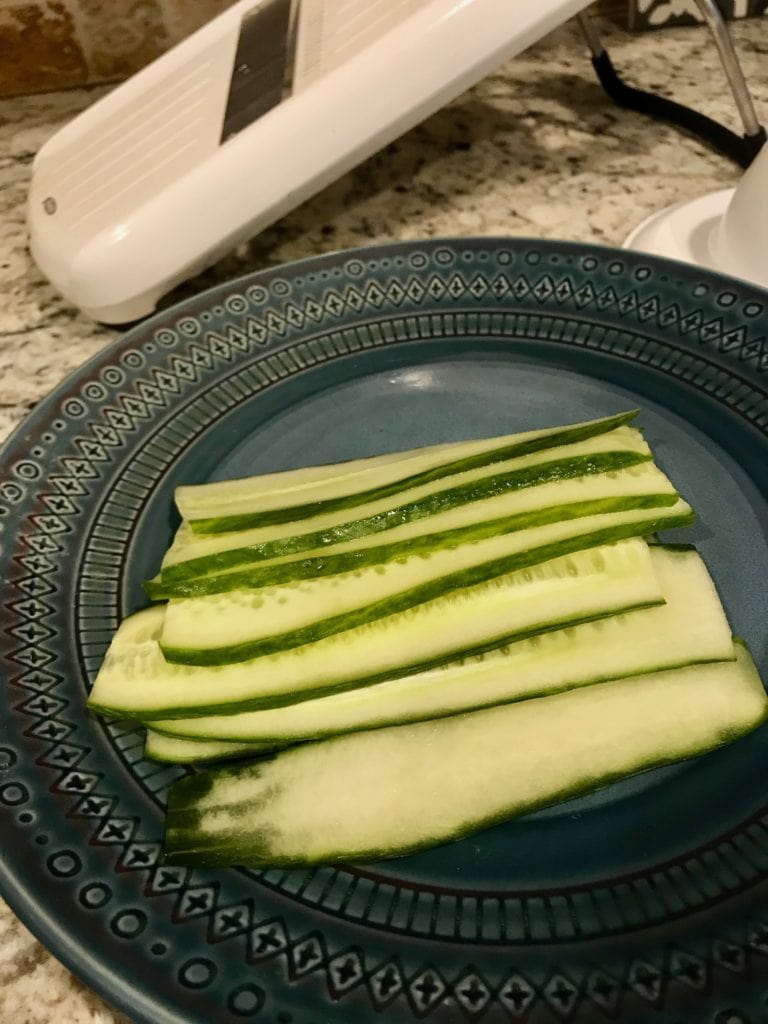 While my sweet potato slices were toasting, I used a mandolin to slice half of a seedless cucumber into slices and blotted away the excess water. Once the sweet potatoes were finished toasting, it was time to assemble!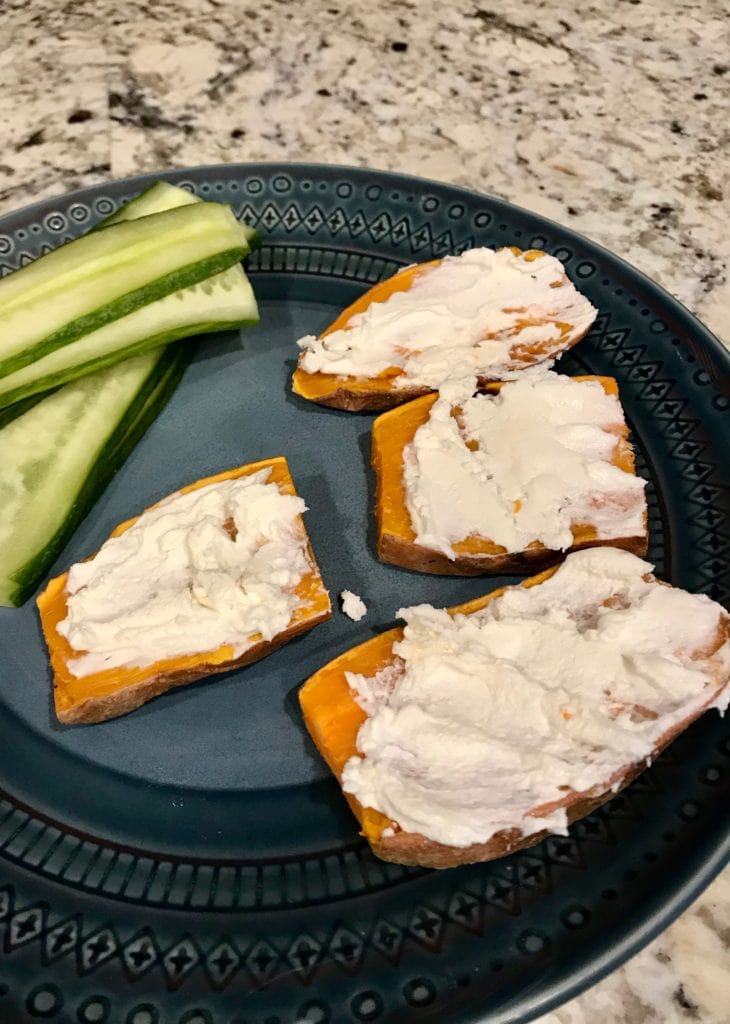 I topped each sweet potato slice with goat cheese and then a cucumber slice.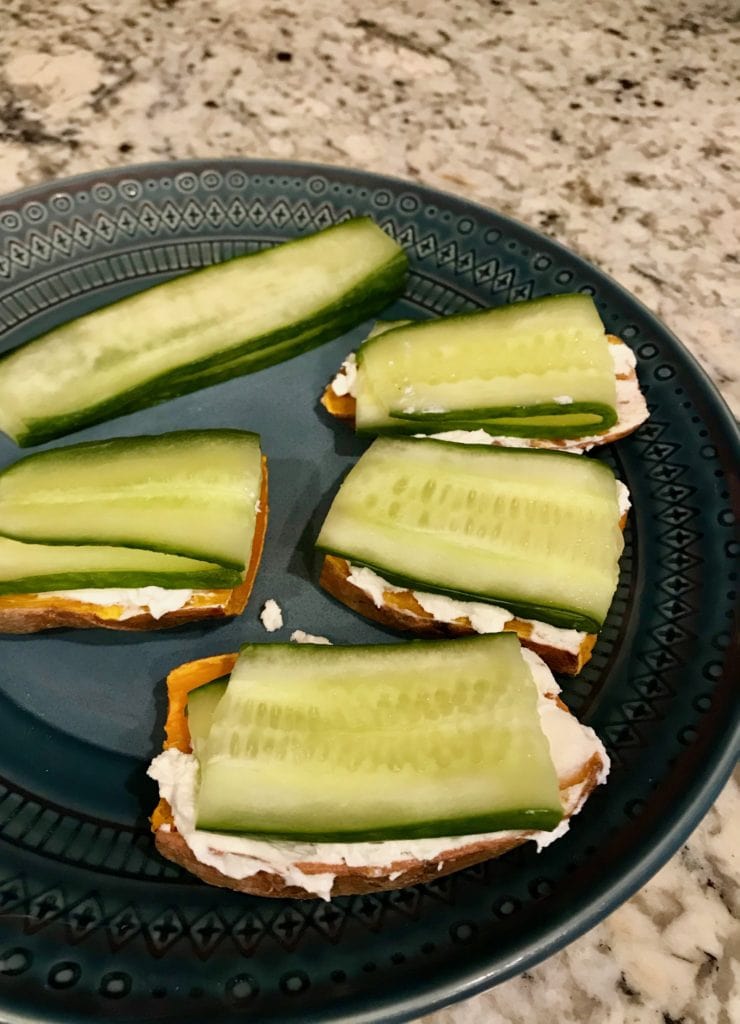 Finally, I topped each with a piece of delicious smoked salmon (I used a pack of Aldi's Specially Selected Cold Smoked Salmon).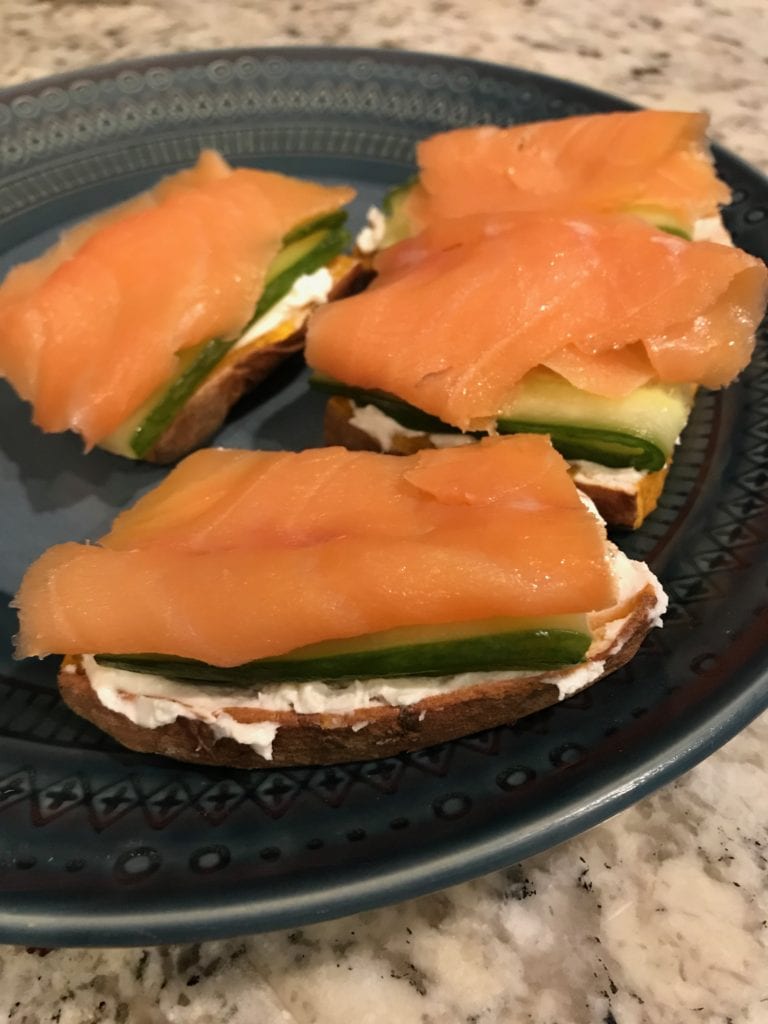 Initially I had planned to top these with dill, but once I reached this point I discovered I was out. I put parsley on instead, which worked surprisingly well. Since then, I have tried it with dill and that works well, too.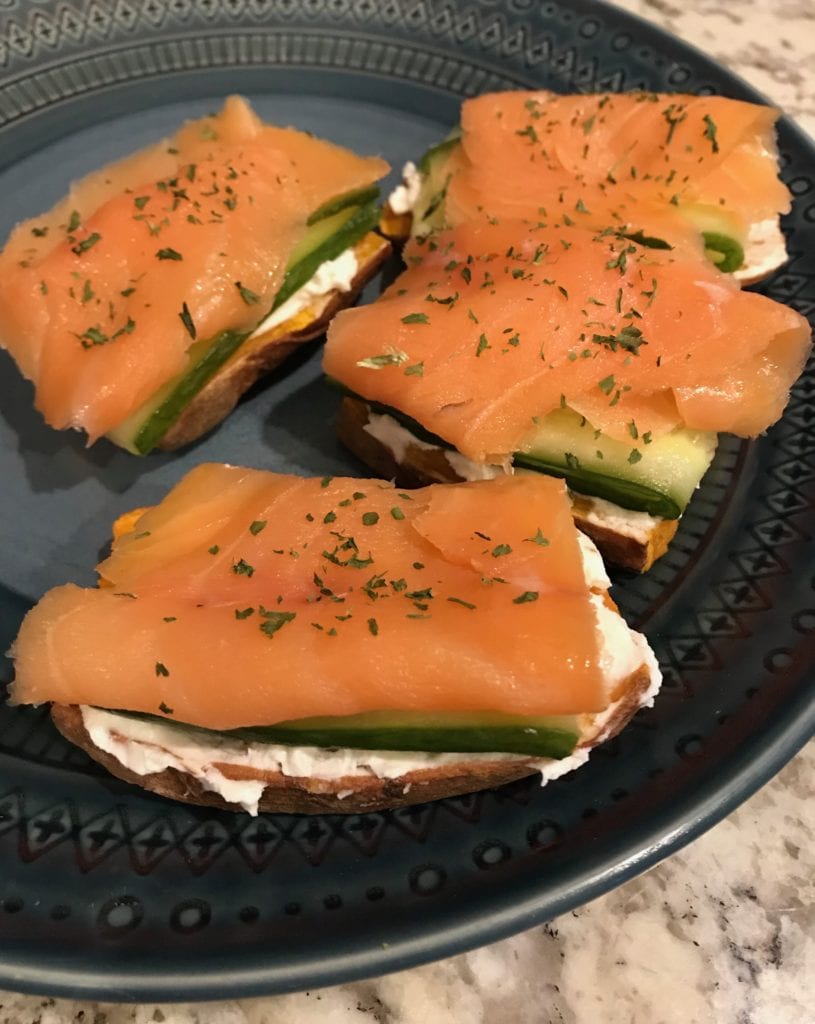 After taking a bite (and being thrilled with the results), I realized the Trader Joe's Everything But The Bagel seasoning would also be a nice garnish. It was a perfect addition for breakfast.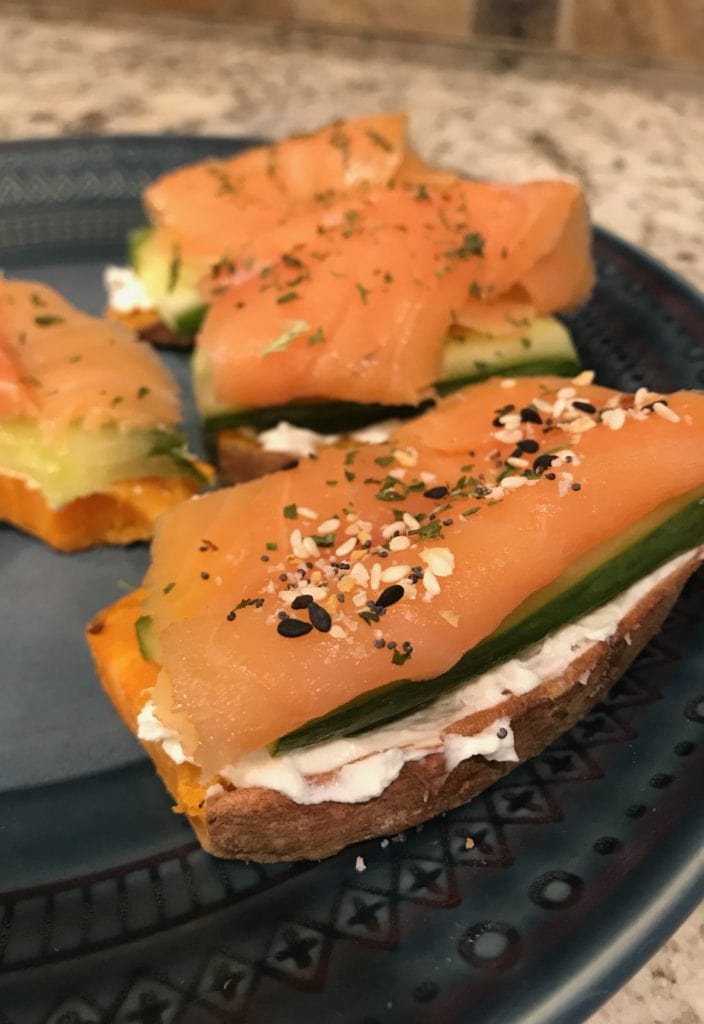 The combination of sweet, refreshing, and smokey flavors combined with the crisp, creamy, and pillowy roasted textures makes biting into these so completely satisfying. And addicting. I immediately fell in love. Think of these as a fresh and healthy upgrade to the traditional bagel and lox breakfast. This version is packed with healthy fats, proteins, and carbs to jump start your morning instead of weighing you down.
After creating these, I realized they would also make a fun and super easy appetizer. I recommend just slicing the sweet potatoes and cucumbers into rounds for smaller, bite sized treats. While prepping for guests, you can simply pop a pan of sweet potato rounds in the oven. Once roasted, these come together in a matter of minutes but taste like a fancy treat. If my kitchen is ever put back together, I'll definitely be serving these to my next guests.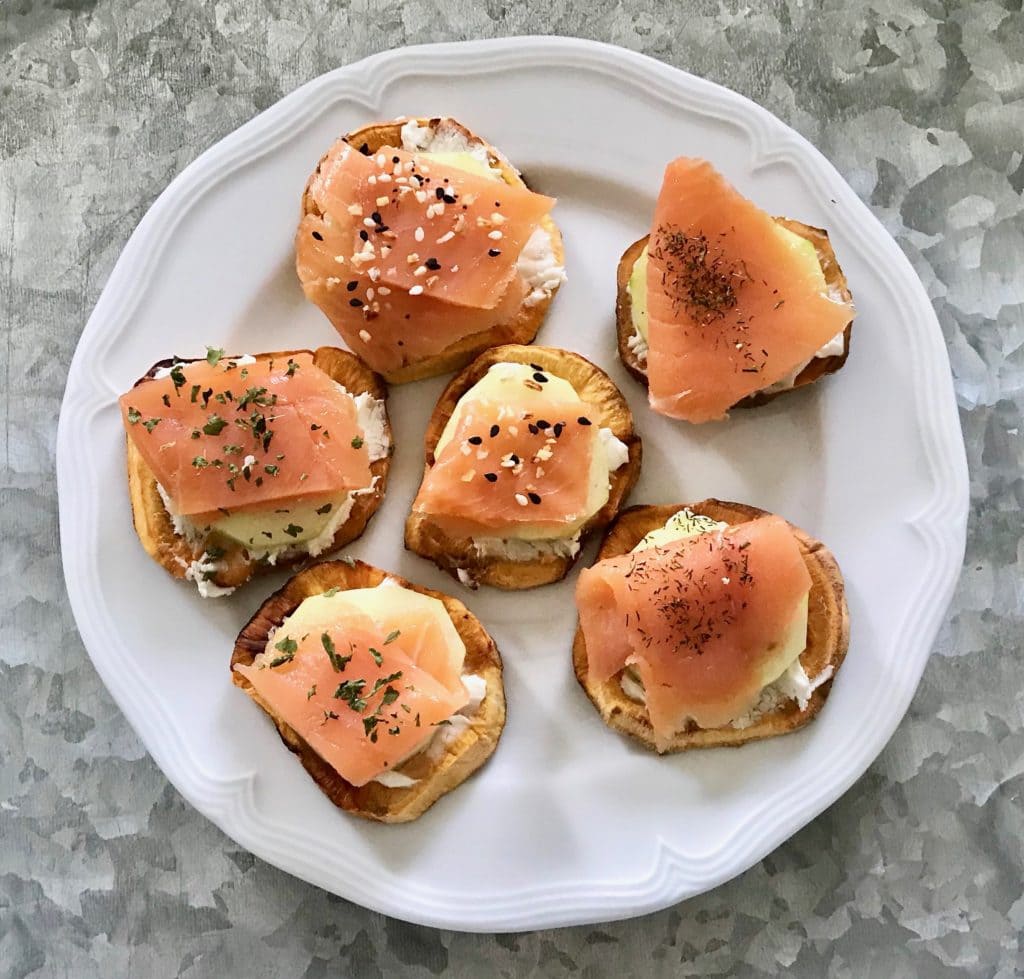 Sweet Potato, Cucumber, Goat Cheese, and Smoked Salmon Stacks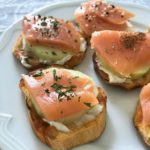 These little stacks are packed with flavor and perfect for breakfast, lunch, or a super easy appetizer when entertaining.  I recommend doubling the recipe for an appetizer because these addicting treats won't last long!  
1 sweet potato
1 serving goat cheese
1/2 seedless cucumber, sliced
3 oz package smoked salmon
dash of parsley, dill, or Everything But The Bagel seasoning
Wash sweet potato, poke a few holes, and microwave for approx. 2 minutes (until slightly soft).

Slice sweet potato into 1/4" slices and toast in a toaster or roast in an oven at 400 deg F until browning and crispy on the outside.

While the sweet potato roasts, slice cucumber to approx. 1/8-1/4" thick slices using a mandolin or carefully with a knife.  Blot excess water.

Start assembly by spreading goat cheese onto sweet potato slices.

Top each sweet potato with 1-2 slices of cucumber.

Top each sweet potato cucumber stack with smoked salmon.

Top each stack with desired herb.  Parsley, dill, and the Trader Joes Everything But The Bagel seasoning are my favorites.
I like to slice the sweet potatoes and cucumbers lengthwise when I enjoy the stacks for breakfast and as rounds for a smaller bite-sized appetizer.