Pecan Pie Nut Butter with Collagen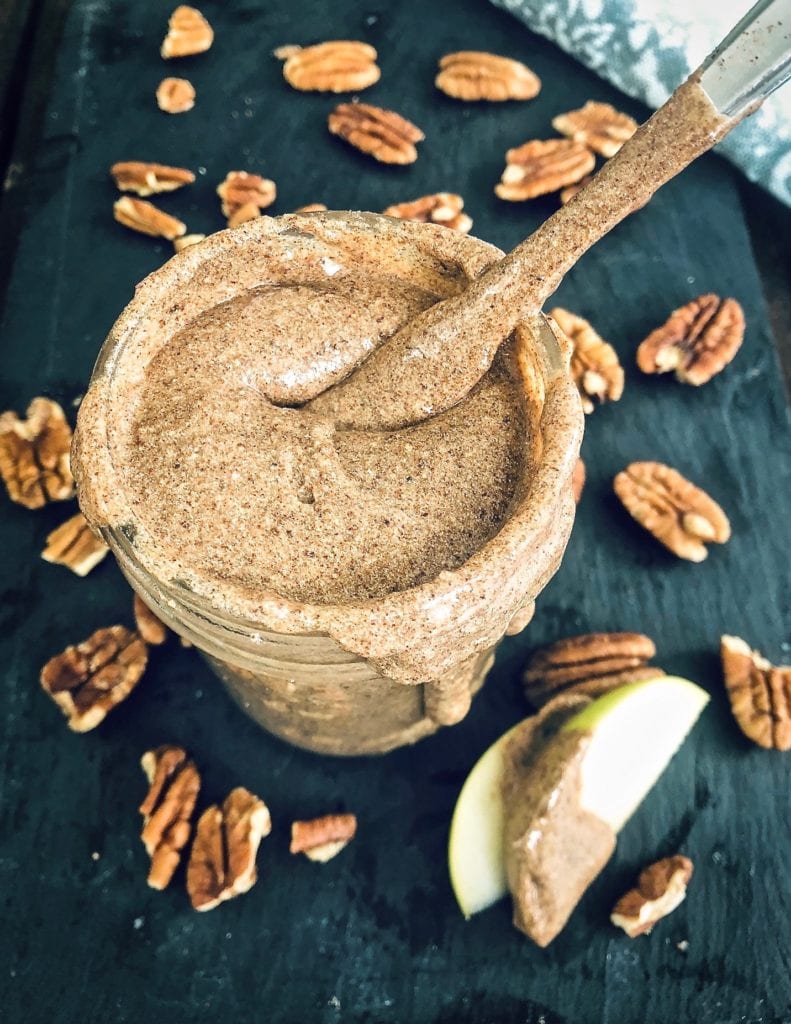 When I made Matt try a spoonful of this nut butter he smiled and his eyes lit up. "You like this?!", he said. At that point, I knew I had a winner. By that he means that this delightful nut butter tastes way too decadent to be healthy. But, it is! And yes, I like this. I love this. On everything, including straight from a spoon. Every time I open the refrigerator.
I try to take collagen almost every day. Now that I'm in my thirties my knees snap crackle and pop every time I squat down or stand up. Gross. With my job, I literally spend all day getting up and down from the ground. While it's not painful it is a nuisance... and probably unsettling for the assistants working with me to hear.
I started taking collagen to help support joint health. It's also supposed to help with skin elasticity, and who doesn't want that. When I ran out of the first bag, I stopped taking it because I didn't really feel like it was making a difference. A few weeks after stopping, I realized I was wrong. Without realizing, my knees had become quieter when getting up and down. Once I stopped, it was like little fireworks in my knees again which is kind of like nails on a chalk board. All day long. Back on collagen I went.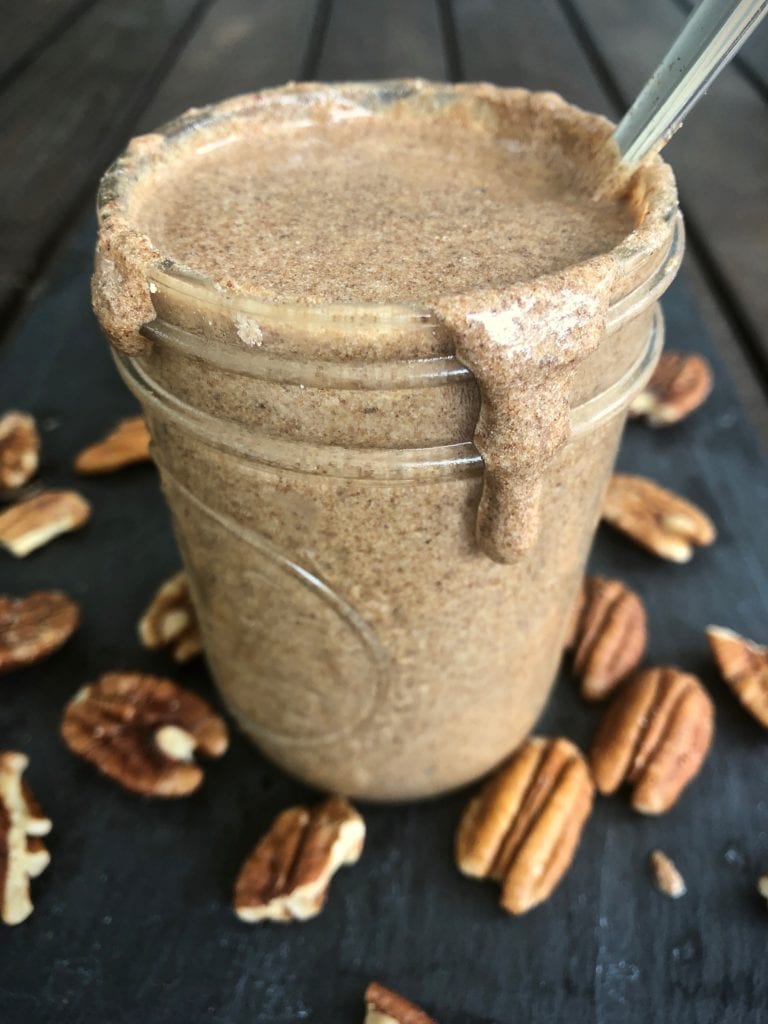 The nice thing about collagen is it adds a nice boost of protein for very few calories. For about 45 calories, you get 9 grams of protein - impressive! Because of that boost of protein, I started mixing it into my afternoon tea (or sometimes coffee or my version of a healthy hot chocolate) to give me a little energy boost. In theory this sounds good, but a lot of times I forget or don't have time. I wanted a way to get more collagen without really trying.
I love nuts as a healthy snack option (see the Amazeballs). I like that they provide healthy fats and some protein, but I always wish they had just a little bit more protein. That's when I started thinking about creating my own nut butter and wondered if I could add collagen powder for a protein boost.
The thing about collagen is that while it doesn't have a strong taste, it does have a slight taste that isn't particularly good. Especially because I take marine collagen. I don't eat beef (let's not get into that), so I can't vouch for the taste of beef based collagen. If I was going to add collagen, I needed the nut butter to be flavorful enough that you didn't know the collagen was there. This is how pecan pie nut butter was born!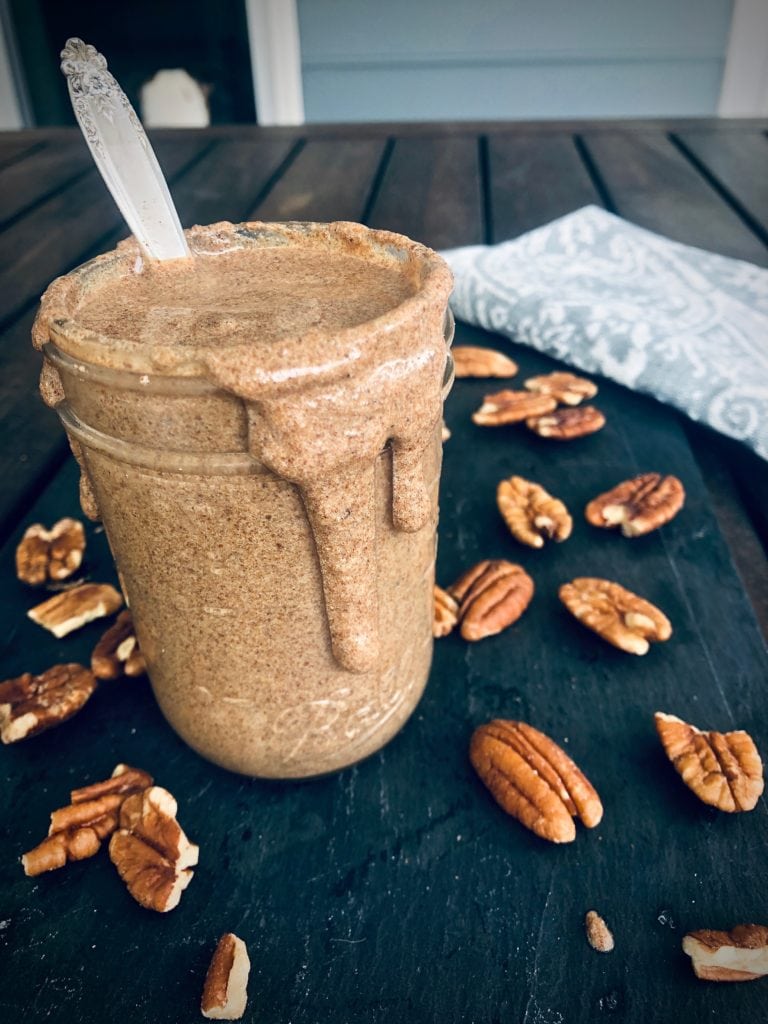 As soon as I came up with the idea, I needed to try to create it immediately. My first attempt was a big epic fail. A nut butter recipe should be super easy to create, right? Apparently not for me. I wanted to get as much collagen into the nut butter as I could, so I added some water to try to help it dissolve. Guess what doesn't mix well - oil and water. Duh. Don't ever add water to your nut butter. My education consisted of loads of heavy and complex science classes. It's comforting that after all of that the most basic principles like oil and water don't mix are helping me in my every day life. Or not.
Thankfully, attempt two was a success. With the addition of cinnamon, cloves, and dates (or raisins) for a little sweetness, this nut butter tastes like dessert. Roasting the pecans is an important step. I tried skipping that step in round one, because I like to make things as simple as possible. We know how that turned out. Really, roasting the pecans does bring out a lot of flavor and is worth the effort. I used my Ninja Foodi which made it super fast and easy, but you can obviously use the oven, too.
As soon as I tasted this nut butter, I knew it would be amazing with sweet potatoes. I had never made sweet potato toast, because I thought it would be time consuming and high maintenance. It's not! Did you know you can make it in the toaster?! Given that it's called sweet potato toast you might. That subtle hint was lost on me.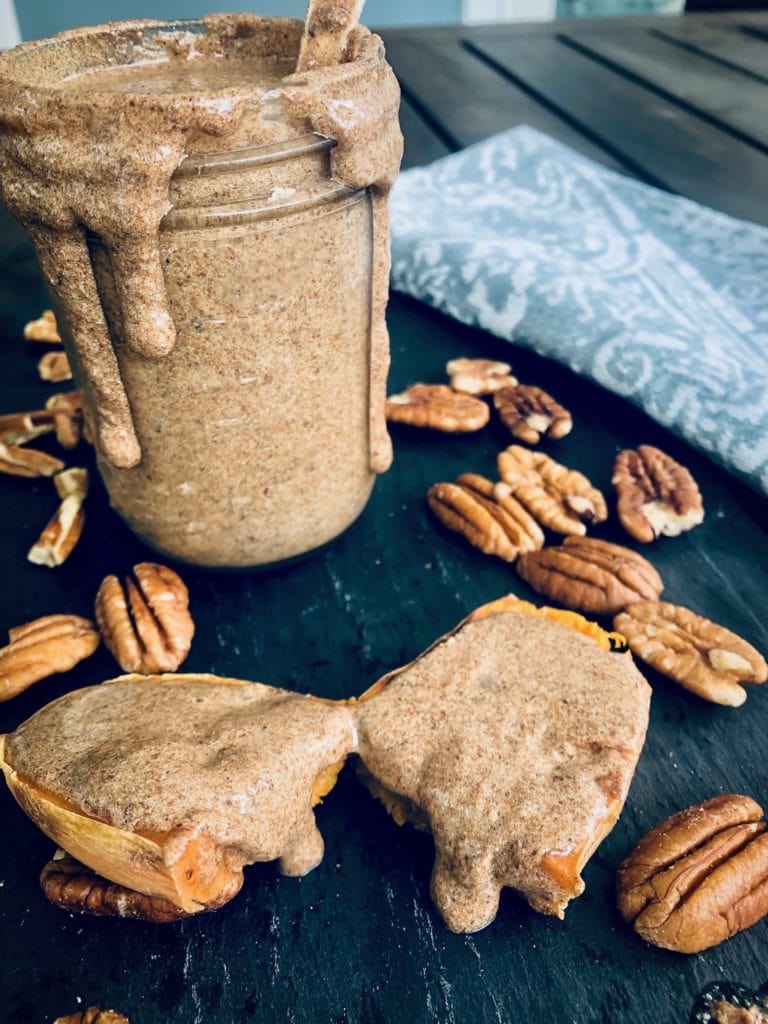 I highly recommend this nut butter on sweet potato toast for an amazing snack or breakfast. I found that microwaving the sweet potato whole for 1-2 minutes before slicing and toasting it speeds up the toasting time. It also makes it soft on the inside and slightly crispy on the outside. Smear a generous amount of this pecan pie nut butter on the slices and prepare to be delighted. It is SOO good.
I've also enjoyed this nut butter with apple slices, mixed into my oatless oatmeal, with celery, and straight from a spoon. You really can't go wrong. Not into collagen or don't have it on hand? No problem! You can omit the collagen in this recipe for a decadent pecan pie nut butter that's made with healthy ingredients and no added sugar (it's even Whole30 compliant). If you give this recipe a try, I'd love to hear your favorite way to eat it!
Pecan Pie Nut Butter with Collagen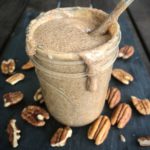 This nut butter tastes decadent but is packed with healthy ingredients, has no added sugar, and is Whole30 compliant. Each serving has 5 grams of collagen and an extra 4 grams of protein.  Try it on sweet potato toast for an indulgent breakfast, snack, or pre-workout fuel!
10 oz pecans
3 dates (3-4 Tbsp of raisins work too!)
50 g collagen powder* (About 10 heaping tablespoons)
4 tsp cinnamon
1.25 tsp vanilla extract
0.5 tsp cloves
0.5 tsp Himalayan sea salt
Roast pecans at 350 degrees for 5 minutes.  Stir frequently making sure they do not start to burn (the Foodi Ninja made this very easy).

Let pecans cool slightly then place in food processor or Vita mix.  Add dates (or raisins) and turn on until a nut butter consistency forms.  Be patient, this may take several minutes!  Use a spatula to scrape down edges periodically.

Add remaining ingredients and blend until desired consistency is achieved.
*You can omit the collagen powder if you don't have it on hand or don't care about supplementing with it for a delicious pecan pie nut butter recipe.
A note about collagen powder: I'm not committed to a certain collagen powder just yet. In fact, I've ordered a different brand every time always hoping the next one will dissolve a little bit better. This is the marine collagen powder that I used in this recipe. I chose it because it had good reviews, seemed to be good quality, and was by far the best deal. I'd say it's pretty similar to the others that I have tried in terms of taste and ease of dissolving.
This post contains some affiliate links. As always, I only include links to products I use and love. Thanks for your support. <3