Our Trip to the St. Regis Maldives Vommuli Resort: Part 1
I originally wrote these entries as a personal journal so that Matt and I could remember the details of our days in the Maldives. I decided to share these because of the interest in seeing more photos from our trip. I have also added some notes for anyone considering traveling to the Maldives. Overall, we couldn't have been more satisfied with our stay at the St. Regis. I'll be breaking our stay at the resort into three parts. I also may add a post about traveling to and from the Maldives, since that was an adventure in itself. Thanks for reading <3
Thursday - The Arrival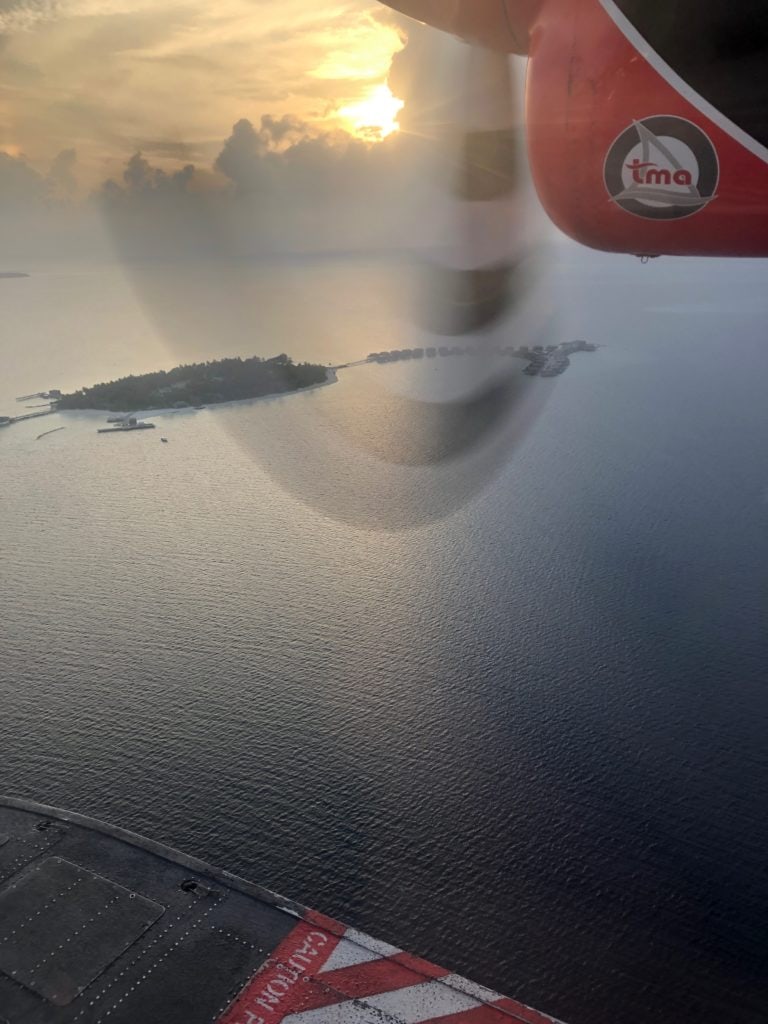 We arrived at the St. Regis Maldives Vommuli Resort by sea plane around 6 pm as the sun was setting. A boat ferried us to land where we were greeted by a St. Regis welcoming crew. They handed us each a freshly tapped coconut and a cool towel. Our personal butler(!), Kumie, introduced herself and then took us by golf cart for a tour of the island. At the end of the tour, we arrived at our incredible over the water villa.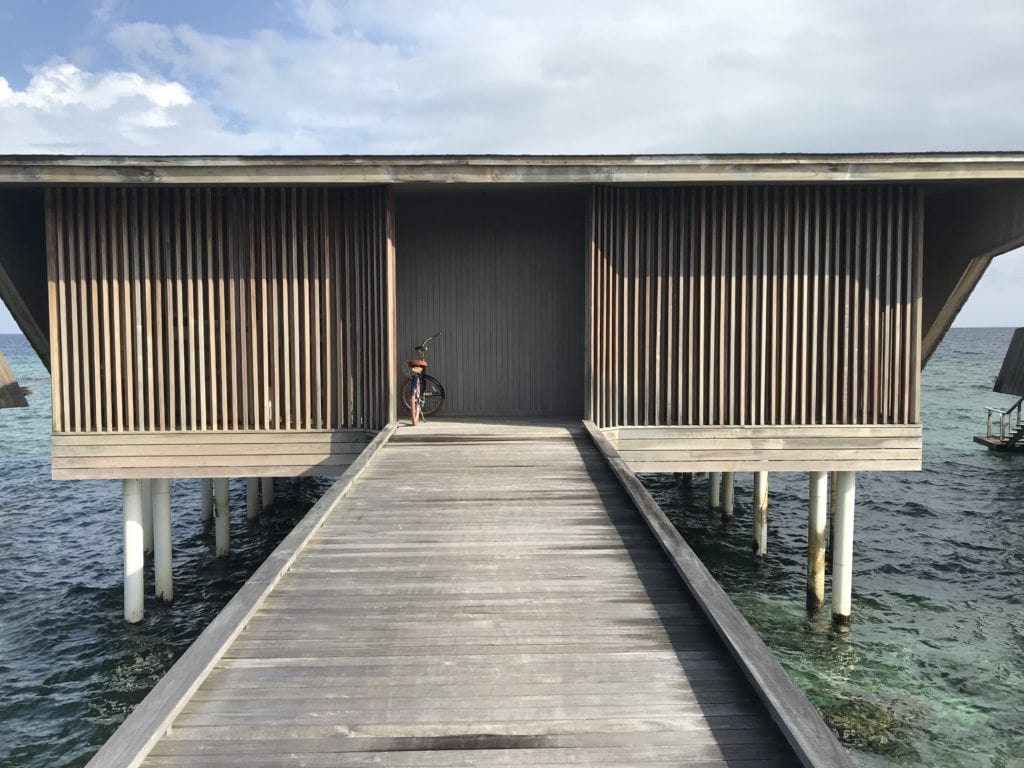 The villa was stunning and spacious with an incredible view out onto our patio and the expansive clear water. The bathroom was ridiculously but wonderfully enormous complete with a nice deep tub with its own television. If you go, don't bother bringing your own hair dryer. While the rooms are equipped with universal power outlets, the dryer they provide put mine to shame. The villa is almost entirely controlled by an iPad they provide - including the lights, blinds, excellent sound system, and television that could be turned to face the seating area or bed in the main room. Instead of photos, I recorded a video tour of the villa when we first arrived. Let me know if you'd like to see the video in the comments section - if there's interest I'll share it on Facebook or Instagram.
Originally, we had planned on dining at one of the restaurants for dinner (especially since it was Valentine's Day). However, we were pretty exhausted at this point and so grateful to be in our amazing room. We decided ordering room service and having a quiet night in enjoying our new view sounded perfect. Matt ordered a pizza while I was ready for all the veggies. I ordered a salad with lobster and a side of grilled vegetables. We toasted champagne glasses (a thoughtful welcome gesture from Matt's Marriott ambassador) and talked about how incredibly grateful we were to be there.
Friday - Day 1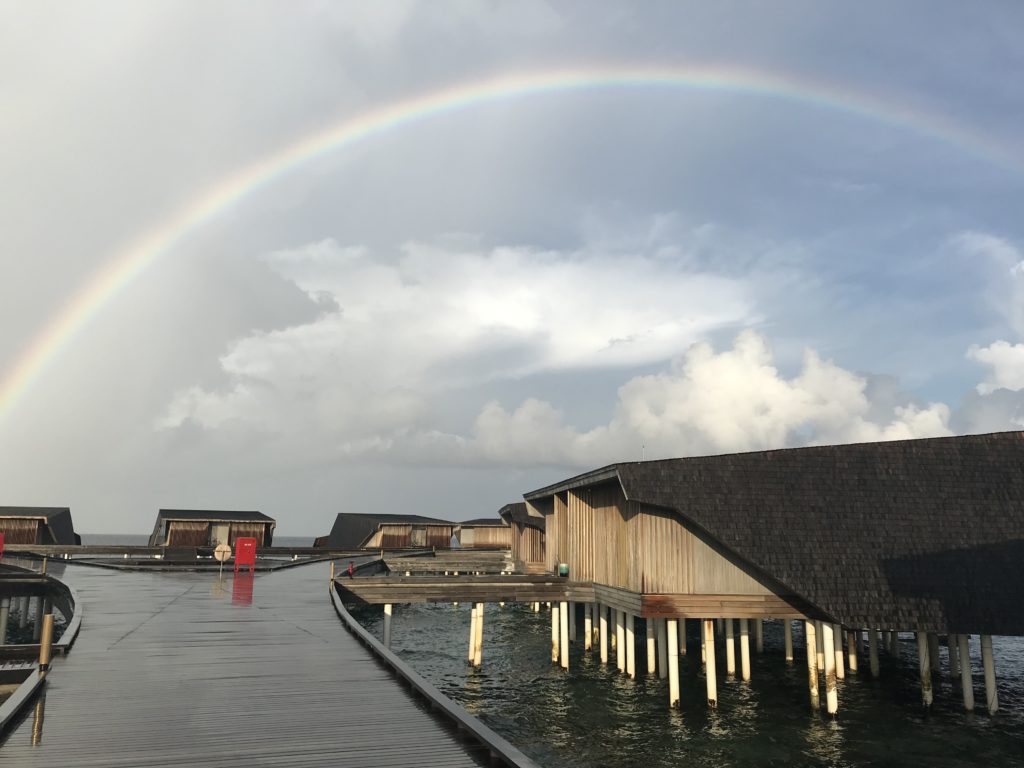 On Friday morning (our first full day), I woke up early for a boxing fitness class that the resort offered. Since my internal clock was already completely confused, I figured I would try to get it acclimated to early mornings to enjoy the most of the days I had here. I made an Americano from the coffee bar in our villa and then headed out the door. It was a drizzly morning, and as I walked outside I said out loud in awe "You have got to be kidding" as I looked up to a huge beautiful rainbow. It just seemed too perfect in this already magical place.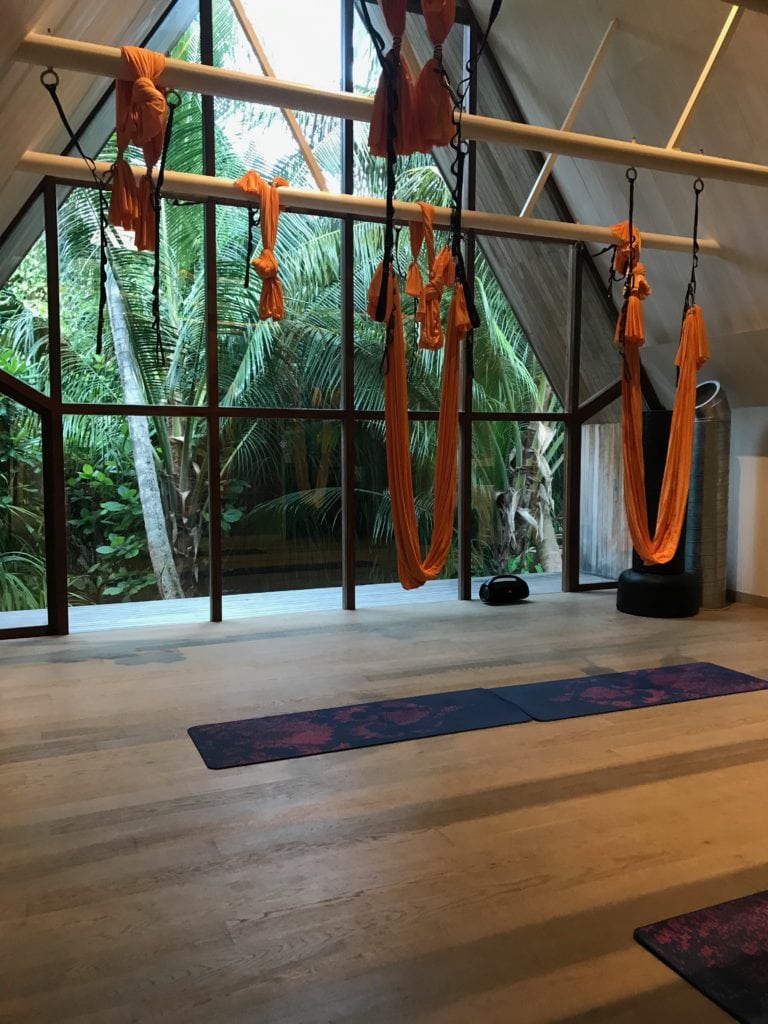 All of the fitness classes are in the most beautiful room with an incredible verdant view into the jungle. I didn't have high expectations for the boxing class - often resort classes seem catered to beginners or those taking a class on a whim, so I was pleasantly surprised when it turned out to be an awesome and sweaty workout.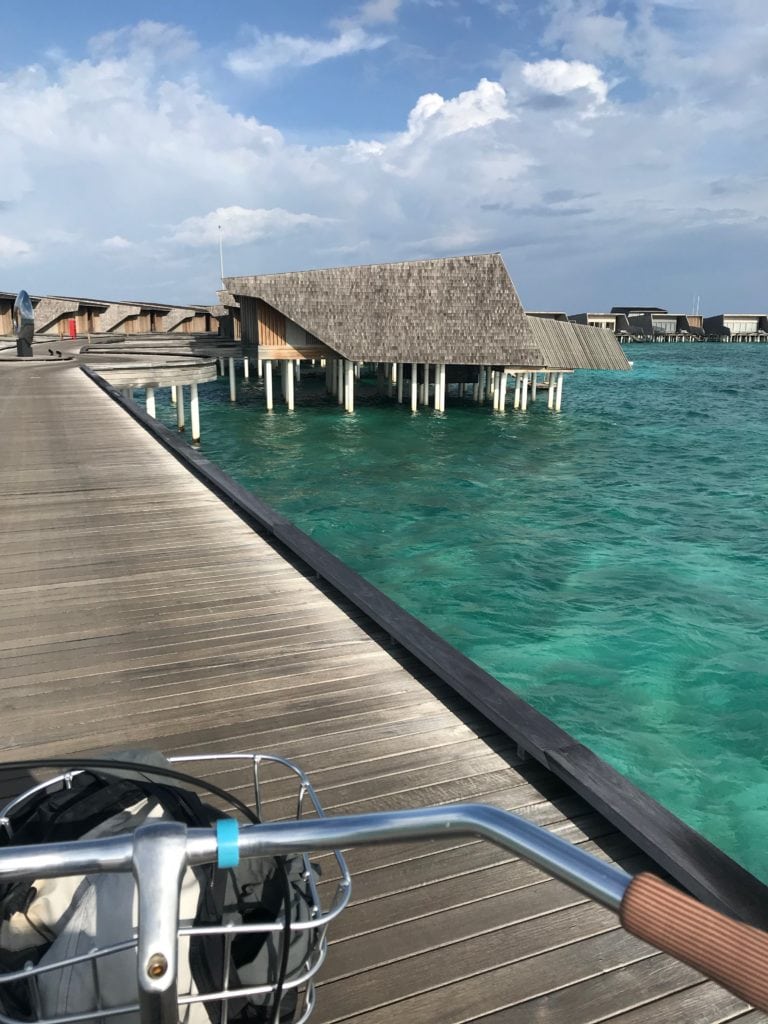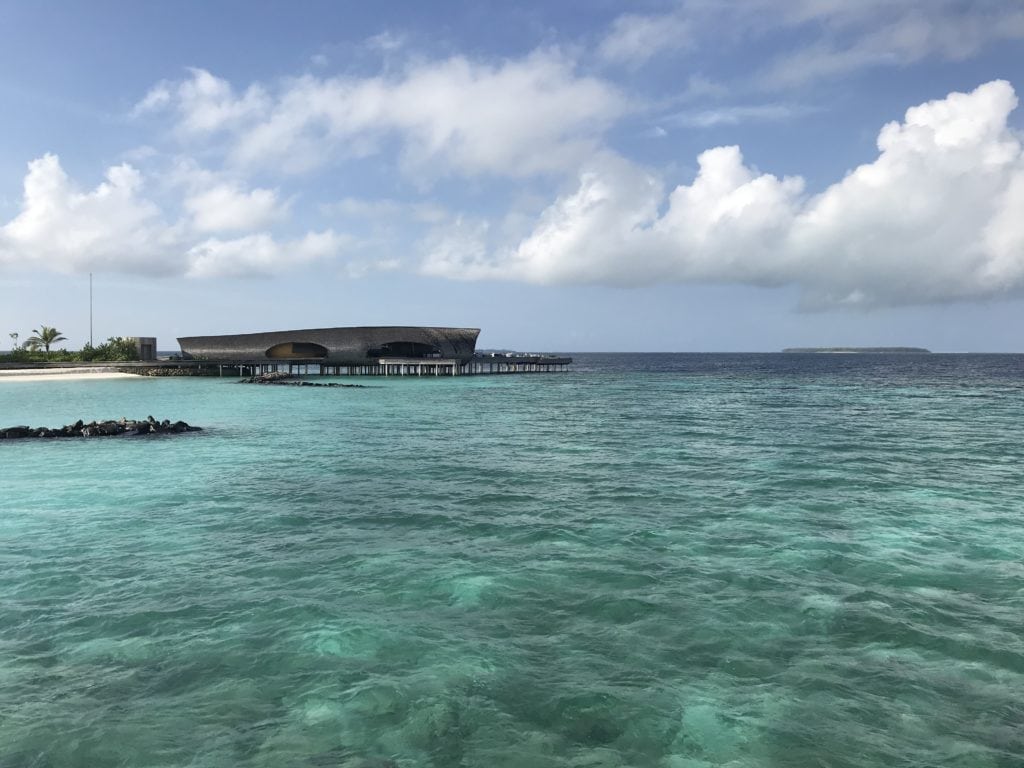 After class, I rode the adorable bike equipped with a basket that each guest is given during their stay back to our villa. I couldn't help taking photos because the water was just so clear and blue.
Once back, Matt and I got ready and headed back out excited to see their amazing breakfast buffet (the one meal of the day that was included in our stay due to Matt's status). I was feeling super excited.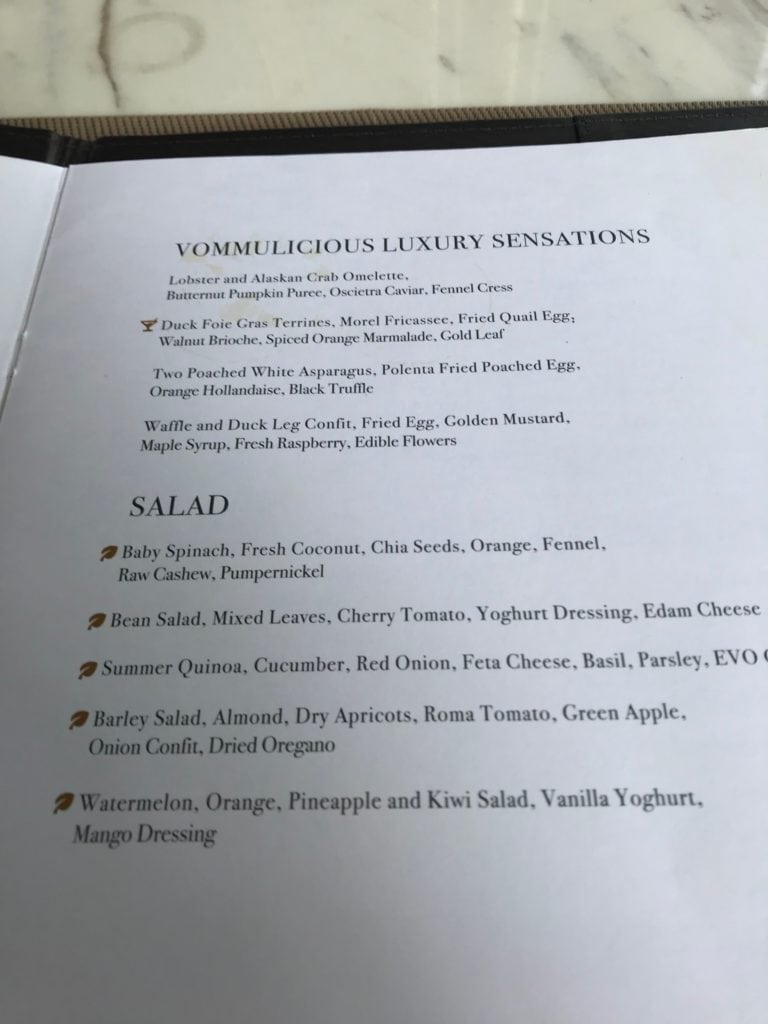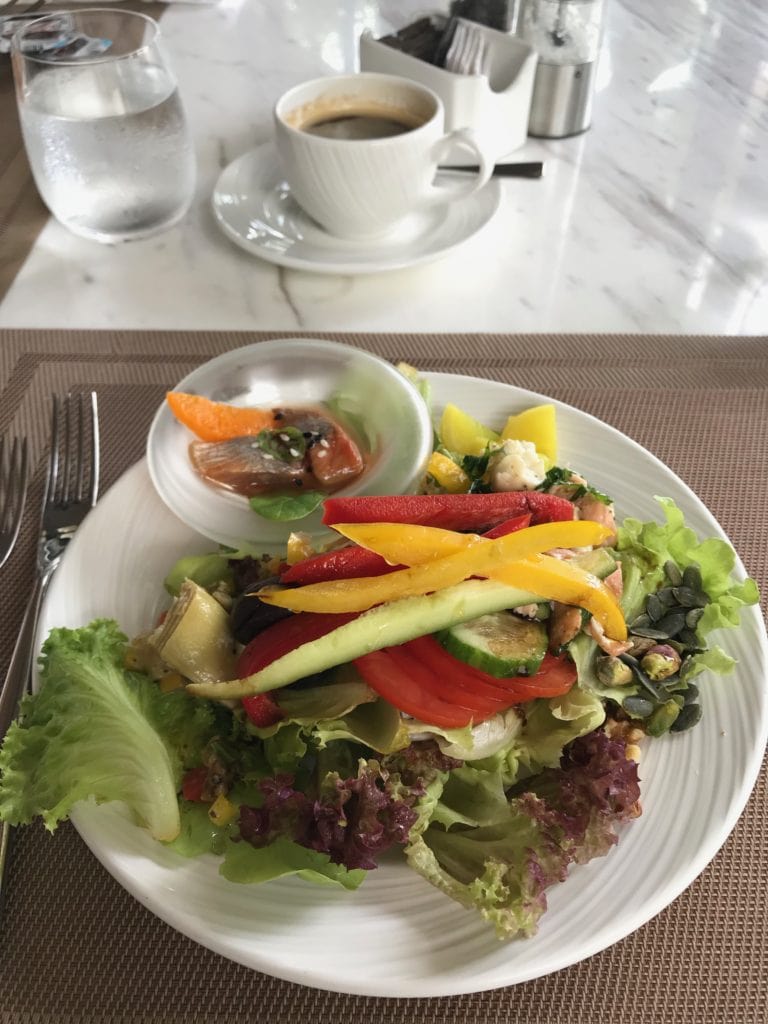 Once seated at Alba (the restaurant with the breakfast buffet), we were offered coffee, tea, or fresh juice. Matt ordered an apple juice which didn't sound exciting to me, but it was by far the best apple juice I've ever tasted (it was freshly made to order with a juicer). I asked if they could make one with just green veggies, and they totally delivered.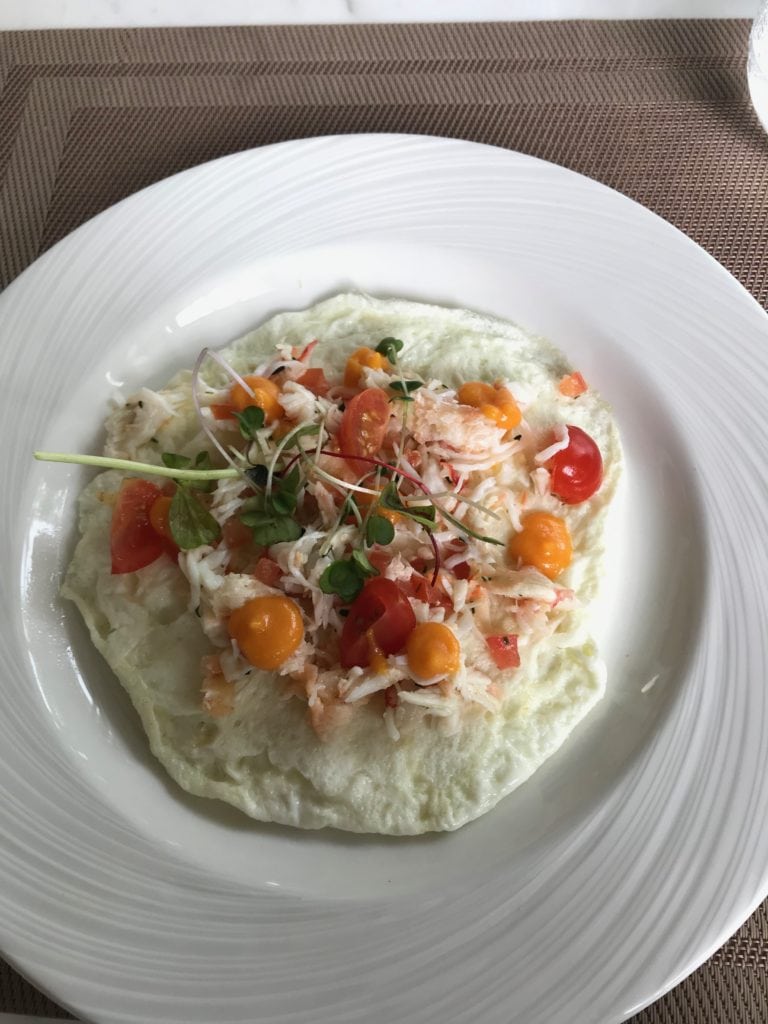 Alba offers an extensive breakfast menu in addition to their epic buffet, and both are included in the breakfast. The lobster and Alaskan crab omelette instantly caught my eye (I had suddenly acquired a taste for caviar on the flight over), so I ordered that and then proceeded to fill my plate with all the veggies and fish options I saw from the breakfast buffet. They ended up being out of caviar that morning, but you'll find that this wasn't the only time I ordered the omelette during our stay.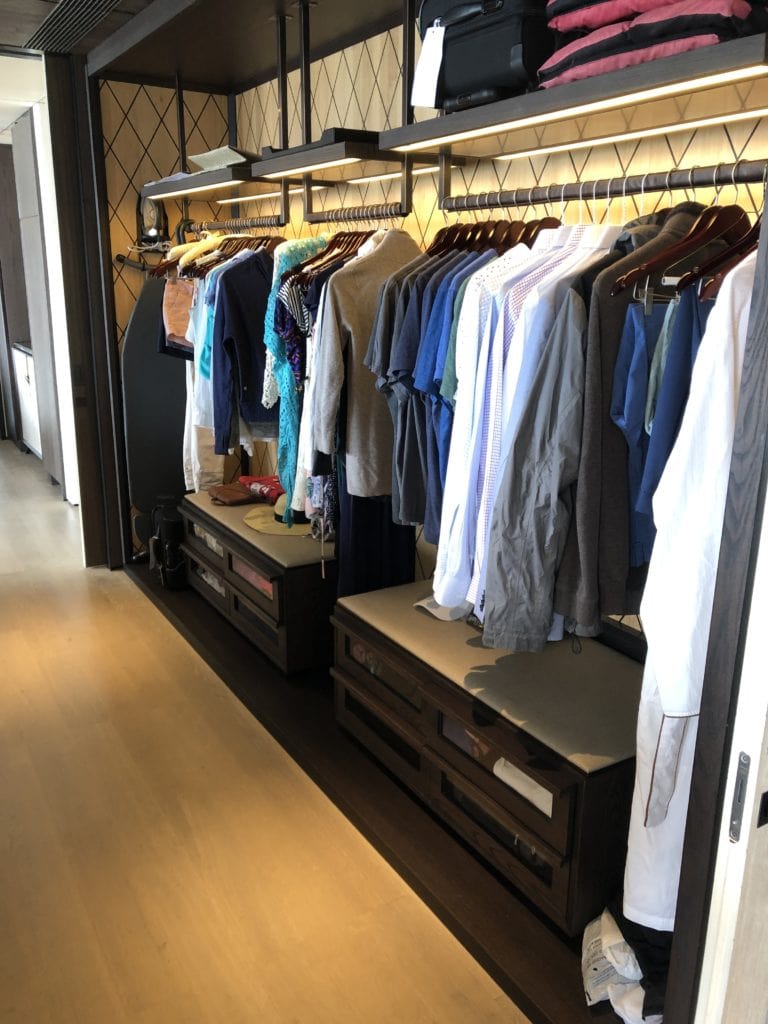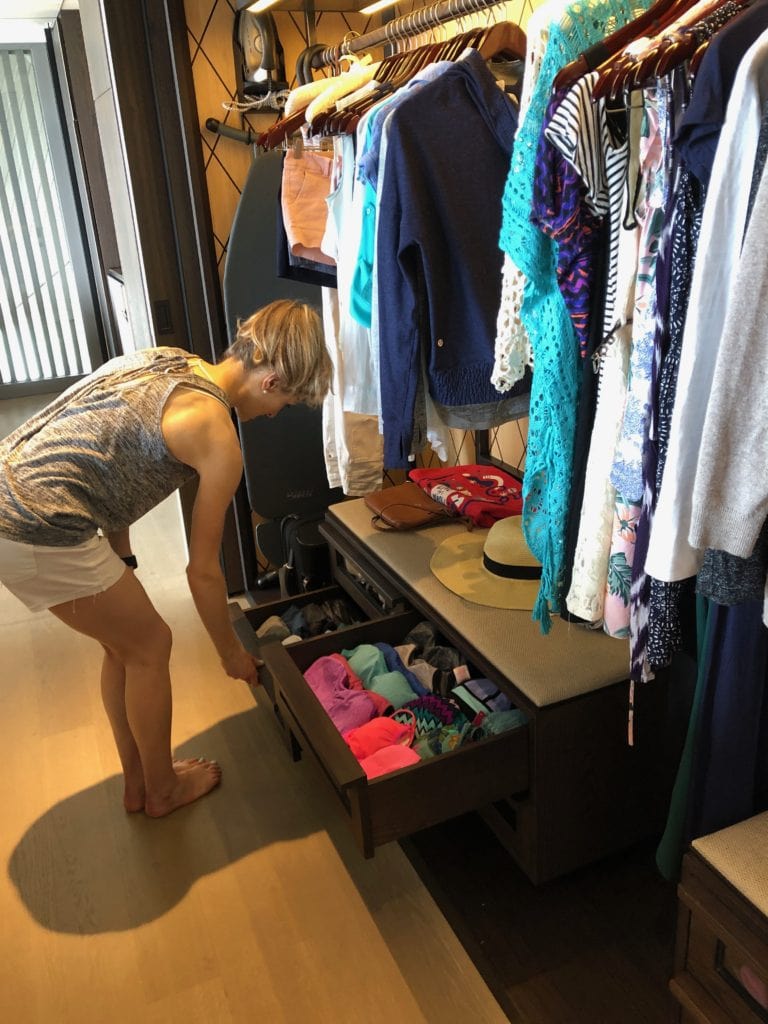 After breakfast, Matt and I toured the grounds a little and then headed back to our villa. While we were away, Kumie had unpacked all of our luggage which was INCREDIBLE. Everything was hung up or perfectly folded - my clothes have never looked so good. Matt and I were floored by that level of service and also at what a luxury it was to not have to unpack ourselves.
It was pretty rainy the whole first day, so Matt and I both enjoyed relaxing by our villa (Matt enjoyed the plunge pool while I worked on my Friday Favorites post!). Later, Matt took a nap while I tried the other fitness class I had signed up for - a TRX class which was fun and definitely had me feeling a burn.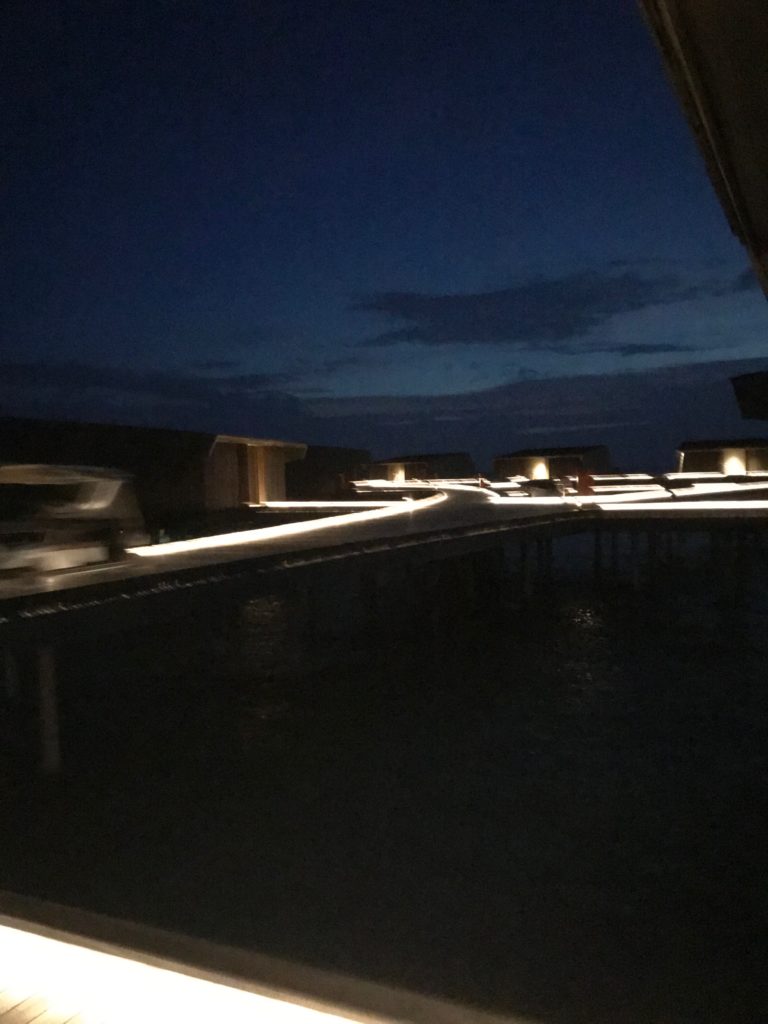 That evening, Kumie had made a reservation for us at CARGO, a unique outdoor Middle Eastern restaurant. It's tucked away in an intimate setting with a small number of candlelit tables surrounded by tropical gardens. The overall feel is that you're dining under the stars in a jungle. We selected the Refined Menu, which was one of the four pre-fixed menus to share.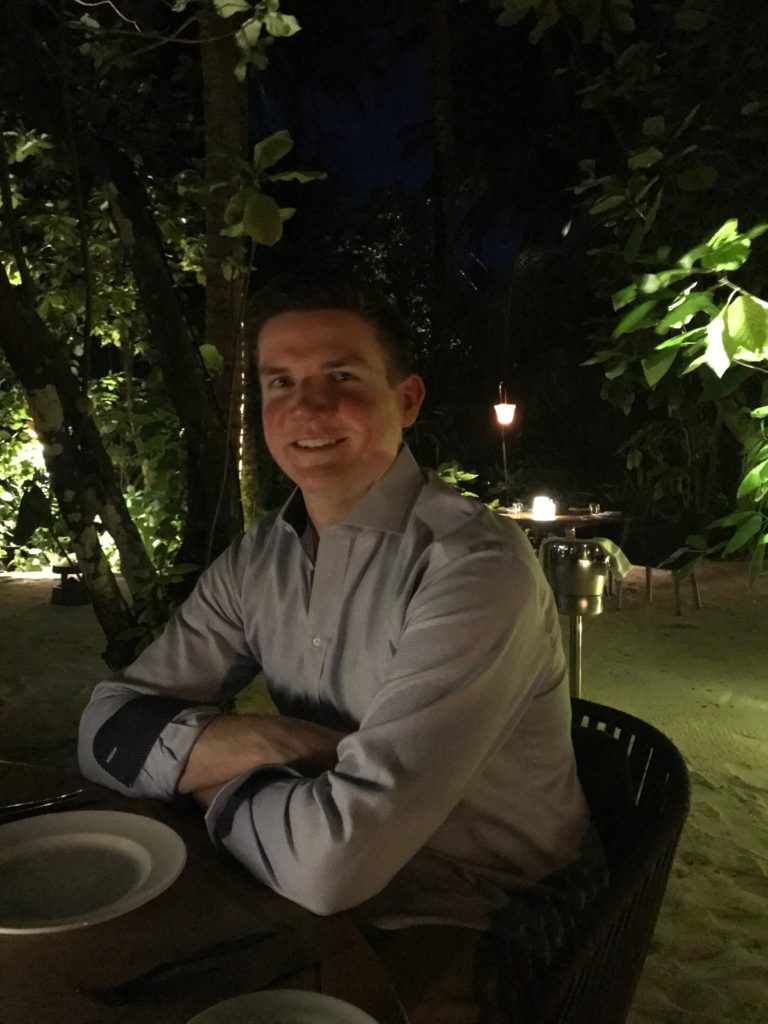 It really was very dark, so I wasn't able to take any photos of the food but it was all fantastic. They delivered a bread basket and crudités along with six different chilled mezze options including hummus and tabbouleh, which were all delectable. Shortly after, they also delivered two hot mezze options: falafel and Kibbeh, a lean beef with wheat, minced onions and lime.
All of those dishes were really just the start, because afterwards they delivered three amazing main courses: marinated jumbo prawns, grilled tiger prawns, and an oven baked sea bass. When they say "jumbo prawns" they aren't kidding - they were enormous and delicious. As a seafood lover, I was in heaven with this course. The dinner ended with two desserts, which were both unique, flavorful, and perfectly executed. Matt was more of a fan of this course.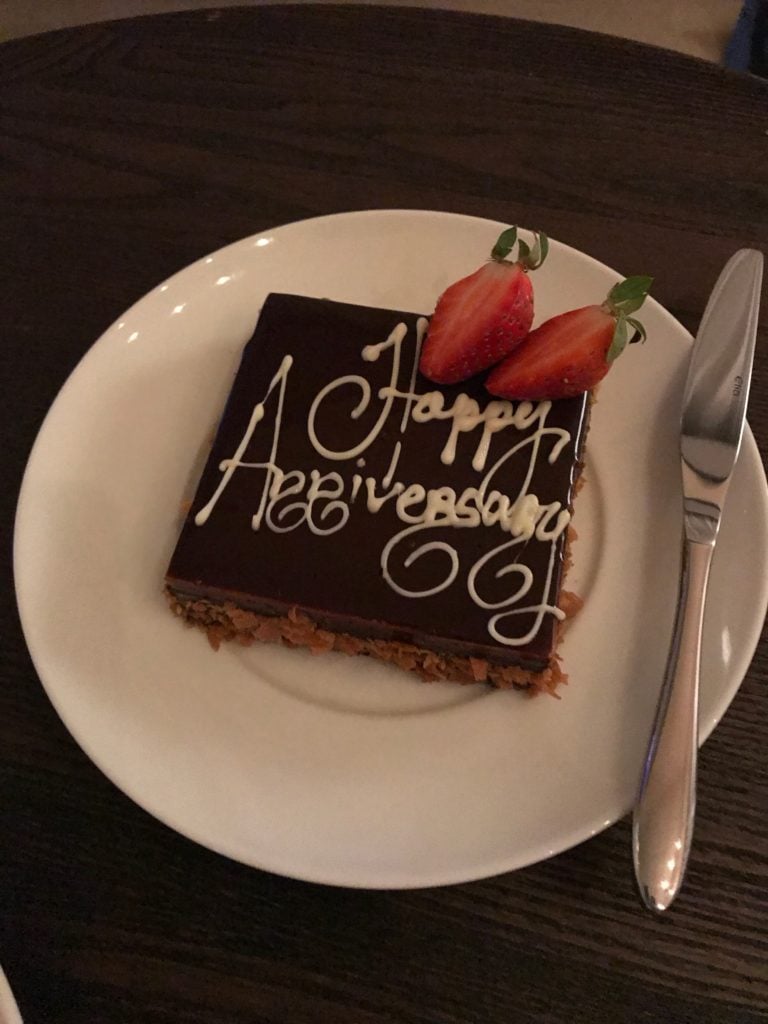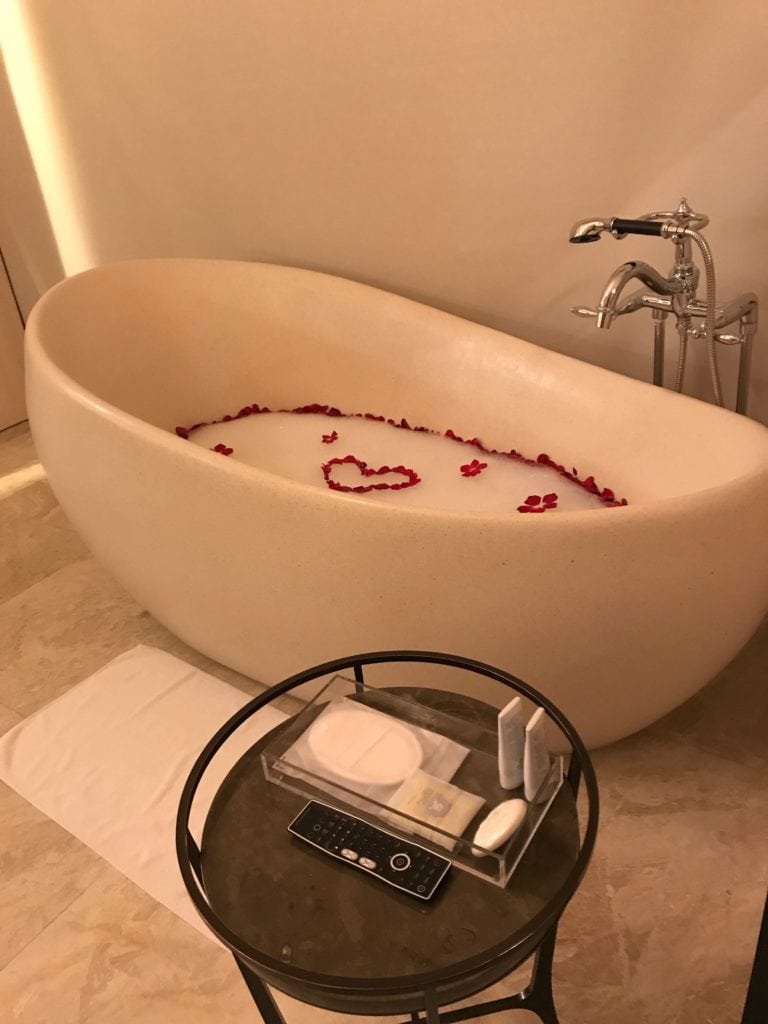 When we got back to our room, we were pleasantly surprised to find our room had been transformed for a romantic evening of celebrating our (early) five year wedding anniversary. Jazz music serenaded us as we discovered a "Happy Anniversary" chocolate treat and a bubble bath drawn complete with rose petals forming a heart. Let's just say this made for a special and relaxing end to the evening.
Saturday - Day 2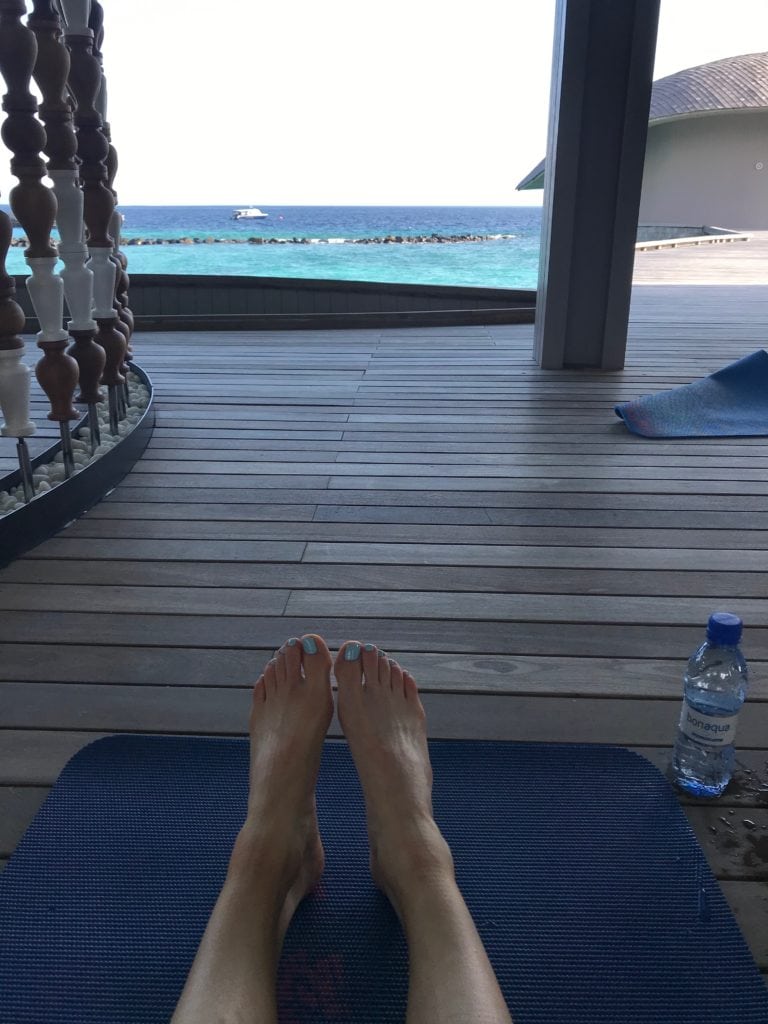 I started Saturday morning early (around 5 am) so that I could make it to the gym for a workout before a morning yoga class. The sun hadn't risen so I biked through the dark guided by the lights that line the path from the villas. I got in a great lower body workout (starting with my glute warm-up) with the gym all to myself and then biked over to the spa where the yoga class was being held.
The yoga class was a hatha-style flow, which made for a nice relaxing stretch after my workout. I focused on living in the moment (always a challenge for me) breathing in the ocean breeze and admiring the awe-inspiring scenery throughout the class feeling grateful for every moment we have had here.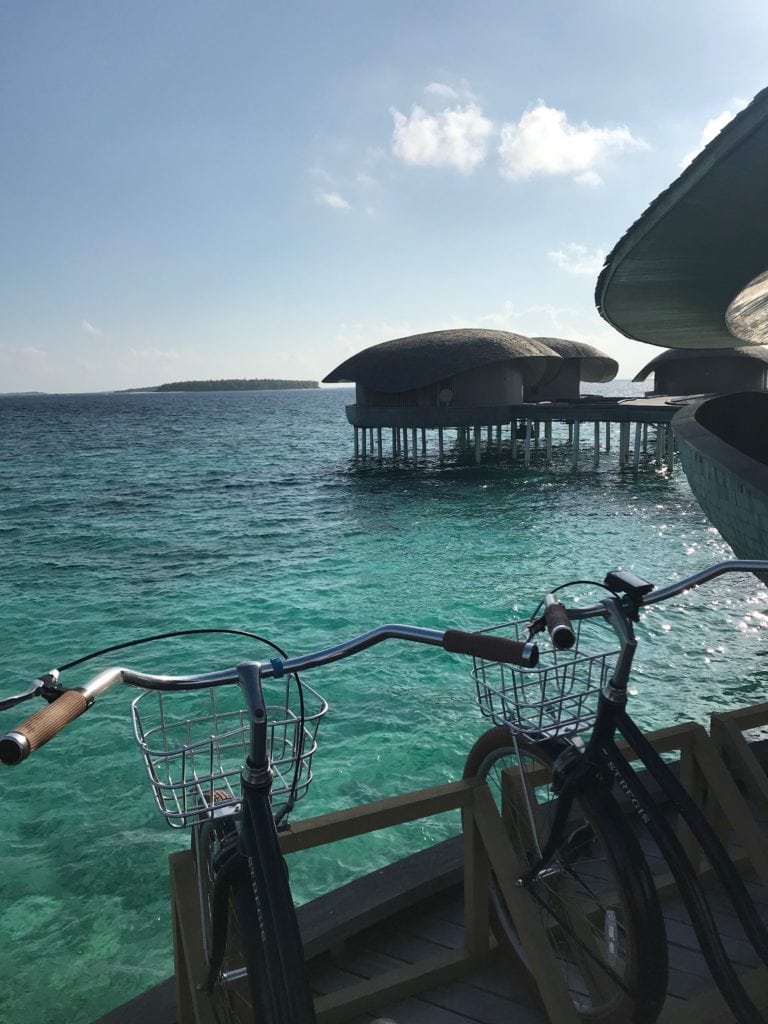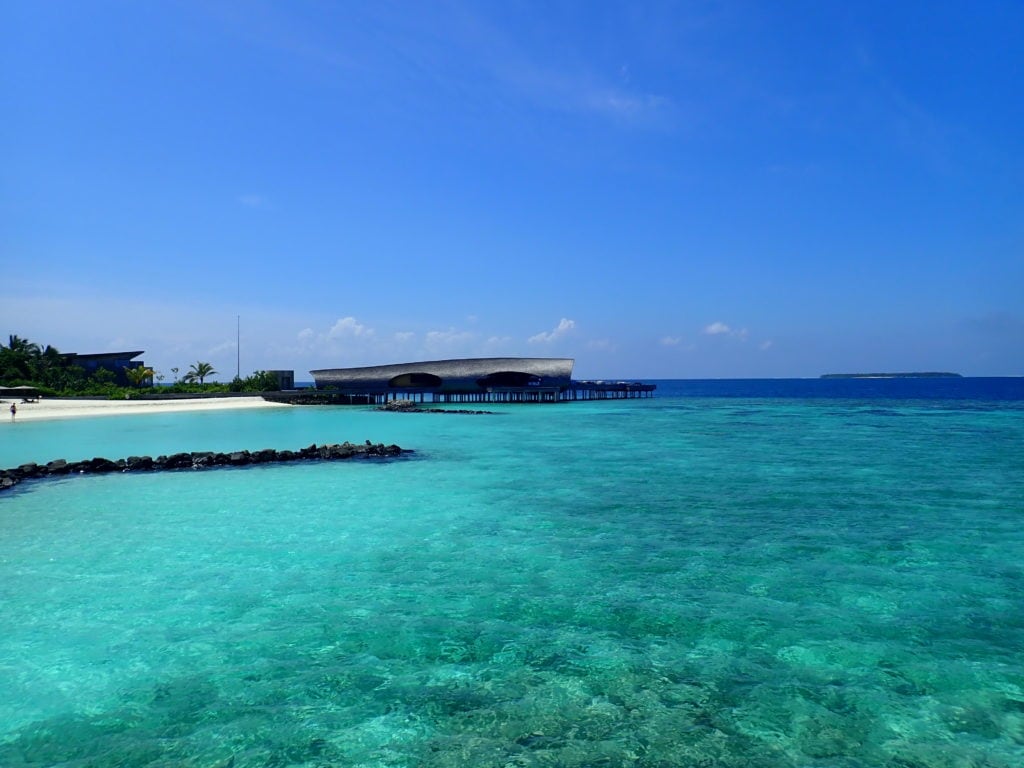 As I returned back to my bike to change and get ready for breakfast, I couldn't help snap a couple more photos of the water. It was just. so. blue.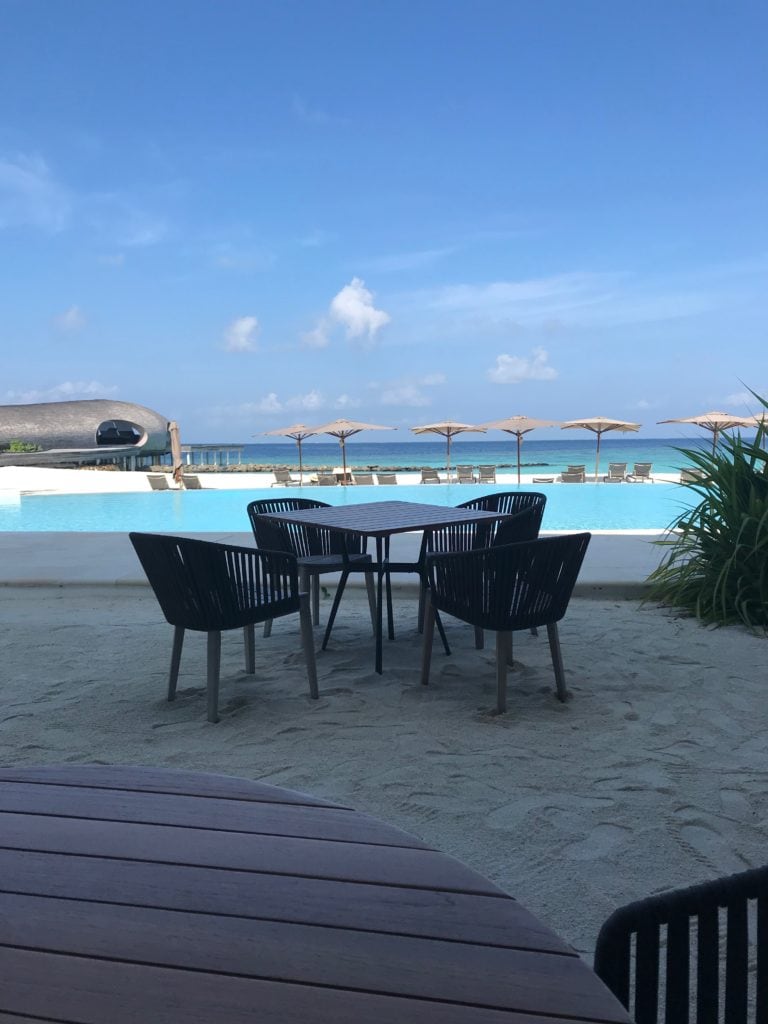 We sat outside for breakfast to enjoy another day at the breakfast buffet. We ordered all the beverages - fresh juices (mine was a refreshing green veggies with lemon), Americanos, and water. I filled my plate with veggies and a variety of smoked fish including mackerel and herring from the buffet and ordered the sashimi and sushi plate off of the menu. Matt explored a different area of the buffet and menu and enjoyed a number of the pastries, soup from the asian noodle bar, banana and nutella stuffed crepes, and a beef patty and egg dish. We were both extremely satisfied with our meals.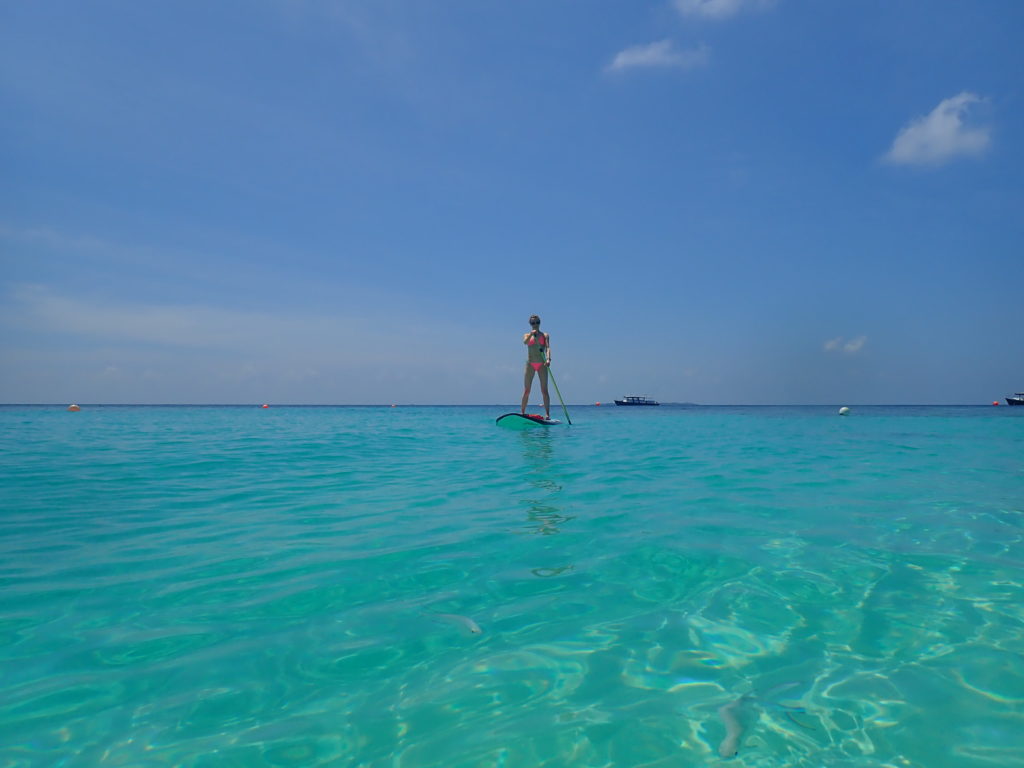 After breakfast, we headed to the Dive and Water Sports Center to use the complementary stand up paddle boards. The water was perfectly calm for a relaxing paddle over the blue water.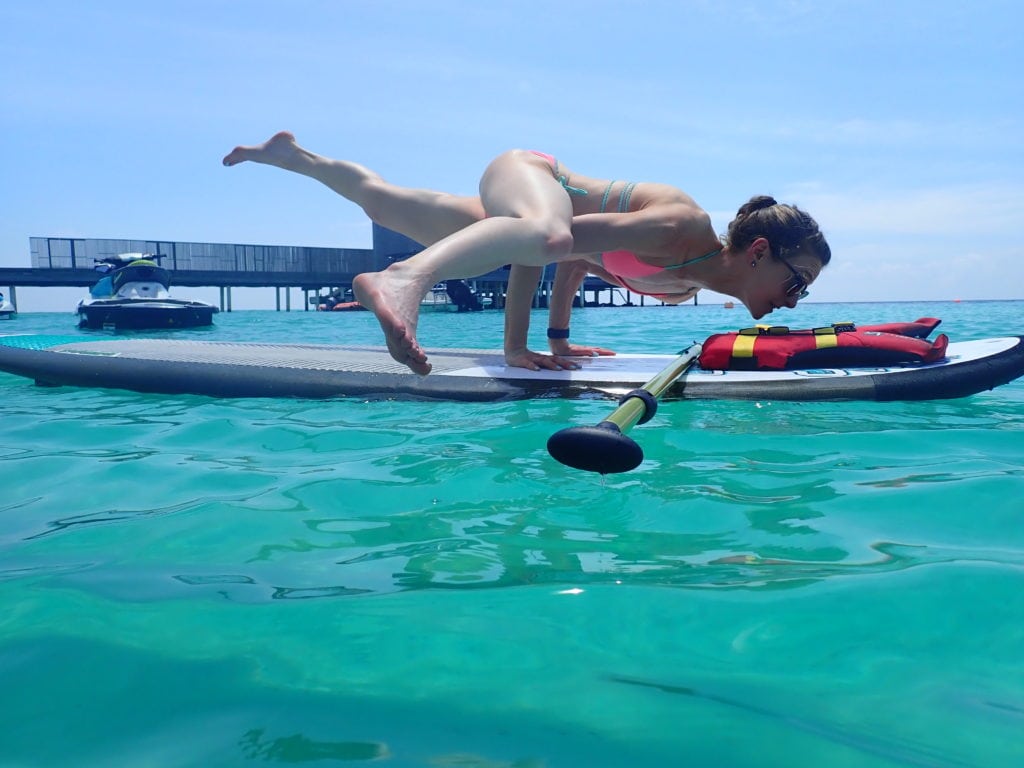 Matt didn't find the SUPing quite as relaxing, so while he hung out in the water I played around trying some yoga poses on the board. There are some SUP yoga classes offered around Lake Norman and after playing around, I definitely want to try a class this summer!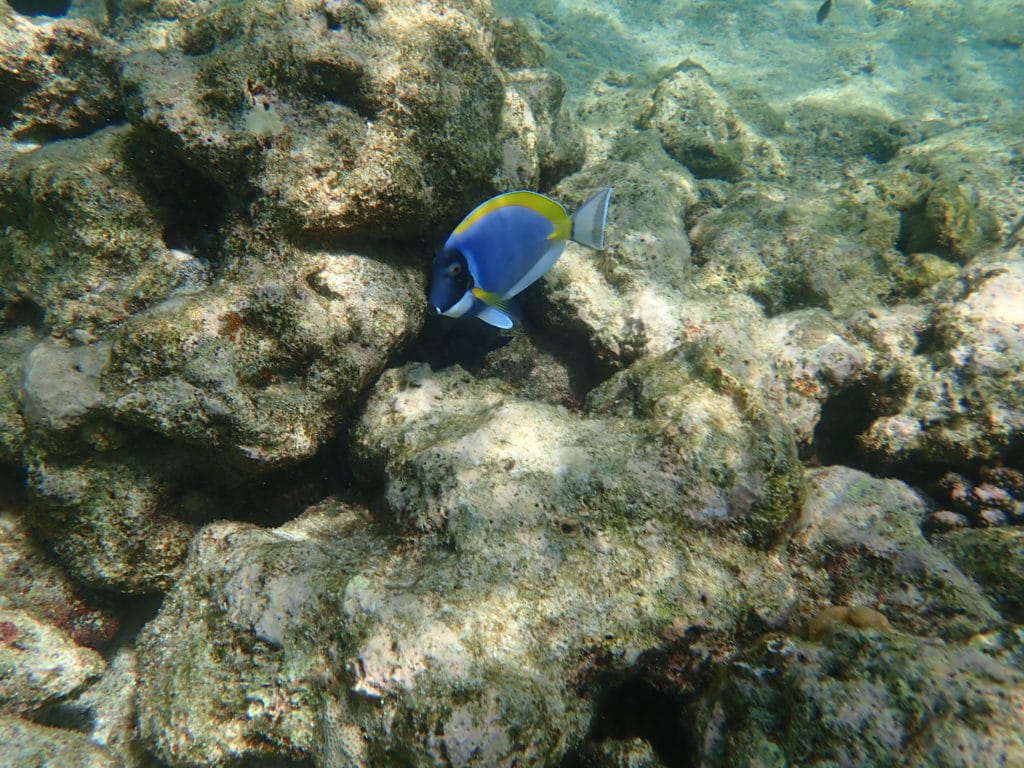 Afterwards, we headed back to our villa to do some snorkeling off of our dock. We were surprised to find the active little Nemo world at our door steps (er..dock ladder?).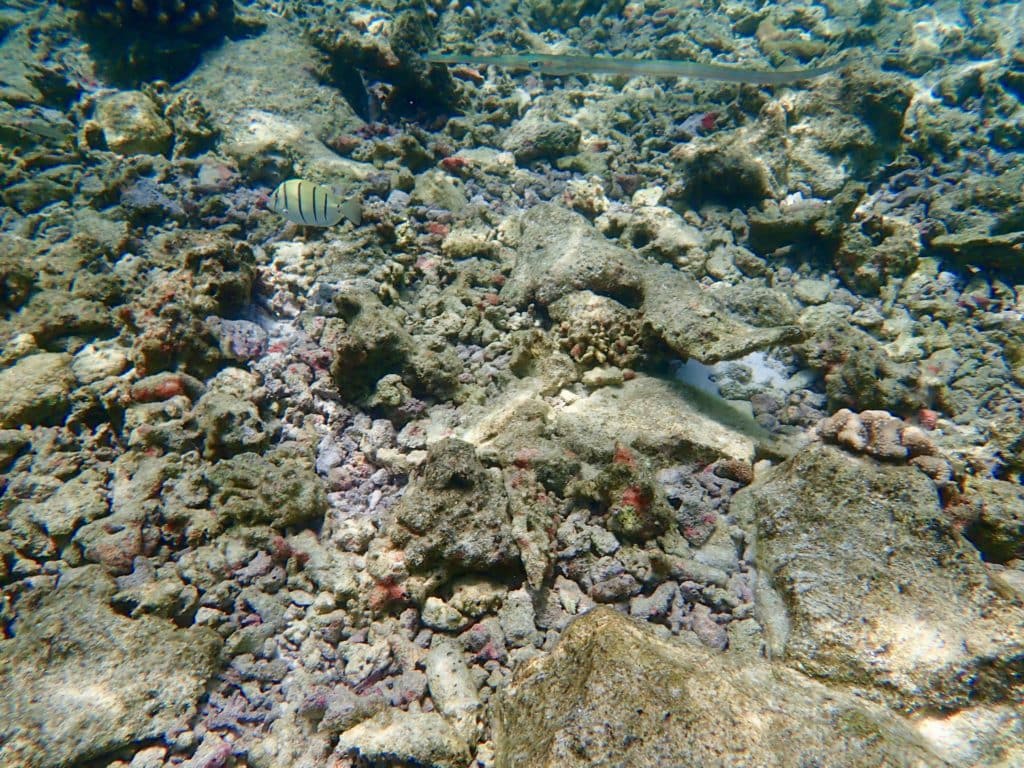 After an active morning and playing in the water, we were both ready to lay out in the sun and relax on our deck. Matt spent more time snorkeling followed by time in our plunge pool. I marveled at the incredible view I had while reading on a lounge chair. Both of us enjoyed our time in the sun a little too much, because we both ended up sun burned despite applying copious amounts of sunscreen. Oops.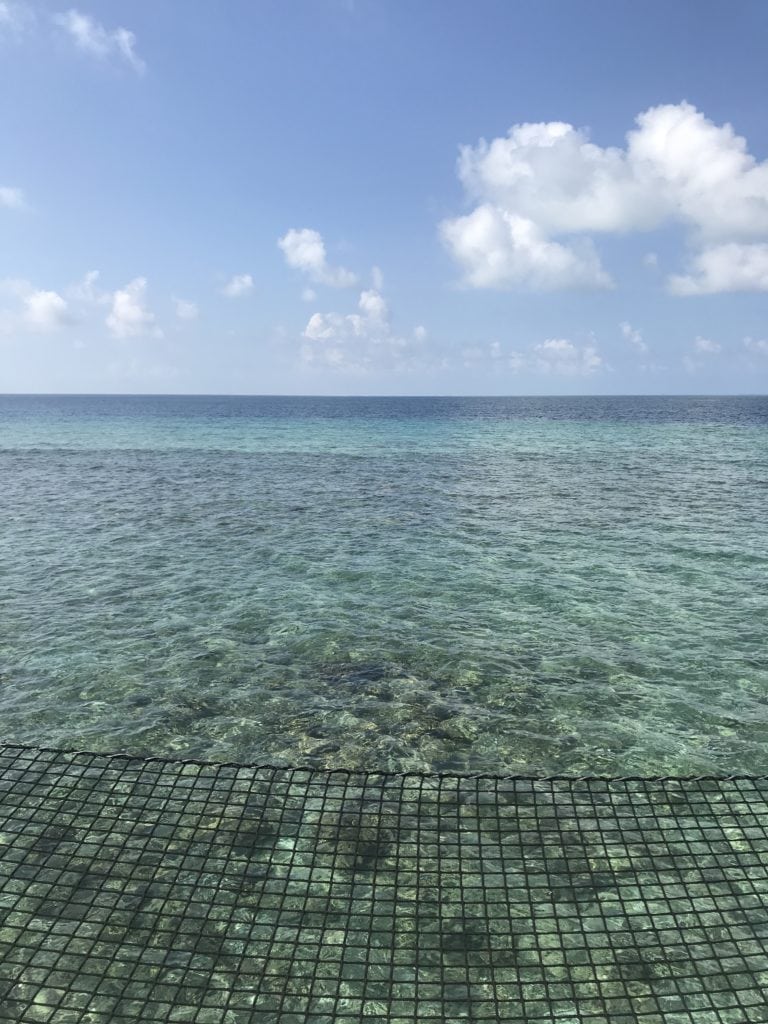 Speaking of sun burns, we were pleasantly surprised to find that the St. Regis provides bottles of sun screen in the room along with the other toiletries. We hadn't realized they provided this and anticipated sunscreen being a small fortune, so we packed a ton of it. While I would still recommend packing water-proof sunscreen, if we return we won't have to pack nearly as much. The sunscreen was not only complementary but amazing - it wasn't greasy at all (I could use it on my face) and it contained moisturizing ingredients like aloe and shea butter. This is an entire paragraph on sunscreen, because I'm a very white and freckled human.
We continued our relaxing second half of the day with a couples massage at the spa. We were instantly greeted and seated at our own tucked away seating area. While filling out a short health questionnaire we were brought iced ginger teas and cool towels. The massages were amazing - I got the deep tissue massage while Matt chose the "Essence of Bali" which was a relaxing lighter pressure massage. We both left feeling relaxed and significantly more comfortable than when we had arrived.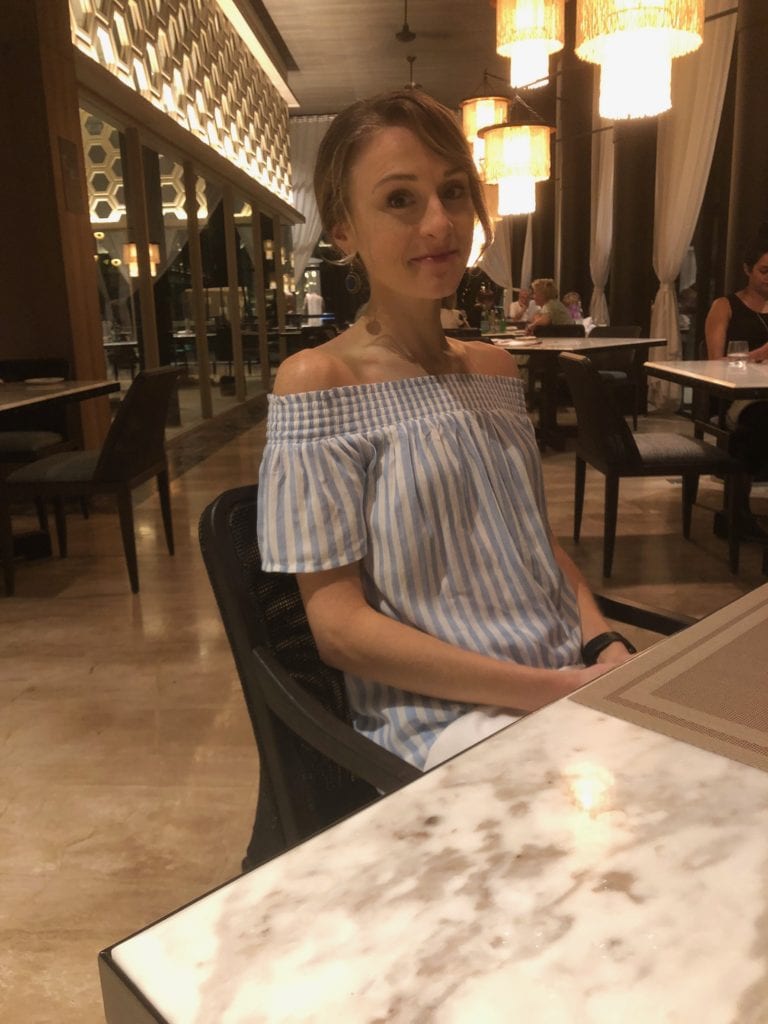 Our dinner reservation that evening was at Alba, the same restaurant where we ate breakfast each morning. We only had 20 minutes to get get to dinner after the massage, and I desperately wanted to shower. To make it to dinner on time, we abandoned our bikes at the spa and Kumi kindly picked us up with her "buggy" for a faster mode of transportation back to our villa. Once ready, she drove us to Alba where we enjoyed another great dinner. Before our meals, they brought a small taste of cream of celery soup followed by a sourdough bread basket. I ordered a dish with seared tuna, soft shell crab, and aubergine (eggplant), while Matt enjoyed a ribeye with mushroom sauce and a baked potato. I failed to take any photos of the food.
After dinner, we enjoyed a stroll together through the candlelit paths to retrieve our bikes from the spa and had a peaceful ride back to the villa. After an active day spent out in the sun, we both fell asleep in no time.
Sunday - Day 3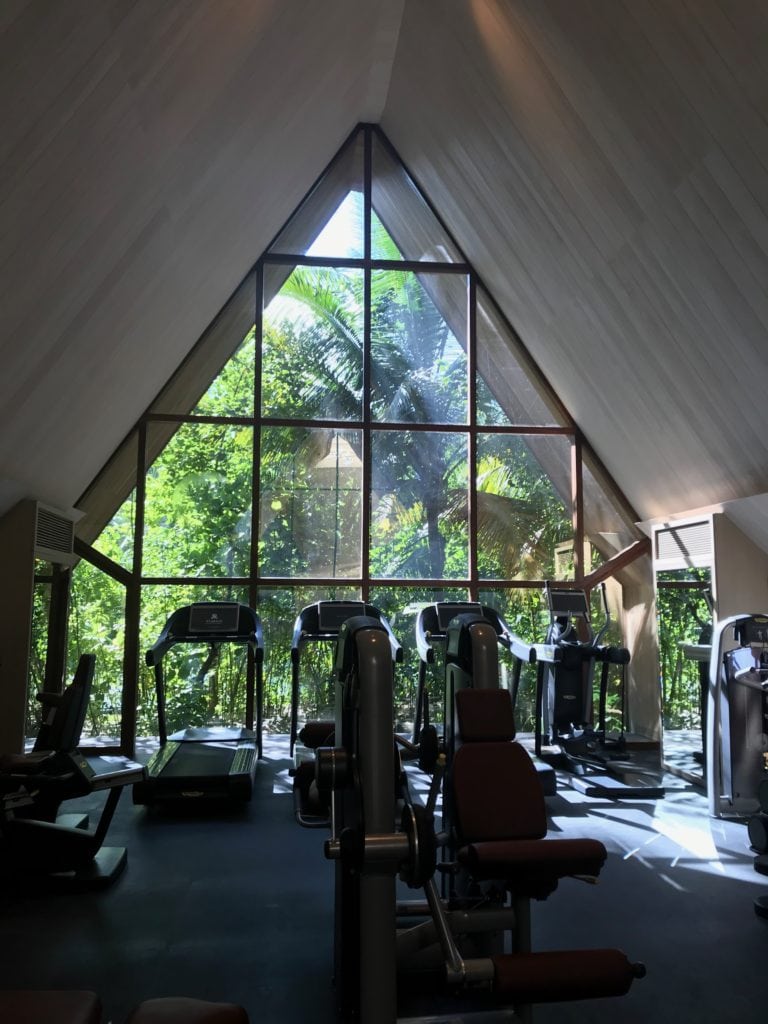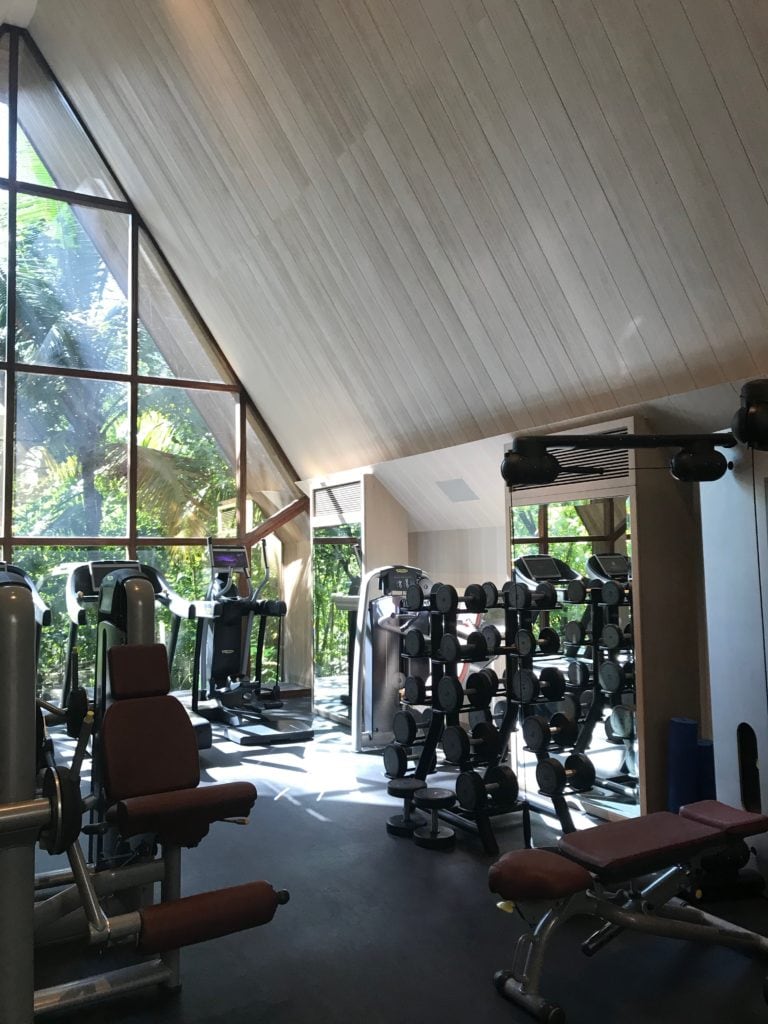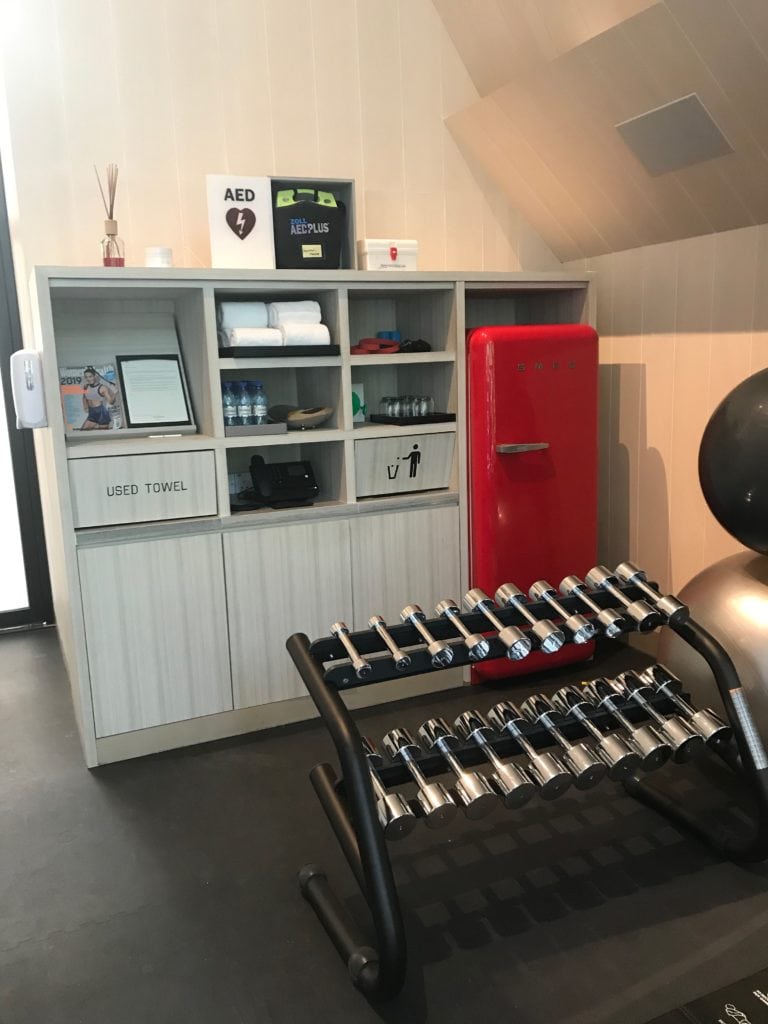 Sunday morning was the first day I slept in, because I didn't have a workout class to get to. I enjoyed my routine of making an Americano from our espresso maker in the room while getting ready, and then headed to the gym for a sweaty full body Alexia Clark workout that I loved. I took some more photos of the gym for those that share the same interest obsession with checking out resort fitness centers.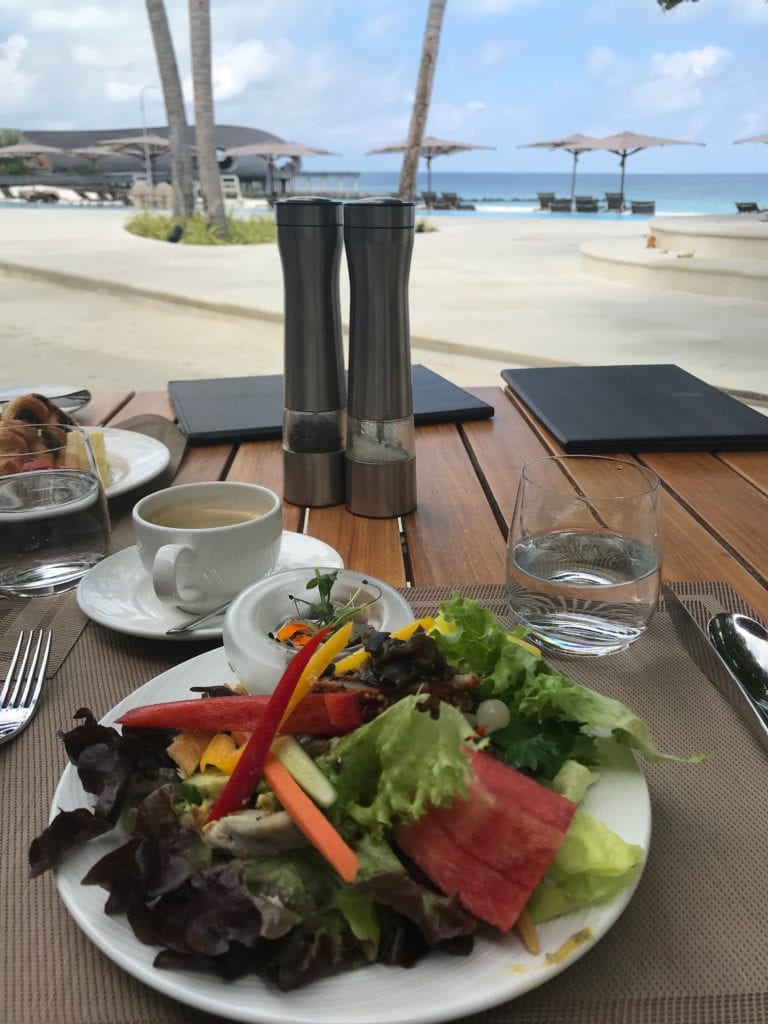 My later gym time meant that we didn't have quite as much time at breakfast, but that didn't stop us from enjoying a little bit of everything that they offered. I started off with a green veggie juice with ginger and lemon (if only I could have this magically brought to me every morning), an Americano, and water and then filled my plate with veggies and fish while waiting for the salad and smoked salmon I ordered off the menu. (Reading this back, I recognize that it probably sounds weird that I had a salad with fish while waiting for more salad and fish....but it seemed normal to me and my love for veggies and seafood knows no limits). Matt enjoyed an omelette, soup from the noodle bar, and some of the sweeter offerings including some pastries and the banana nutella crepes that were too good to not order a second day.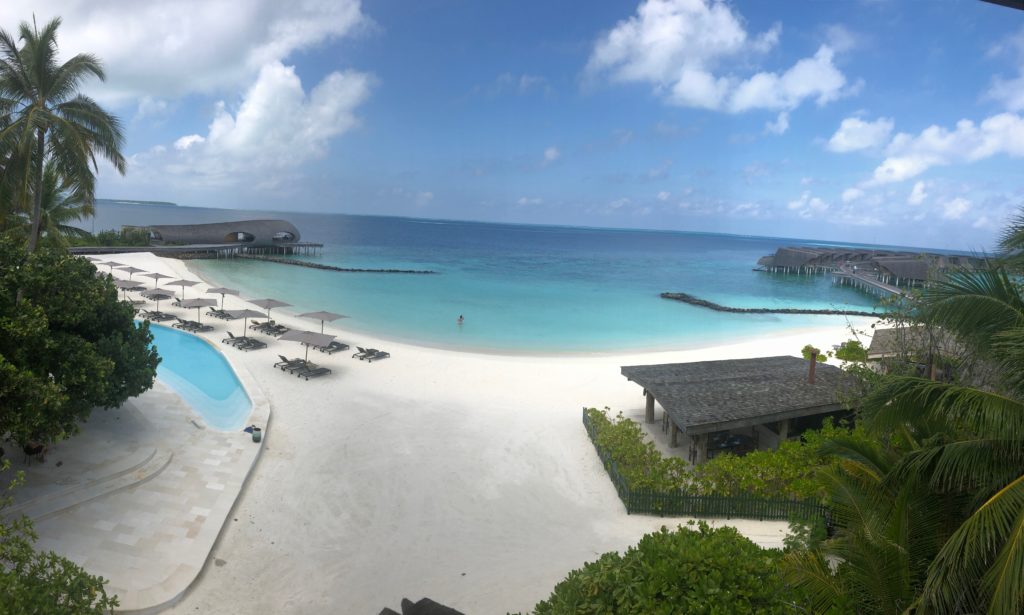 After breakfast, we checked out the boutique store where we were thrilled to discover aloe for our sunburns. We were equally excited to discover the view from the third story of the little boutique and took a moment to capture some panorama photos.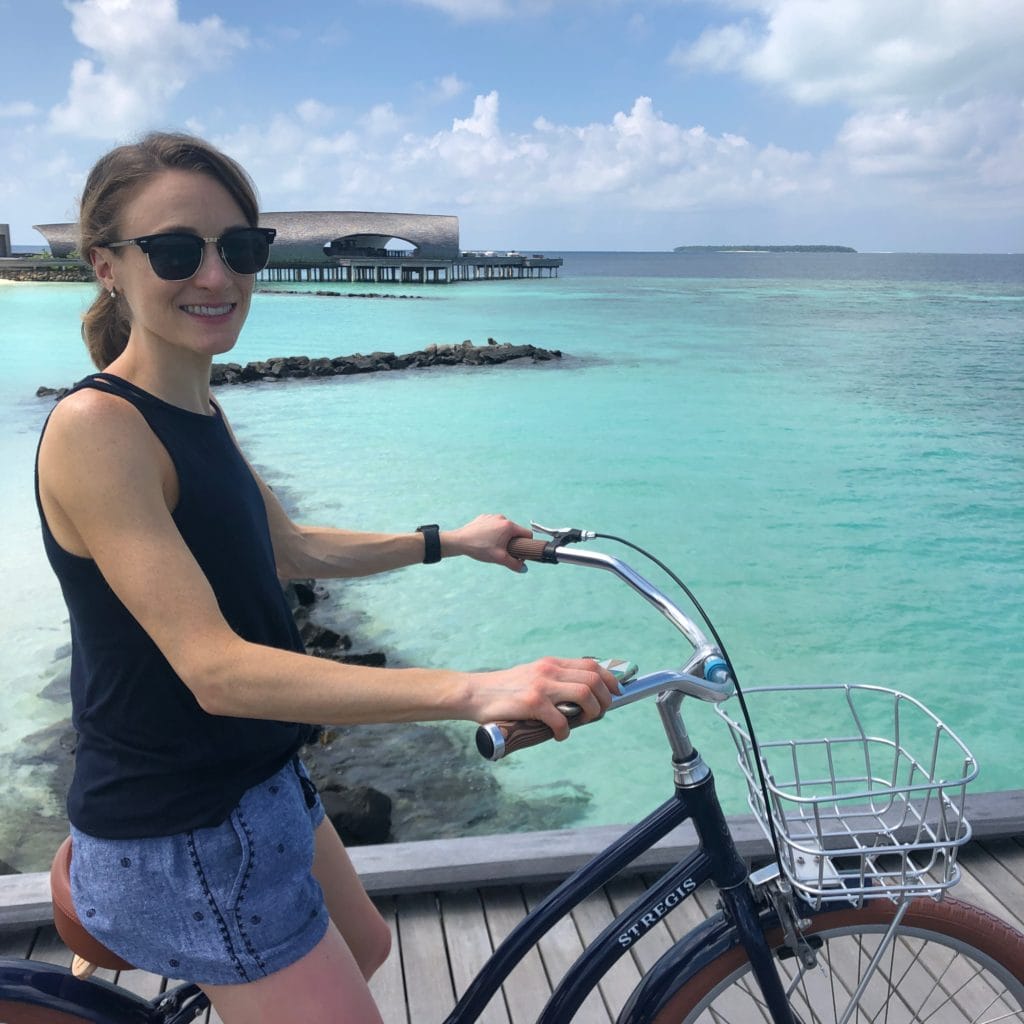 After, we enjoyed a scenic bike back to our villa where we decided to enjoy a relaxing day in the shade. We had a number of outdoor activities we were excited to schedule but decided it would be good to give our sunburns some time to chill (literally..hah).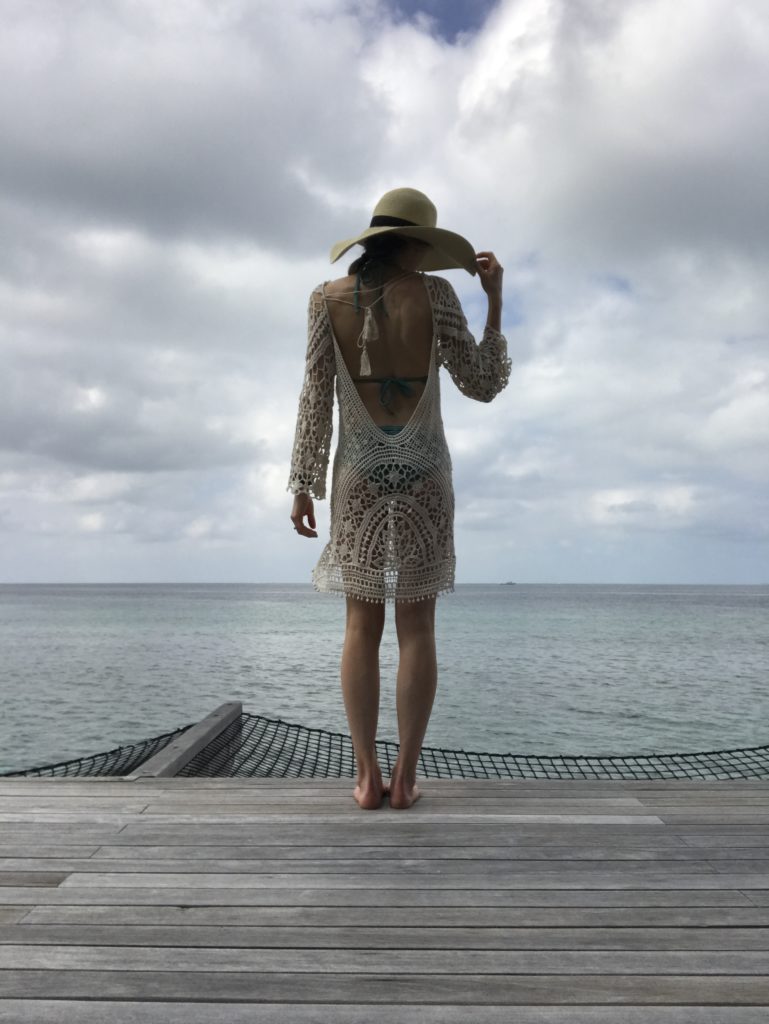 Matt made some drinks to enjoy in the plunge pool while I attempted to take some photos of the cover-up and bathing suits that I got from Amazon and Target in case I get the courage to post about them (the cover ups I did share in a recent Friday Favorites...the bathing suits...eh, maybe not). That at least provided some comic relief through the afternoon. Later, Matt ordered some food to have delivered for lunch. This included a triple decker PB&J sandwich that he ordered off of the kid's menu. I don't even know.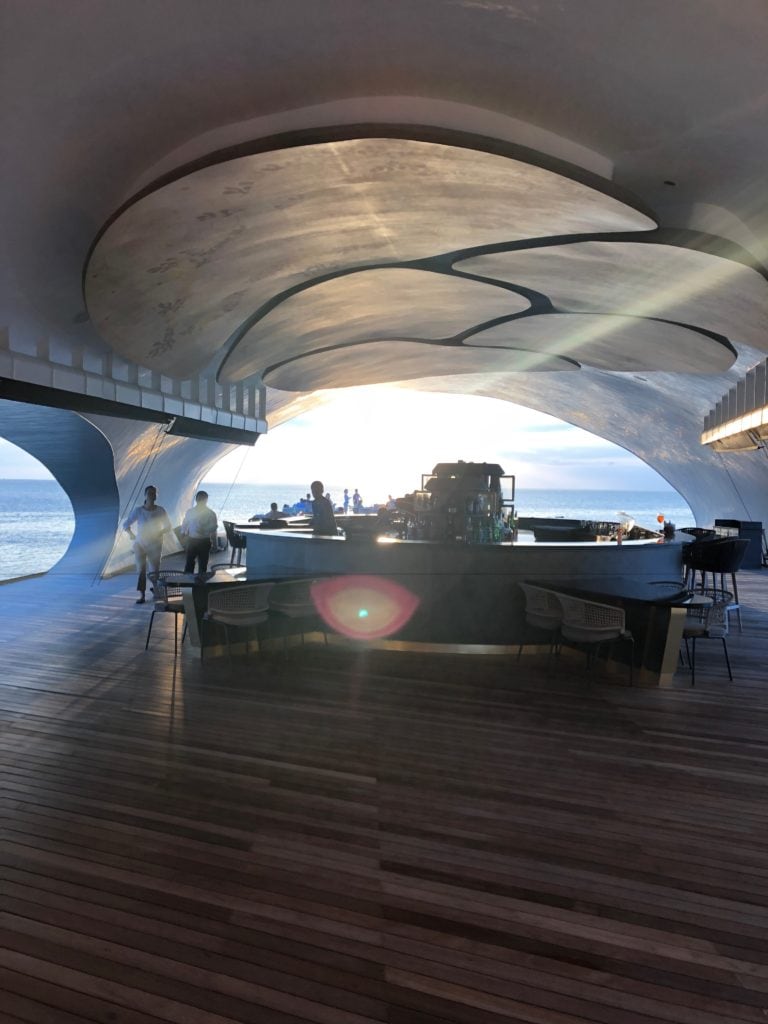 As the sun started to set, we realized it was time to get ready for our evening plans at the Whale Bar and Grill. The Whale Bar is a popular spot to go for cocktail drinks at sunset because of the stunning views off of the deck. This ended up being one of our favorite places to go in the evenings to listen to live music while watching the sun go down.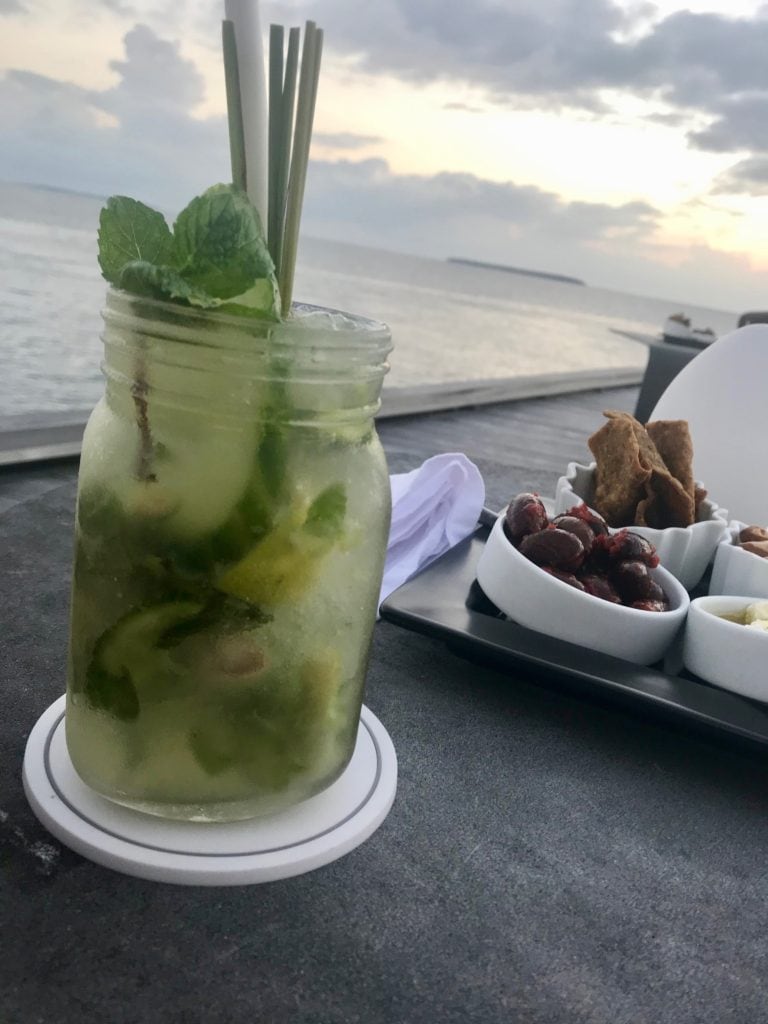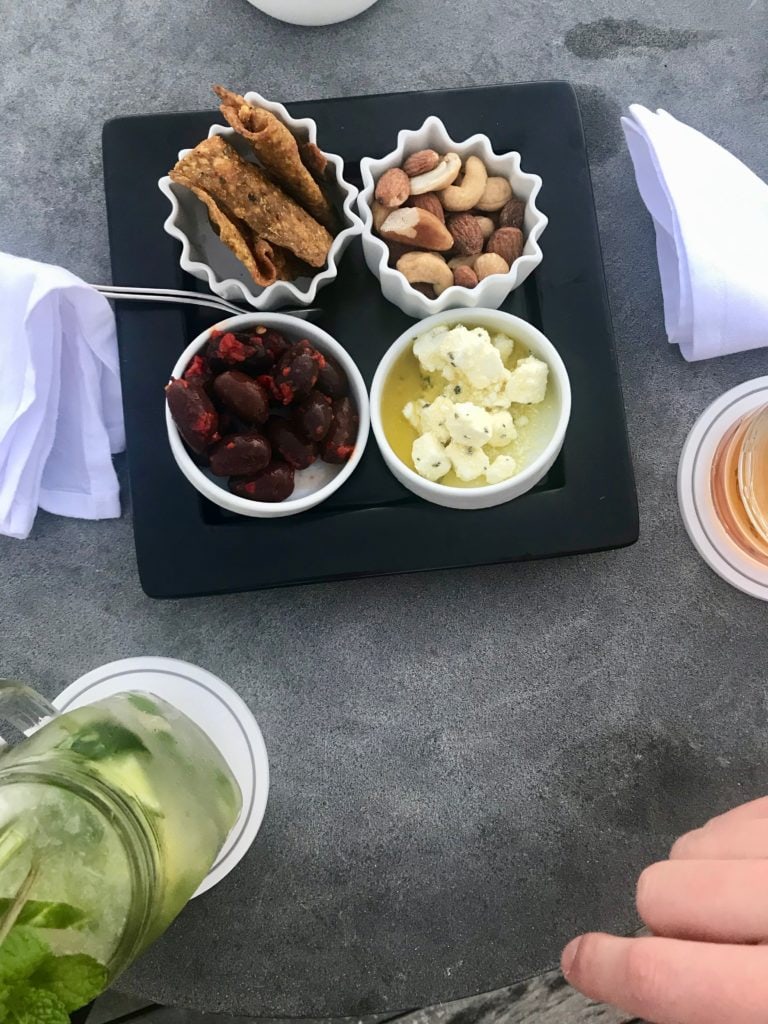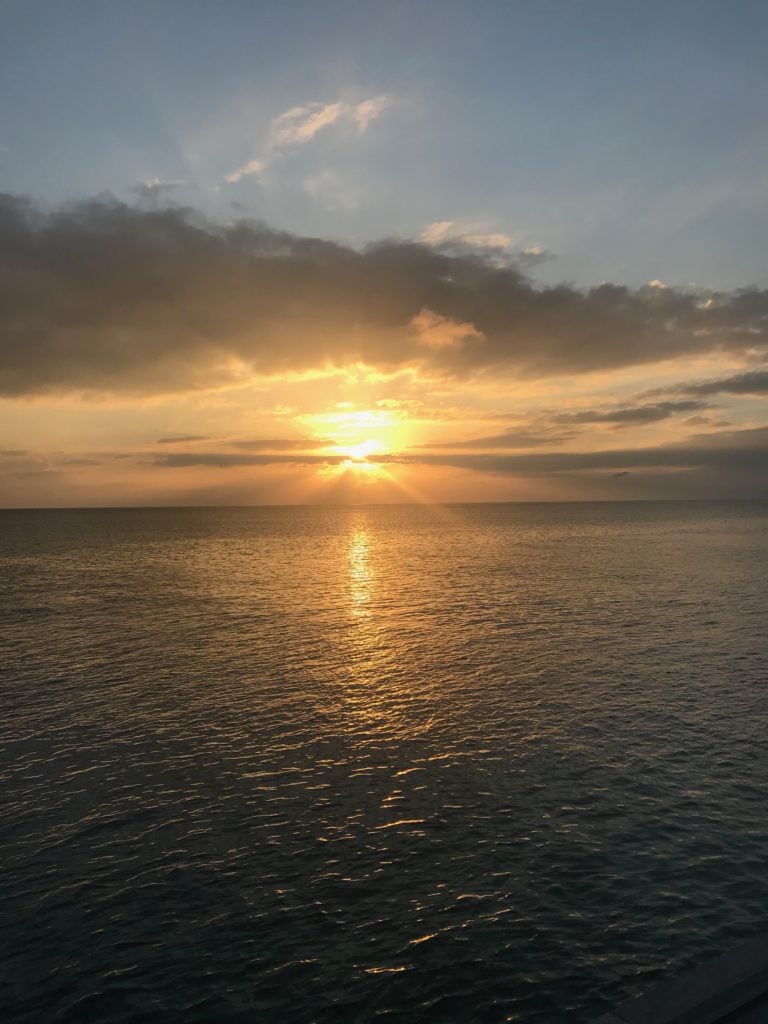 We arrived just in time to admire the sunset as we savored our cocktails. We were also pleasantly surprised to find a nice complementary snack plate delivered with nuts, feta, olives, and fish crackers (I loved these, Matt did not).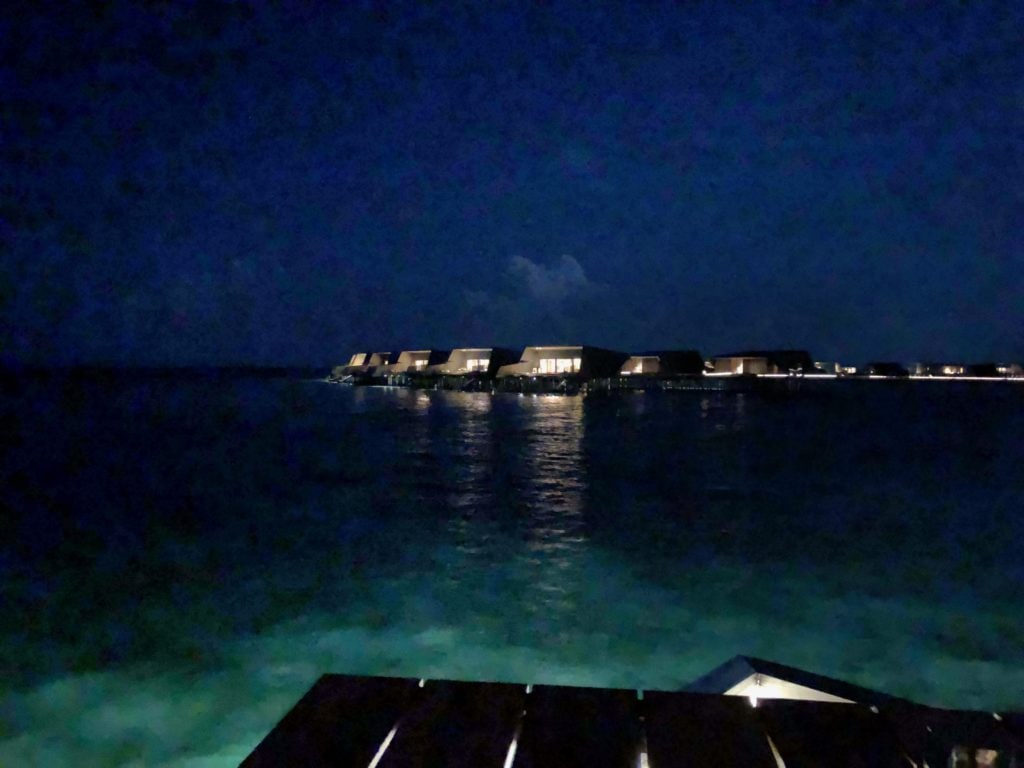 After the sunset, we sat together enjoying the live music and fresh ocean air as we waited for our table to be ready. We were seated over the water with a beautiful view of the over water villas.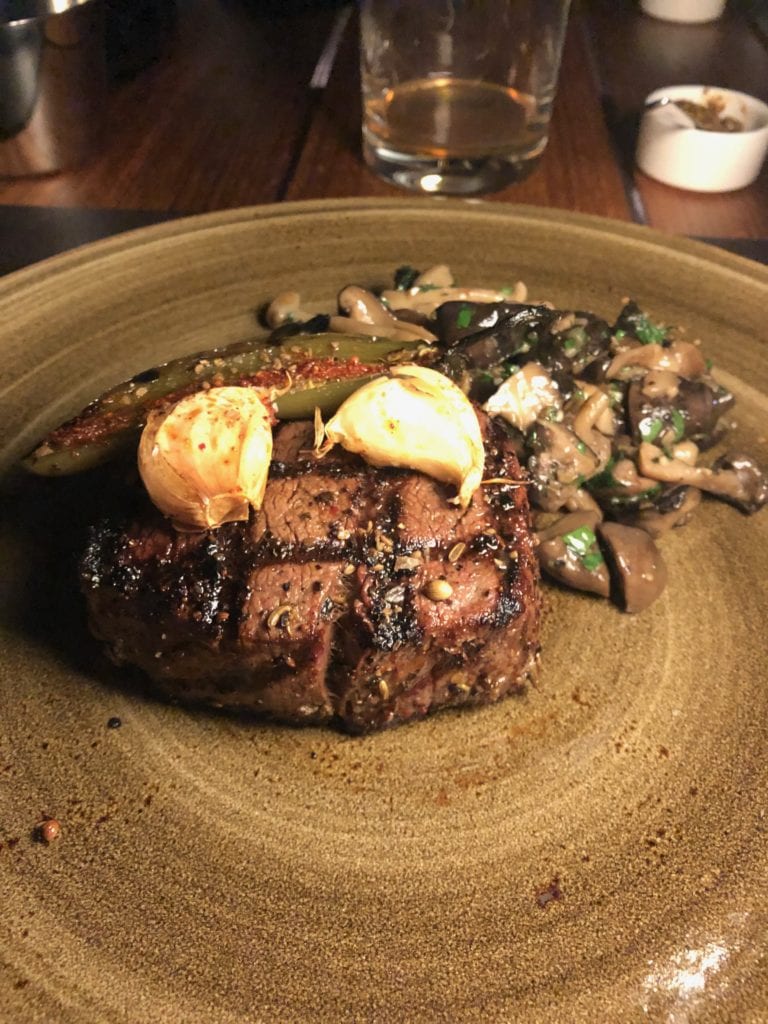 Whale Bar is known for their amazing seafood and steak, and Matt and I can confidently vouch for that after our dinner. After ordering, we were brought an amuse bouche of cream of cauliflower soup along with bread. We were also brought an assortment of flavored salts, mustards, and infused olive oils to accompany our dinner.
I ordered the catch of the day, which was a reef fish (I think called a jack fish) after the waiter raved about it, and Matt ordered the Wagyu beef tenderloin (when in Rome the St. Regis Maldives). The reef fish dish was phenomenal. Matt's steak melted under his knife, and he proclaimed it the best steak of his life - not a claim he takes lightly.
Despite having worn some pretty epic heels to dinner, I happily agreed when Matt suggested that we take another evening stroll back to our villa instead of riding in a buggy. Once back, we quickly fell asleep feeling completely satisfied with our meals and so grateful for the opportunity to be in this beautiful place.
Stay tuned for Part 2 of our trip!
This post contains an Amazon affiliate link.