Not your average breakfasts: Quick, Healthy, and Veggie Packed Breakfast Ideas to fuel Your Day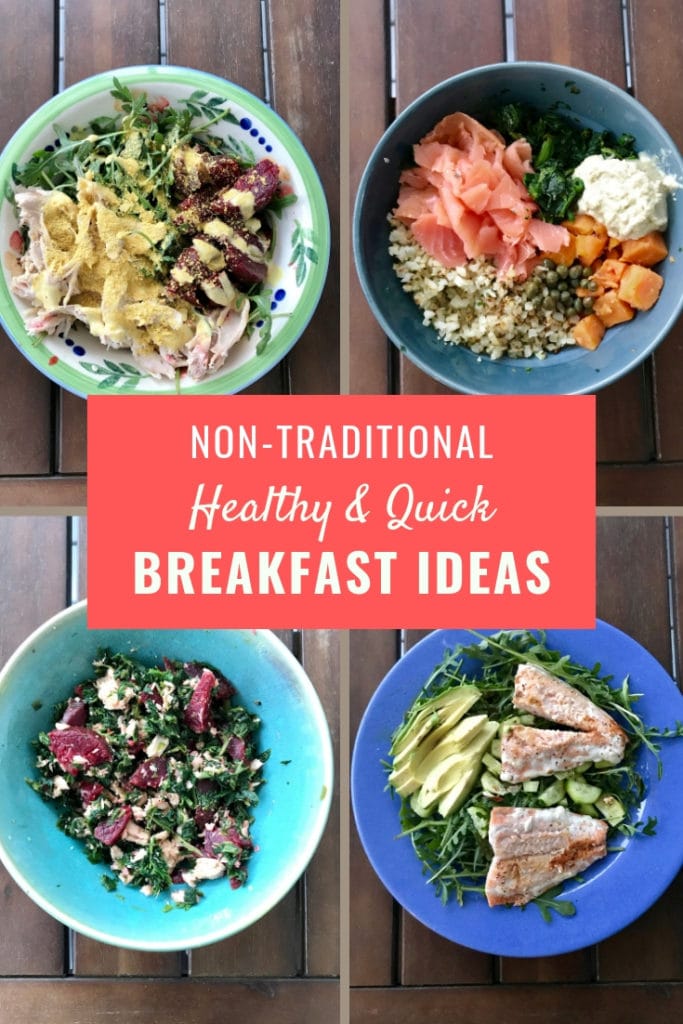 Today, I'm giving you a glimpse of my breakfasts. They're weird. Or let's call them "non-traditional". I'm a big believer in starting my day with a veggie packed and nutrient dense breakfast. I don't know who decided that sugary and carb heavy breakfasts were going to be the first meal of the day, but they weren't setting us up for success. So many of the traditional breakfast foods set our energy levels up to crash and burn soon after eating. I'm thinking there's probably a better way to start the day. For me, that way involves a balance of healthy fats, proteins, and carbs to support a good energy level through a busy morning.
To be clear, I love breakfast. I'm definitely not hating on starting the day with healthy options like egg dishes, oatmeal, avocado toast, etc. And for years, I ate some variation of eggs with veggies, avocado, and potatoes every day. That is still a great breakfast option, but I thought it might be good to add a little more variety into my mornings. That's when I realized that when you take away the limitations of only eating stereotypical breakfast foods suddenly there are loads of awesome veggie packed options for the first meal of the day.
In case you're feeling in a breakfast rut or trying to increase your daily vegetable intake, I'm going to share some of the quick meals I made the past few days. If you're feeling a little weary about this breakfast concept, the good news is these make for awesome quick meals any time of day. In general, my goal is to have a good base of vegetables, a healthy amount of protein, and some healthy fat. I also want to be able to throw it together in 10 minutes or less so that I have time to eat before going to work!
Smoked salmon, sweet potatoes, and cauliflower rice topped with edamame hummus and capers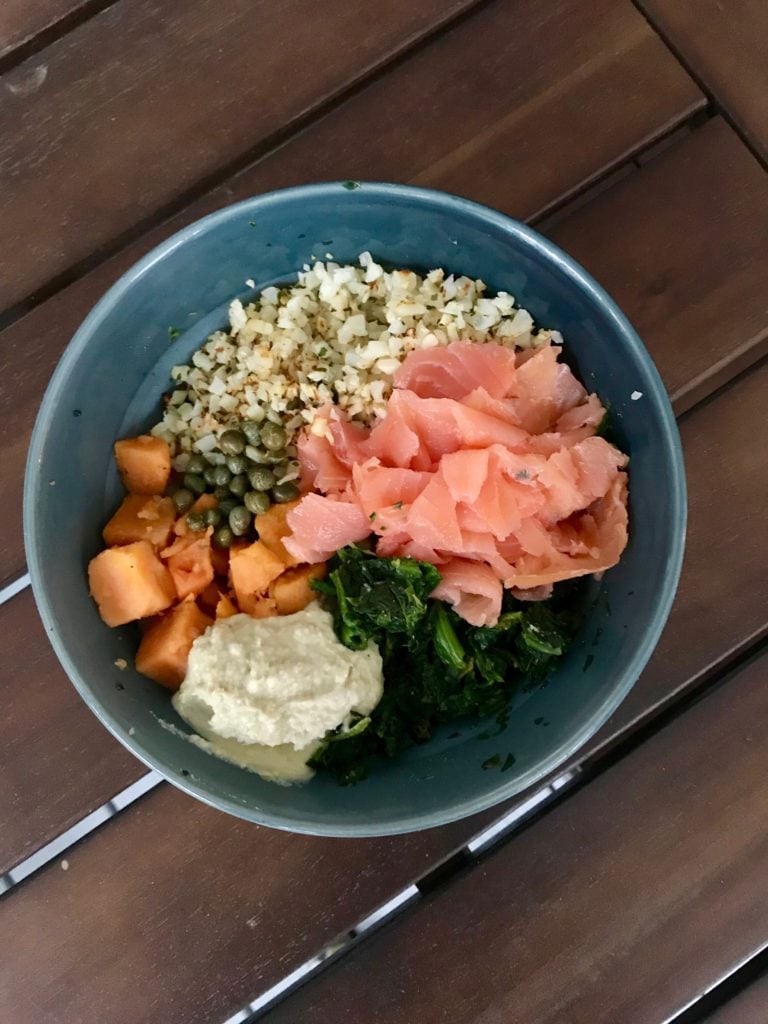 This random bowl was SO GOOD, loaded with flavor, and quick to put together. I was running low on fresh produce, so I turned to my freezer for the majority of this meal. I started with microwaving some frozen spinach and mixing that with a little apple cider vinegar, ginger, himalayan sea salt, and pepper. The sweet potatoes were also frozen so while microwaving those, I sautéed some (frozen) cauliflower rice. I definitely could have microwaved the cauliflower, too, but I like it when it gets a little crispy. Then I added smoked salmon, edamame hummus, and capers. This had so many interesting flavors and left me feeling so satisfied for conquering the day ahead.
Spinach, salmon, and beets topped with dijon mustard, apple cider vinegar, and capers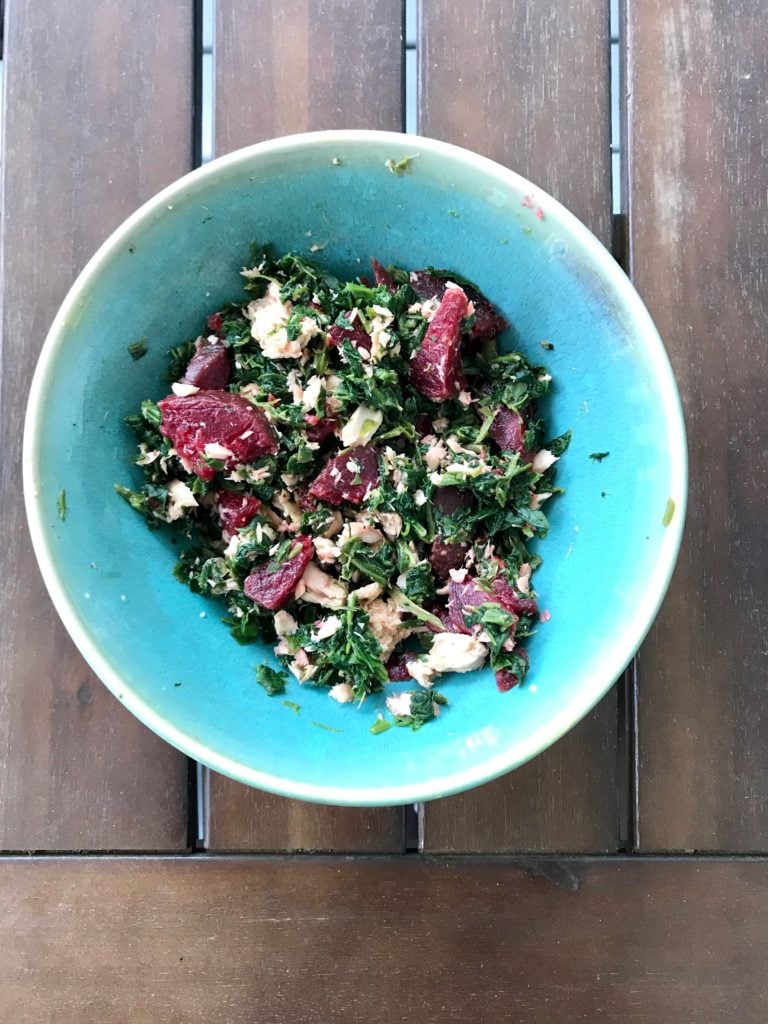 If you're not digging the idea of this combo, you're not alone. Matt was not jealous when I made this meal, but I loved it! It also came together in less than 5 minutes. Frozen spinach came to the rescue again (I was out of salad greens). I always like to keep a few cans of salmon and tuna around for when my fridge is getting bare and I need a quick breakfast or lunch. In this case, I used salmon. I purchased the beets pre-cooked (my beet love is still going strong), so all I had to do was chop those up. I really like adding dijon mustard to my beets because I feel like it balances out the sweetness of the beets. I topped this all off with some apple cider vinegar, capers, himalayan sea salt, and black pepper for a flavor boost.
Arugula dressed in olive oil and coconut aminos with sautéed salmon, avocado, and cucumbers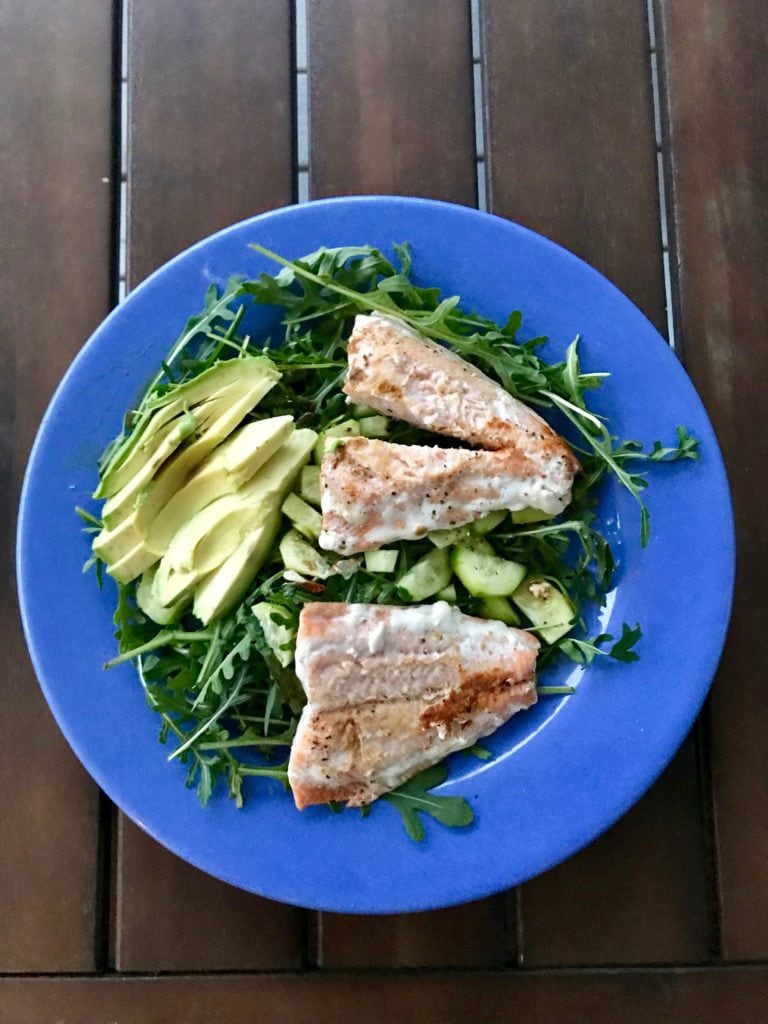 This breakfast was so satisfying. I know cooking salmon sounds like a big ordeal to make in the morning, but in reality it takes less than 10 minutes. Usually if I'm sautéing something I let it cook while I'm drying my hair or finishing up getting ready. This probably isn't good kitchen safety advice, but I like to multitask. I almost always have a bag of ALID's frozen salmon fillets, so I put them out to defrost in cold water when I start my workout and they're ready to cook when I finish. I was feeling inspired by sushi so I added cucumbers, avocado, and coconut aminos. It was scrumptious.
Arugula dressed in olive oil, himalayan sea salt + pepper with rotisserie chicken and beets topped with nutritional yeast, dijon mustard + apple cider vinegar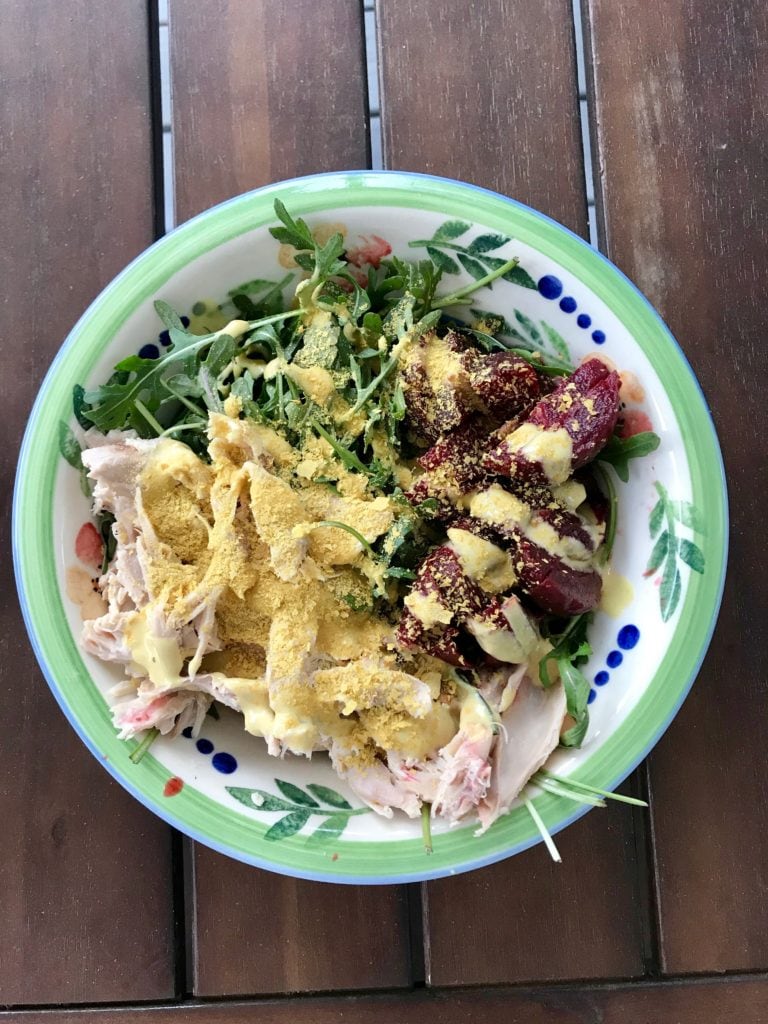 This was my breakfast Tuesday morning when I needed to empty the fridge before leaving on our trip. I like starting a travel day (and every day, really) on a healthy foot and I also like to not waste food. This was the best of both worlds by using up some healthy ingredients I had leftover.
Earlier in the week when I was picking up some last minute items for our trip, I grabbed a rotisserie chicken to get me through a few more meals. Rotisserie chickens are one of my favorite things to grab during hectic weeks, because they are inexpensive, flavorful, healthy, and can be used for so many different meal options. In this case, I topped a bed of arugula (dressed in olive oil, dijon, and apple cider vinegar...sensing a trend for the week?) with the remaining pre-cooked beets and chicken in the fridge. I topped it all off with nutritional yeast for a flavor punch and added protein. If you haven't tried nutritional yeast, you absolutely should. While the name isn't a great selling point, it has a a cheesy, nutty taste and is packed with vitamins and protein.
Arugula dressed in olive oil and lemon juice with sautéed mushrooms, salmon, and avocado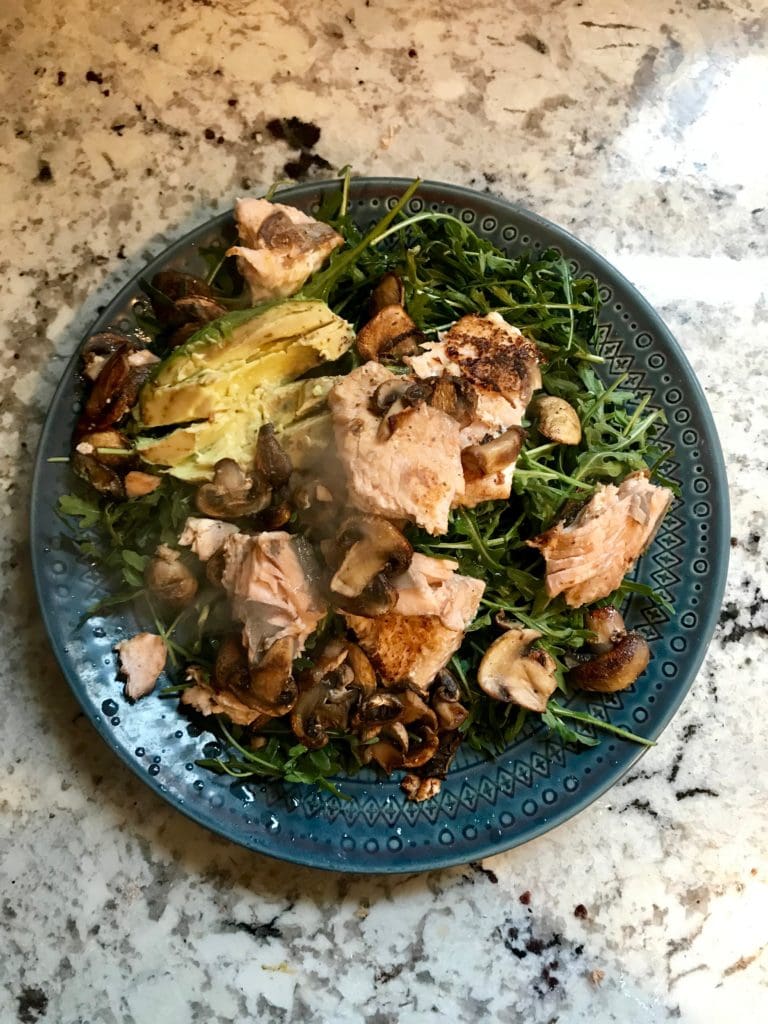 This photo was actually what I had for lunch right before leaving on our trip, but it's a breakfast that I make frequently. I finished the arugula just in time and loved the addition of freshly squeezed lemon for a refreshing kick. I let the mushrooms and salmon sauté while collecting a few last-minute packing items from around the house. I topped the salad with a perfect half of an avocado that was remaining in the fridge because that would have been devastating to waste. Also because salmon and avocado is the best combo.
Zucchini "oats" with flax seed, almond milk, pears, cinnamon, collagen protein, and almond butter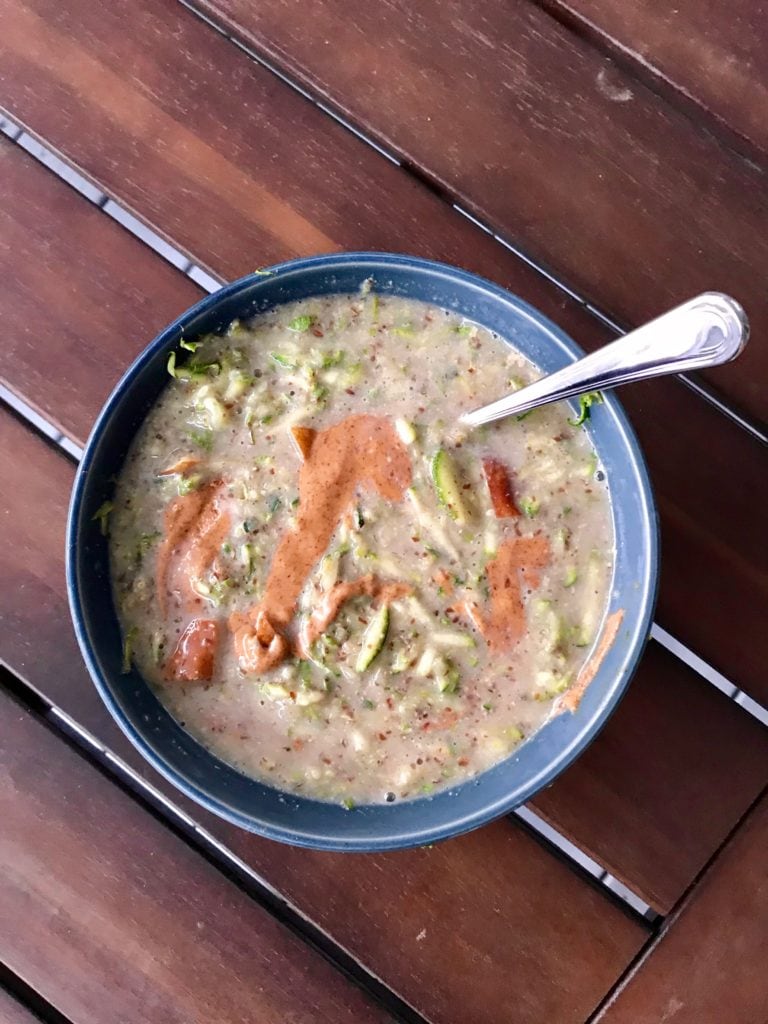 So, this looks beautiful, doesn't it? There's a reason I put it last, I'm trying not to lose you people and I get that this doesn't evoke a lot of confidence in my taste. But let's look past what this bowl looks similar to and talk about the fact that it tastes comforting and delicious. This also is the closest to representing breakfast food in this post, so give it a chance. Instead of oats, this uses ground flax seed to create an oatmeal like texture.
I mixed two tablespoons of ground flax seeds with about 1/3 cup of water in a saucepan and let it sit for at least 5 minutes (usually I do this step before my workout). Letting the flax sit in water allows it to thicken (similar to making a flax egg). Then I mix about 1 cup of almond milk and set the mixture to low-medium heat. Don't try to speed things up and turn the heat higher, especially if you're also trying to multitask and dry your hair. You'll come back to an overflowing saucepan with curdled almond milk (now I've really tempted you, eh?).
Once the mixture is hot and thickening, I mix in shredded zucchini. For sweetness, I added a pear that I heated in the microwave until super soft and mashed with a fork. Applesauce is an easy and great alternative to the pear. This morning, I mixed in collagen powder for added protein and maca powder. There are similar recipes that add egg whites and those work really well, but in my case I have been playing around with not eating as many eggs so this was an egg-free alternative. Finally, I topped the warm bowl with a healthy dose of cinnamon for flavor and a giant scoop of almond butter for extra staying power. I promise it's worth a try!
Would you consider eating any of these meals for breakfast?
What's your favorite "non-traditional" breakfast?
Do you like adding vegetables to your breakfast or are you a strict breakfast foods-only type?