Whole30 ALDI Recipe Roundup
21 Whole30 Recipes You Can Make From One Trip To ALDI
We are all busy people. Committing to Whole30 (or no sugar, cutting out processed foods, etc.) takes a lot of mental energy and precious time trying to remember what you can and can't eat, finding recipe ideas, and prepping and cooking in the kitchen. When I did my first Whole30, I spent a long time searching for compliant recipes to create a meal plan in preparation for the week. I felt excited until I was at my third grocery store trying to find new ingredients like coconut aminos, almond flour, arrowroot powder, and compliant sausage or bacon. Suddenly, I was hangry, tired, realizing I had spent a small fortune on groceries, and standing in the check out line wondering why I was doing this stupid Whole30 in the first place. I don't want that to be you.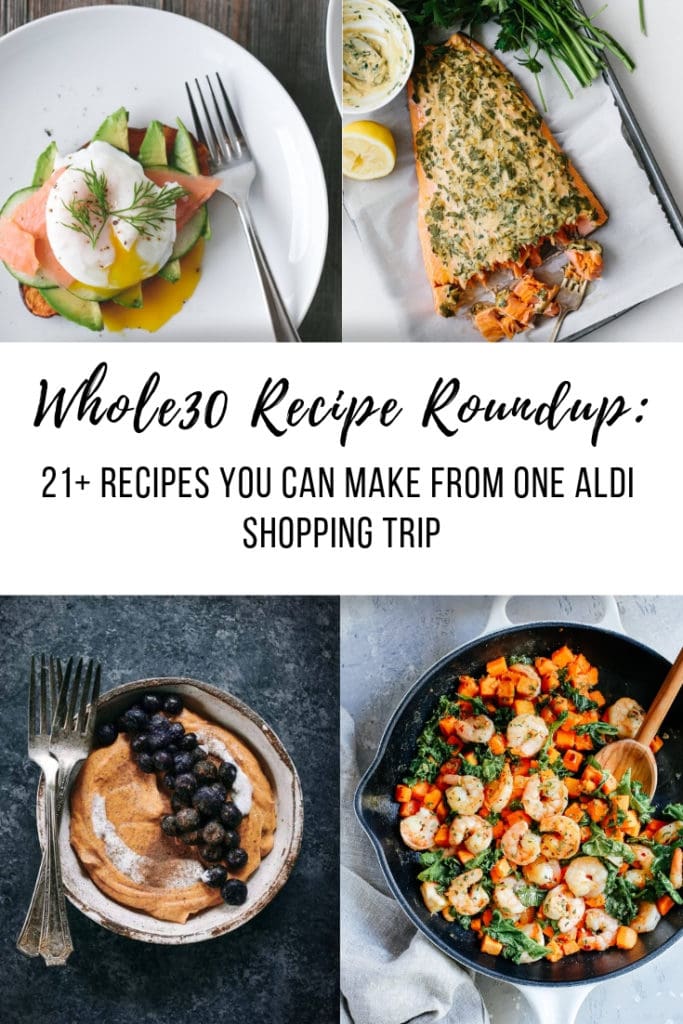 To follow up with the ALDI Whole30 Shopping List, here's a list of 21 breakfast, lunch, and dinner recipes (and a couple snacks) from some amazing blogs that are Whole30 compliant and include ingredients that can all be found with a single shopping trip to ALDI. While ALDI has lots of healthy and real-food options, they don't have some of those trendy and elusive ingredients it seems so many Whole30 recipes require. I've included seven recipes for each meal of the day, but I recommend choosing a few recipes and making a batch (for example of soup) that can be used for a few meals to make your week simpler. If you're not doing Whole30, this is still a great list of healthy meal options to power you through the week. Enjoy <3
ALDI Whole30 Breakfasts
Sweet Potato Toast with Avocado, Cucumber, Smoked Salmon, and Poached Egg from Downshiftology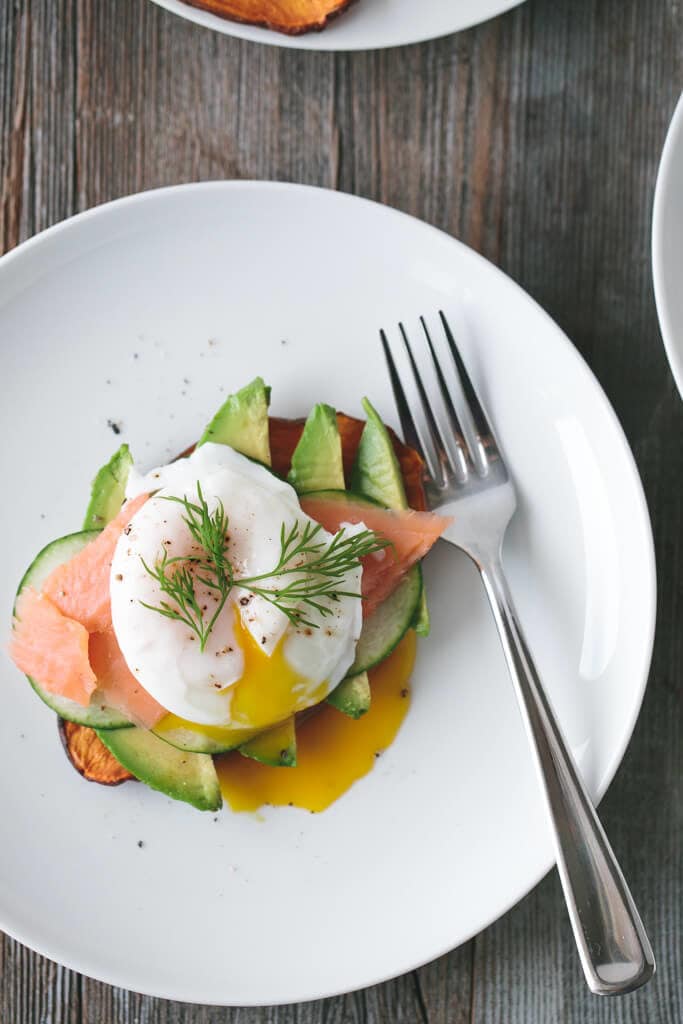 I mean, YUM. I'm starting out with this recipe, because I just found it and now I want to make this epic breakfast stack of goodness ASAP.
Whole30 Breakfast Casserole from One Clever Chef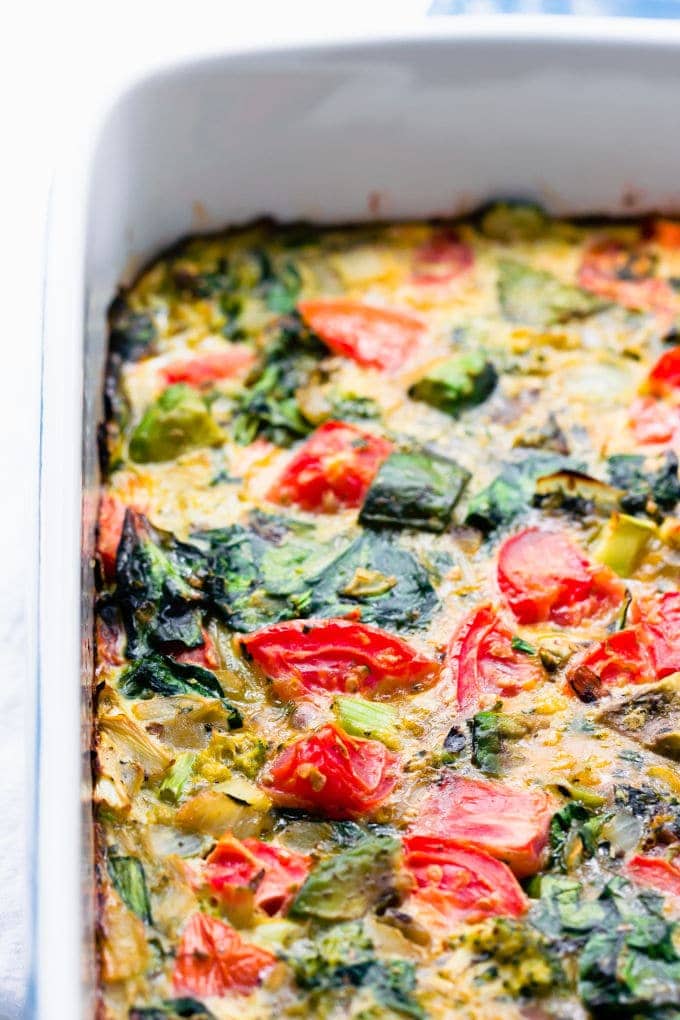 One of my go-to breakfasts during the week is an egg casserole loaded with a variety of veggies that I can quickly reheat in the morning. I love starting my day with a healthy serving of veggies and the protein from the eggs help me to feel satisfied. This breakfast casserole recipe is a great guide for getting started, but it can easily be customized to use whatever ingredients you have on hand.
Eggs and Waffle Iron Sweet Potato Hashbrowns from PureWow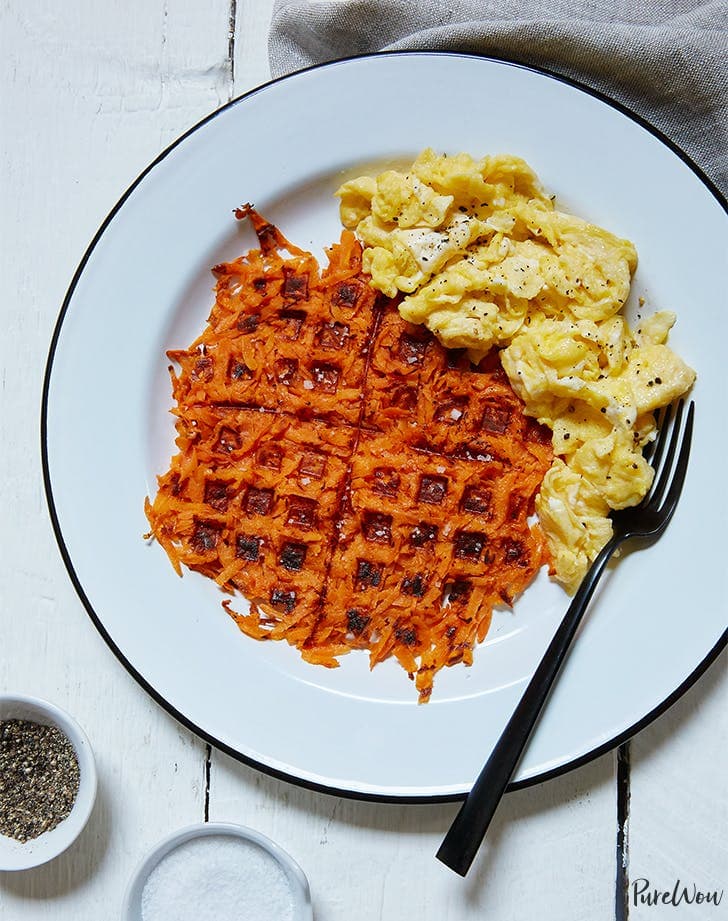 Um, genius. I'm pretty sure the waffle shape makes these taste extra special. Hashbrowns are a great way to add some healthy carbs to your breakfast, especially after a morning workout. I recommend adding eggs (cooked however you like) and some greens or sautéed veggies on the side for a wonderfully balanced start to your day (just make sure to cook the hashbrowns with ghee in place of butter).
Overnight Banana Chia Pudding from Peanut Butter Runner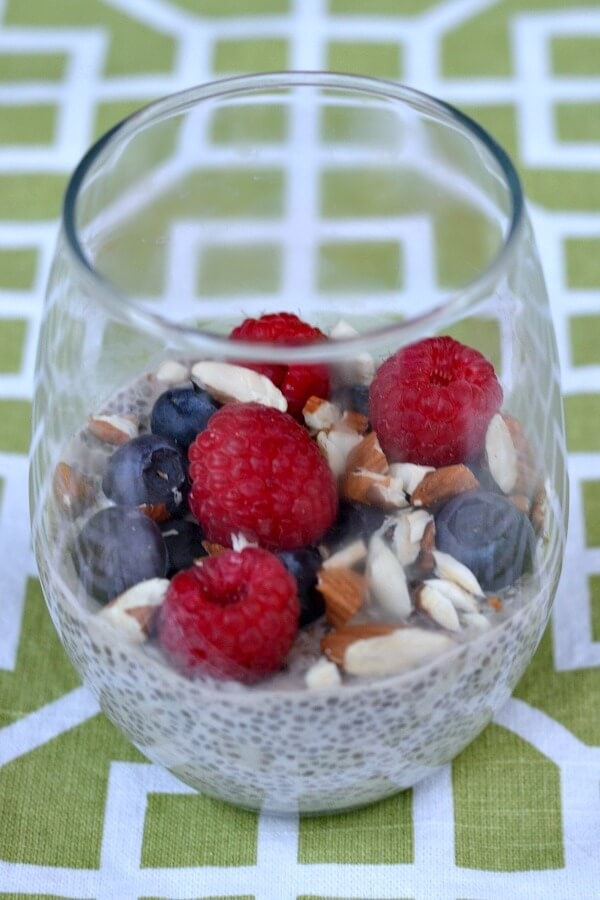 Chia pudding takes almost no time to prep and is a great option for hectic mornings when you need something to grab and go. To make it even more portable, I recommend mixing it all together in a mason jar. You can have fun adding different toppings (check out the bottom of the post for recipes to make your own nut butters).
Oatless Oatmeal with Zucchini from Peanut Butter Fingers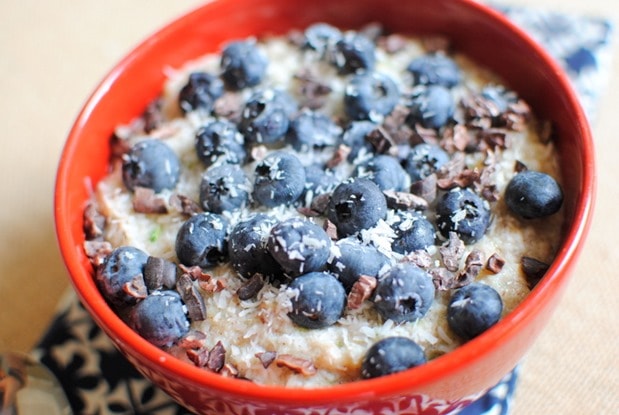 I recognize that using flax seed and egg whites to create oatmeal and then adding zucchini sounds strange, but I love Peanut Butter Finger's blog and was intrigued enough to try it. Consensus: It's really good! It creates a warm and comforting bowl reminiscent of oatmeal that's packed with healthy fats, protein, and veggies to start your day.
Pumpkin Paleo Oatmeal from Peanut Butter Fingers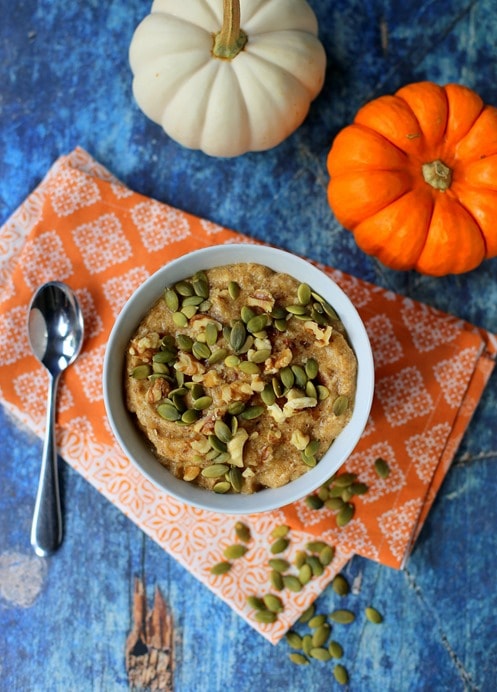 Here's another fun variation of the oatless oatmeal. I love ALDI's salted pepitas which would make the perfect topping for this Whole30 compliant recipe.
Paleo Sweet Potato Breakfast Bowl by Paleo Gluten Free Eats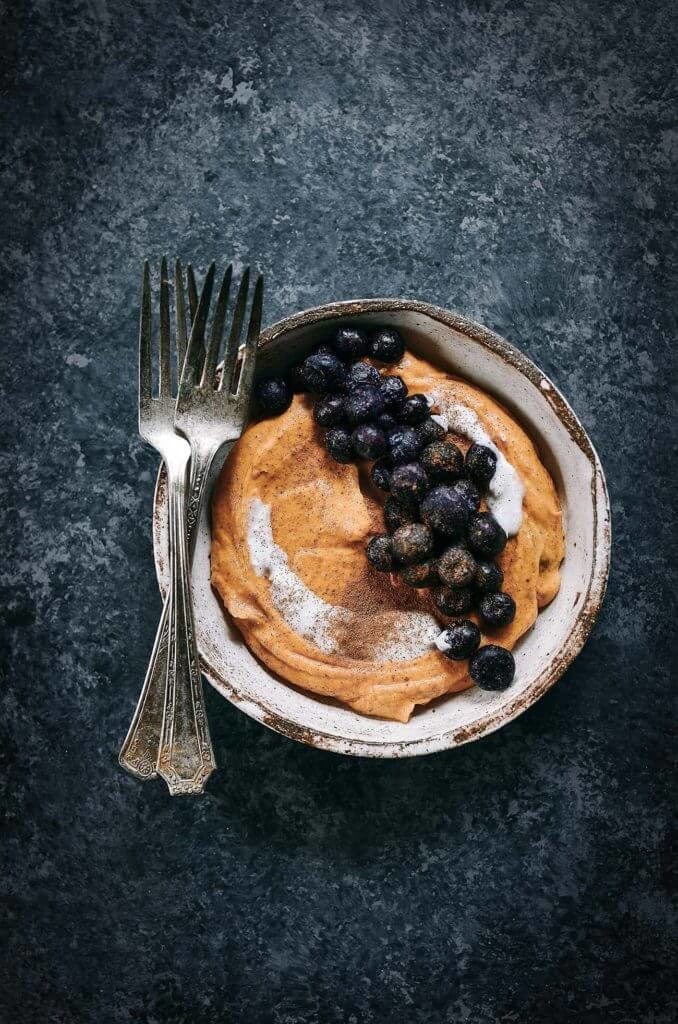 If you're looking for something on the sweeter side to start your morning, these sweet potato breakfast bowls sound like a perfect comforting and easy way to start your morning.
ALDI Whole30 Lunches
Chicken and Avocado Soup from Skinnytaste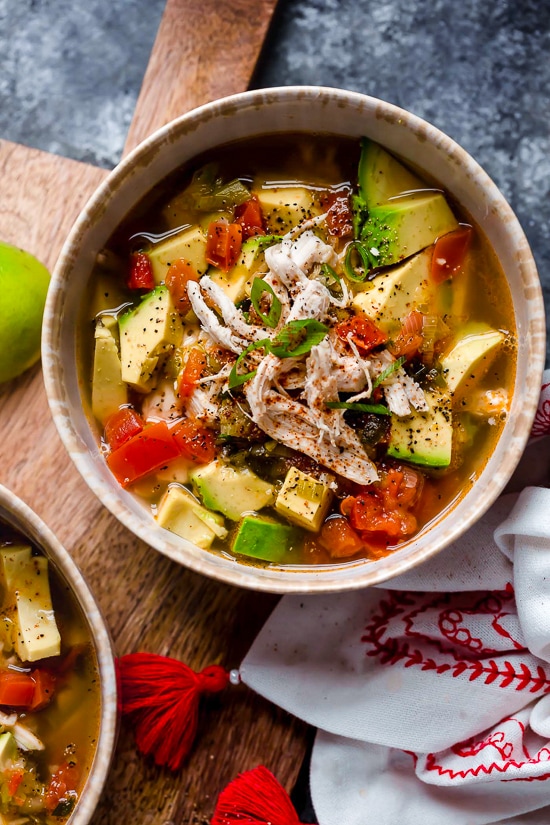 I'm a huge fan of Skinnytaste's blog as a resource for flavorful and healthy recipes. This soup only takes 25 minutes to make and would be perfect to prep on the weekend and pack for easy lunches during the week.
Salmon Nicoise Salad from The Lean Green Bean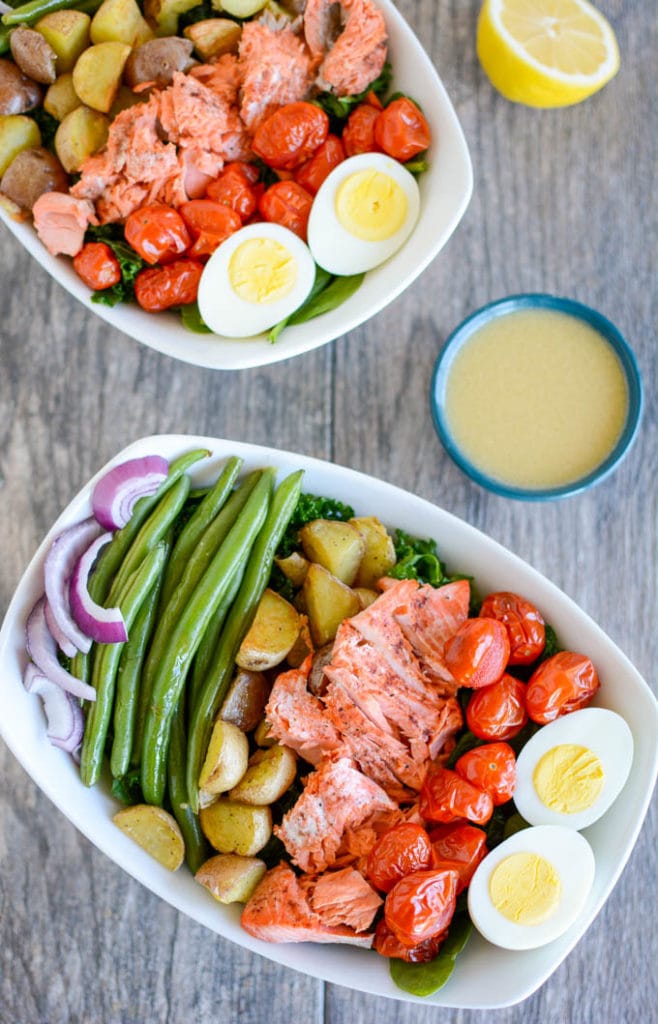 This beautiful salad has all the components for a healthy and satisfying lunch that won't' weigh you down. While I love the idea of salmon, you could also use ALDI's tuna packets for a super quick Whole30 compliant protein option.
Salmon Asparagus Bundles from Meme Inge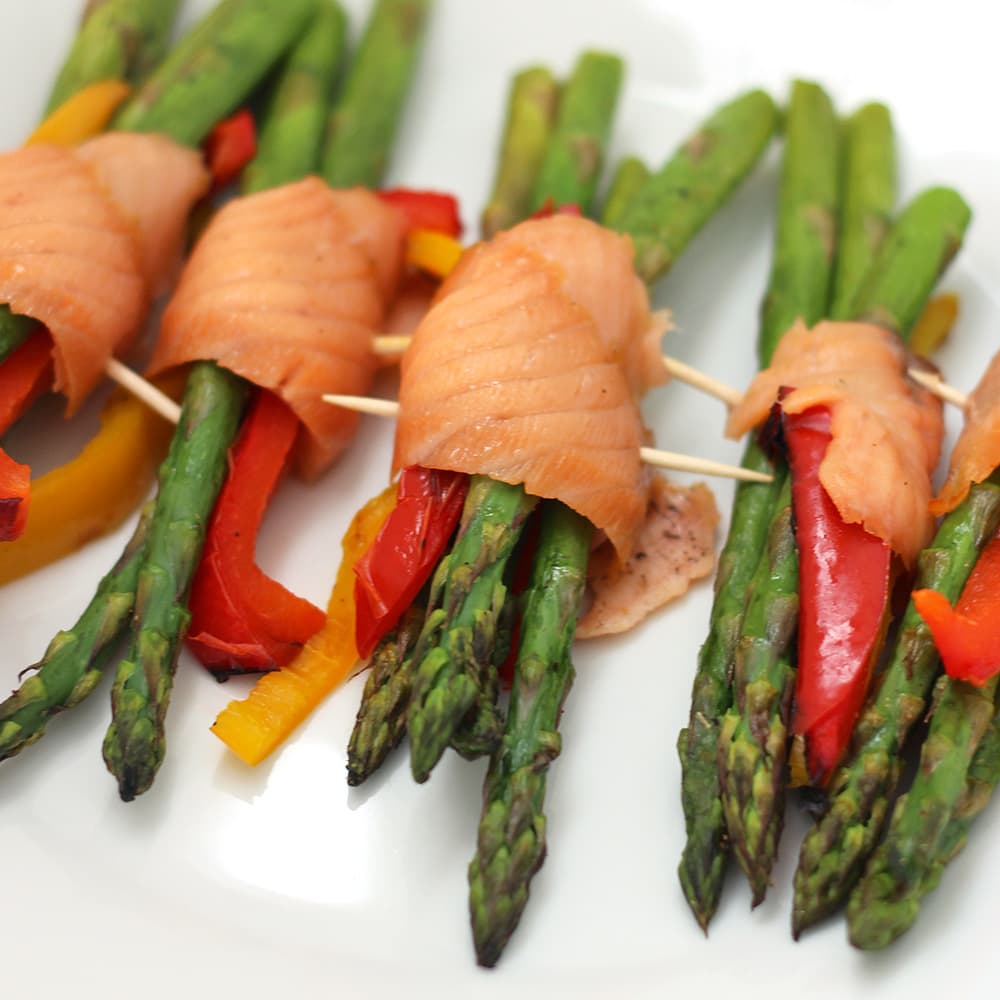 So cute! Here's another great use for ALDI's smoked salmon. If you roast the veggies ahead of time this would take zero time to throw together. I recommend adding some fruit or Amazeballs for more staying power. These would also make a fun appetizer for a party!
Roasted Asparagus & Cauliflower Soup from PaleOMG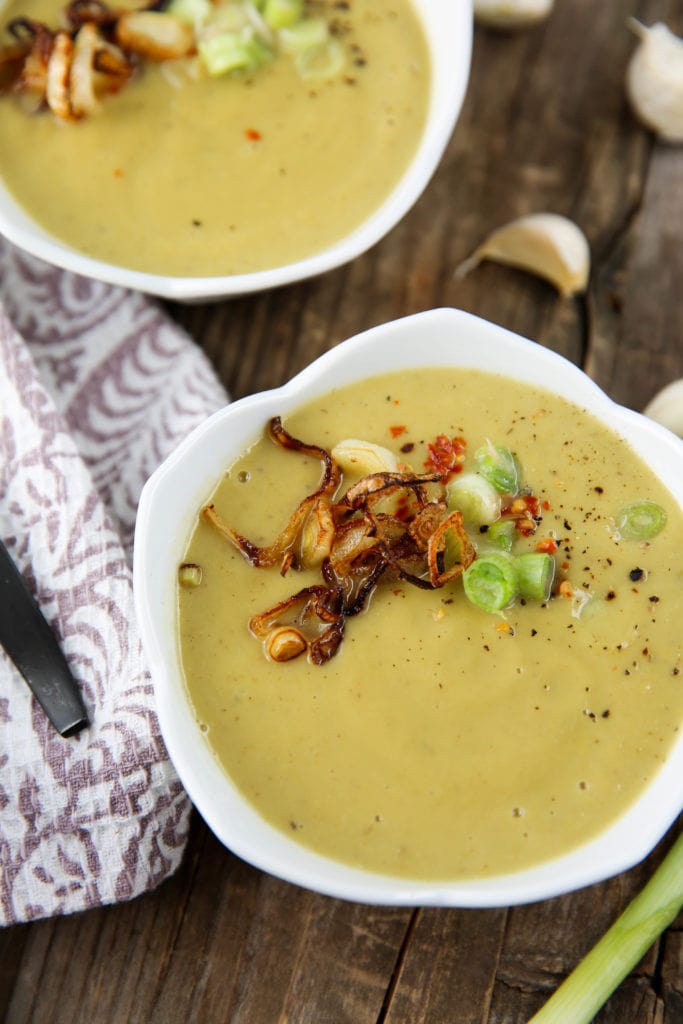 PaleOMG is another one of my go-to blogs for awesome content and delicious recipes (her Pizza Spaghetti Pie is one of my favorite easy dinners, but it calls for sausage so we're not talking about it right now). I love that this recipe calls for frozen veggies, because it would be easy to throw together on a day when your fridge is starting to look bare. If you don't already have an immersion blender, I *highly* recommend getting one. It's one of my favorite kitchen tools.
Sweet Potato, Kale, and Shrimp Skillet from Primavera Kitchen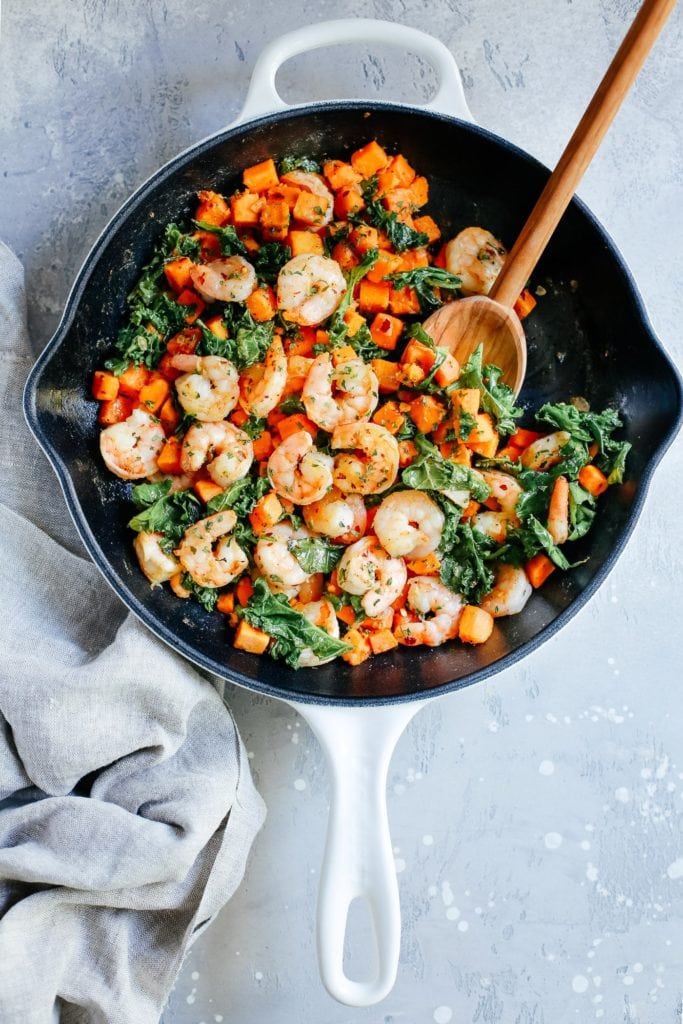 This just looks beautiful and only requires 4 ingredients. Easy peasy.
Tomato Zoodle Frittata from The Endless Meal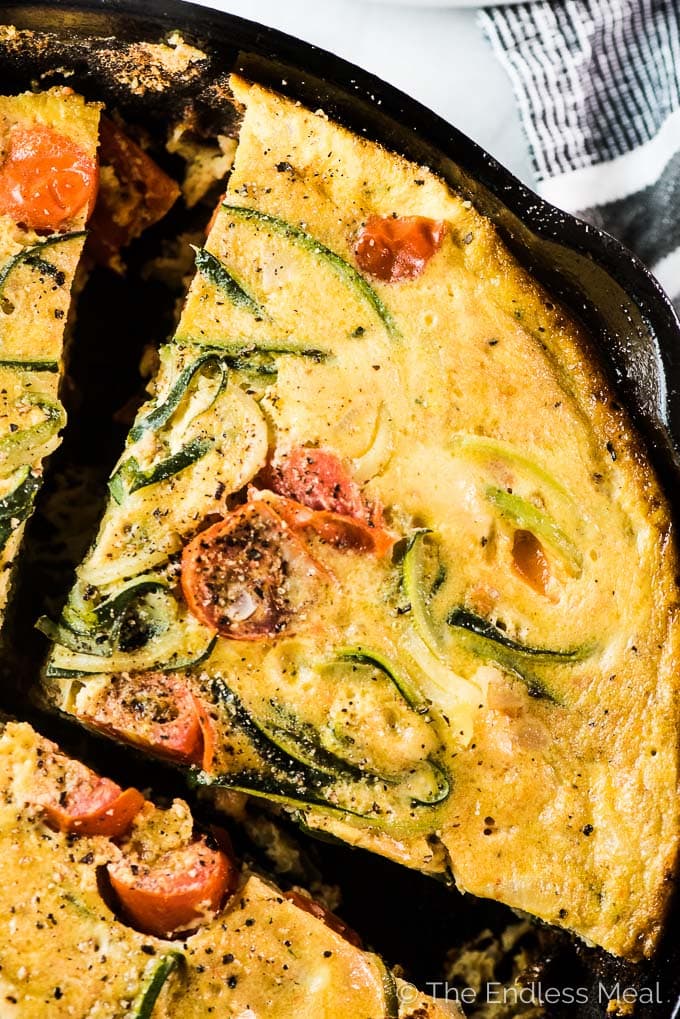 I love breakfast food any time of day, and if you know me there's a good chance you're familiar with my poodle obsession (...that was supposed to say ZOODLE, but I do see a lot of poodles and doodles :-)) . If you don't already have one, a spiralizer instantly makes veggies 110% more fun. This is the one I have, and I use it constantly.
Ground Beef Zucchini Sweet Potato Skillet from Primavera Kitchen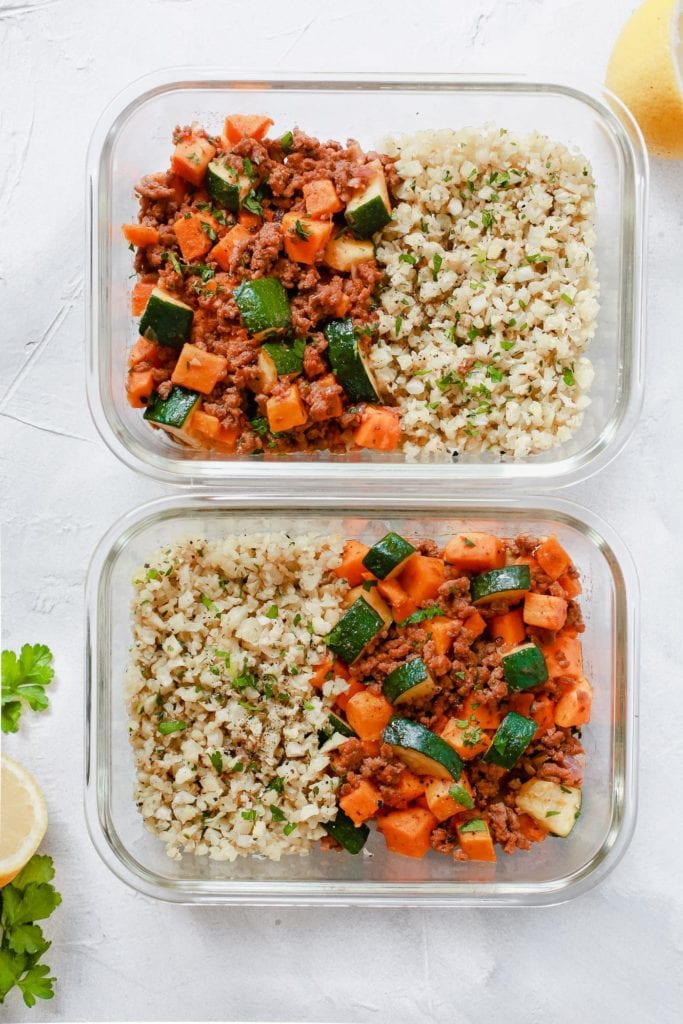 Skillet meals are awesome because they're quick and you don't end up with a million dishes. Look how cute these are all meal prepped and ready for easy lunches during the week.
ALDI Whole30 Dinners
Dijon Baked Salmon from Downshiftology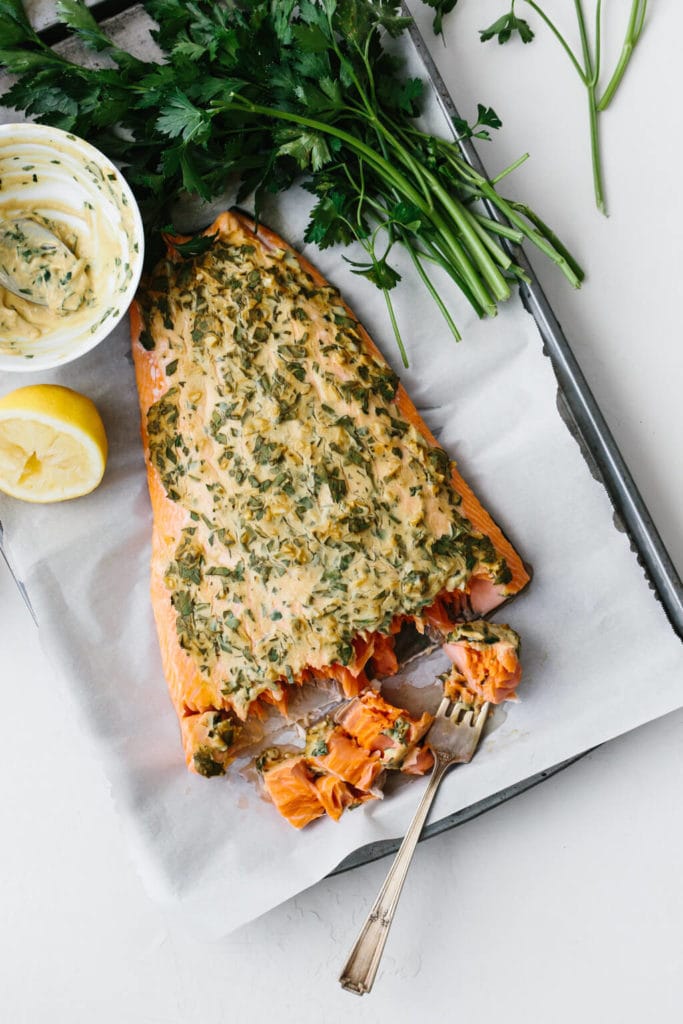 Downshiftology has so many beautiful, Whole30 recipe options. I love salmon so much, and this dijon baked salmon looks incredible. It would be perfect paired with mashed cauliflower or roasted Brussels sprouts.
Lemony Chicken Kale Soup from Peanut Butter Runner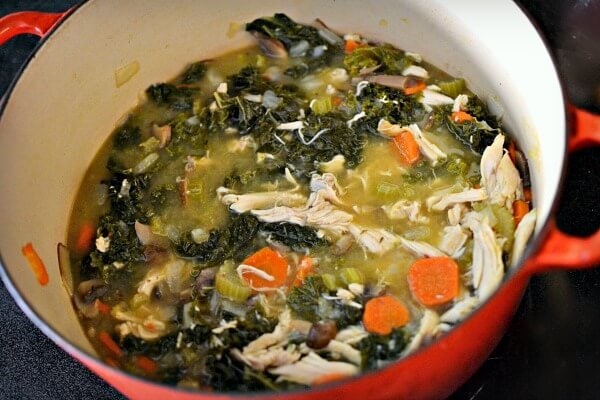 I make this soup ALL. THE. TIME. It's easy to throw together even on a weeknight and makes great leftovers. Something about the addition of lemon in a comforting chicken soup makes me feel like I'm giving my immune system super powers. I often sub spinach for kale which also works and doesn't need to be cooked down for as long. With flu season in full force, I can't recommend this soup enough!
Green Shakshuka with Shaved Brussel Sprouts and Spinach from Downshiftology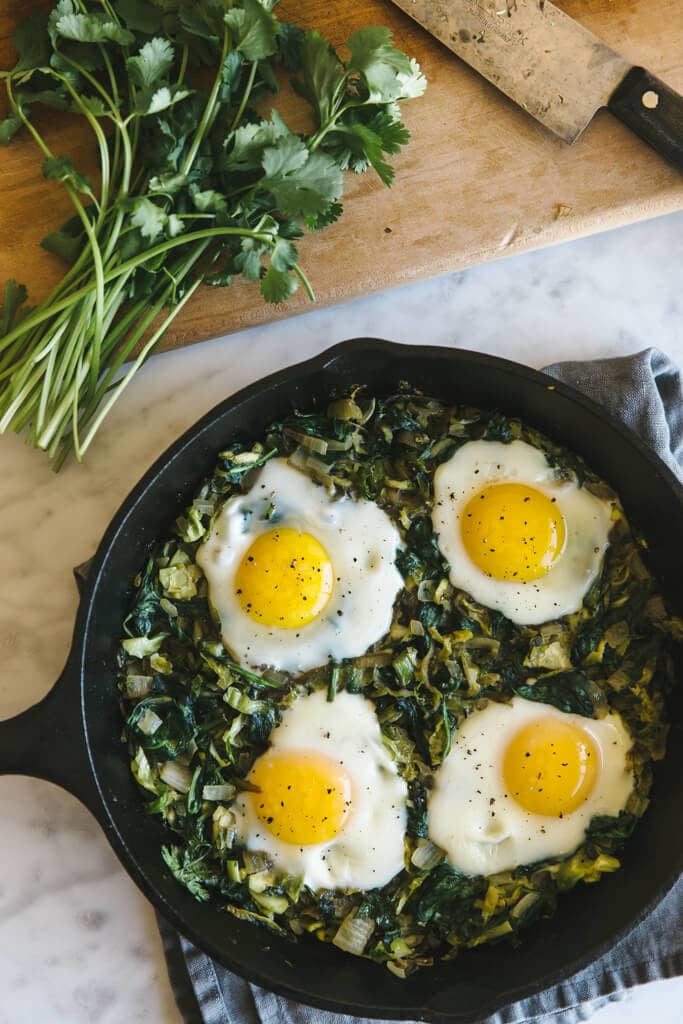 When Matt and I did our first Whole30 this was one of our favorite recipes. It's super easy, and we have continued to make it (with different variations of green veggies) multiple times.
Whole30 Fish Taco Bowls from Eat the Gains
Tacos + bowls = fun. Am I right?
Zucchini Pasta with Lemon Garlic Shrimp from Downshiftology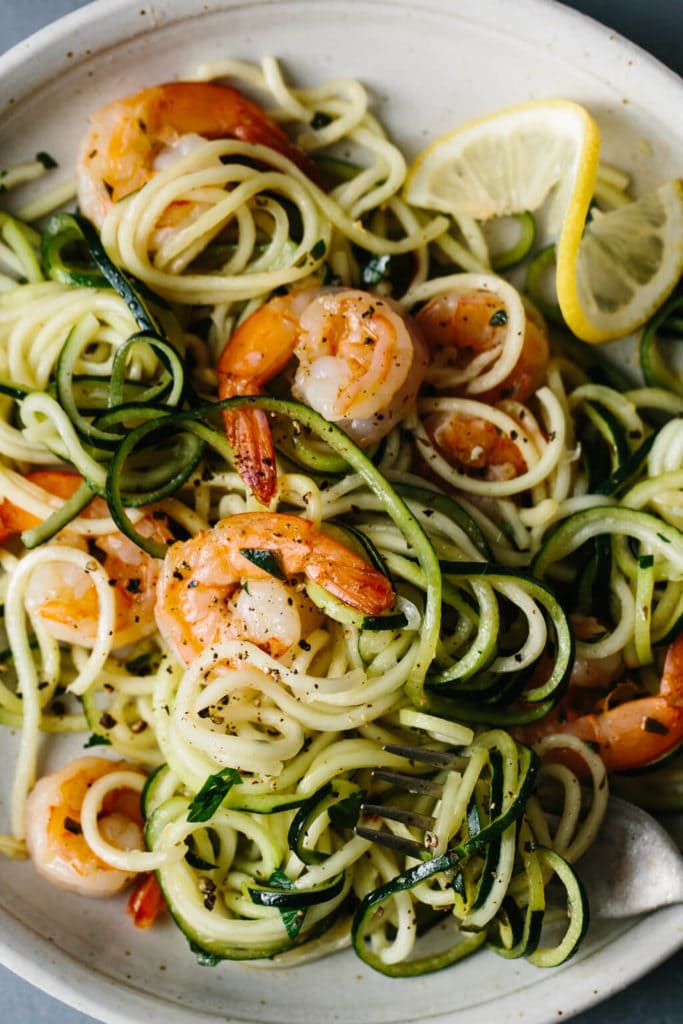 See what I mean about the zoodles? This recipe looks so fresh, light, and flavorful.
Roast Chicken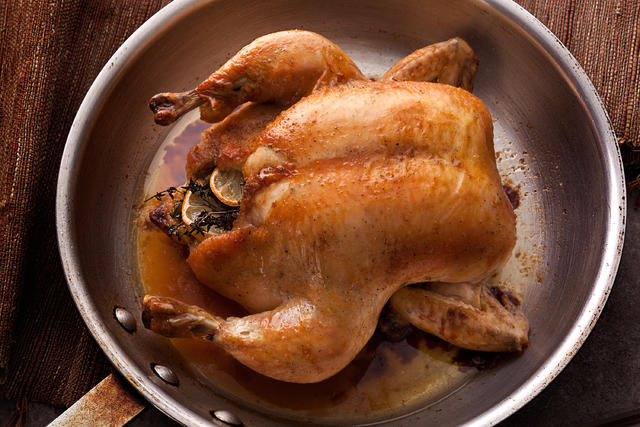 You can't go wrong with a roast chicken. Sundays seem like the perfect day to make this when you have a little extra time - it will make your house smell amazing and provide leftovers for the week. However, if you have an instant pot this recipe for Herb-Roasted Chicken from Ninja Foodi roasts a chicken in about 40 minutes (just omit the honey). I recently used that recipe for the first time, and I was amazed how simple it was. Totally do-able for a weeknight meal.
Paleo Spiralized Vegetable Salad with Shrimp Skewers from the Almond Eater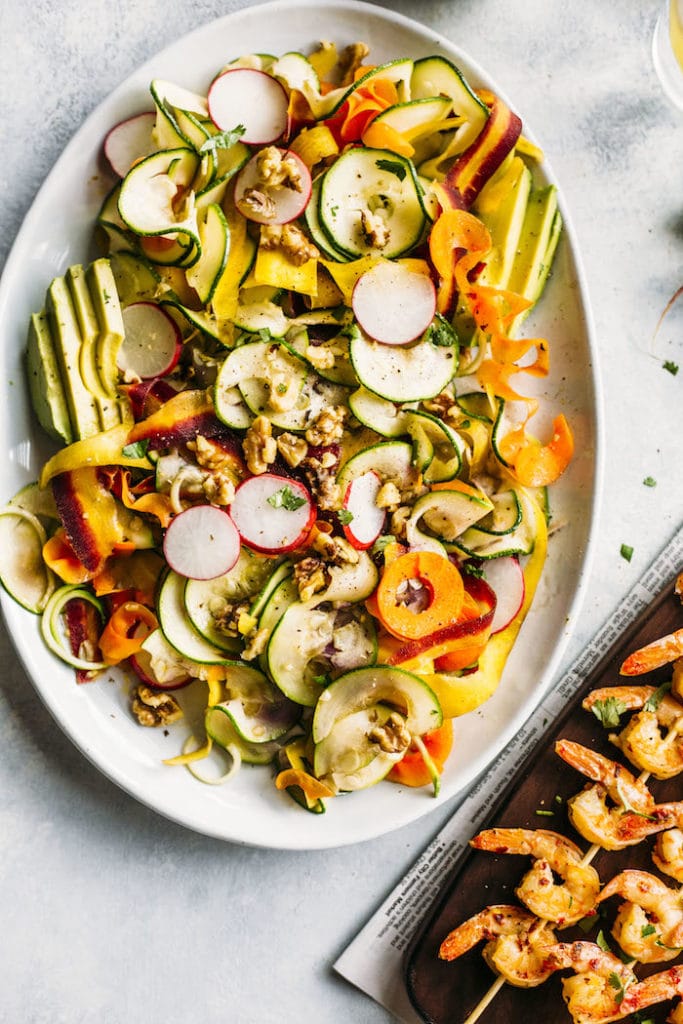 One more beautiful spiralized vegetable recipe. I couldn't help myself.
ALDI Whole30 Snacks
Nut Butter from Skinnytaste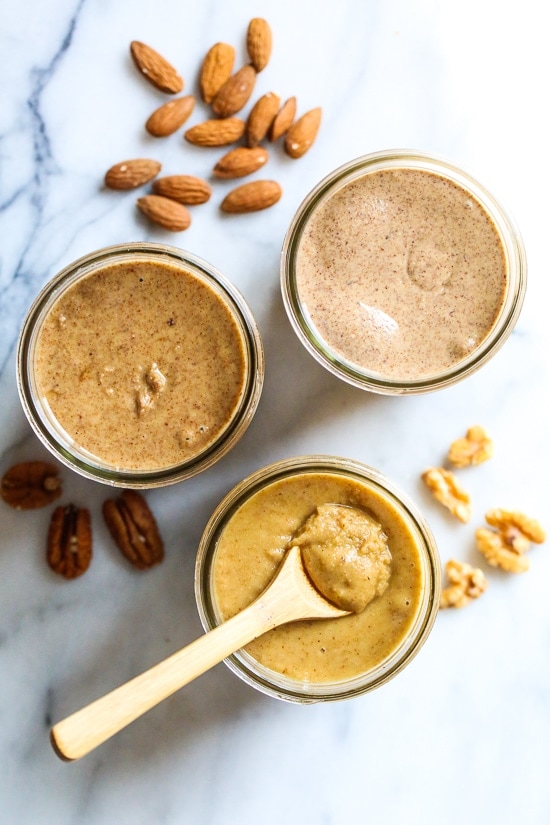 Having homemade nut butter on hand for the week is great on a date as a pre-workout snack, on sweet potato toast, as an ingredient for dressings, or straight from the spoon (for emergencies).
Amelia's Amazeballs!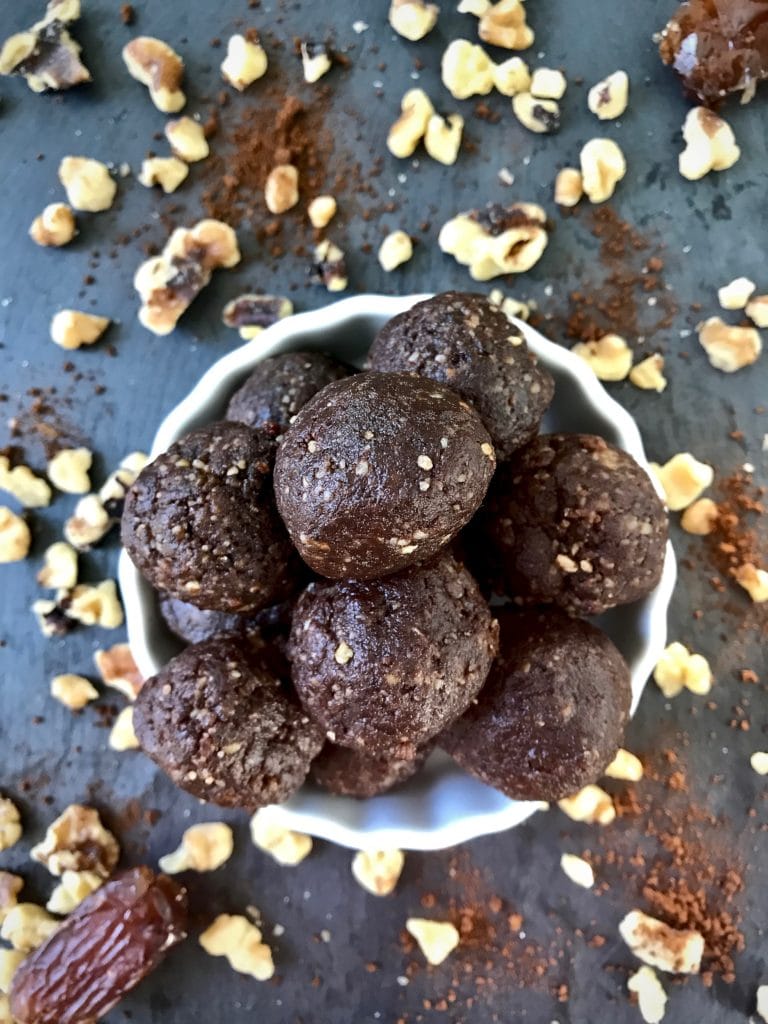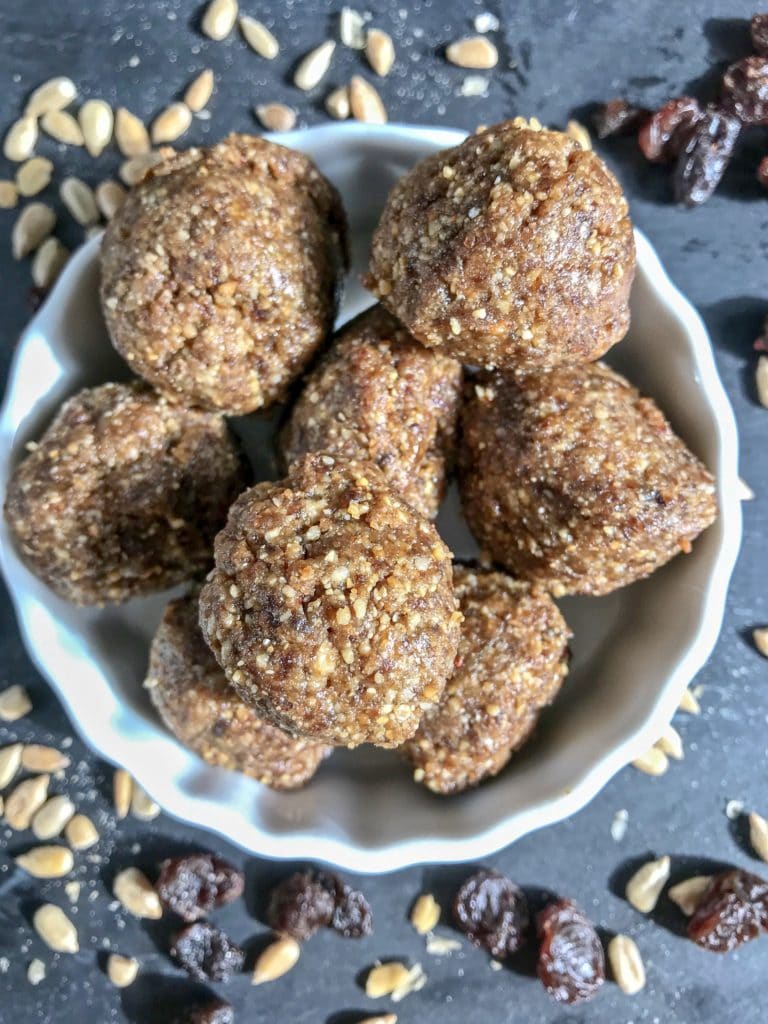 Shameless plug here. But the reason I posted these "recipes" is because they really are great to have on hand in case you need a little pick-me-up in between meals, to fuel your workouts, or if you're like me - an emergency snack when you suddenly become starving while out running errands.
I'd love to hear if you try any of these recipes, or if you have other go-to healthy recipes you're loving right now! Looking for additional support? Sign up for a complimentary health consult today to discuss your health concerns and to learn how we can work together to optimize your health, happiness, and success.
FYI: This post contains some affiliate links, which means as an Amazon Associate I earn from qualifying purchases. I only link to products that I own and love. Thank you for stopping by and for your support. <3