Friday Favorites #2
Let's just say this week hasn't been all sunshine and puppy dogs (literally) like last week. Some weeks veterinary medicine is a tough gig, especially when delivering difficult news to owners and difficult good-byes outnumber the upbeat wellness visits, successful treatments, and focus on preventative care. I have an amazing job that is both challenging and rewarding, and fantastic coworkers whom I love getting to see every day, but whew, what a week. That's all the more reason to take a minute to sit down and focus on the things that have been making me smile this week.
You! <3
I'm so grateful for every reader who has taken the time to visit this little blog. Every "like", comment, or share has truly meant the world to me, and makes me excited to continue to share more. Starting a blog is nerve-wracking (and holy learning curve), but you all have made it a fun new adventure. Thank you!!
Four Sigmatic Mushroom Coffee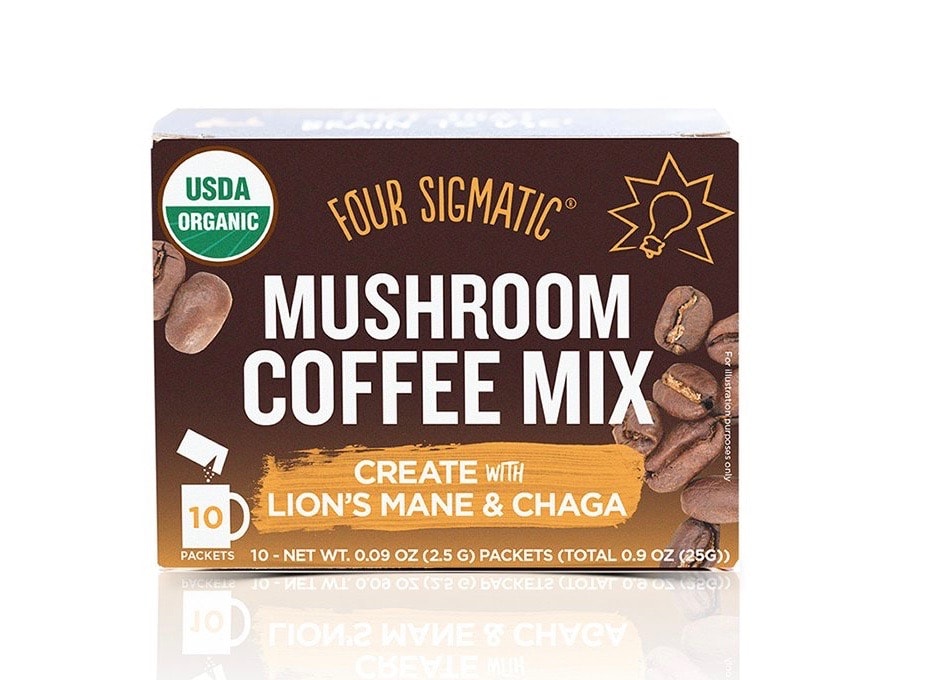 I'm a big fan of mushrooms (the legal variety) and their immune boosting properties, so I had been eyeing this company for a while. I hadn't told my sister, but she knew anyway (sister ESP) and gifted a couple boxes for Christmas. Since then, I have been enjoying the Four Sigmatic mushroom coffee mixes with lion's mane and chaga almost daily. I always wake up excited for a cup of coffee in the morning, but these little packets have been a fun new addition. So far I have only tried the instant packets, but they also have coffee beans. Instant coffee with mushrooms doesn't sound appetizing, but it shockingly tastes like a nice cup of coffee! The combination of lion's mane, chaga, and golden root is supposed to give your brain, as their description says, an "energizing get-it-together" hug. They only have 50 mg caffeine (less than a normal cup of coffee), but even when I don't add any extra coffee to them I feel like they do give me a great energy level without the jitteriness. The company has lots of interesting mixes (I tried the cordyceps and chaga and loved that too), and I'm excited to try some of the others.
Mighty Nest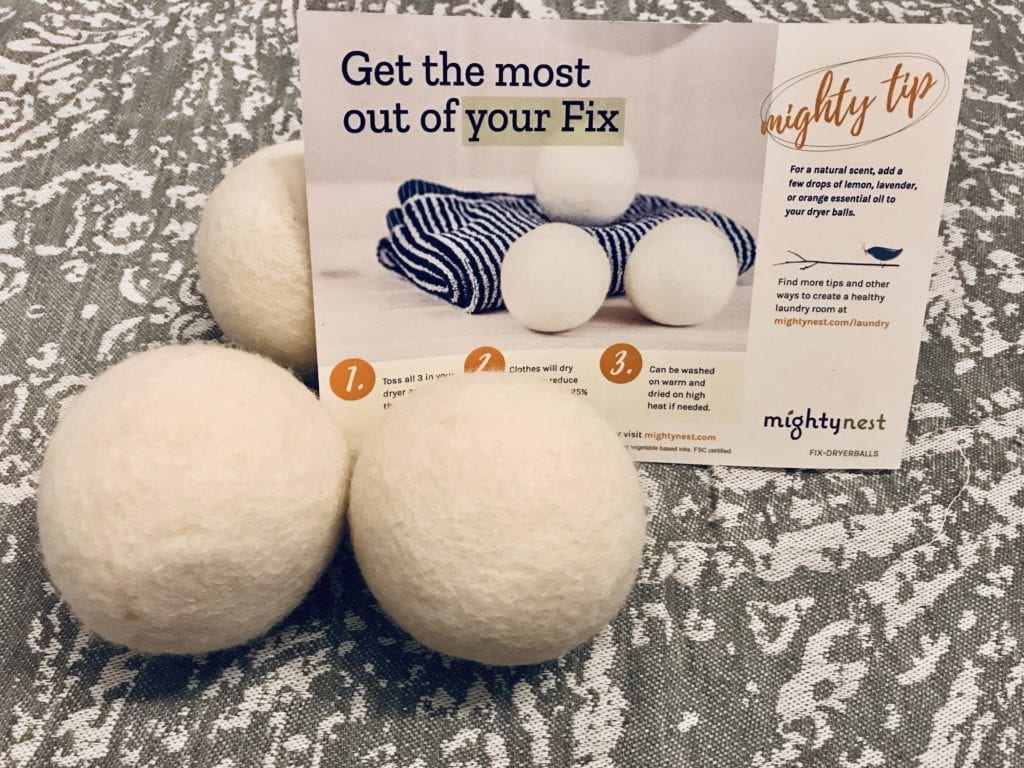 Mighty Nest's Mighty Fix subscription was a Christmas gift from my mom that will keep on giving all year. I'm making an effort to be greener beyond just recycling and using reusable shopping bags by reducing waste and replacing household products with cleaner options that have ingredients I can pronounce. Mighty Nest's monthly subscription is the perfect way to make little changes gradually. Each month, they send one new green product for me or my home. I really look forward to the delivery and seeing what new product I get to try. This week, my January box arrived with these wool dryer balls. They can be left in the dryer (for over 1,000 loads) to replace dryer sheets and speed drying time. It also says that I can add a few drops of essential oils onto them for an added scent. I'm excited to try these out! Last month, I received a re-usable silicone sandwich bag and I'm using that (as well as some other ones my sister gave me) constantly and almost never needing the plastic baggies. This is such a unique and great gift idea, but it's also a perfect option for anyone wanting to take more steps to living a greener life but unsure where to start.
Fanola No Yellow Shampoo
A few months ago I took the plunge and switched hair stylists to someone in the Lake Norman region so that I didn't have to travel into Charlotte for bang trims. Trying a new hair stylist is super scary, isn't it?! I have already had a few disasters in the past, and yet I decided to chop a bunch of hair off and update my partial balayage on the first visit (go big or go home). Thankfully, I loved what she did. When I asked for a recommendation on purple shampoo to help keep the blonde highlights from getting brassy I was expecting a recommendation for an expensive shampoo. Instead, she gave me a great tip for this giant bottle of purple shampoo on Amazon. I only use this once every few weeks, so this bottle is basically a lifetime supply and was under $17. It works VERY well, so well that if you leave it on for too long it will dye your hair purple. I only leave it on for 1-2 minutes before rinsing and it works great. The reviews say that it can be drying, so I got this little Garnier Fructis Soothing Treat 1 Minute Hair Mask + Avocado Extract to use after and I haven't had any issues.
Last Minute Upcoming Trips to Visit Family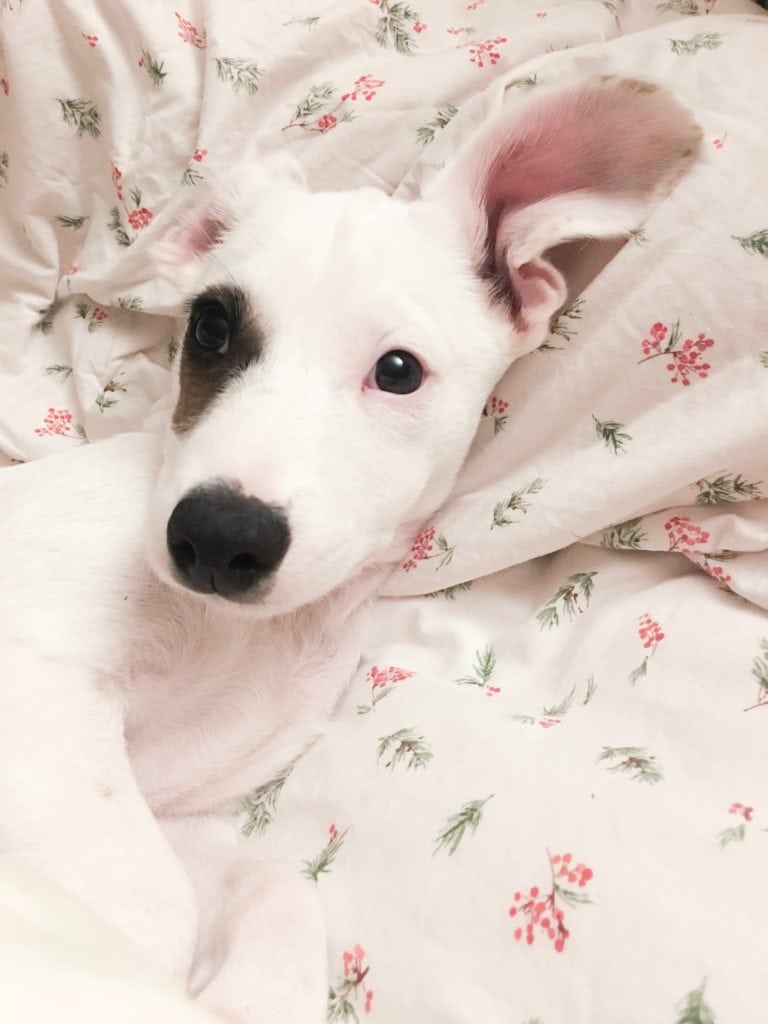 When I starting writing this post I had made last minute plans to fly to Maine for the weekend to visit my family and to meet my sister's new puppy, Arlo, before he is all grown up. Unfortunately, the big snow storm hitting New England this weekend forced me to cancel my plans, BUT I was able to reschedule for next weekend and now I can have the anticipation of a fun trip to think about all week! I can't wait to meet this new little furry family member who has my sister wrapped around his little paw.
How was your week? Please share what you've been loving lately in the comments!