Amelia's Amazeballs
No-bake Sunflower Raisin Energy Balls
If I could insert the crying laughing emoji after this title, I would. I know the name is ridiculous, but I like alliteration and I couldn't help myself. I'm going to try to refrain from TWSS comments for this series, but I'm married to a man who can quote pretty much every episode from The Office so I can't make any promises.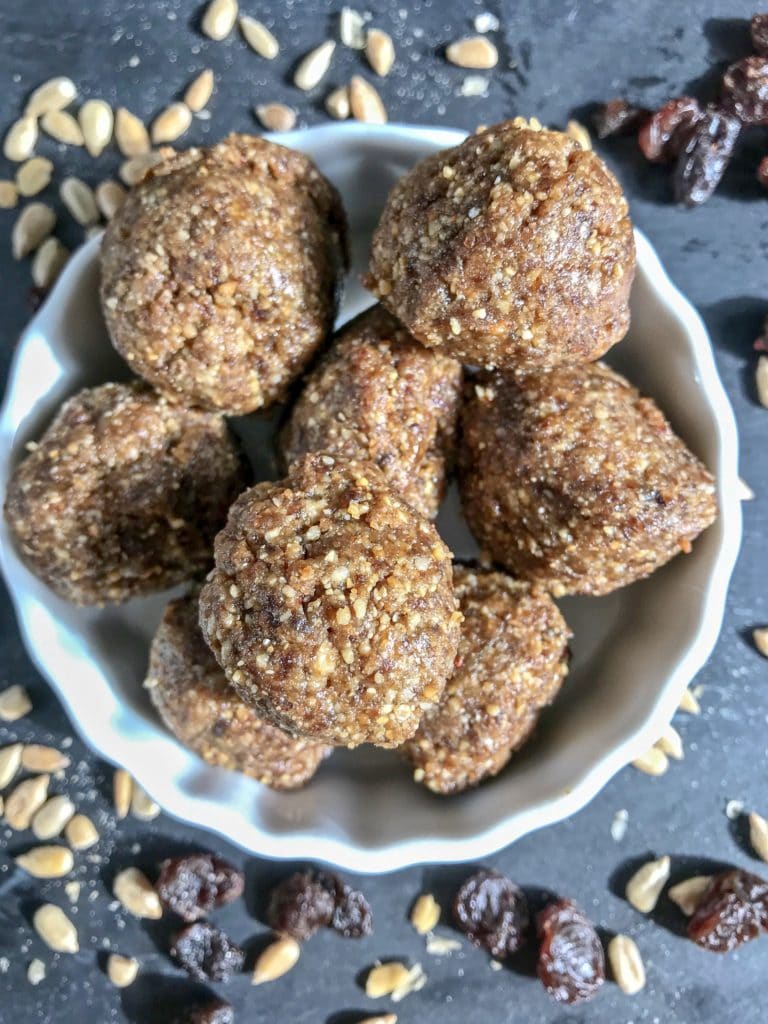 I like to call these energy balls, because I make them for days at work when I know my coworkers and I are going to be on the go and need some fuel fast. These also make great little pre-workout bites or a real food alternative to gels or chews on long runs.
There are loads of recipes for different no-bake balls out there, and really I don't even feel like I can call this a recipe because it's 4 ingredients and crazy simple. However, I decided to share it because once you start with these proportions the sky is the limit for different flavor combinations and add-ins. I love creating new flavor combinations, so I decided for the next few weeks to share some of my favorites to inspire your own amazeball creations at home.
This flavor combo was inspired by Matt who started mixing sunflower seeds and raisins together during Whole30. You guys...it doesn't sound like much, but this is an addictive combo. If you don't have a food processor or you don't feel like creating balls, just mix those two ingredients together and it makes for a blissful combo of sweet, salty, chewy and crunchy. For those of you starting Whole30, these are compliant if you leave out the vanilla extract. Since vanilla extract has a teensy bit of alcohol, the Whole30 police say no. They also call it a "silly" rule. You're (probably) an adult, do what you want. This is a judgement-free zone.
As a final note, these are a very similar concept to Larabars but much less expensive. Using ALDI prices for the sunflower seeds and raisins, the whole recipe costs about $2.50 making each ball only 12 cents! Amazeballs.
Amelia's Amazeballs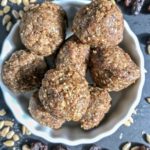 Enjoy these sunflower raisin energy balls as a healthy snack on the go or to fuel workouts and long runs!
2 cups sunflower seeds, salted
1.5 cups raisins
0.5 tsp cinnamon
dash vanilla extract ((approx. 1/2-1 tsp); omit for Whole30)
Place sunflower seeds in a food processor and pulse until a course crumb consistency is achieved.

Add raisins, cinnamon, and vanilla extract and pulse until it starts to clump together into a loose ball.

Scoop out using a tablespoon and form into balls.
If the dough is sticky, I like to use a tablespoon to scoop out lightly formed balls and then place them onto a parchment paper-lined baking sheet or plate.  Chill in the refrigerator for 5-10 minutes, then roll into tighter balls.
Feel free to add in collagen powder for extra protein!