This is Healthy?! Cheesy Spaghetti Squash Casserole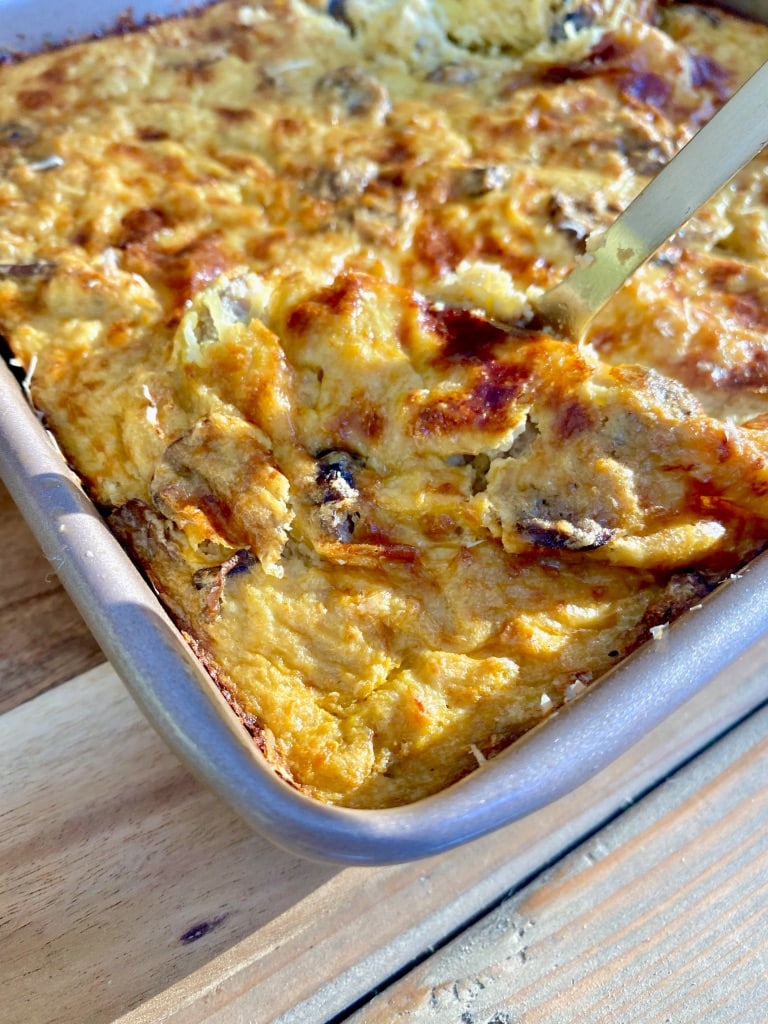 Are you feeling torn between wanting to start fresh and eat super healthy but also just wanting to eat all the warm, cheesy comfort food? I see you. How about we accomplish both? I've been keeping this cheesy spaghetti squash casserole recipe from you guys for a little while now. I think you'll find it worth the wait.
Really, you're getting a 2-for-1 today. You're getting a crowd-pleasing casserole recipe that makes amazing leftovers and even freezes well. You're also getting a cheese sauce recipe. It's winter and we all need comfort food. This cheese sauce? I have a feeling you're going to want to put it on just about everything. Luckily, you can do just that and feel good about it! This is not your average cheese sauce...
The Cheese Sauce
The cheese sauce tastes absolutely decadent but it's actually loaded with nourishing ingredients and designed to even be tolerated by some of you who are sensitive to dairy. This cheese sauce would be absolutely perfect for fondue. It's also really great added to Buddha bowls or cauliflower rice bowls (more details on my cauliflower rice bowls in the healthy jumpstart program I have coming soon). This would even be great for a Super Bowl dip. Intrigued? Let's dive in.
I had three major goals in creating the cheesy spaghetti squash casserole recipe:
Lighten up the caloric load and heavy feeling you get after consuming a large amount of cheese sauce without sacrificing flavor
Add vegetables....because why not add extra nutrients when you can?
Choose cheeses that are less likely to cause GI issues even for those sensitive to dairy
I like to push the limit on how healthy something can be while still being delicious. It passed the Matt test (as well as many other cheese lovers in my family), so I think we're good.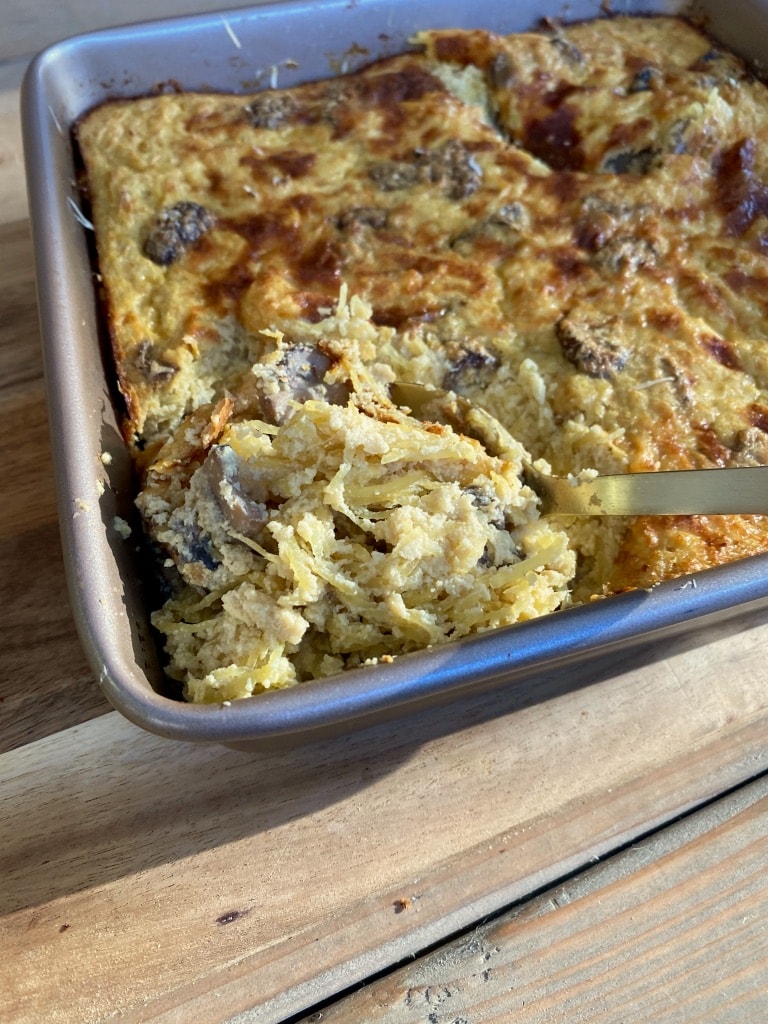 Here's the scoop with the ingredients in this cheese sauce:
Sharp cheddar: For this recipe to work, you need to choose a really amazing aged sharp cheddar cheese. Our favorite is the "Coastal Rugged Mature Aged Cheddar" from Costco. Using a really sharp cheese allows a little to go a long way with the overall flavor of the sauce. Aged cheeses like cheddar and parmesan contain little to no lactose so even those with lactose intolerance can often enjoy them without issues!
Goat cheese: The goat cheese in this recipe helps to contribute to the creamy consistency but is lower in calories compared to sharp cheddar. While goat cheese does contain lactose, some people find that they can handle and digest goat dairy products better than cow products. This is a great example of why you sometimes don't need to completely write off entire food categories. It's worth experimenting to see which foods within a category work for you.
Nutritional yeast: First off, can we all agree that this poor ingredient needs a name change? While the name may be a little off-putting, this is one of my favorite ways to add an amazing bunch of protein, B-vitamins, and cheesy flavor with very few calories. It's vegan and dairy free. Adding the nutritional yeast contributes to the strong cheesy flavor while giving this cheese sauce a major nutritional boost.
Cauliflower: My love for cauliflower knows no bounds. It just mixes so well into so many things. You won't detect the cauliflower in this recipe but your body will notice the micronutrient punch with all those vitamins and antioxidants. The cauliflower really boosts the volume of cheese sauce that you get in this recipe without sacrificing the flavor and while keeping it much lighter than your traditional cheese sauce. Extra nutrients, extra cheese sauce: win, win.
Coconut aminos/soy sauce: While there's only a little of this added, don't skip this ingredient! This helps to add a little more umami flavor and depth to boost the cheese factor.
Almond milk: We're going dairy free with the milk here, since cow's milk tends to be the biggest offender when it comes to GI issues. Just make sure that your almond milk is plain and unsweetened. We do not need sweet or vanilla-flavored cheese. Ew.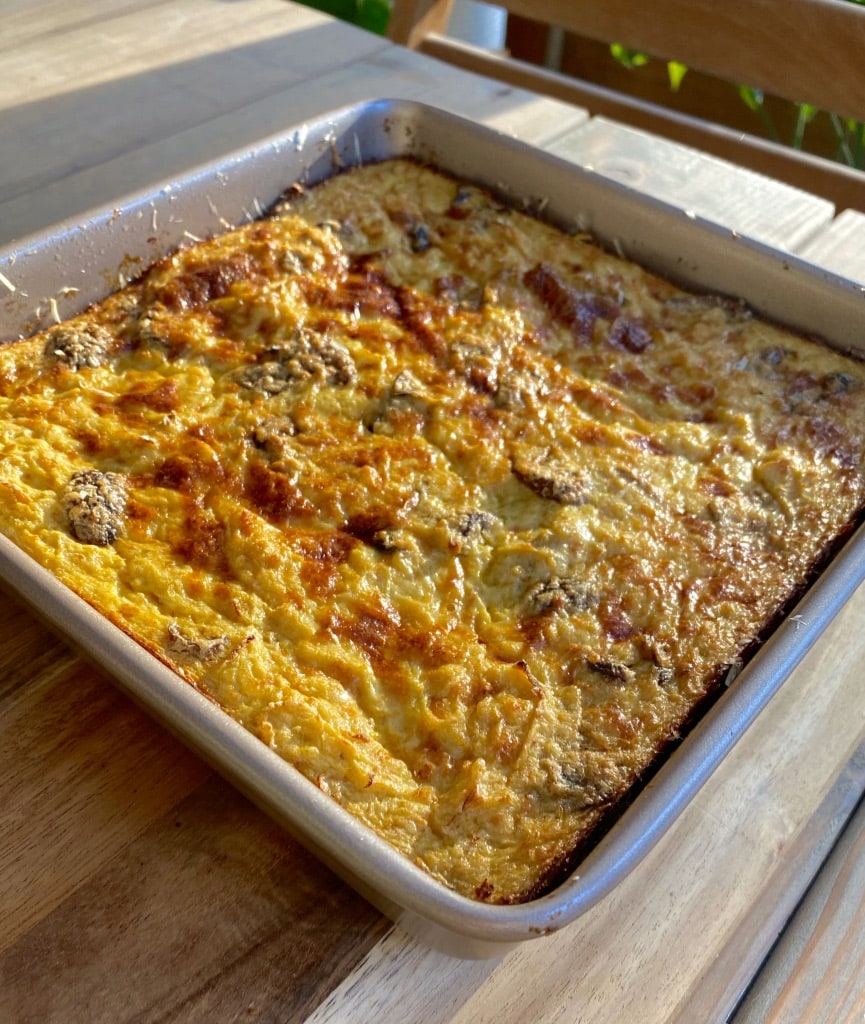 Once the cheese sauce is made, the rest of the casserole comes together in no time. I adore spaghetti squash for a quick, nutrient-packed easy side or pasta substitute. I originally started using it in casseroles when I found PaleOMG's Almost 5 Ingredient Pizza Spaghetti Pie. Check out that recipe, too! This casserole is also really great if you add pizza sauce. I have also added caramelized onions, which is super yummy but not necessary. If you're short on time, you can 100% add the cheese sauce onto spaghetti squash and skip the whole casserole step. Do what works for you!
Cheesy Spaghetti Squash Casserole 

This cheesy spaghetti squash casserole tastes decadent but it's actually loaded with nourishing ingredients and designed to even be tolerated by some of you who are sensitive to dairy! This crowd-pleasing casserole makes amazing leftovers and freezes well, too.
Cheese Sauce
3 cups frozen cauliflower rice
1 cup unsweetened almond milk
1/2 cup nutritional yeast
4 oz. goat cheese (soft)
2 oz sharp cheddar cheese, shredded
1 Tbsp coconut aminos or soy sauce
1 clove garlic, minced
salt and pepper, to taste
Casserole
1 spaghetti squash
2 egg
1 egg whites
16 oz mushrooms, sliced
1/2 tsp ghee
1/2 tsp extra virgin olive oil or avocado oil
1/2 oz parmesan cheese, shredded (optional)
Himalayan sea salt (to taste)
Preheat oven to 375. Spray a casserole pan with oil and set aside.

Microwave spaghetti squash until soft (about 7 min). Poke holes in it so it doesn't explode! Once soft, cut in half, remove the seeds in the center, and shred strands. Set aside.

Add EVOO and ghee to a medium-large skillet on medium heat and saute mushrooms until cooked. Add a dash of Himalayan sea salt, mix, and set aside.

Make cheese sauce by microwaving cauliflower rice in a microwave for approx 4.5 to 5 min or until soft (drain excess water if necessary). Place cauliflower rice and remaining ingredients in a medium sauce pan over low-medium heat until cheese has melted. Stir. Use an immersion blender or blender to blend sauce until a smooth and creamy consistency is achieved. Taste to make sure you're happy with the amount of salt and pepper added.

Crack egg and egg whites into a small bowl and whisk.

Add spaghetti squash, mushrooms, and cheese sauce together in a large bowl and mix. Add eggs and mix. Pour into a casserole dish. Top with shredded parmesan cheese, if desired.

Bake casserole for 1 hour, or until brown on the top and egg is cooked through.
Let me know if you give this recipe a try! I was inspired to create this when I had a request for cheesy comfort food. 
What's a comfort food you would like to have a healthier version of?