High Protein Broccoli Quinoa Veggie Burgers with Lemon Tahini Sauce
One of my favorite things to do is create healthy and delicious recipes customized for my clients based on their nutritional goals. I created these high protein veggie burgers for a vegetarian client looking for ways to incorporate more protein in her diet. After sharing this Mediterranean bowl on social media I received a lot of requests for the recipe. I love that so many of you have interest in plant based recipes, so here it is!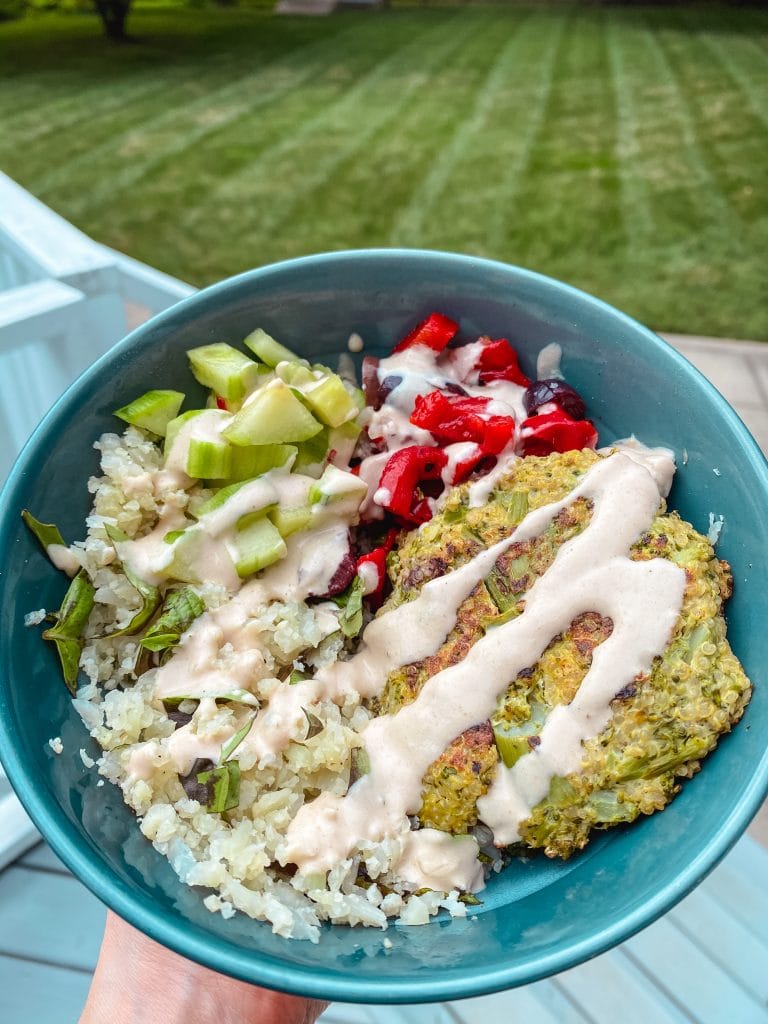 I love these high protein veggie burgers for vegetarians, because they contain two sources of complete proteins AND vitamins that are sometimes lacking in a plant-based diet. A serving of these burgers contains 14.5 grams of protein and 88% of the daily Vitamin D and 18% of daily Iron requirements. All of that for just over 300 calories per serving size. Did I mention you can have 3 burgers per serving?
How to Enjoy These High Protein Veggie Burgers
These burgers make great leftovers to be enjoyed as a quick protein option throughout the week. I love them in a Mediterranean-inspired bowl like the one above. That bowl had a base of cauliflower rice with fresh basil, chopped cucumbers, roasted red peppers, kalamata olives, and the lemon tahini dressing.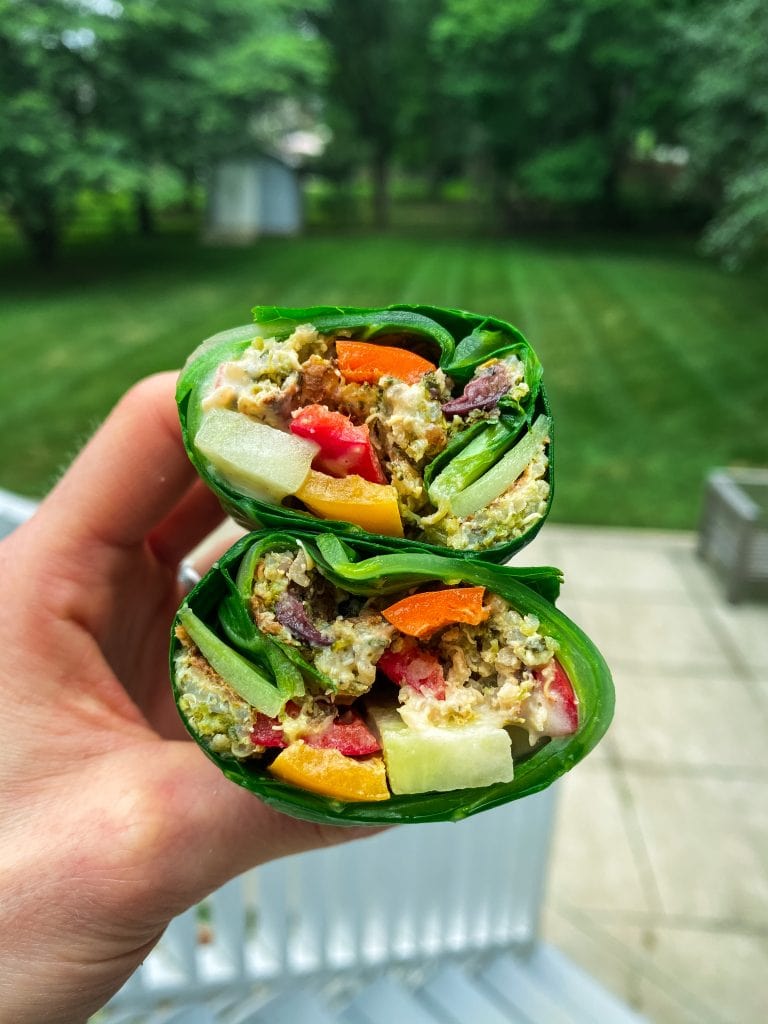 Honestly, I also found myself grabbing one for a quick and balanced snack option to tide me over between meals. If you want to make them extra fun, try them in a collard green wrap! I experimented with that this week and loved the results. One collard wrap with chopped veggies, a burger, and lemon tahini sauce was a delicious snack and great combination of protein, carbs, veggies, and healthy fats. For a meal, I'd recommend enjoying a few. I tried the collard greens both raw and blanched for 20 seconds and both were good. Just make sure to shave down the tough stem before assembling.
These Veggie Burgers Have So Many Benefits!
Every single ingredient in these high protein veggie burgers is a nutrition superstar. These aren't just healthy ingredients, they're over-achiever, top-of-their-class, Valedictorian-status nutritious ingredients. If you're not interested in the amazing benefits you'll consume and you're just ready to eat - feel free to scroll to the recipe at the end! Otherwise, let's take a look.
Quinoa
Quinoa is a complete protein (meaning it has all nine essential amino acids). This makes it an amazing protein source for vegetarians and vegans.
It's an awesome gluten-free "grain" (really it's a pseudocereal) because it's high in fiber and low in the glycemic index. That means you'll feel satisfied with stable energy levels throughout the day instead of the crash and burn effect experienced with some other carbs.
It's a great source of minerals like iron, magnesium, manganese, and phosphorus.
It's high in anti-oxidants and flavonoids like quercetin and kaempferol which have been studied for their anti-inflammatory, anti-viral, and anti-cancer effects.
One more cool thing? It has the potential to significantly lower triglyceride levels and metabolic syndrome. In this study, participants who consumed one serving of quinoa per day decreased their triglycerides by 28% in just 6 weeks and 36.8% in 12 weeks. That's comparable to results achieved with medications but in a natural delicious way - crazy!
Broccoli
Broccoli is a superstar packed with vitamins like Vitamin C, K, and folate and contains minerals like iron.
It's high in fiber to help maintain healthy digestion, control blood sugar levels, and help you feel satisfied.
It contains tons of awesome anti-oxidants and phytonutrients like sulforaphane which helps to neutralize toxins, decrease inflammation, and potentially has anti-cancer benefits
Eggs
Eggs have had a rocky history in the health world but they are an amazing protein source, especially for vegetarians.
Pasture-raised eggs are high in omega-3 fatty acids.
They are rich in a variety of vitamins like B vitamins, phosphorus, folate, and selenium.
Eggs are one of the richest sources of choline. Choline is an essential nutrient involved in important functions like regulating mood, memory, muscle control, fat metabolism, and brain function.
They are high in antioxidants like lutein and zeaxanthin which are amazing for eye health.
Kalamata Olives
Olives are a great source of heart healthy monounsaturated fats.
They are rich in antioxidants.
They contain a variety of vitamins and minerals.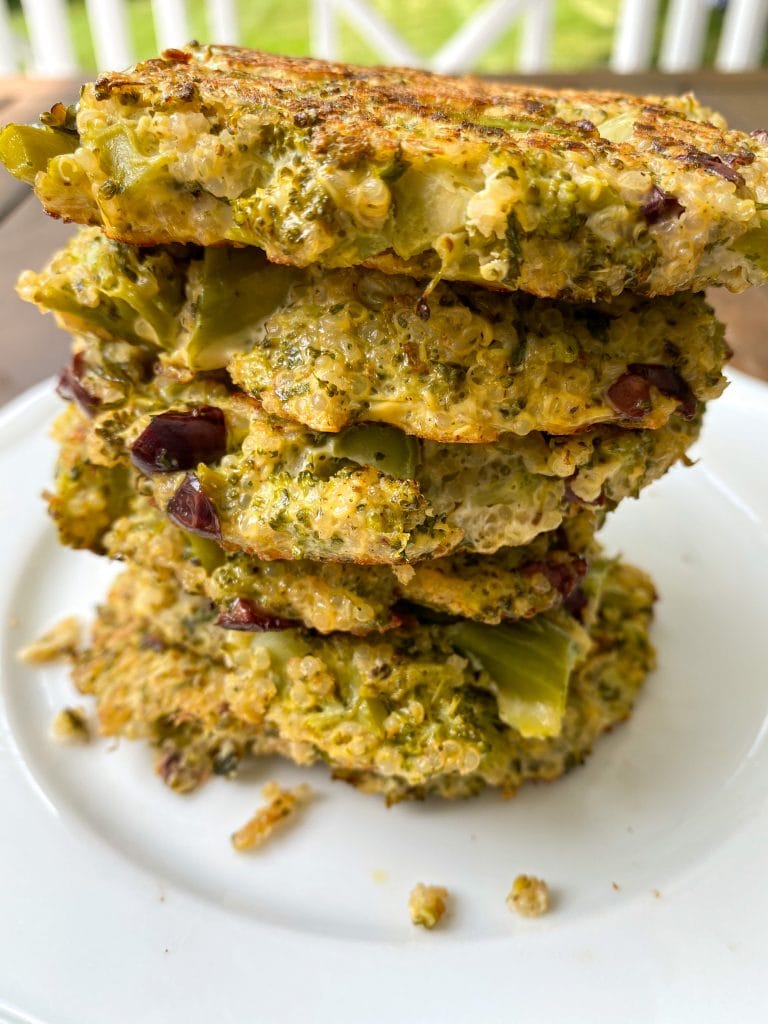 High Protein Broccoli Quinoa Veggie Burgers with Lemon Tahini Sauce
These vegetarian burgers are perfect fuel for vegetarians and meat eaters. They are packed with essential amino acids and provide an awesome dose of Iron and Vitamin c!
Broccoli Quinoa Burger
2 cups steamed broccoli, finely chopped*
1.5 cups cooked quinoa**
2 eggs
8 kalamata olives, diced
1/2 lemon, freshly squeezed juice
1 Tbsp parsley, dried
1/4 tsp black pepper
1/4 tsp himalayan sea salt
garlic powder, onion powder, nutritional yeast, feta cheese (optional add-ins***)
Lemon Tahini Sauce
2 Tbsp tahini
2 Tbsp lemon juice
1-2 Tbsp water
Broccoli Quinoa Burger
Combine all of the ingredients in a medium-sized bowl except for the eggs and stir until mixed well.

Add eggs and mix well.

Form burgers into patties (recipe makes 6 burgers that are about 9 cm x 1.5 cm).

Cook in a skillet with extra virgin olive oil or coconut oil on medium to medium-high heat until you can see that the edges are cooked (about 6-8 min) then flip until fully cooked (about 2-3 minutes).

Enjoy as a topping on salads, in a Mediterranean-inspired bowl, or in a collard greens wrap!
Lemon Tahini Sauce
Mix tahini and lemon juice and stir well (it will seem runny at first but thicken the more you stir). Add water until desired thickness is achieved (1 Tbsp for a thicker dipping sauce and 2 Tbsp for a drizzle for salads or Mediterranean bowls).
*You can either steam 2 heads of broccoli until a fork easily goes into the center or microwave frozen broccoli for a fast option.
**To cook quinoa mix 1 part quinoa to 2 parts liquid in a medium sauce pan. Cover and bring to a boil. Once boiling, lower heat to simmer for 15 minutes.  Leave cover on after 15 minutes and let sit for a few more minutes while remaining liquid absorbs. Fluff with a fork. Note: If you mix 1 cup of quinoa to 2 cups liquid you will have about double the quinoa you need. You can use water or for more flavor use broth for at least half of the liquid.
***While I can't try this recipe with garlic, onions, nutritional yeast, or feta cheese at the moment I think these would be excellent additions!
The calorie count does not include the Lemon Tahini sauce.
Please let me know if you give this recipe a try! If you'd like to stay connected and to receive additional recipes and healthy living tips not included on the blog, please sign up for my biweekly newsletter.