Skinny Watermelon Lime Margarita (or Mocktail)
The gorgeous warm weather in North Carolina is here! To celebrate, I'm sharing one of my favorite fun drink: a skinny watermelon lime margarita (or mocktail). This is the perfect beverage to enjoy this week for Cinco de Mayo.
Frozen margaritas are fun but they come with a whopping dose of sugar and can have more calories than your dinner. Not so fun fact: Did you know that triple sec contains 10.9 grams of sugar and 225 calories per serving?! And that's before the margarita mix is added. What a buzz kill.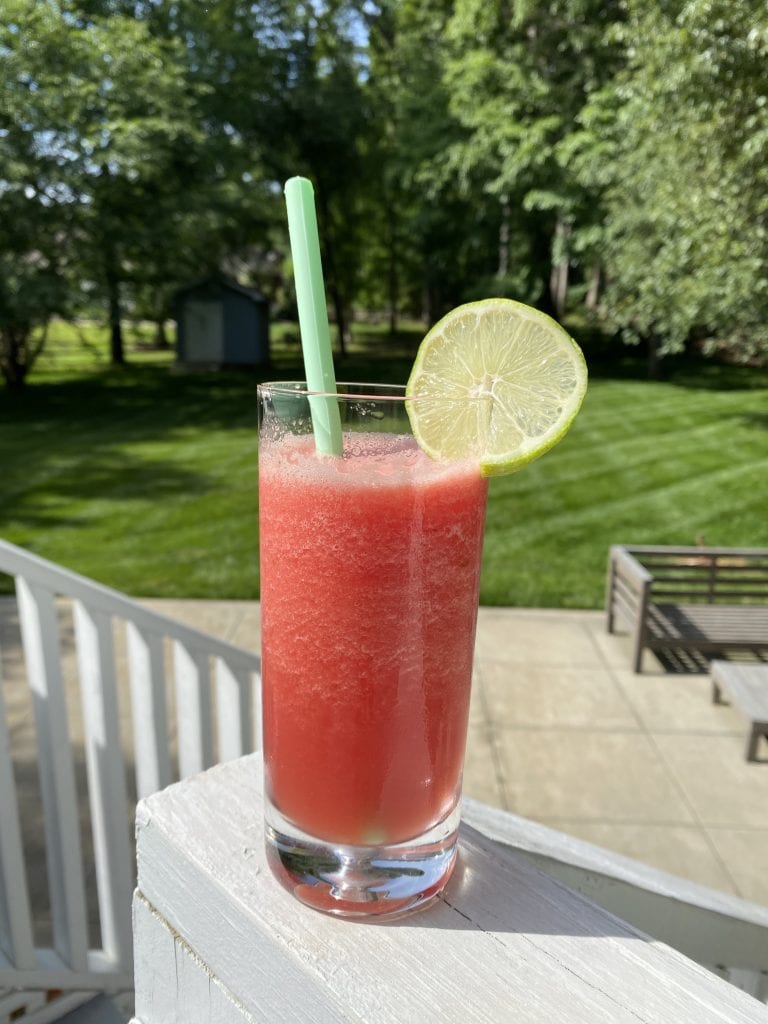 Choose Your Own Adventure:
Party Cocktail or Post Workout Recovery Beverage
This skinny watermelon lime margarita is the perfect beverage to sip by the pool, accompany delicious tacos (perhaps with pineapple jalapeño salsa), or really any time you're feeling like you need a fun beverage that tastes like a treat but is not going to weigh you down. When spring arrives, do you find that your body starts to crave fruit and refreshing beverages? This is a great way to honor those cravings in a nourishing way that feels like a mini-vacation. 
Freezing and then blending watermelon cubes creates the perfect frozen margarita consistency with plenty of natural sweetness. While the tequila makes it a fun beverage, if you omit the alcohol it makes for an amazingly refreshing drink.

After a long walk or run in the heat, this 100% hits the spot. And for good reason! Thanks to the salt and lime, this is loaded with electrolytes. Even better, watermelon contains L-citrulline, an amino acid that may help relieve muscle soreness. Cheers to that!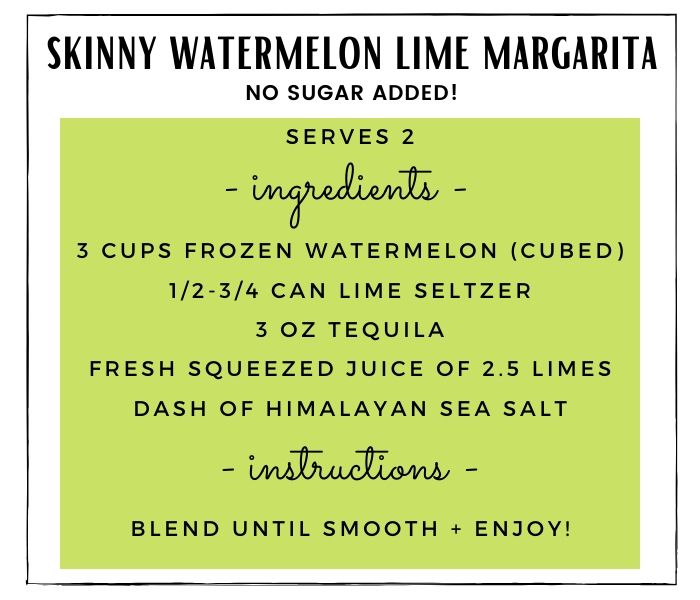 Watermelon and Lime: A Winning Combo
Watermelon and lime are one of my favorite summer combinations for a number of refreshing snacks. To create a delicious all-natural sorbet the whole family can enjoy blend frozen watermelon with the juice of one lime in a food processor. 
Looking for a super simple summer snack or treat for a party? Top cubed or sliced watermelon with lime juice! The simple addition of lime juice creates an unexpected flavor that takes it to the next level.
Because being healthy is a lifestyle that goes far beyond nutrition. Of course, I recommend drinking responsibly and listening to your body. If you're turning to drinks to cope with stress or other emotions or if you consistently drink more than you intend, it's time to pause. Pour yourself the mocktail version and check in with yourself. What's going on? What do you really need? But if having a drink with friends brings joy and fosters connections, I think that's pretty darn healthy.
Being healthy is about finding what's sustainable for you and your lifestyle. If your job or social life involves drinking and that's something that you enjoy, it's important to find how to incorporate that in a way that works for your mind and body. My role is to find healthier swaps and products that help you enjoy the activities you love in a way that still optimizes your health and happiness.