Beet Cauliflower Hummus Recipe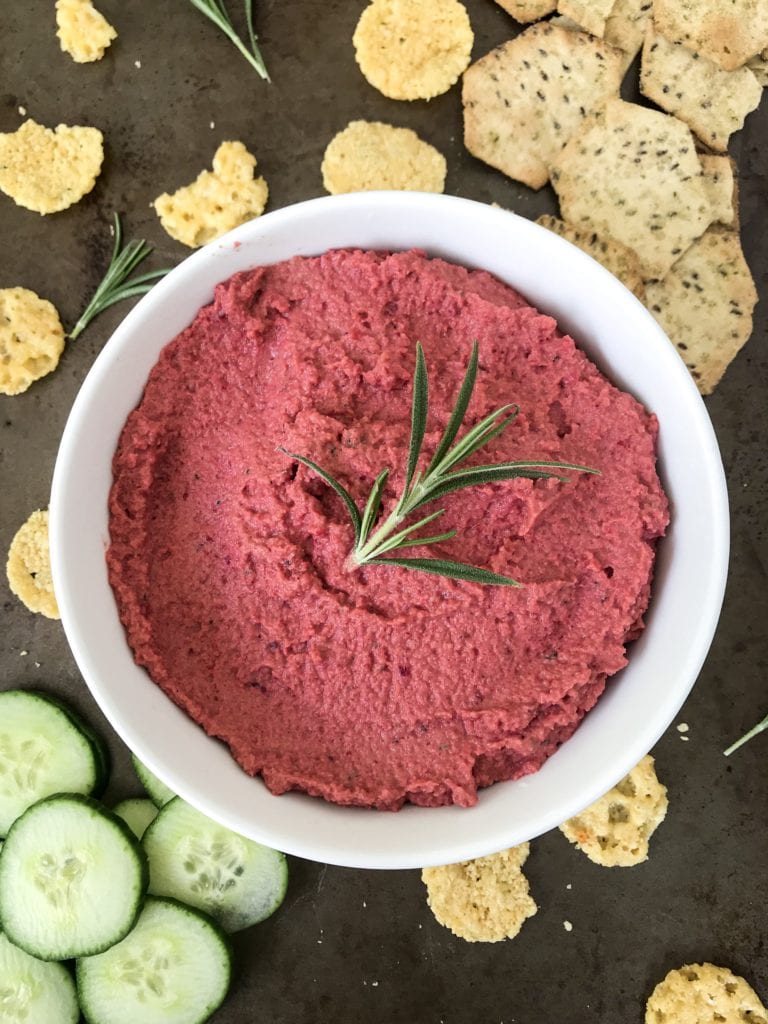 Over the weekend I did a poll on Instastories asking if you'd rather see a workout or recipe post on the blog this week. Food was the clear winner. I aim to please, so a new recipe it is! This beet cauliflower hummus recipe makes a pretty big batch, so I've been adding it to all the things. It's packed with good-for-you ingredients including beets. Beets are awesome for athletic performance, so maybe a few servings of this hummus will boost enthusiasm for next week's workout post?!
There's something you should know about this hummus. It doesn't contain chickpeas. The title of this post may have clued you in on that, but just wanted to get that out in the open. Chickpeas are perfectly healthy delightful little legumes. But for reasons I don't need to bore you with, I try to only eat them occasionally. But you know what I want to eat more than occasionally? Hummus.
I think by definition hummus contains chickpeas, but I don't like to follow rules. Just kidding, I'm a first child and I follow all of the rules. EXCEPT in the kitchen - there I like to do things my own way. I also wear white pants after Labor Day. And was almost arrested that one time...
Anyway, you're not going to miss the chickpeas in this recipe. And if you're doing a Whole30, following a paleo diet, or just trying to eat more vegetables this "hummus" is perfect for you.
I was intrigued but skeptical when I first saw recipes for cauliflower hummus, so if you're a little leery I get it. The tahini, lemon juice, and cumin all still come together to create that traditional hummus flavor. The beets, rosemary, and balsamic vinegar add a unique spin, because I didn't want to be TOO traditional.
You're also not going to miss the chickpeas when you realize swapping out that legume for a vegetable gets you a bigger serving size. Yes, please.
Hummus is good on everything - salad, mixed with eggs (try it), added to a Buddha bowl, and, ya know, eaten as a spread or dip like normal people do. This recipe is packed with awesome healthy and nourishing ingredients, so you can feel good about adding it to everything.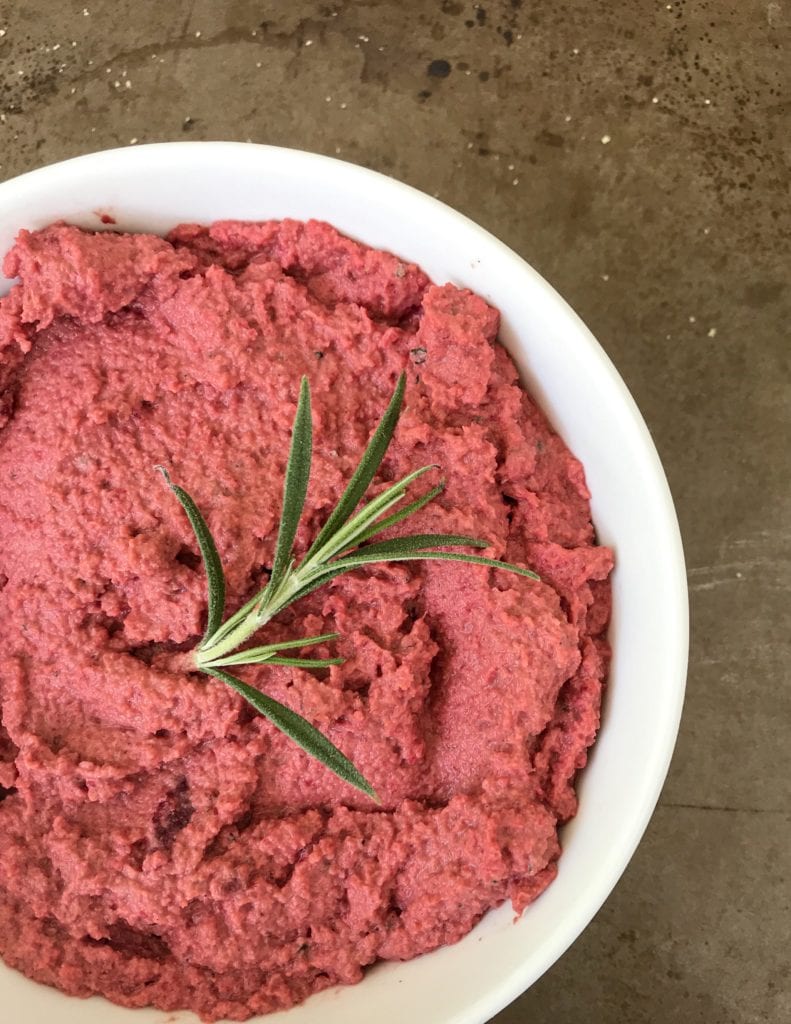 Let's take a moment to review some of the goodness you're getting from these ingredients:
Beets: I've professed my love for this root vegetable already. The nitrates in beets are responsible for a lot of their awesome benefits. Nitrates help to dilate and relax blood vessels which helps with cardiovascular health, brain function, and (my favorite) boosts endurance for improved athletic performance. They're also a pretty color.
Cauliflower: My love for this cruciferous vegetable knows no bounds. It can turn into virtually anything AND it's super good for you. Um, that's amazing. This super food is low in calories, but rich in fiber, vitamins, and antioxidants to help you feel satisfied. It's an excellent source of choline. I'm going to majorly oversimplify what choline does, but know that it's uber important for a number of processes involving the nervous system, metabolism, and even liver and muscle function. Basically, you want cauliflower in your life.
Tahini: Tahini comes from sesame seeds which are little nutritious rock stars. They're packed with healthy monosaturated fats and antioxidants which offer a host of benefits including fighting inflammation in the body. They're a great source of phosphorus and manganese (awesome for bone health) and certain B vitamins (awesome for energy production).
Rosemary: Rosemary is loaded with antioxidants and may help with digestion and brain health. During my little Google search I also learned that rosemary oil is used to treat baldness. So, yeah. There's your random fact of that day.
Cumin: Cumin has all sorts of benefits but I think the most interesting is that it promotes (and may even speed up) digestion. It's also anti-inflammatory, has antimicrobial properties, and is rich in iron.
I hope you love this beet cauliflower hummus recipe as much as I do! Please let me know if you give it a try. <3
Beet Cauliflower Hummus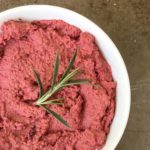 This vibrant hummus is so flavorful and addicting you won't even notice it's chickpea-free. It's packed with healthy ingredients so that you can add it to all of the things! It's also a perfect swap for anyone following Whole30 or a paleo diet.
2-3 beets, precooked* (Use 3 for a more vibrant color)
3 cups cauliflower rice
5 Tbsp tahini
4 Tbsp lemon juice
3 Tbsp balsamic vinegar
1 Tbsp extra virgin olive oil
2 tsp cumin
1.5 tsp minced garlic
2 sprigs fresh rosemary, chopped (about 1 loosely packed Tbsp)
1/8 tsp black pepper
1/8 tsp Himalayan sea salt
Cut beets in half and roast at 400 deg. for about 15 minutes.

Cook cauliflower rice until soft.**

Add all of the ingredients into a food processor and blend until a hummus consistency is achieved.

Enjoy!

Store in an airtight container in the refridgerator.
*I used Love Beets pre-cooked Beets.  If you use these, roasting is optional but helps to bring out the flavor even more.  If you're starting out with raw beets increase the roast time or cut into small pieces and cook until soft in the center. 
** I used a bag of ALDI's frozen cauliflower rice and microwaved it in a microwave-safe bowl for 5 minutes.