Friday Favorites #32: Stress Relief and Hope
Happy Friday! How is your week going? August has been BUSY, so I'm pretty excited for a low-key relaxing weekend at home (after I work on Saturday). I'm planning on a Costco trip, planting new basil because all of my thriving basil suddenly crashed and burned, weeding, and organizing our closet. Pretty exciting stuff! Actually, I'm excited for Costco. I'm also going to try to start sharing more things on Instastories, so I'll probably share some of the healthy finds while I browse. If Matt reads this before my Costco trip, there's a good chance I'll be going alone now.
Once again I'm sharing some of my favorite things from the week. As always, I'd love to hear what's making you smile in the comments! Thanks for stopping by. <3
A Weekend with Girlfriends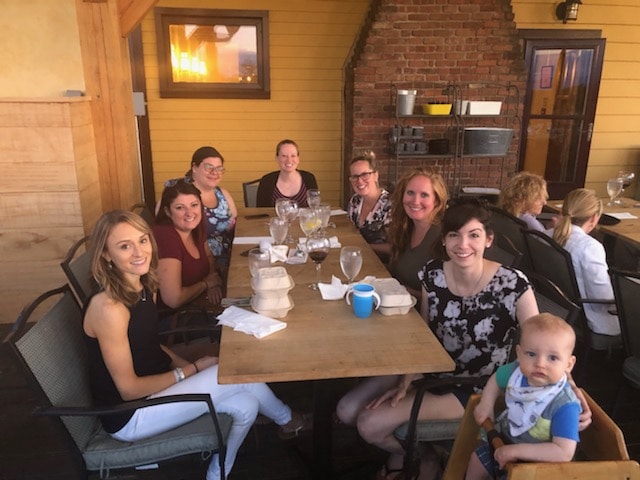 You know what's 100% therapeutic? A weekend getaway with some of your closest girlfriends. I'm fortunate to have a solid group of wonderful friends from high school. Despite not getting to see each other as often as we would like, it's always as if nothing has changed when we're together. I've known most of them since 7th grade. When I do the math for how many years that's been it makes me feel old but grateful. By far the highlight of my week was getting together with them just outside of Poughkeepsie, New York.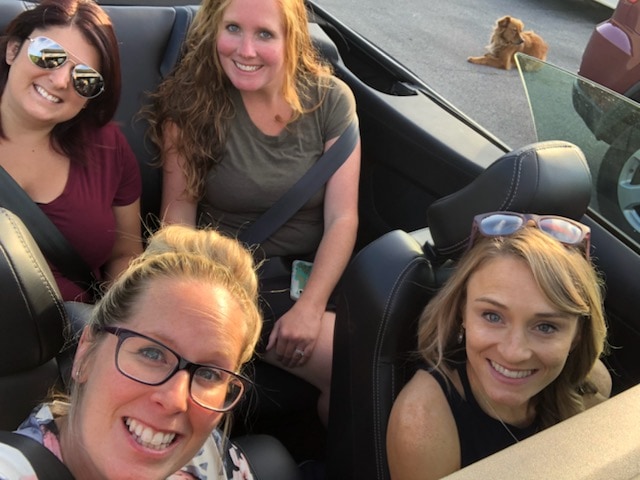 I left after work on Friday which meant I didn't arrive to my destination until around midnight. I flew into the adorable and tiny Westchester County airport. My nighttime drive to my friend Sarah's house (who graciously hosted all of us) was more fun than expected thanks to the Mustang convertible the rental company gave me. I didn't think I cared much about driving fun cars (I had just booked the economy/compact car). Turns out, I do.
Obviously we couldn't just go to sleep once we were finally together, so we stayed up until around 3 a.m. catching up. Guys, I usually start getting ready for bed at 9 pm, so the fact that I managed to (mostly) keep my eyes open until then shows how much I love and missed these girls. It's the best to have a group you can talk to about anything. The conversation flowed non-stop the entire weekend.
Exploring New Places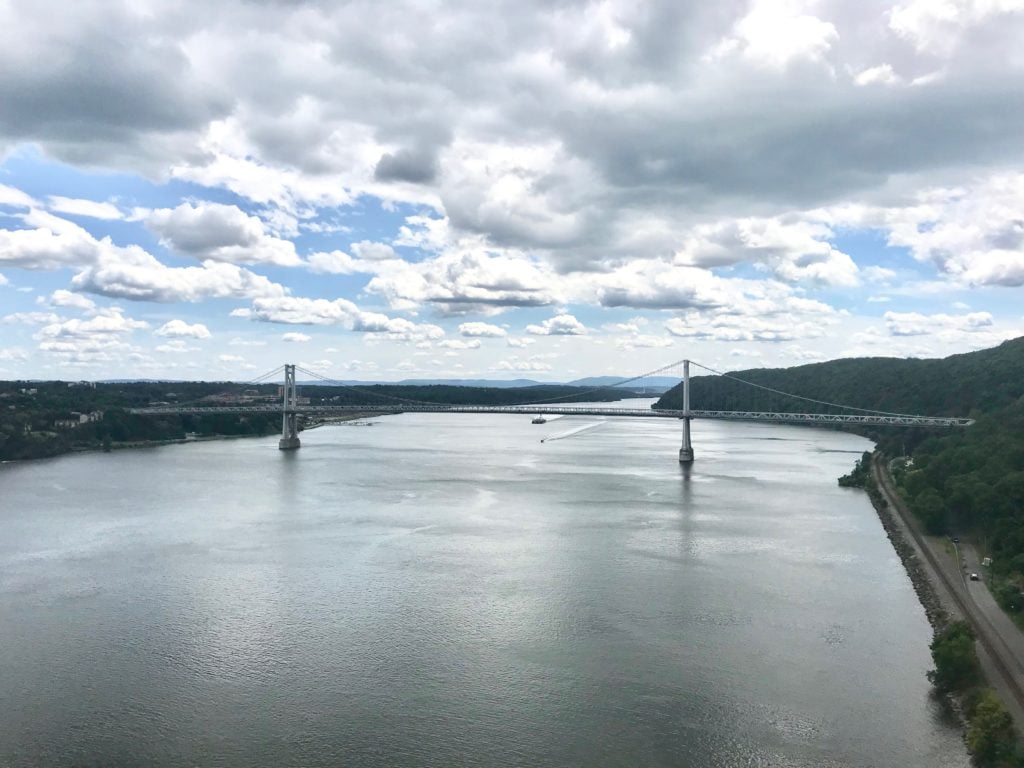 We stayed in Highland which is right across the river from Poughkeepsie, and it's such a neat area! Sarah lives only a few minutes from the Walkway Over the Hudson, so on Saturday we all went for a walk there to enjoy the views over the Hudson River. The walkway is incredible! It's a beautiful, scenic paved walkway that goes for miles. I would totally be there daily if I had this minutes from my house.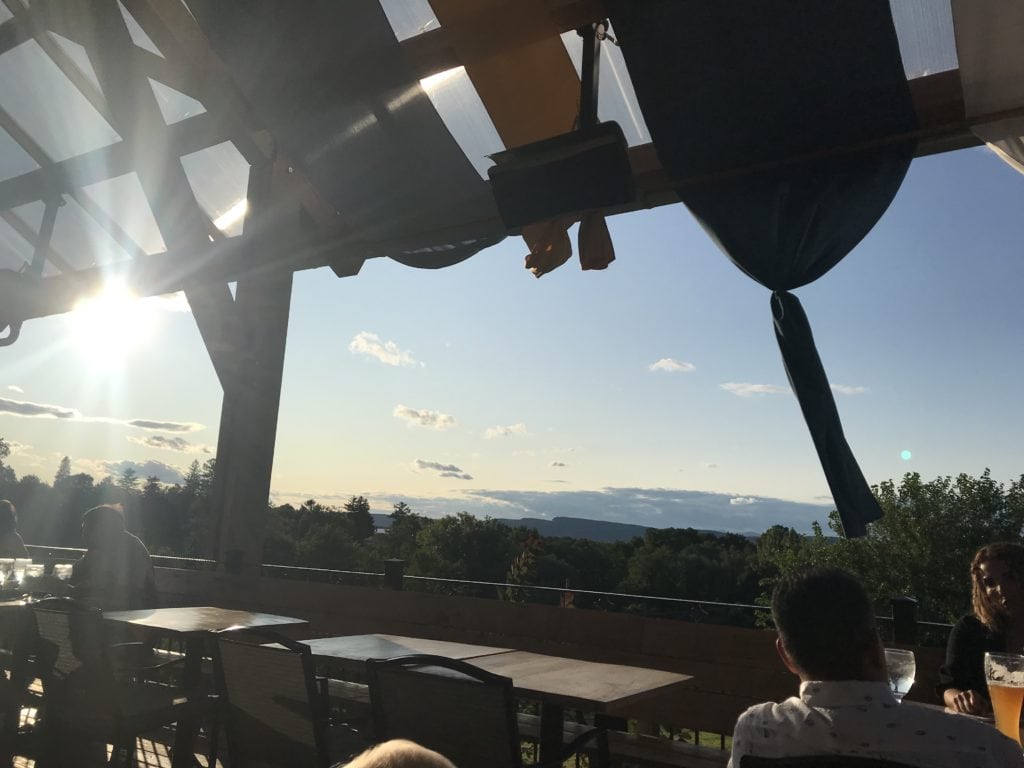 That evening we went out to dinner at Gunk Haus. It's a German-style gastropub with an incredible menu, fun cocktails, and gorgeous outdoor seating with mountain views. If you're traveling in the area, I highly recommend visiting this restaurant. They also had a cute bakery at the entrance of the restaurant that had all sorts of appealing treats.
If you're flying out of the Westchester County airport, I have a tip for you! While trying to find a gas station nearby to refill the tank of my rental car, I serendipitously ended up in Armonk, NY and discovered my dream grocery store. DeCicco & Sons is my grocery store heaven. Food options are very limited at the quaint little HPN airport, so this is the perfect spot to pick up a healthy meal and snacks before your flight.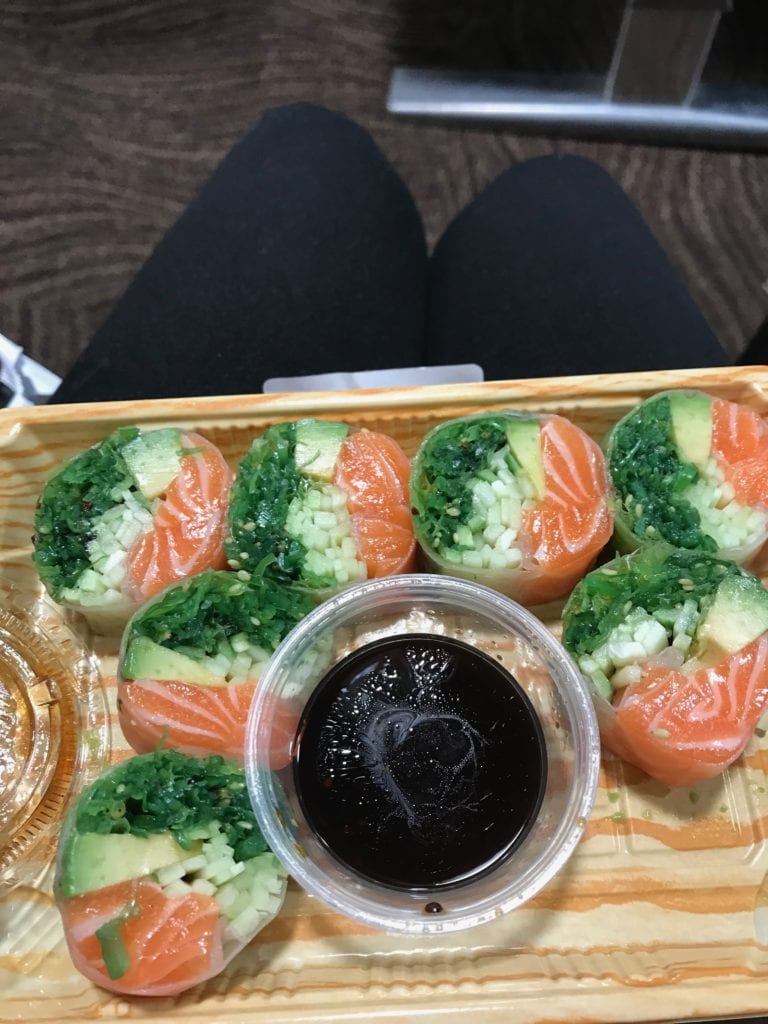 DeCicco & Sons reminds me of a Whole Foods but smaller. And friendlier. As soon as I walked in I saw a juice and smoothie bar and I knew I had stopped at the right place. I could have spent forever browsing, but I had a plane to catch. They had loads of healthy options for a quick meal to go including a great sushi selection, hot bar, salad bar, deli, and more. They even had an area with outdoor seating if you have time to sit down for a meal. I had a hard time deciding but ended up with these refreshing sushi/summer roll hybrids that totally hit the spot. I wanted to also get a juice or smoothie, but figured TSA wasn't going to be a fan.
Spirulina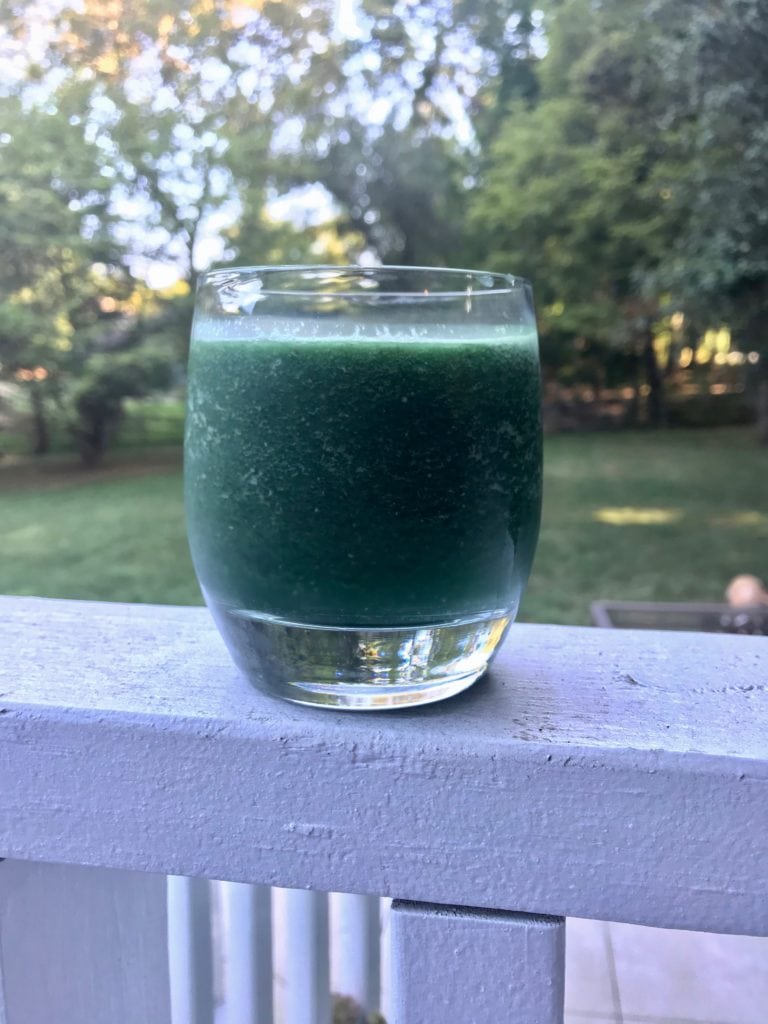 Spirulina is the newest addition to my smoothies, and I'm loving it. For one thing it turns your smoothies a pretty epic emerald green, so that's fun. It's also a blue-green algae*, so doesn't that just sound super healthy? I've been adding a scoop of this to my smoothies, and I feel like I'm packing so much goodness into one drink. While in-depth studies on spirulina are limited, smaller studies have suggested that it has a number of benefits.
Check out some of spirulina's potential benefits:
Packed with nutrients like vitamins (especially B-vitamins), minerals (especially iron), beta-carotenes, and anti-oxidants
May relieve symptoms of allergic rhinitis (worth trying if you deal with allergies!)
Anti-inflammatory (yay, antioxidants)
May help to lower LDL (bad) cholesterol
May increase endurance by reducing muscle fatigue
It's always important to keep in mind with any of these supplements that they aren't regulated by the FDA (that goes for humans and pets). That means it's hard to guarantee if a product is free of contaminants or that the label accurately states what's in the product. Just something to keep in mind when using any supplements!
Hope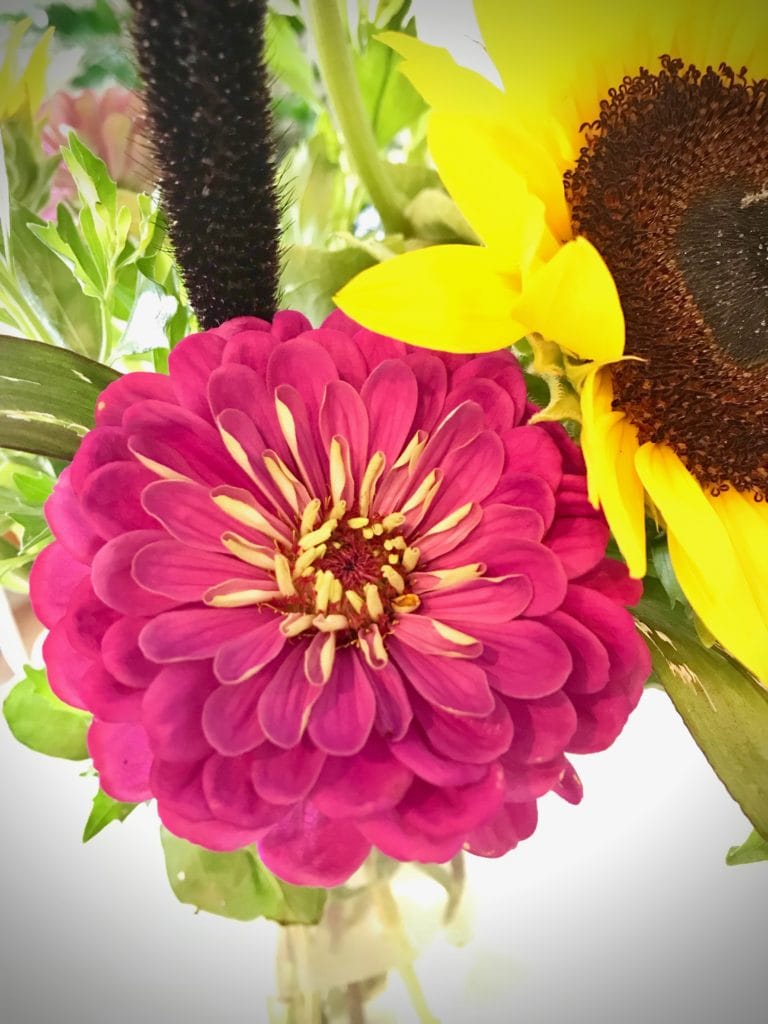 Recently I found a presidential candidate who makes me feel something I haven't felt for a while about our country: hope. I know I just marched right on into dangerous territory here. I'm not looking to change anyone's opinions: you do you. But I do want to take a moment to put a little plug in for being informed.
With an overwhelming number of candidates currently running for 2020, it's pretty easy to automatically distance ourselves from the commotion and debates. The next election is so far away, and when it comes down to it a lot of us are feeling pretty apathetic towards politics in general. I started out pretty disinterested because the media makes it seem like the same old thing, the same old policies, and even the same old candidates. Blah blah blah. But that changed.
Regardless of my political affiliation, I don't think it's going to come as a shock that the current president is not my favorite human. I don't feel comfortable passively accepting our current state, so I took the time to do something crazy and read about the different candidates. Like I actually went to their website and read about their policies instead of letting the media tell me which candidates are highest in the polls and who I should be paying attention to. That's when I found a candidate whose policies actually sounded thoughtful, progressive, and inspiring. Reading the policies actually made me a little giddy thinking about the direction our country could take if some of the policies were actually put into place. It was refreshing.
Why am I saying all of this? I really really encourage you to take the time to do your own research about the current candidates. And yes, this early. That means visiting their websites or even hearing them speak in person. There are some underdogs who don't get a lot of media coverage despite having great ideas. We're in a viscous cycle where the people who have name recognition automatically end up high in the polls. Who does the media cover the most? The candidates highest in the polls. If we wait too long to tune into our options, it's going to be too late.
It's worth investing a little time and research to see if there's someone who sparks a little feeling of excitement or hope in you. There are so many candidates right now, there's probably one who's fighting for things you really believe in. That can be a pretty awesome and refreshing feeling.
OLLY Stress and Sleep Gummies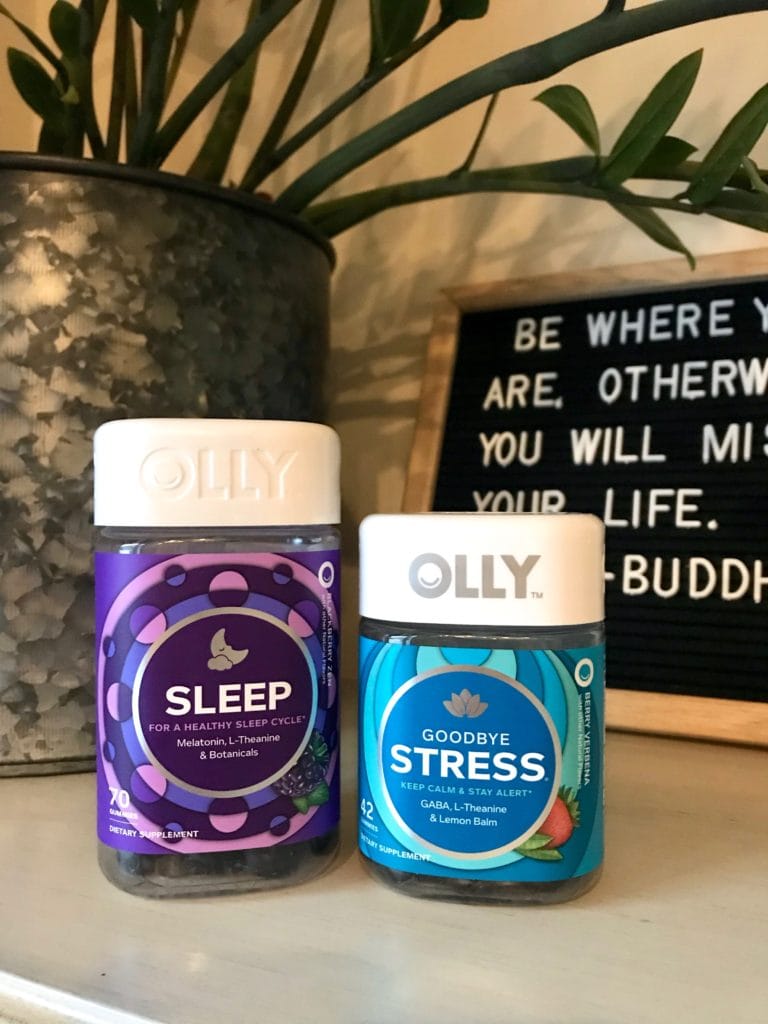 After all that talk of politics and Trump, shall we discuss stress management? Outwardly, I tend to come across as pretty laid back and calm. At least that's what people tell me. But that's not always what's going on behind the scenes. When Matt can tell that I'm stressed he likes to ask, "what's going on in that brain of yours?". He's a good husband.
I'm type-A, and I have a career that can be mentally and emotionally draining sometimes. Veterinarians have one of the highest suicide rates of any profession, so I am very proactive about mental health and stress management. Exercise, being outdoors, and spending time with friends and family are my main methods of managing stress. Right now Bachelor in Paradise is, too. It's okay, you can judge me. It's entertaining and requires zero brain power, and sometimes that's exactly what I need after a long day. Not gonna lie, meditating is still a work in progress...
All of those help, but sometimes it's nice to have a little extra boost in the de-stress department. That's where I love OLLY's products. For several years, I have used OLLY's Sleep Gummies on nights when my brain is racing and I know I'm going to struggle to fall asleep. They contain melatonin, L-theanine, and calming botanicals like chamomile, passionflower, and lemon balm. Pretty gentle ingredients, but they absolutely help! I try to take them about 30 minutes before I go to bed, and I almost always fall asleep quickly.
Recently, I discovered OLLY's Goodbye Stress gummies. They're designed for "keeping calm and staying alert". They contain GABA, L-theanine, and lemon balm which all work together to promote a calm and quiet mind without the drowsiness. I don't use them often, but I am starting to use them proactively on days that I know will be stressful. And I think they help! Worst case, you get a placebo effect and eat two fruit-flavored gummies. Not so bad. If you're needing a little stress relief in your life and looking for more natural options, I highly recommend giving these a try.
Lemonade GT Kombucha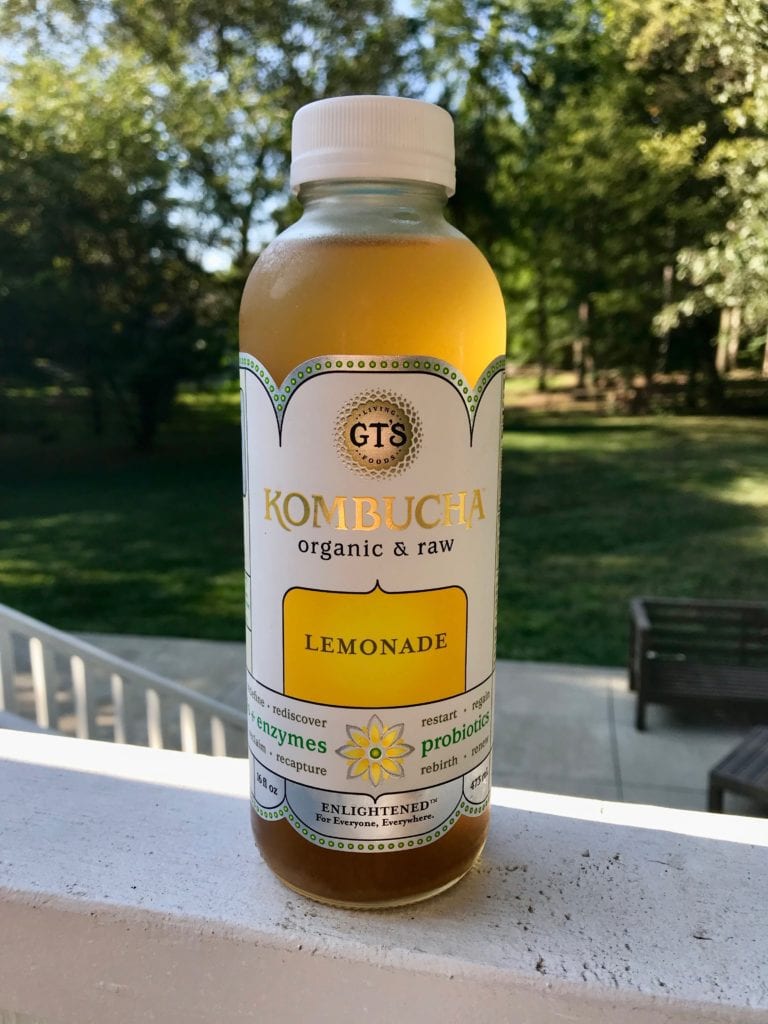 Does anyone else feel like we're speeding right into the fall vibe already? Kids are already going back to school here, fashion bloggers are showing fall outfits with cozy cardigans, jeans, and boots, and I'm already hearing talk of pumpkin spice all-the-things. But guys...it's still AUGUST. It's also crazy hot and humid here. While I adore fall and the gorgeous weather it brings to North Carolina, I'd like to give each season it's own moment. And August is still very much summer. You know what beverage is perfectly summer? Lemonade.
This lemonade GT kombucha is my current flavor du jour. I love the tart flavor of lemonade, but I don't love all of the sugar that typically accompanies it (shocking, I know). I also don't like the sugar free ones that are loaded with artificial sugars, because I like to eat real food that I can pronounce and I'm also (clearly) high maintenance. Well this lemonade kombucha checks all my difficult-to-please lemonade requirements. It has a great lemonade taste, the health benefits of kombucha, and only the sugar used in the fermentation process. Lovely.
You know what else is lovey? Adding a splash or two of GT's strawberry kombucha. This makes a pretty pink strawberry lemonade that's super delicious. As I write this, I'm also realizing it might work really well mixed with iced tea for a healthier version of an Arnold Palmer. I'll report back. Moral of the story: if you see this at the grocery store, stock up.
What are your best stress management tricks?
What's your favorite healthy ingredient to add to smoothies?
What was your absolute favorite part of this week?
*While blue-green algae does sound healthy, I feel like I need to mention it can actually be toxic to animals. Recently there have been a few deaths from dogs who swam in a North Carolina pond that was contaminated with blue-green algae. If you have a pet that loves to swim or drink from ponds and lakes, please be cautious. Water containing toxic algal blooms often has the appearance of pea-green paint or slime on the surface. They are most likely to occur in fresh bodies of water on very warm sunny days.
FYI: This post contains affiliate links. That means as an Amazon Associate I earn from qualifying purchases (theoretically, haha). I only link to products that I own and love. Thank you for stopping by and for your support. <3