Friday Favorites #12
Happy Friday! Sorry I was MIA this week...I've been trapped in backsplash land and I can't get out. If you don't know what I'm talking about, refer back to last week's Friday Favorites when I was blissfully naive about the project that was about to unfold. This week has not been my favorite, but that's all the more reason to focus on the little things that did bring some joy. As always, I would love to hear what things you're loving this week in the comments. Thanks for stopping by. <3
Laughing instead of crying at home DIY projects gone wrong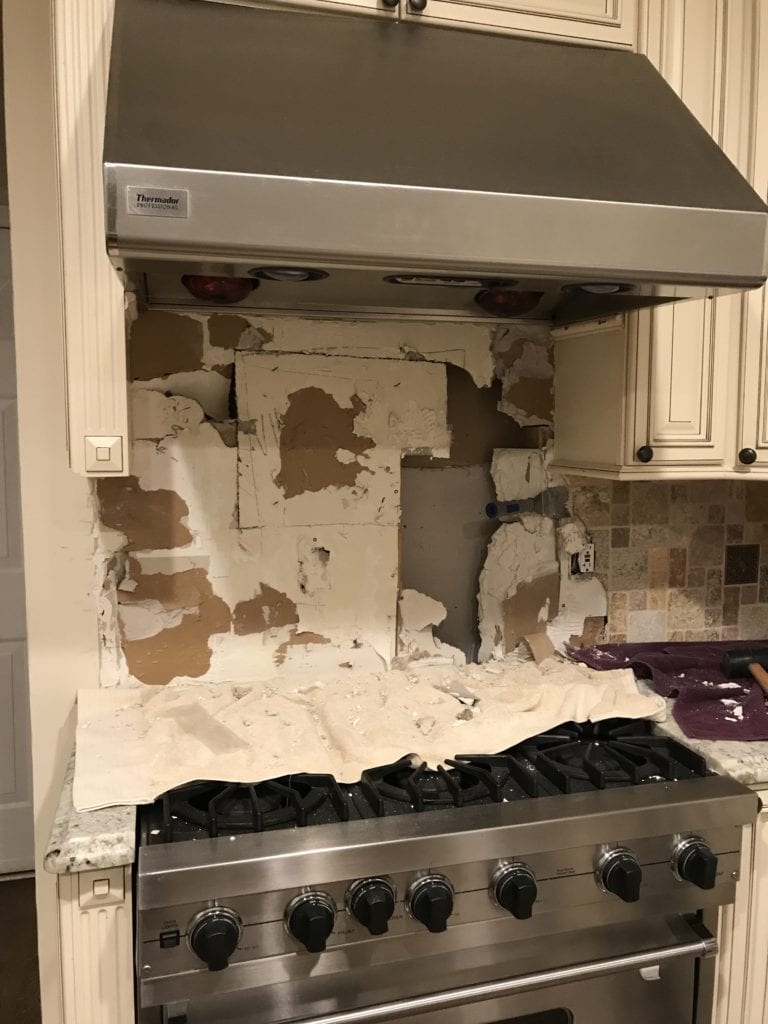 How many times can a person go to Lowes in one week? The limit does not exist.
Guys, if this little backsplash project is ever finished I have a whole post to write about the lessons I have learned. Turns out, there aren't enough YouTube or Google resources to answer all my backsplash questions. Also turns out that those YouTube videos can be a little deceiving. Check out my saved Instastory (under DIY) if you don't know what I'm talking about. Basically, chipping the little tiles easily off the wall did NOT happen. What did happen is one epic demo day and spending a Sunday learning how to put up new dry wall.
It's funny reading back on last week's post:
Another reason I've put it off is because I'm kind of terrified of removing perfectly good backsplash and then realizing I'm in over my head.



You should be terrified. You will be in over your head.
I'll also report back on if removing and re-doing backsplash is really as easy as these YouTube videos and home network shows make it out to be. 
Spoiler alert: It's not.
Once we realized that the existing backsplash was going to take the dry wall with it, it was kind of fun tearing my kitchen apart. Did I have slight jolts of panic occasionally or wonder why I hadn't just hired someone to do this? Or just left the darn backsplash as is? Maybe. But, by the end of the evening we were all finding it pretty amusing. Most of the backsplash came off in tiny pieces despite a huge amount of effort. I had set a goal to at least get to the corner before stopping for the night. So when a giant chunk came off in one piece to reach that goal faster than anticipated it was really worth celebrating.
On Tuesday I did finally put some backsplash up, but I have a lot left to do. I decided to not keep things simple by only using subway tile and instead added some accent pieces and trim to make my life more difficult. We also have a million outlets which I loved until now. I'll be going to Home Depot tomorrow to pick up yet another tool so that I can carve tiny pieces out of subway tiles to accommodate those outlets. Fun times, you guys.
A visit from my parents
Definitely the highlight of the week was having my parents visit last weekend. They kindly offered to help me with redoing the backsplash in our kitchen and remained so cheerful and supportive even when that project turned out to be way more involved than anticipated. Without them I would have been WAY over my head from that lovely moment when I started chipping off the backsplash and the dry-wall came with it.
I envisioned taking them out to my favorite spots for leisurely coffee, delicious sit down dinners, and hanging out at one of the local wine bars while also oh ya know - replacing the kitchen backsplash on the side. Haha. In reality the weekend involved numerous trips to Lowes, very long days demoing and then putting up dry wall, and eating delivered food late at night when we were all exhausted. Despite all of that, they continued to work nonstop and to tell me it would be worth it. They're saints.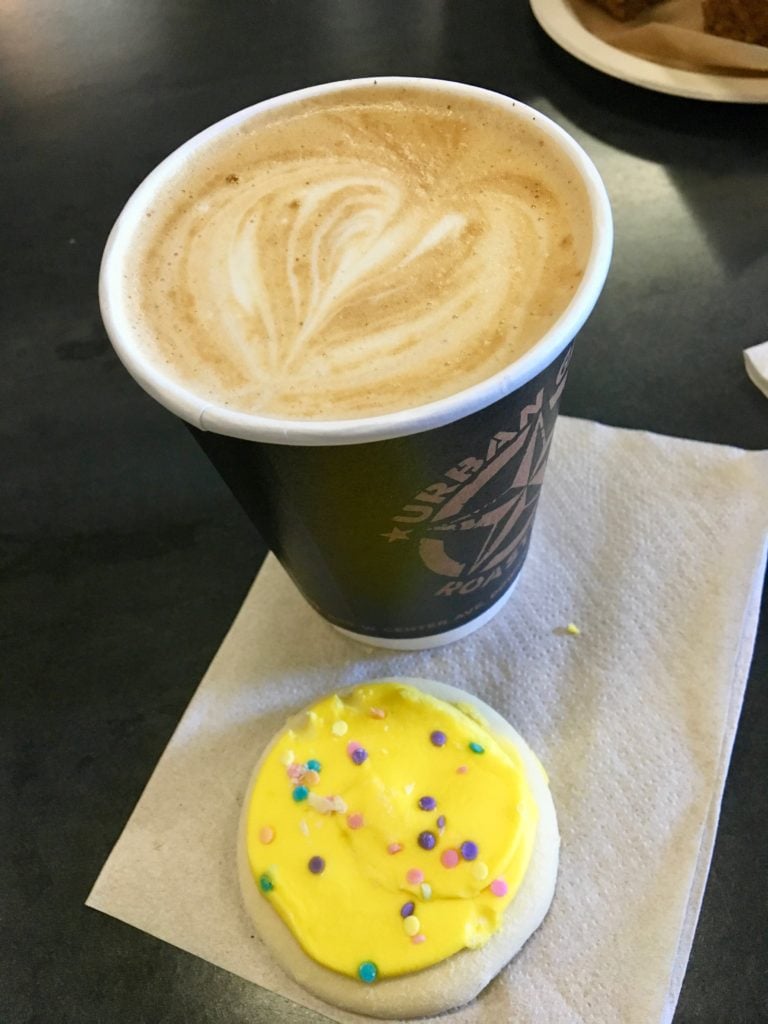 There were a few moments when we were able to relax for a second. Prior to the whole extravaganza we stopped at Urban Grind for caffeinated beverages and treats. In retrospect, it's really good we did that. My mom also joined me for a yoga class at my favorite Vinyasa Arts studio on Sunday morning, and it was such a treat to have her with me.
While we did have dinners delivered (Doordash to the rescue!), I did feed them a little bit at home. I loved having them taste test some of my recipes. The pecan pie nut butter was a hit even with my mom who doesn't like nut butters. They also enjoyed a sweet pepper and onion dip (recipe coming soon) on their sandwiches. Any time I have guests, I make a cheese plate for snacking. I snapped some pictures and plan to share how to throw together an inexpensive and delicious cheese plate soon.
Fab Fit Fun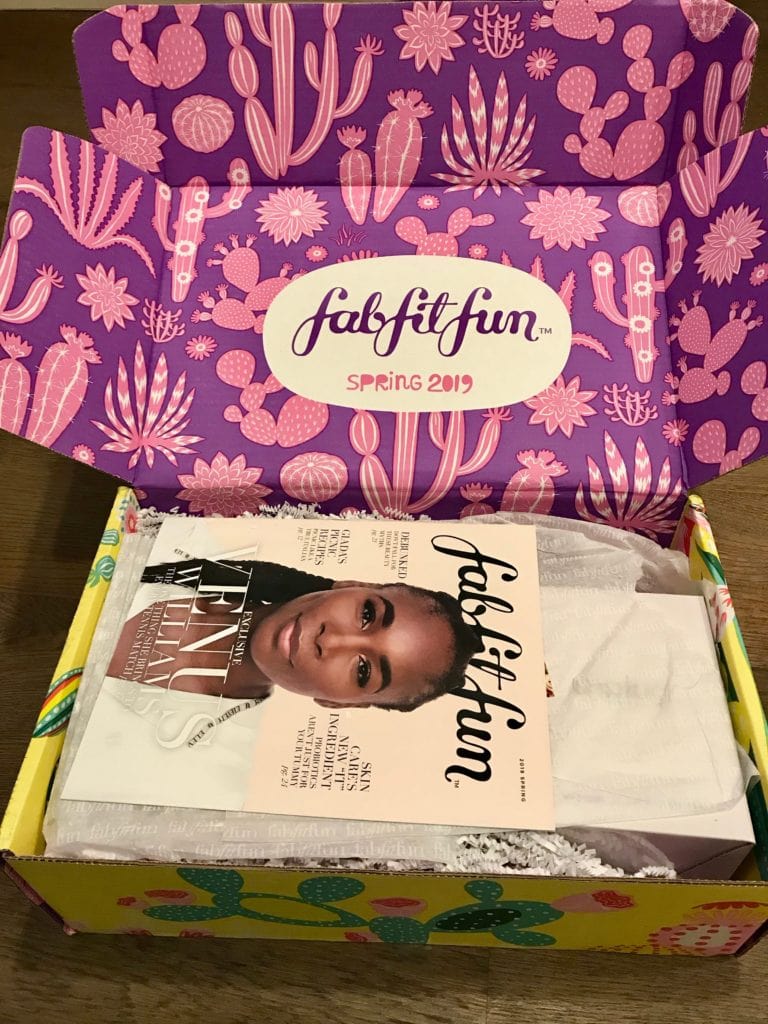 Have you heard of Fab Fit Fun? My second box arrived this week, and I'm in love. It's a seasonal box (sent out four times per year) that includes full-size beauty, fitness, wellness, and fashion finds. Each box has over $200 worth of items for only $50 per box. It's legit worth it.
I initially signed up for Fab Fit Fun over the winter when a sale popped up on Instagram (great marketing..) for the first box being even more discounted (the link above is a referral link that gives you $10 off). I figured even if there was one thing that I liked it would be worth the price, so I signed up with the intention of cancelling it after. Unfortunately (fortunately?), I ended up loving everything in my box so that cancelled subscription never happened. I've tried other monthly subscription boxes before with sample sized products that ended up just creating a lot of extra stuff around the house that I never really used. I love that these boxes only include the full size products and that it comes seasonally so that it's really something to look forward to.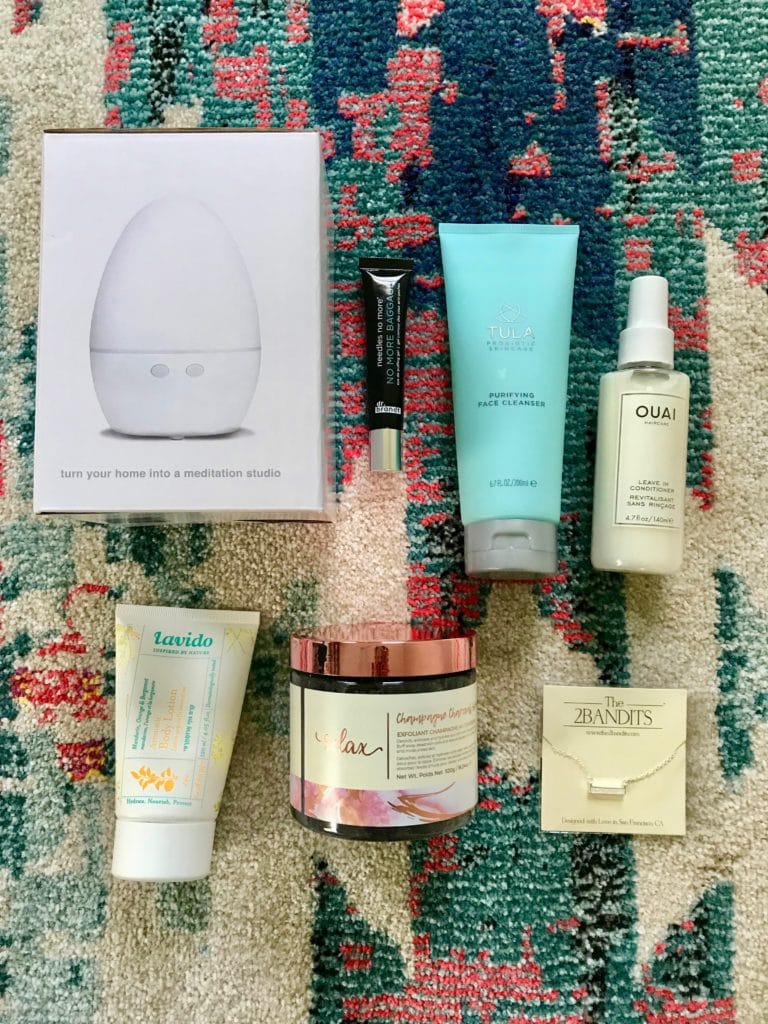 These are some of the thing included in my box this time. Not shown is the Korres Wild Rose Vitamin C Brightening Sleeping Facial because I already tried that last night (I need all the brightening I can get after this week). This morning I tried the Dr. Brant No More Baggage eye-depuffing gel (also needed) and Ouai Leave-In Conditioner (this smells amazing), and the Lavido body lotion for my skin that won't stop cracking open. So far, I love them all. I'll report back after using them regularly if any of the products end up becoming a favorite. I'm excited to have another diffuser to keep up in my office. Currently I have diffusers in my bedroom and living room. This one came with a citrusy "Happy" essential oil, so that will be perfect for when I'm hanging out working on my blog!
Recognizing when to stop and get fresh air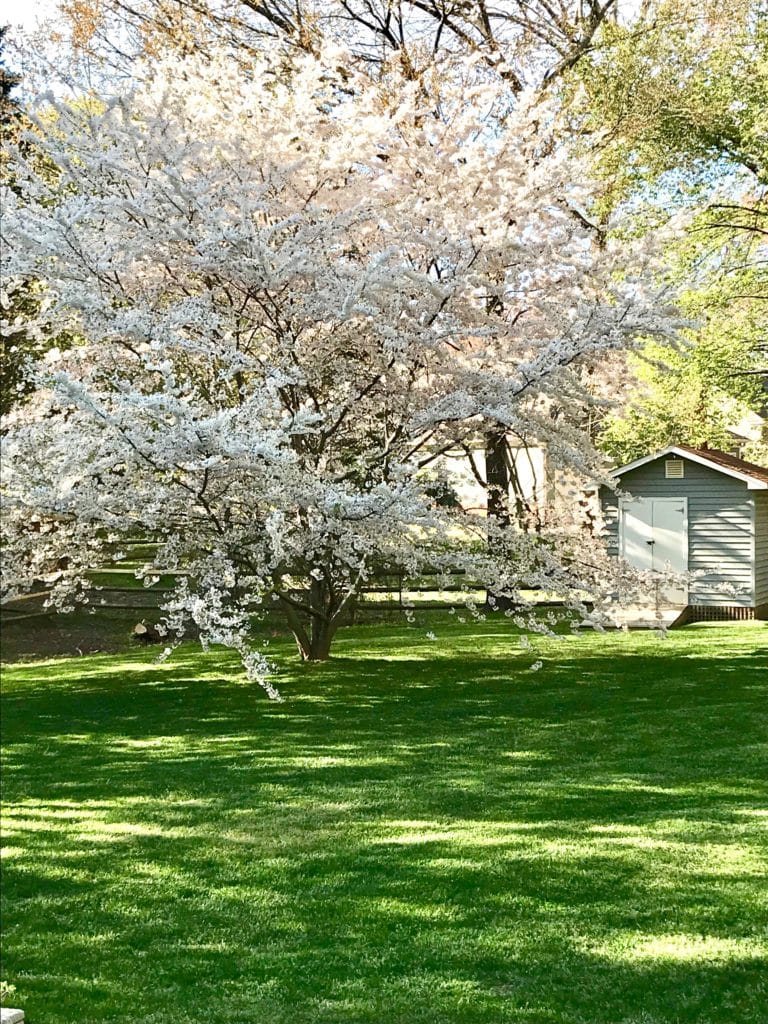 I left work today (I'm writing this Thursday night) with a big list of things I wanted to accomplish when I got home. But when I walked out the door and the beautiful weather and warm sun hit me, I decided I needed a change in plans. I'm so glad that I did.
This week has had a lot of late nights working on the kitchen or going back and forth to Lowes for another new tool. While I am so eager to have this project finished, I was starting to feel burnt out. Matt has also been away for the past couple of weeks, so counting down until I get to see him on Friday night has made this week crawl. I was reaching my limit and needed sunlight and fresh air.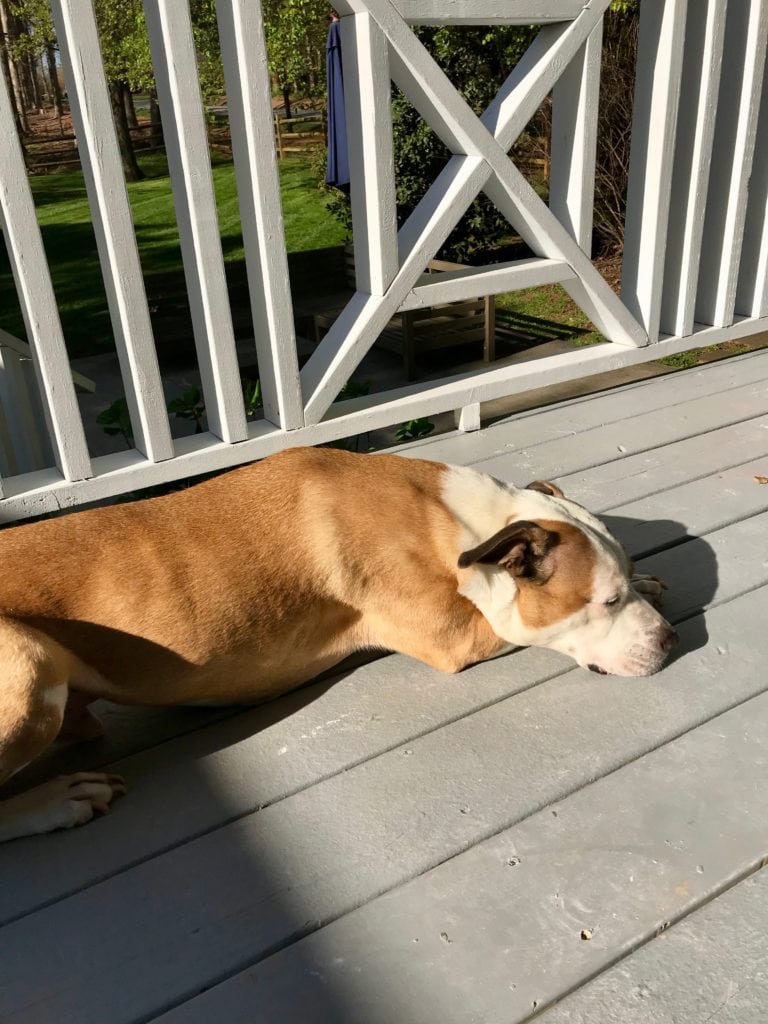 Jameson had the same idea, because when I let him outside he immediately laid down in the sun on our porch. I took some time to just hang out with him and to admire the tree in our backyard that is blooming. This is the time of year when we first saw our home and that big beautiful blooming tree was definitely one of the parts I instantly fell in love with.
Instead of being cooped up in the kitchen, Jameson and I went for a walk happily soaking up with warmth. I accomplished nothing in the kitchen today, but those stupid little beautiful tiles will be there tomorrow. I was able to get some quality time with my pup on a beautiful day moving my legs, and that was definitely what should have been on my to-do list all along.
What things made you happy this week?
Share your DIY projects gone wrong!
Is there a subscription box you love?