Our Trip to the St. Regis Maldives Vommuli Resort: Part 2
Today I'm continuing to share our trip to the St. Regis Maldives Vommuli Resort. If you missed Part 1 you can find it here!
Monday - Day 4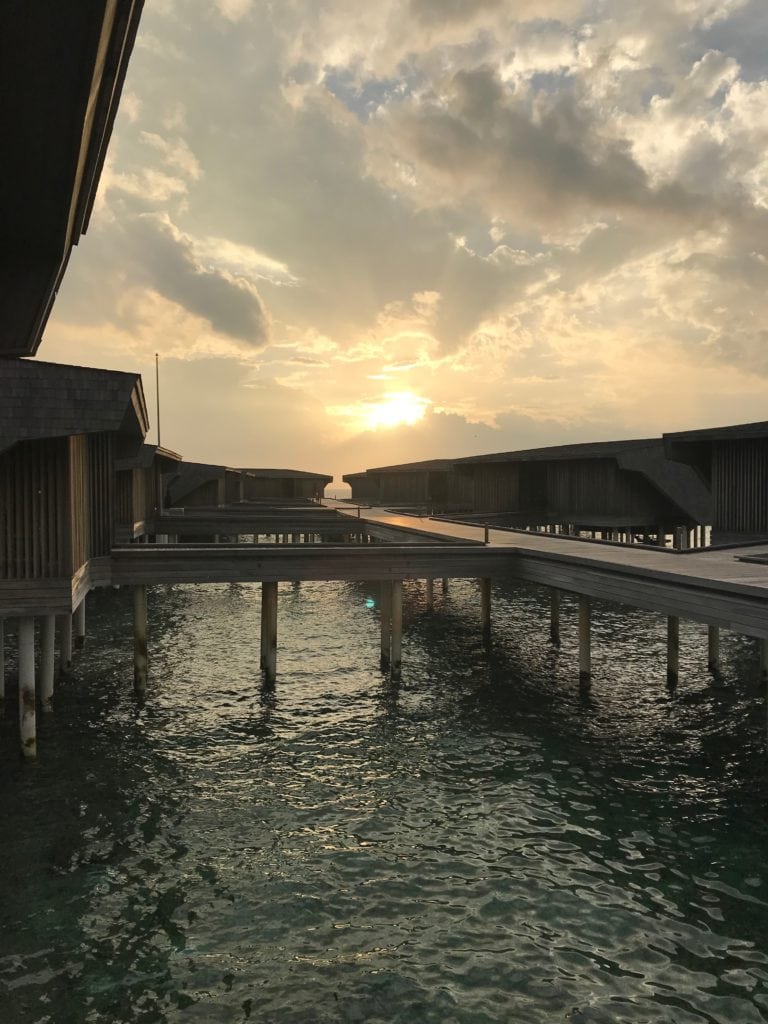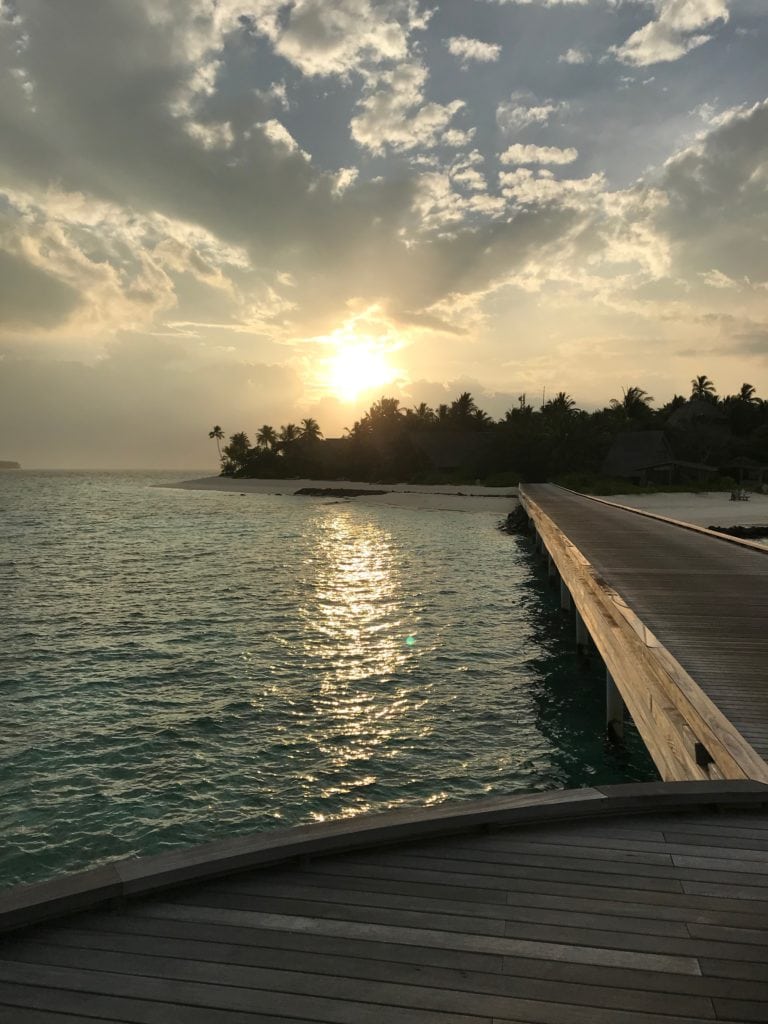 On Monday morning, I started my day at the St. Regis Maldives Vommuli Resort once again with an Americano and a great gym workout. I was rewarded for an early morning workout when I walked out of our villa to see the sun rising. I took a few photos as I biked to the fitness center (a common occurrence anywhere I went because the Maldives is stunning every second).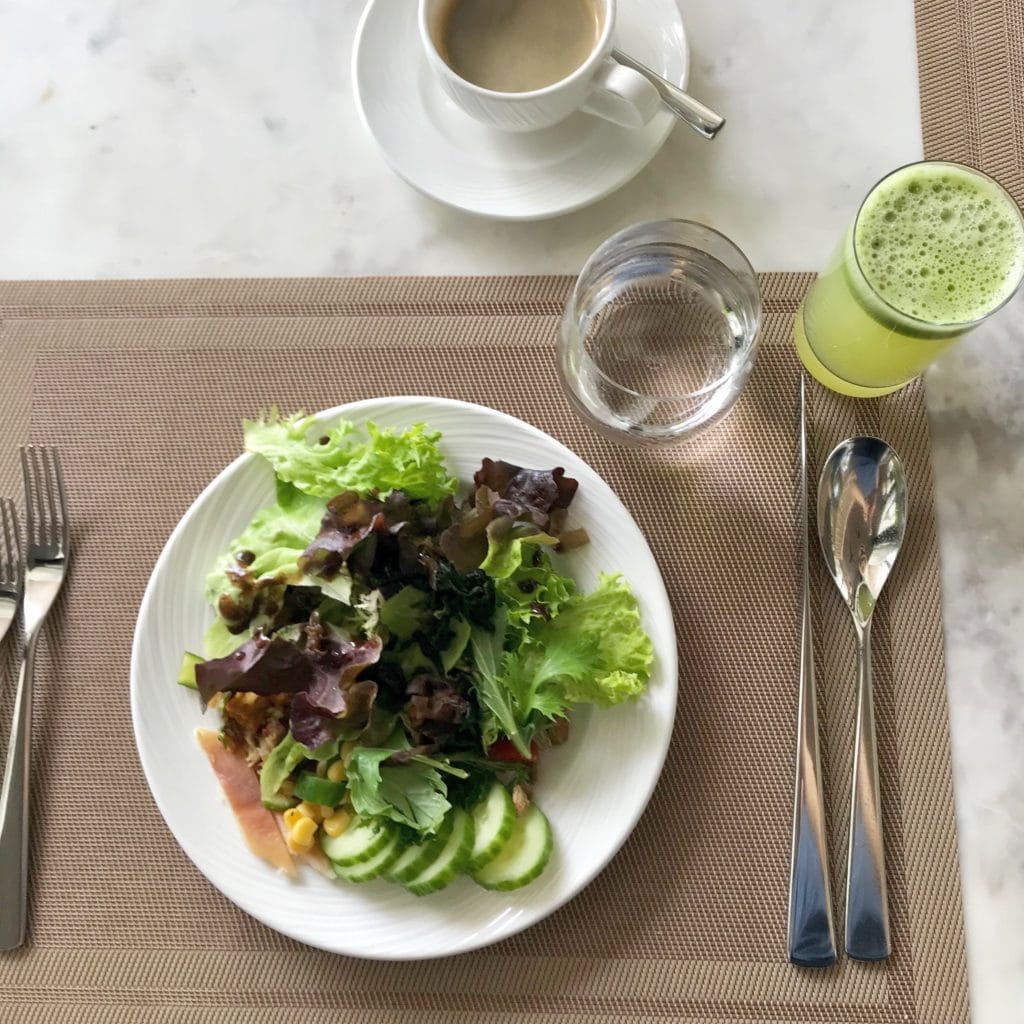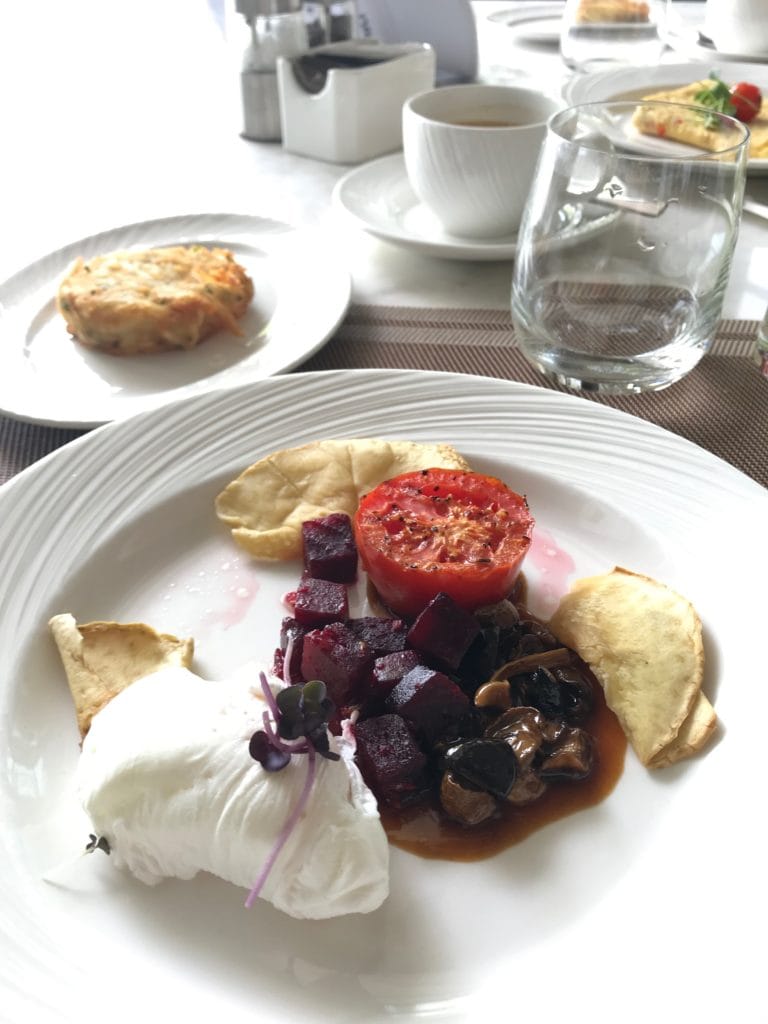 After a sweaty Alexia Clark workout, we headed over for another epic meal at the breakfast buffet. I started with all the beverages once again including a freshly made celery, cucumber, lemon, and ginger juice (so good!). I piled my plate high with veggies and some smoked herring from the buffet while waiting for the dish that I ordered off the menu (a poached egg with sautéed wild mushrooms, garlic beets, roasted tomato, and crispy breadfruit) and a side of hashbrowns.
The evening before, we updated Kumie that we were going to need to postpone plans for wake boarding and parasailing. Matt's sunburn had worsened despite spending the day in the shade (the Maldives sun is no joke!). Since that meant another low key day relaxing, I took that as an opportunity to try the anti-gravity yoga class I had been eyeing.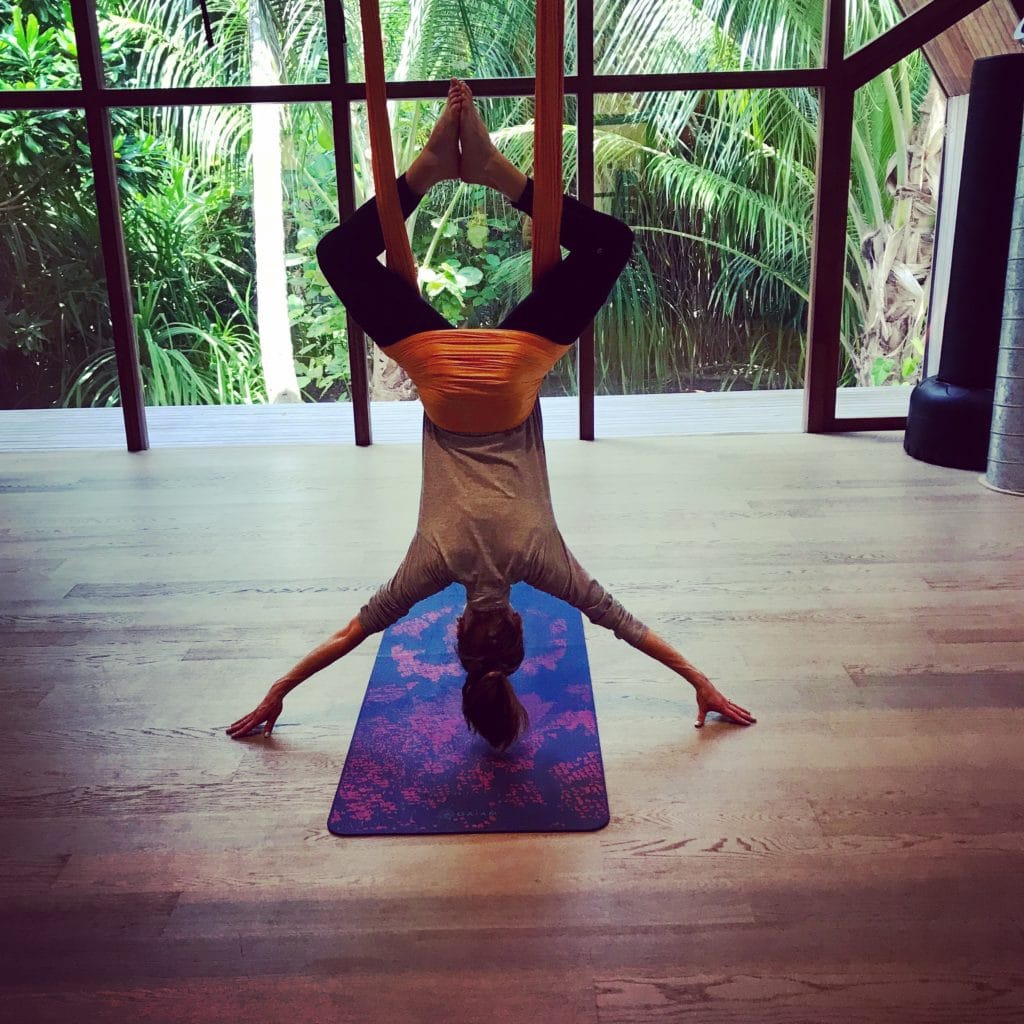 I had just enough time to digest my breakfast before it was time to make my way to the yoga class, which was good because I spent the majority of the class swinging upside down. When I arrived, I was surprised to find out that I was the only one signed up for the class that day which meant a private anti-gravity yoga class - awesome!
The class was completely different than anything I've done before, but so fun. The instructor walked me through the technique for getting into a number of different poses including levitated head stands and flying back bends (I have no idea what the actual name of these poses are and google is failing me). After going through each of them once, we went through all of the poses again at a faster pace. The class ended with some relaxing swings cocooned in the silk.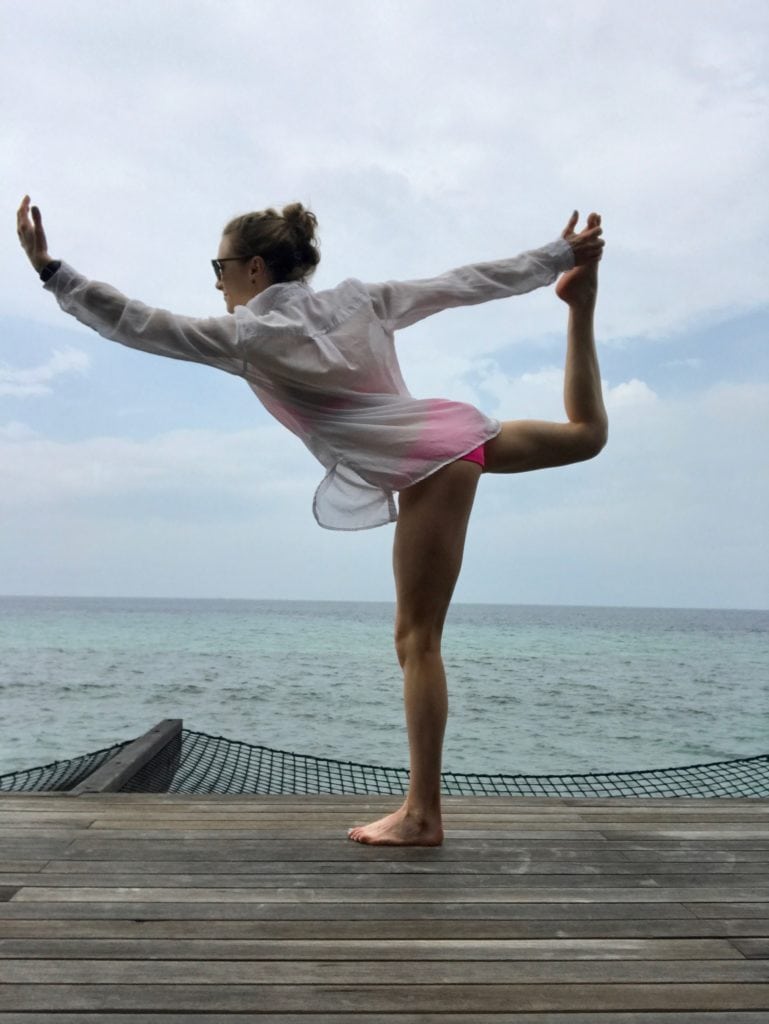 After an active morning, I enjoyed some quiet time lounging around the villa. It was a little overcast with light showers and thunder intermittently passing by, which made for an incredibly relaxing afternoon. The tranquil environment and gentle sound of water splashing seemed like the perfect space for a self-guided yoga flow. It was one of the times I was able to really focus on breathing in the moment and stretching, which felt so therapeutic. After, I snapped a couple yoga poses just for fun.
Right before going to bed the evening before, Kumie stopped by to deliver some special lotion she picked up from the doctor to help sooth Matt's sunburn (so incredibly thoughtful and another example of the exceptional service at the resort). Since she knew that we would be having a low key day in the shade, she offered to arrange afternoon tea delivered to our room. Exactly at 3 pm, she was at our door delivering iced teas along with a small plate of cookies. It was a lovely pick-me-up treat.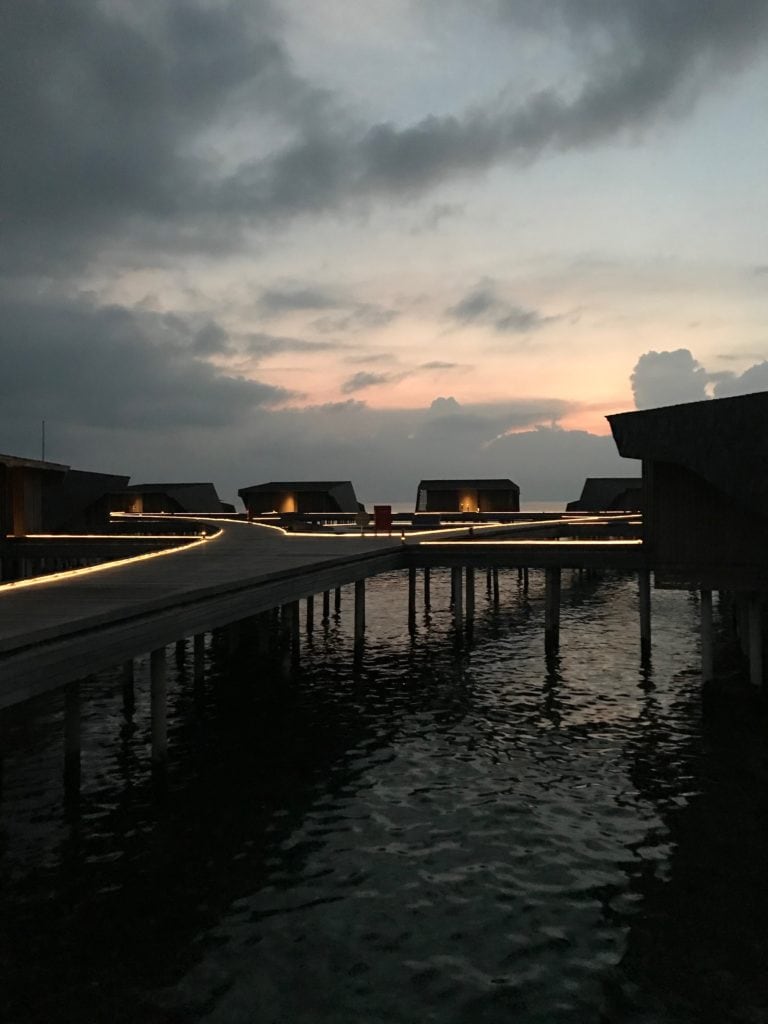 That evening, we had reservations at Orientale. The resort is breathtaking at all hours of the day (not just when you can see the turquoise water and white sand). As we rode in a buggy to the restaurant, I took more photos of the beautiful resort.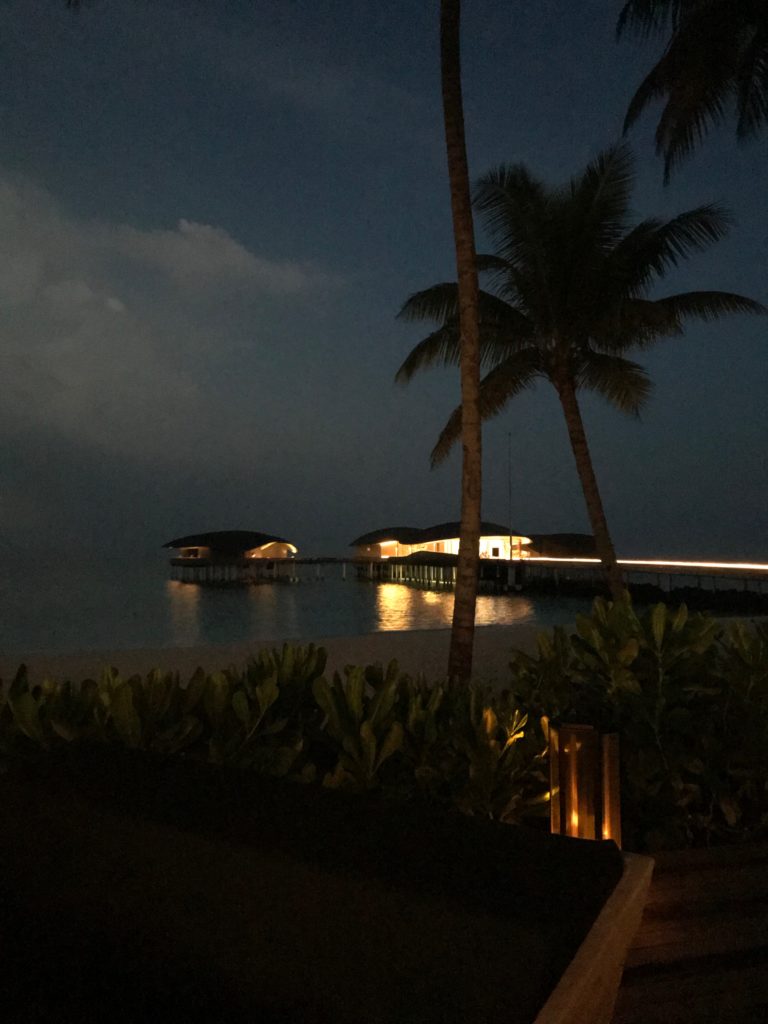 The menu at Orientale is expansive, because they have THREE kitchens including an asian kitchen, sushi bar, and tandoori grill. The restaurant is a beautiful open concept extending out onto the white sandy beach.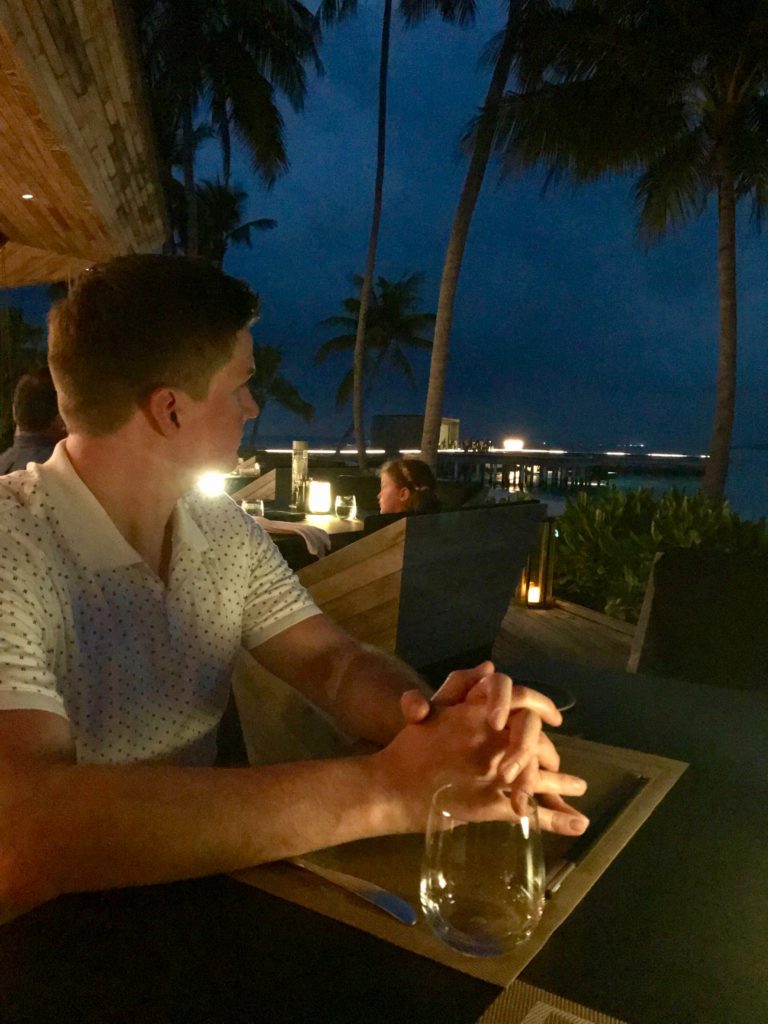 We initially started at an outside table, but were moved into the covered portion shortly after feeling a few rain drops and being shown the ominous rain cloud approaching. The good news is that you know when it's about to rain in the Maldives, because you can see it coming.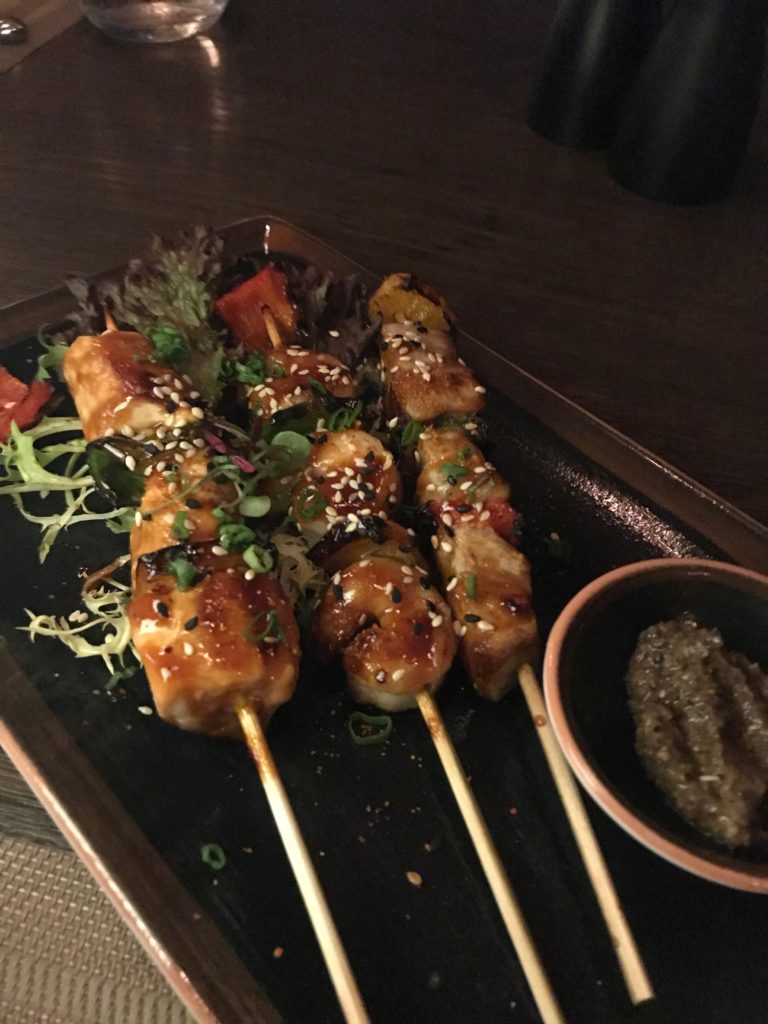 I had a hard time deciding what to order with all of the options. Admittedly, this ended up being my least favorite meal - mostly to the fault of my selection. I ordered the teriyaki skewer starter with salmon, prawns, and reef fish, served with a yuzu pepper sauce and an Indian mixed vegetable main course with toasted vegetables with Indian spices and tempered with cumin seeds. The starter course was delicious, but I was disappointed when I saw the size of the vegetable main course (it was a fairly small bowl of vegetables). Just keeping it real.
The food at the St. Regis Maldives is outstanding overall, but very expensive (for example, an edamame dish was around $34 here and still water is $14 per bottle). While we expected this and budgeted for it (aside from the water), I was a little disappointed to leave still feeling a little hungry after spending more than we do at even the nicest restaurants in the U.S.
Matt was much happier with his selection of a chicken and pork dim sum starter and chicken and vegetable stir-fry. The dim sum is definitely worth ordering - he commented that it was packed with flavor and some of the best he has ever had. The service was once again outstanding. We were pleasantly surprised to find that our waiter for the evening, Tai, was the same man who served us coffee most mornings. He recognized us and recommended branching away from our typical Americanos and trying the Maldivian coffee the following morning. We hadn't realized that was an option and looked forward to seeing what the local coffee involved in the morning.
Tuesday - Day 5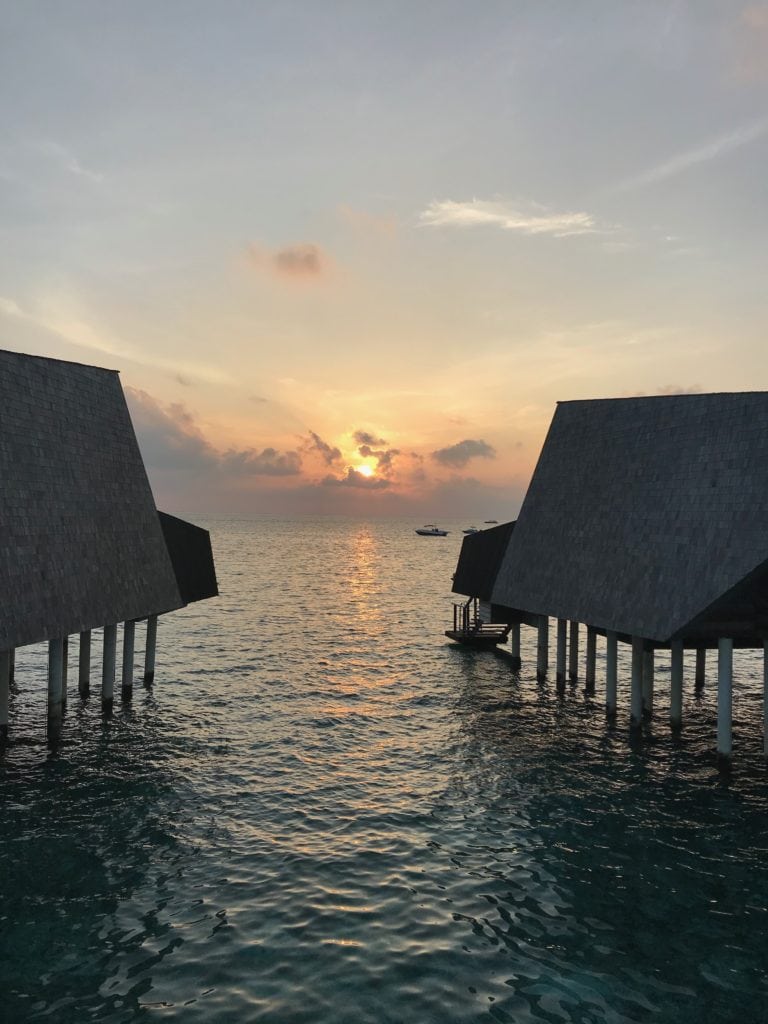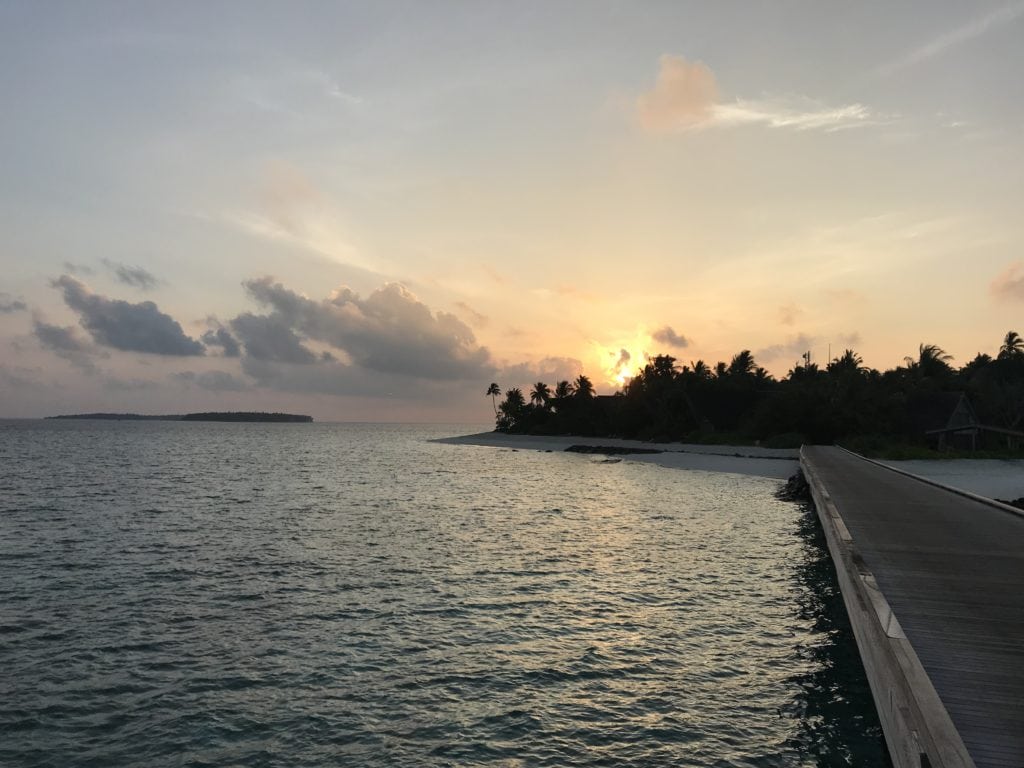 On Tuesday, I started my morning taking photos as I biked to the fitness center for another workout. I'm pretty sure I have photos of every trip to and from the gym. Matt and I have been fortunate to have visited some of the most beautiful places in the world (Santorini, Greece and the Great Barrier Reef in Cairns, Australia come to mind), but the Maldives takes the cake for being absolutely stunning every moment.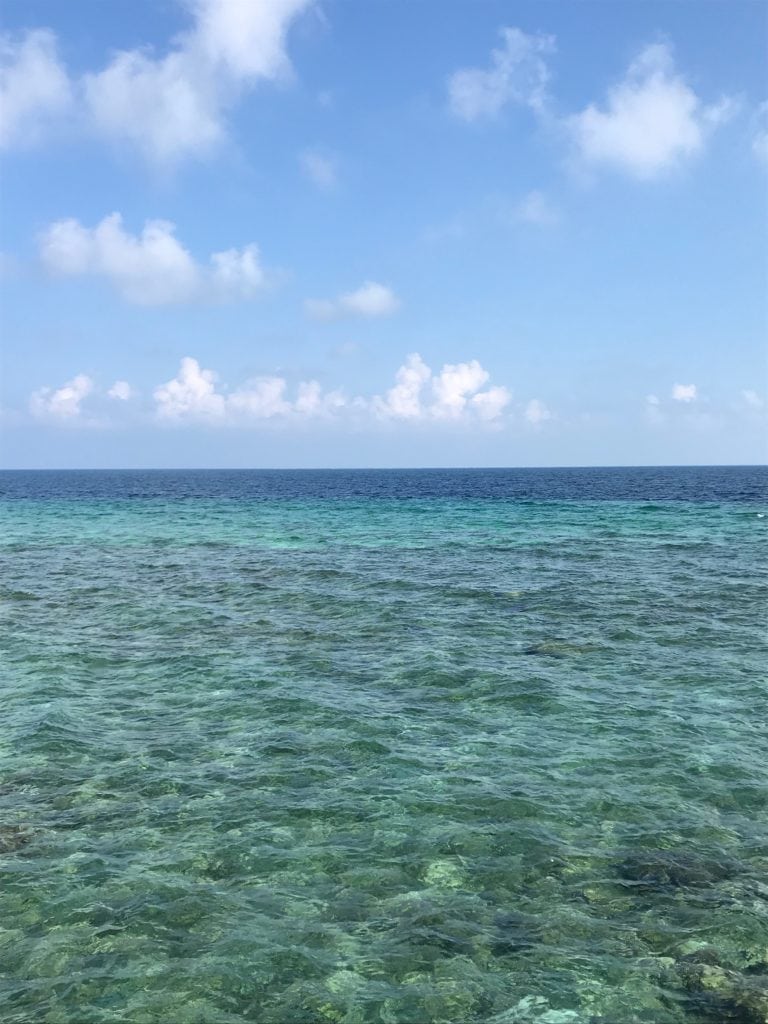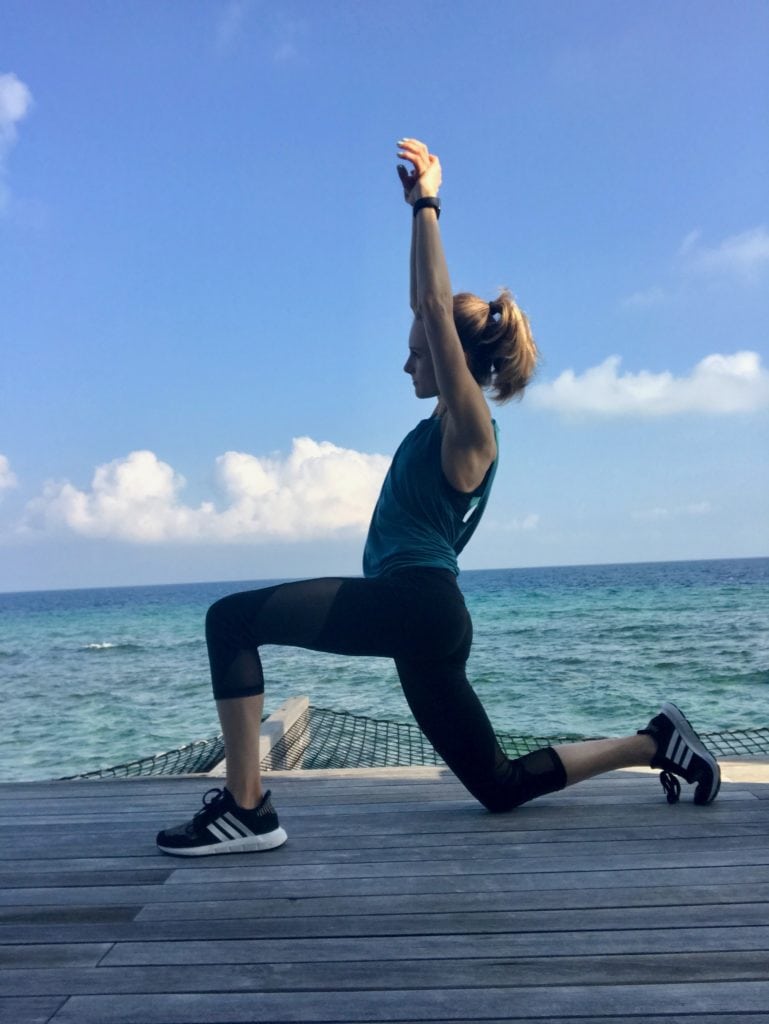 After returning from another great Alexia Clark workout, I took advantage of the prettiest backdrop I'll ever have out on our patio and took some photos for my glute activation post.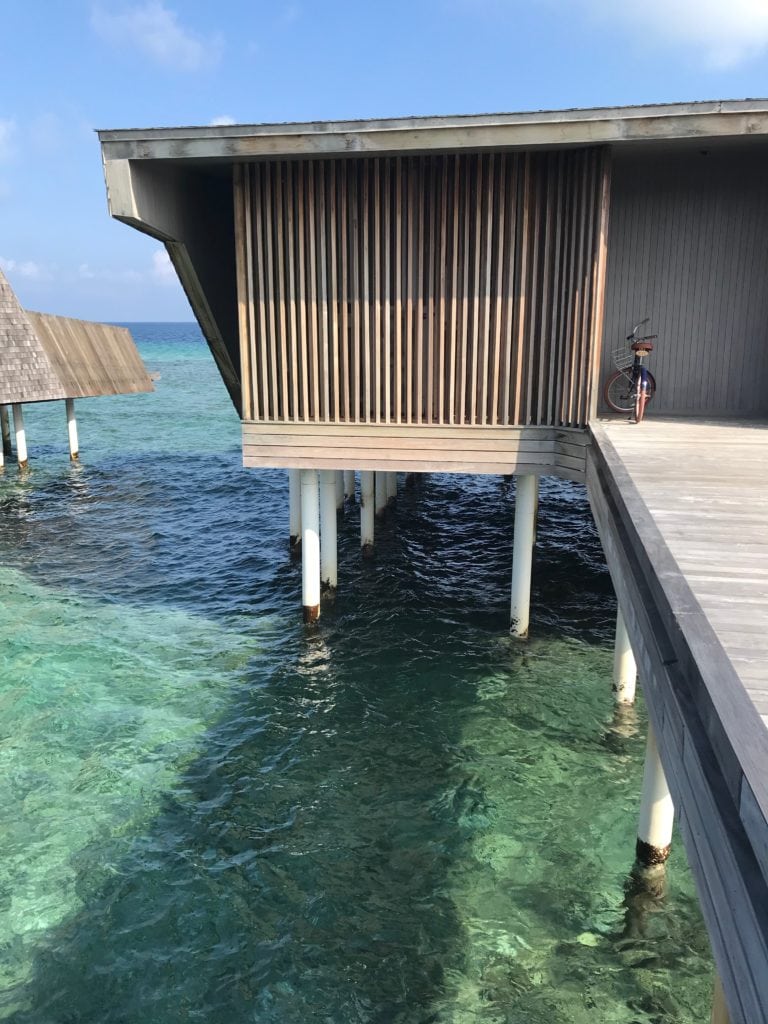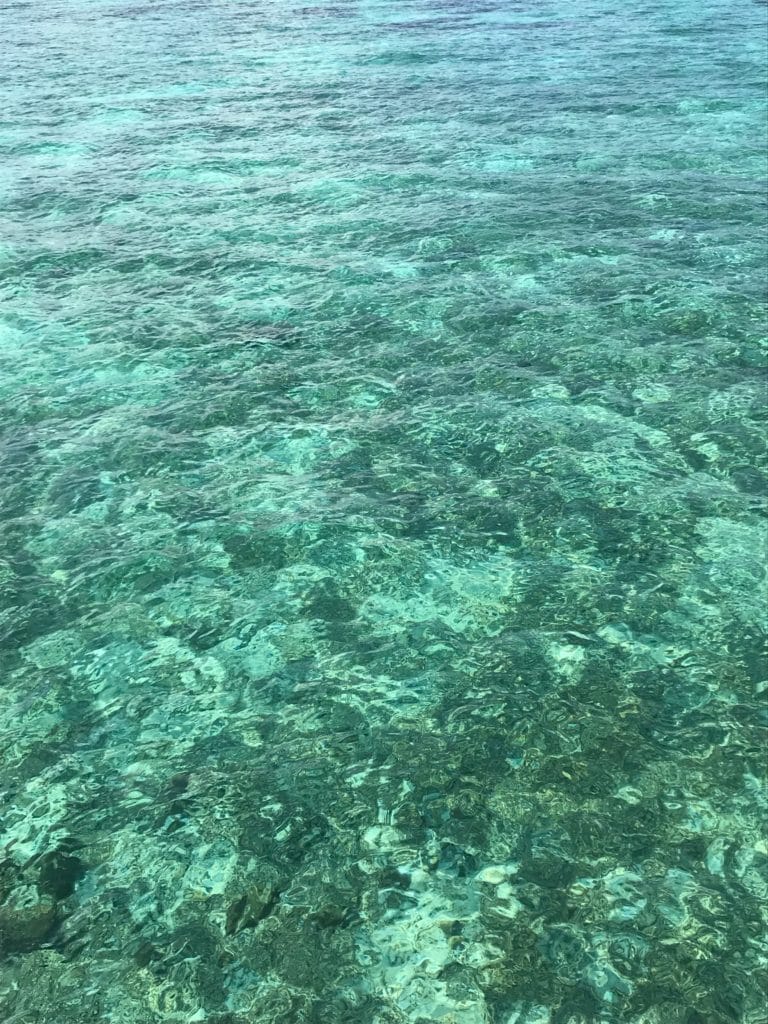 I quickly showered, and then we were off to another breakfast feast at Alba. These water photos are probably getting old to you, but amazingly I'm using a lot of self control only showing a small portion of the ones we took.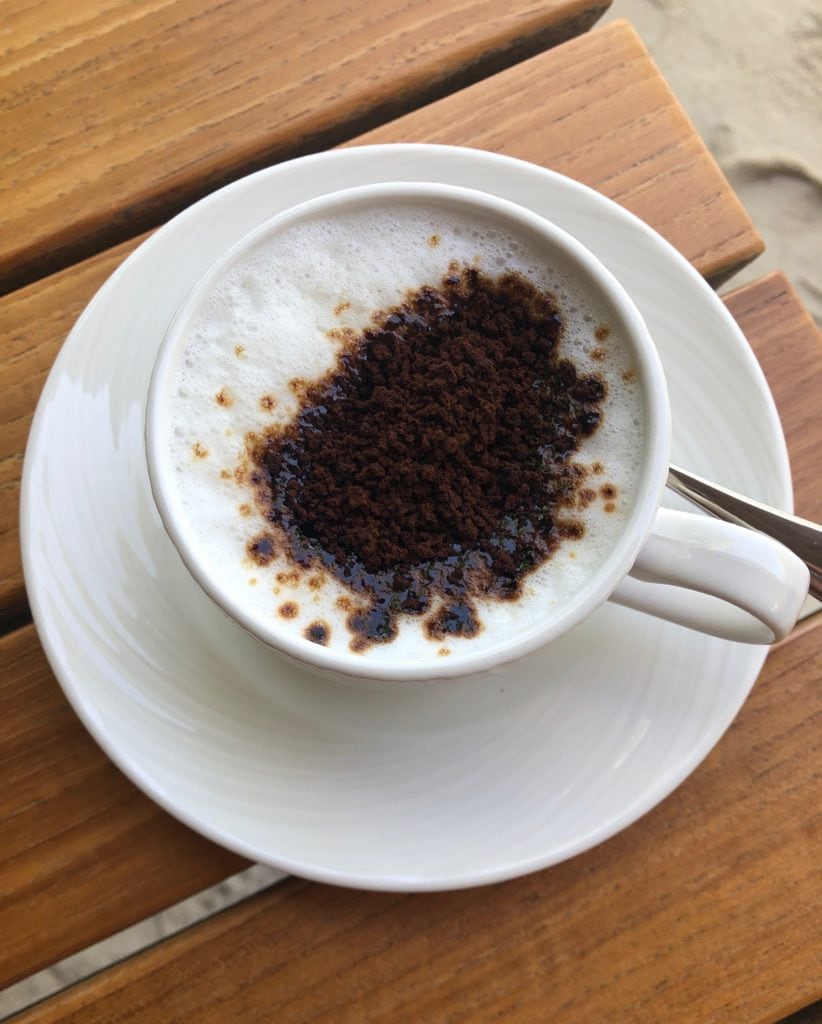 We started out ordering the Maldivian coffees recommended to us the evening before (along with freshly pressed juices). We were excited to see what the coffee entailed. I was pleasantly surprised by the appearance, but not necessarily the ingredients. The Maldivian coffee is steamed milk with coffee granules (instant coffee?) that you stir in. I'm currently limiting dairy (because I like to be high maintenance and annoying), so I didn't drink mine. Matt, however, enjoyed them both.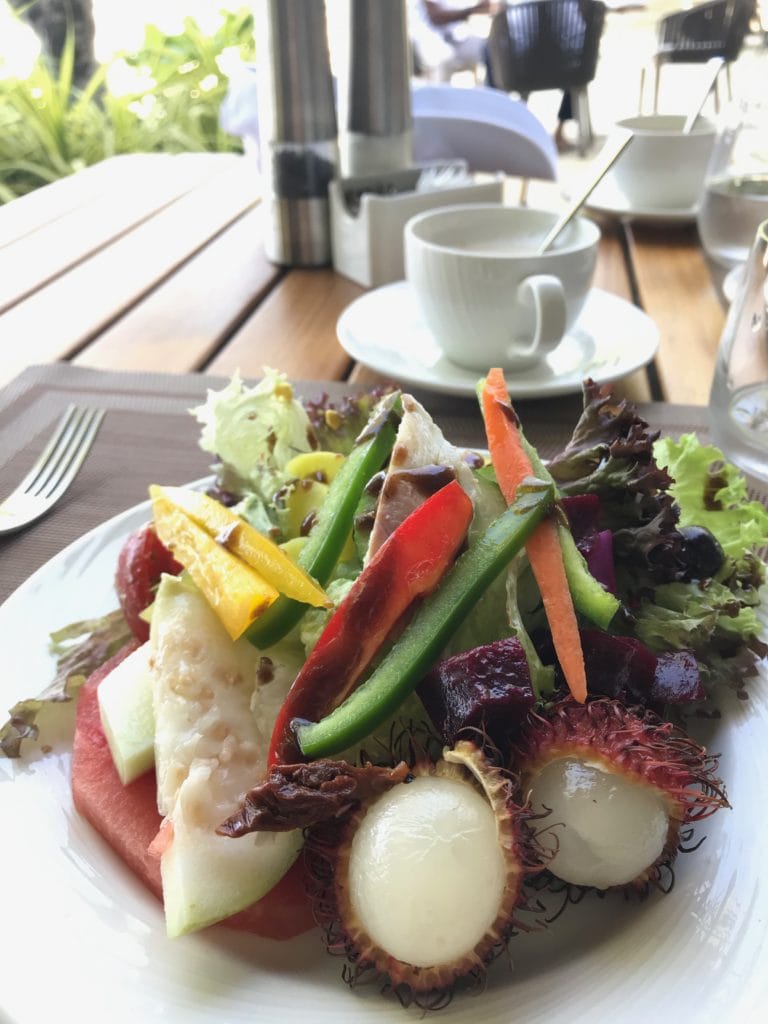 I ordered the "Saba Shiso Yaki" off of the menu, which included grilled reef fish, Japanese rice, soy sauce, pickled ginger, pickled plum, and wakami seaweed. Now that I look at this photo, I don't think there was actually any seaweed. While waiting for that, I put together another salad from the buffet and also tried some of the cool and foreign (to me) fruit offered. I'm not sure what the spiky fruit is called, but I liked it! (I googled "spiky fruit" after writing this and it instantly popped up. Apparently it's called rambutan.)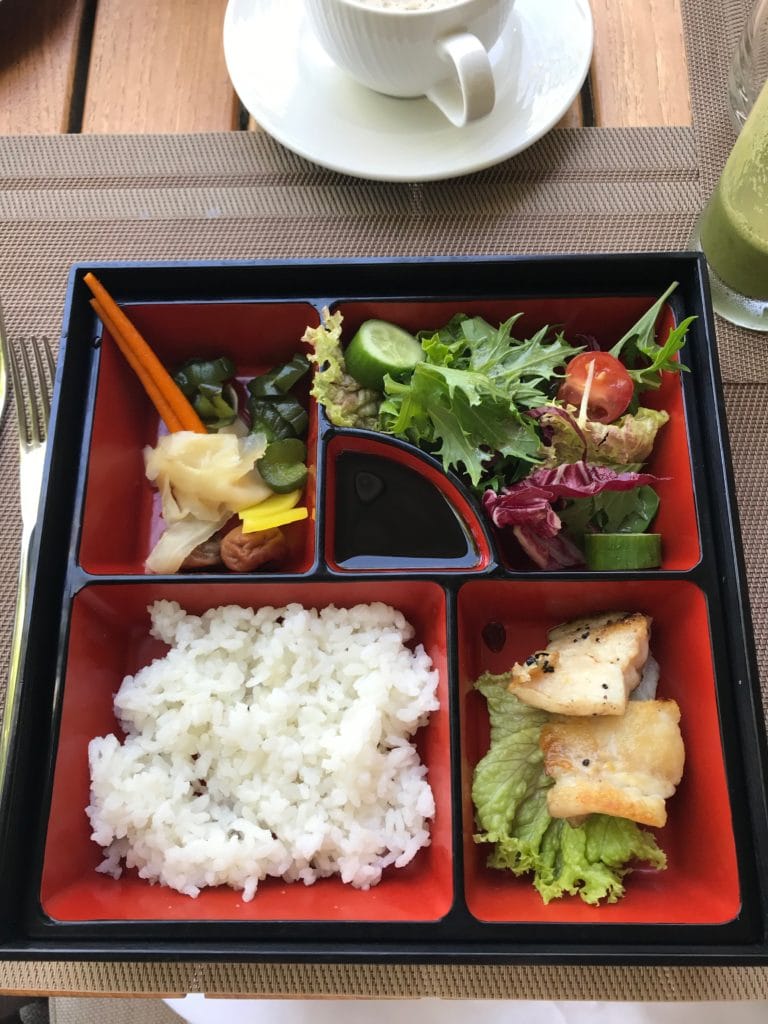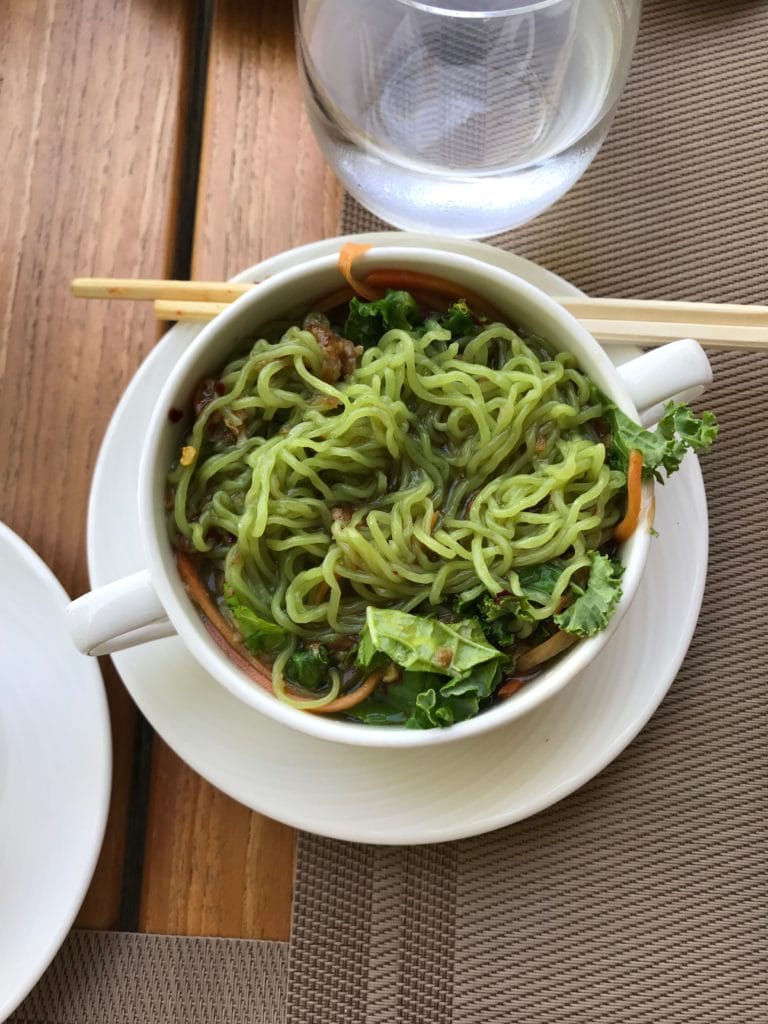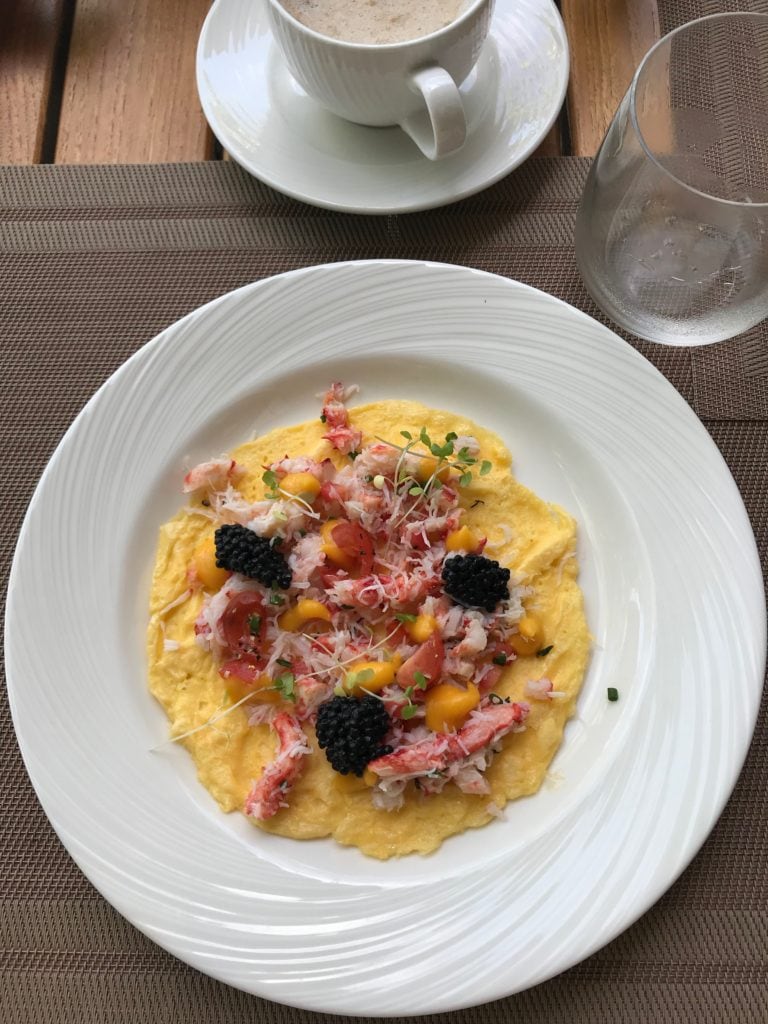 The Shaba Shiko Yaki was delicious but small (I didn't eat the rice), so I ordered another lobster and Alaskan crab omelette hoping they had caviar this time - they did! Matt enjoyed a variety of items off of the menu and from the buffet, but every morning it included soup from the noodle bar. Matt is always hot, so the fact that he ordered a steaming soup in this warm climate every morning should speak volumes to how flavorful it was.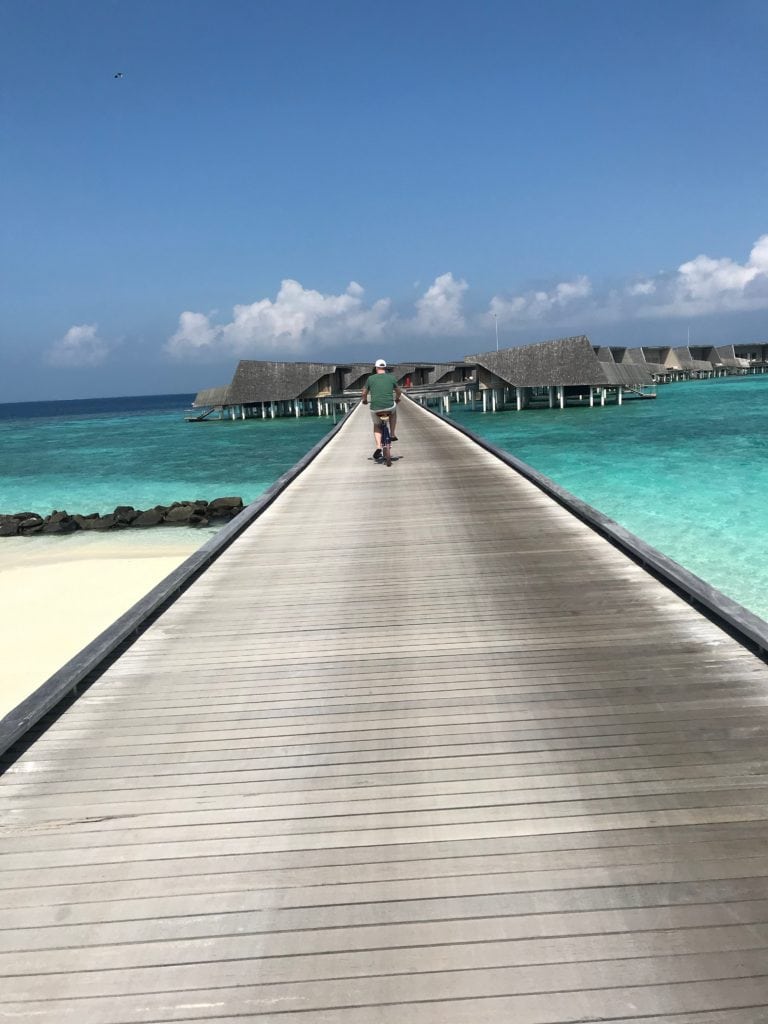 After breakfast, we biked back to our villa to change into bathing suits for some more time out on the water. We decided to go back to the Dive and Water Sports Center, because it was the perfect spot for both of our favorite activities - SUPing for me and snorkeling for Matt.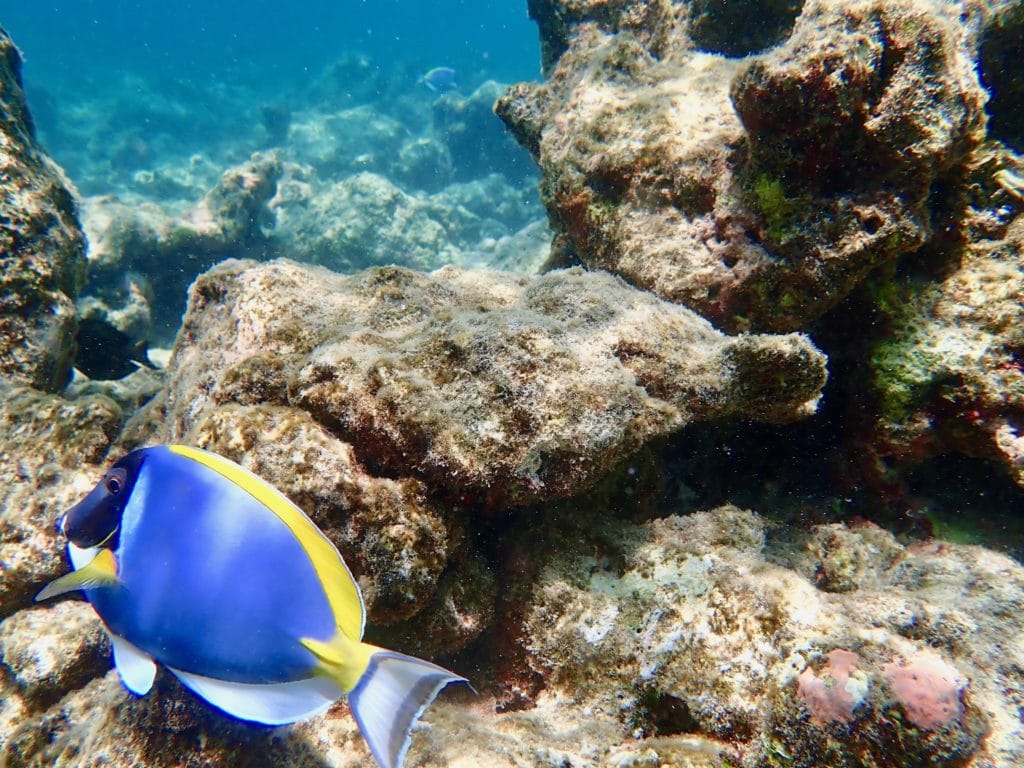 The water was rougher than the first day of SUPing, which made for a fun challenge. The water was so clear, that I could see the brilliantly colored fish swimming around me. Matt was able to capture some great photos of those cartoon-like reef fish with our underwater camera while snorkeling.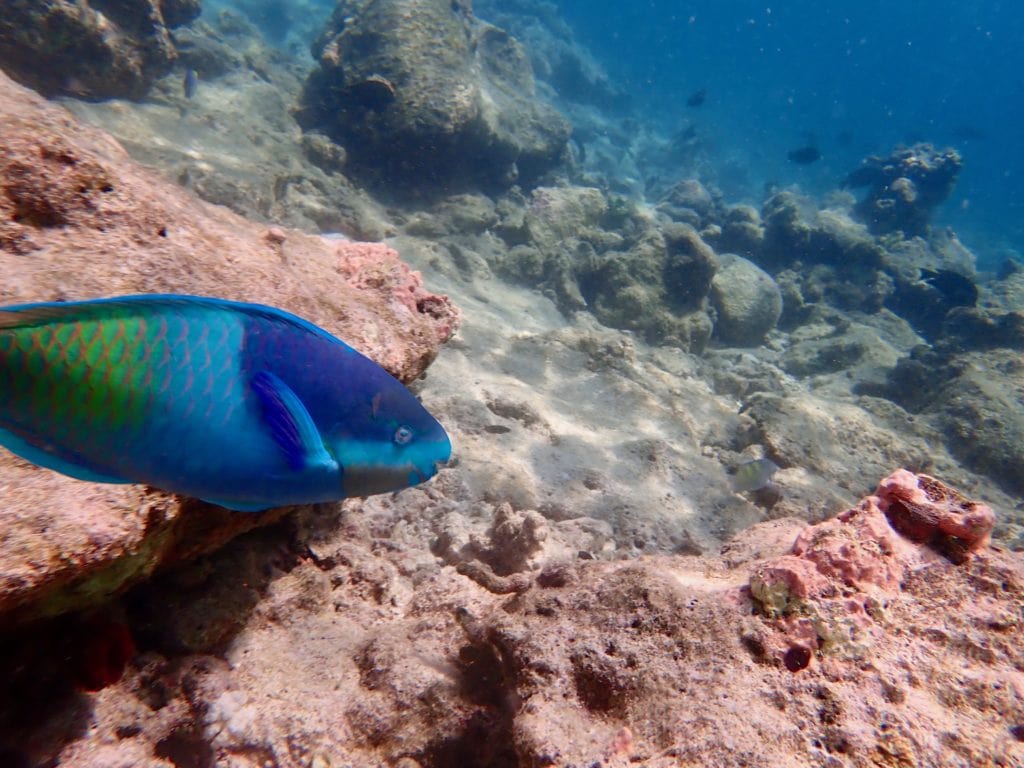 Side note: I wasn't thrilled when the underwater camera showed up at our doorstep before our Hawaii trip (I'm the budget-conscious one in the family), but Matt made a smart call. We have used this camera so much for photos and videos on tropical vacations. It has definitely been a worthwhile investment to capture moments we wouldn't have otherwise been able to document while out on the water surfing, snorkeling, parasailing, etc.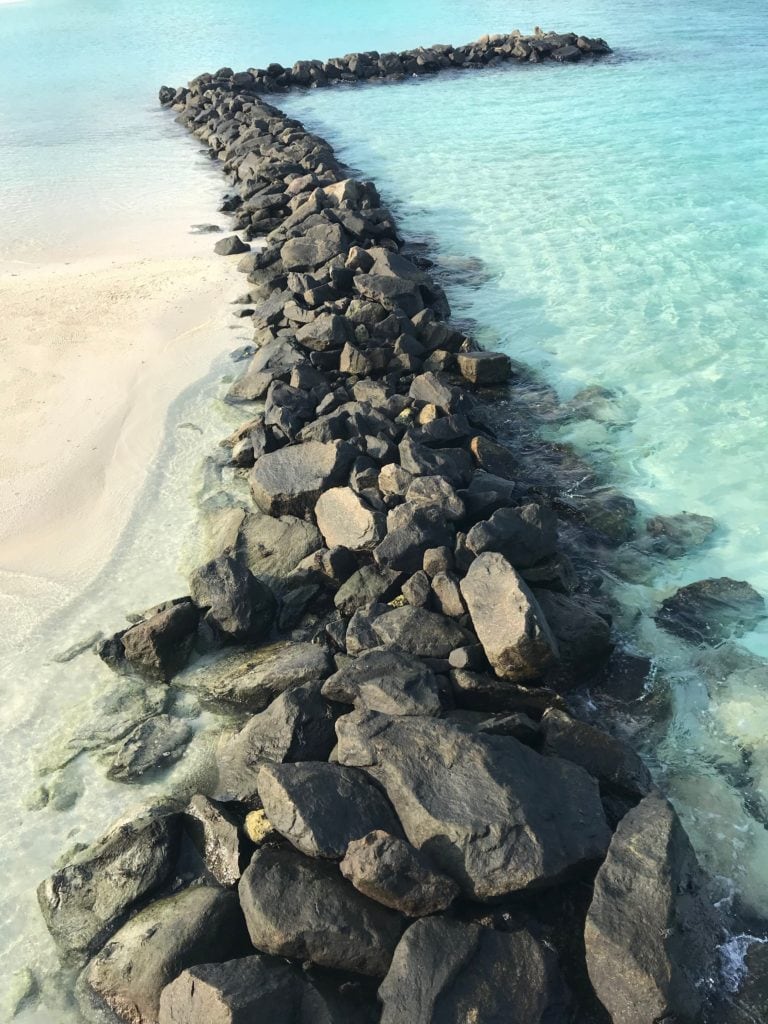 After playing in the water, we decided that we should check out the beautiful sandy beach at least once during our stay. Since we were completely spoiled with our overwater villa and the private pool, lounging areas, and direct access to the ocean that it included, we didn't feel a need to spend much time on the beach. However, I did want to spend some time in the white sand. The beach was also a nicer area to swim around since our plunge pool was cooler than the ocean (it was always in the shade) and the water under our villa was fairly shallow but rocky...or I guess reefy? Not a word? K.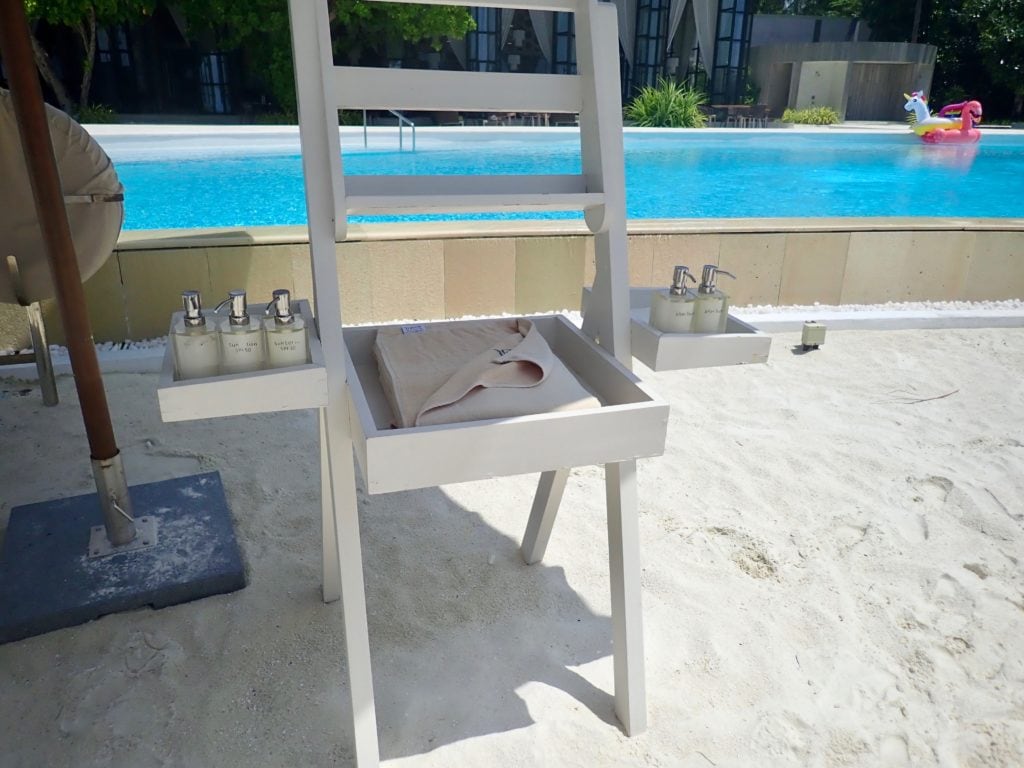 One thing to note for anyone planning to visit: they provide sunscreen and "after-sun" lotion in addition to towels on the beach. Next to this, they also had self-serve ice water and orange-infused water. I think that the St. Regis also offers complementary fruit kabobs to those lounging on the sand, but we didn't hang out long enough to find out so take that with a grain of sand (see what I did there).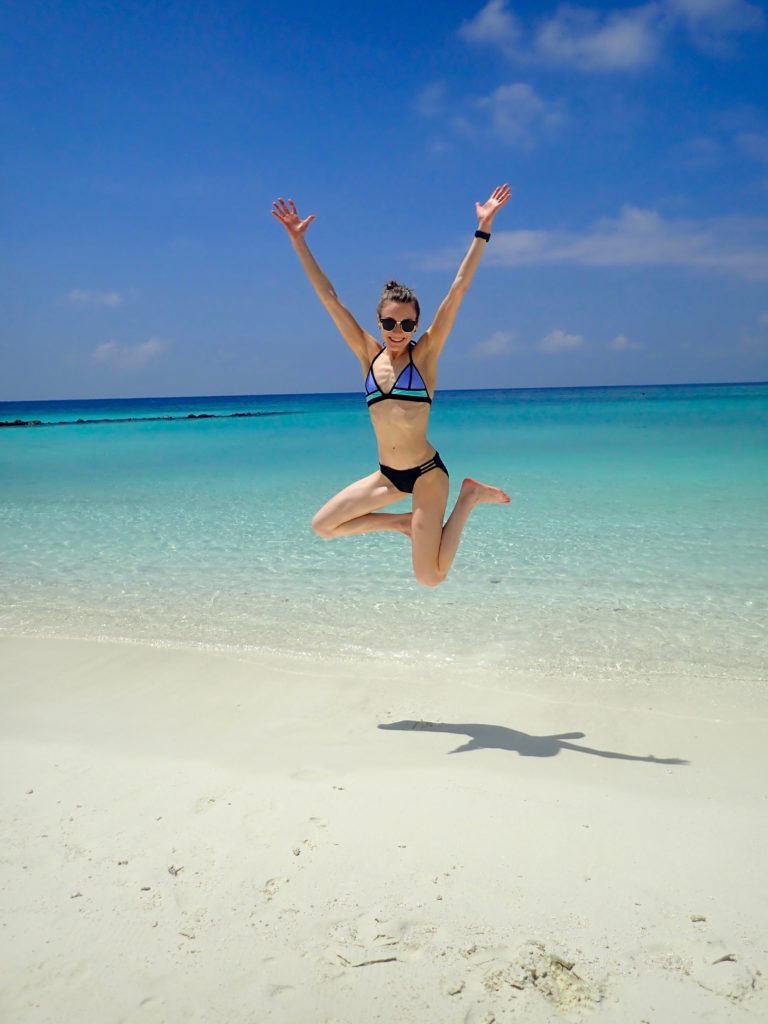 Sometimes I get bored quickly, so after swimming around for a bit I decided it would be a nice backdrop for some jumping photos. Matt's a good sport and a very supportive husband, so he obliged. He did, however, make me jump about 10 times...I think in an effort to get me to chill. Our active morning worked up an appetite, so we headed over to Crust to check out their lunch options.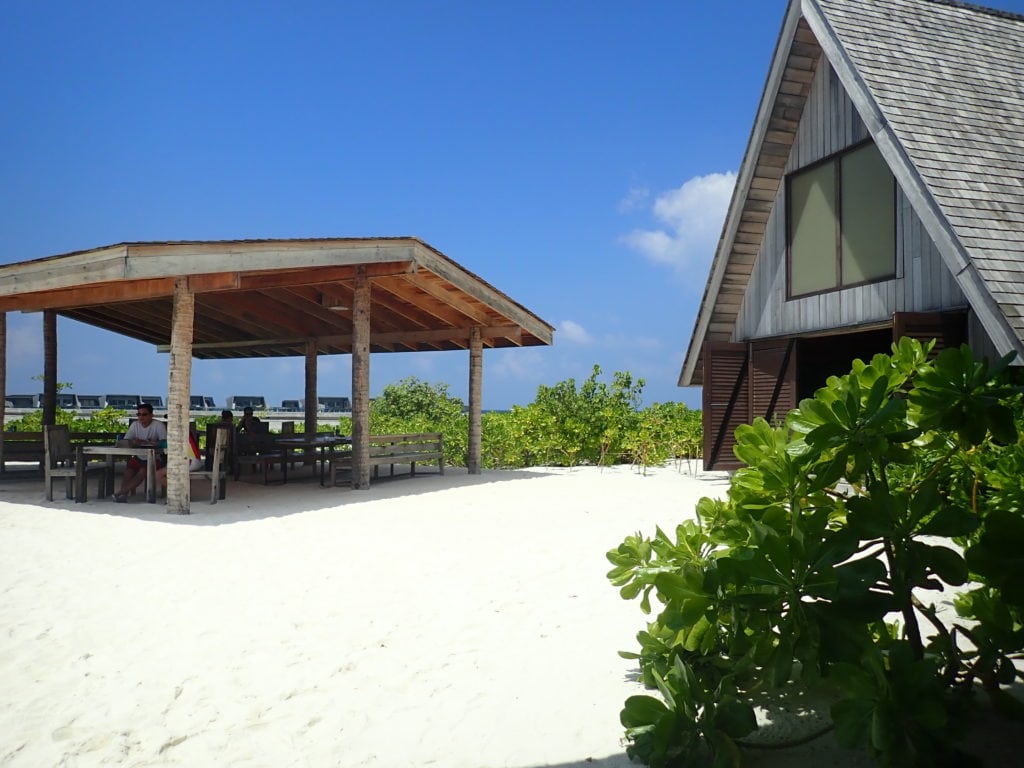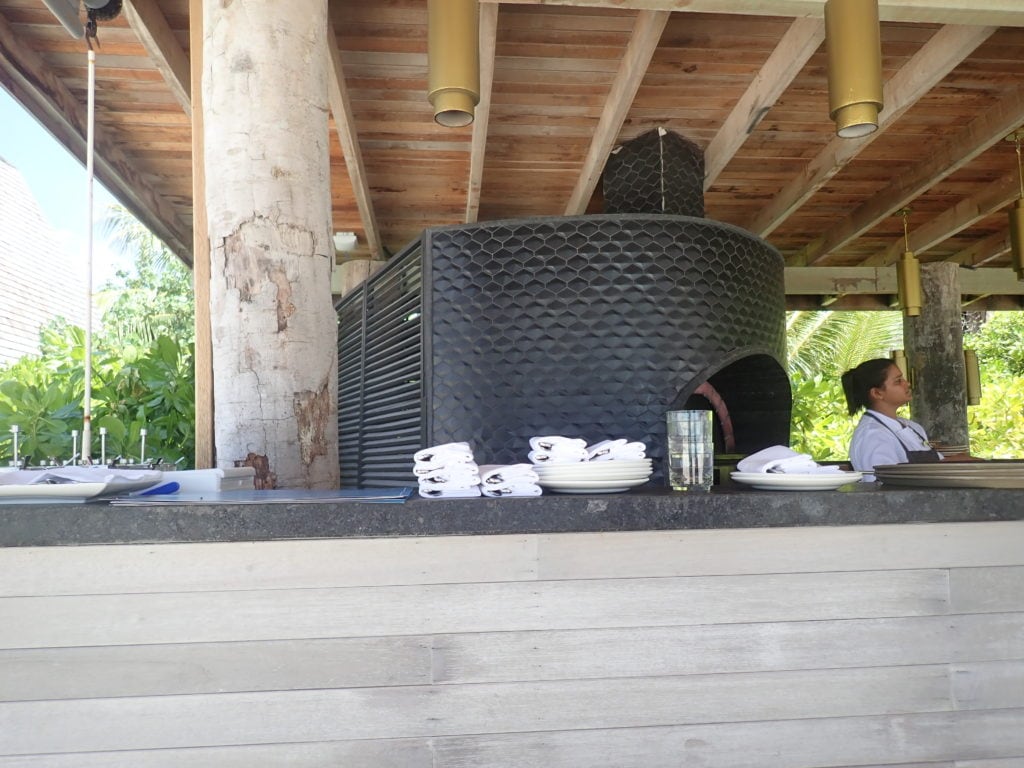 Crust and Craft are casual dining spots right on the beach that are only open for lunch. Crust mostly serves wood-fired pizza (as you might expect) and Craft is the only spot where you can find craft beer on the island. I wasn't in the mood for pizza, so while Matt waited for his pizza with arugula and prosciutto I headed over to Alba to check out their lunch menu.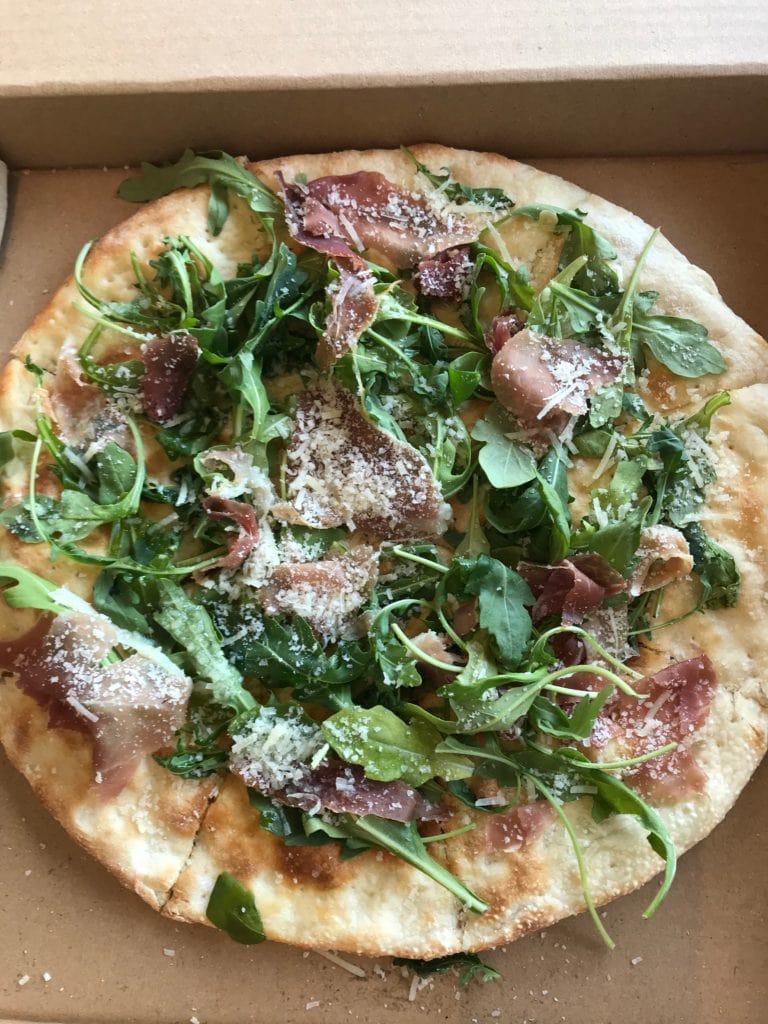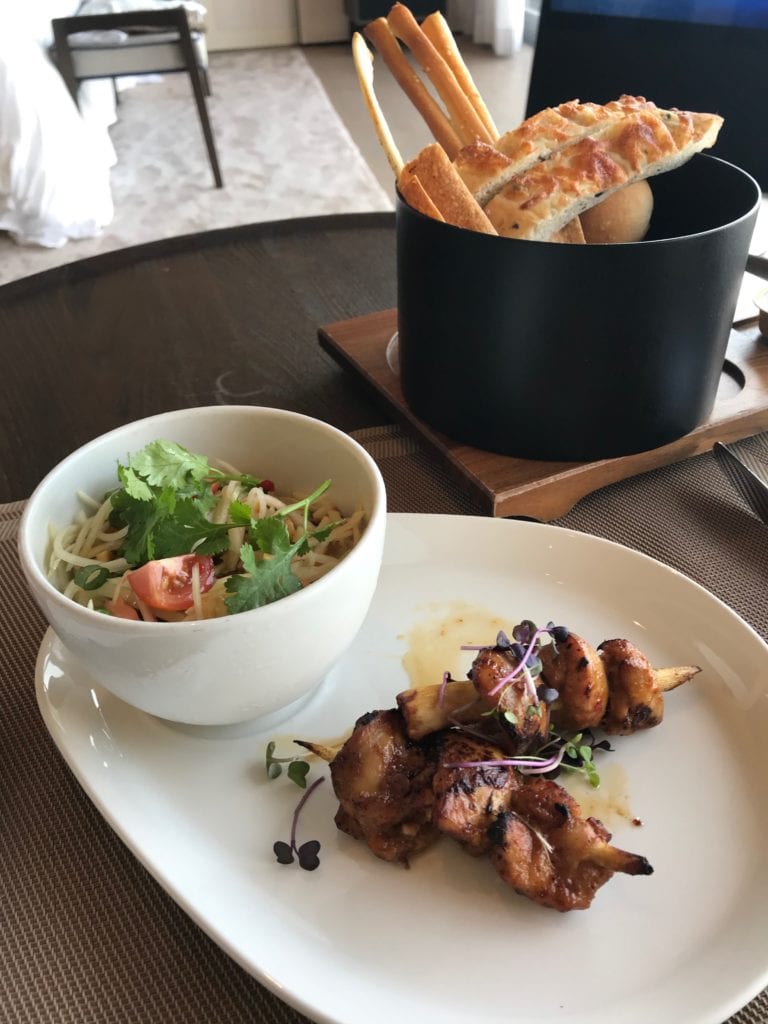 Alba turned out to have an extensive lunch menu, and I was pleasantly surprised to find that they would deliver to our villa. This was especially good news because my bathing suit was still wet and I didn't want to sit on their nice upholstered dining chairs. I ordered a green papaya salad with cashews and chicken kabobs, because I was finally starting to feel like eating something other than seafood. It hit the spot.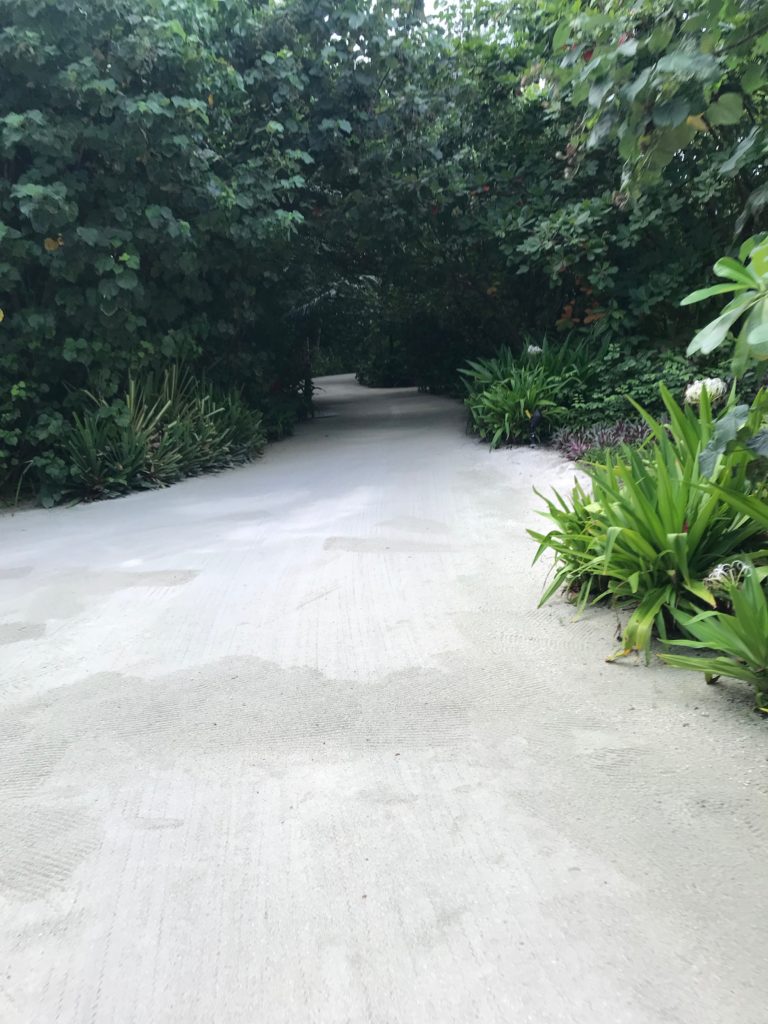 After eating we biked down the perfectly manicured resort paths to get to our next adventure of the day: a dolphin excursion! I had been looking forward to this since the early stages of planning our trip when we first looked at the excursion options. The only time I've ever seen dolphins was when I was about nine and at SeaWorld, so I was excited about the potential of seeing dolphins in their natural habitat.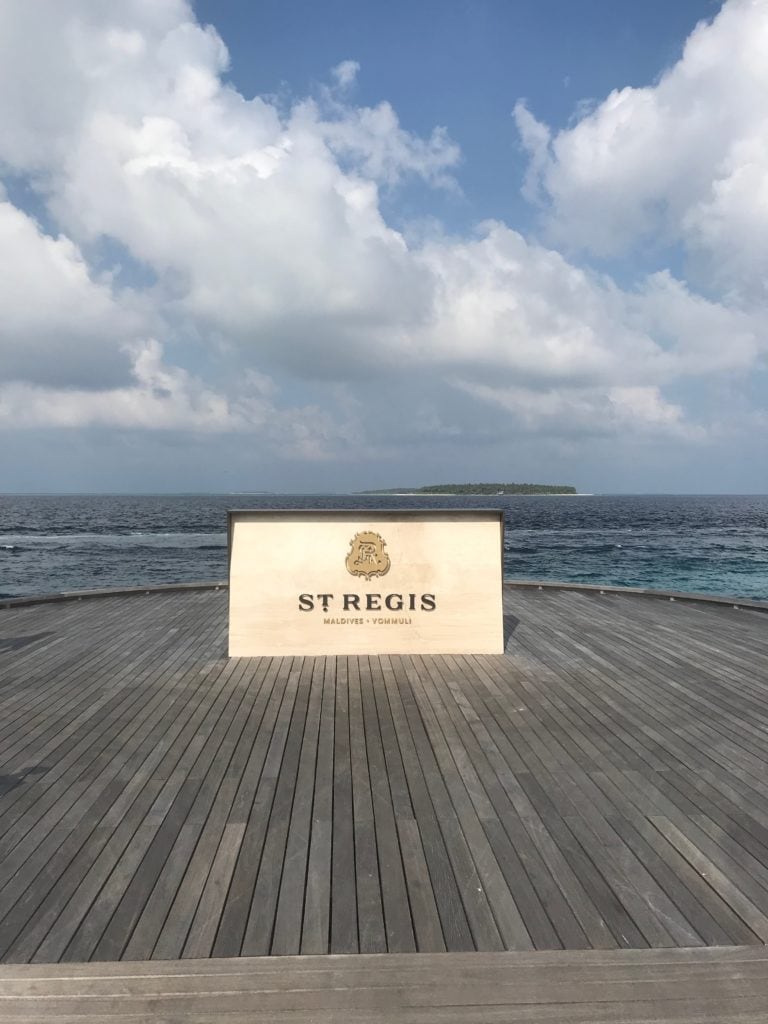 When we mentioned to an employee at the Water and Diving Sports Center that we had a dolphin excursion planned, she told us, "the chances of actually seeing dolphins are 50/50...but usually you do". We were pretty sure one of those statements wasn't accurate, but we liked her optimism and hoped we would be in that fortunate fifty percent majority.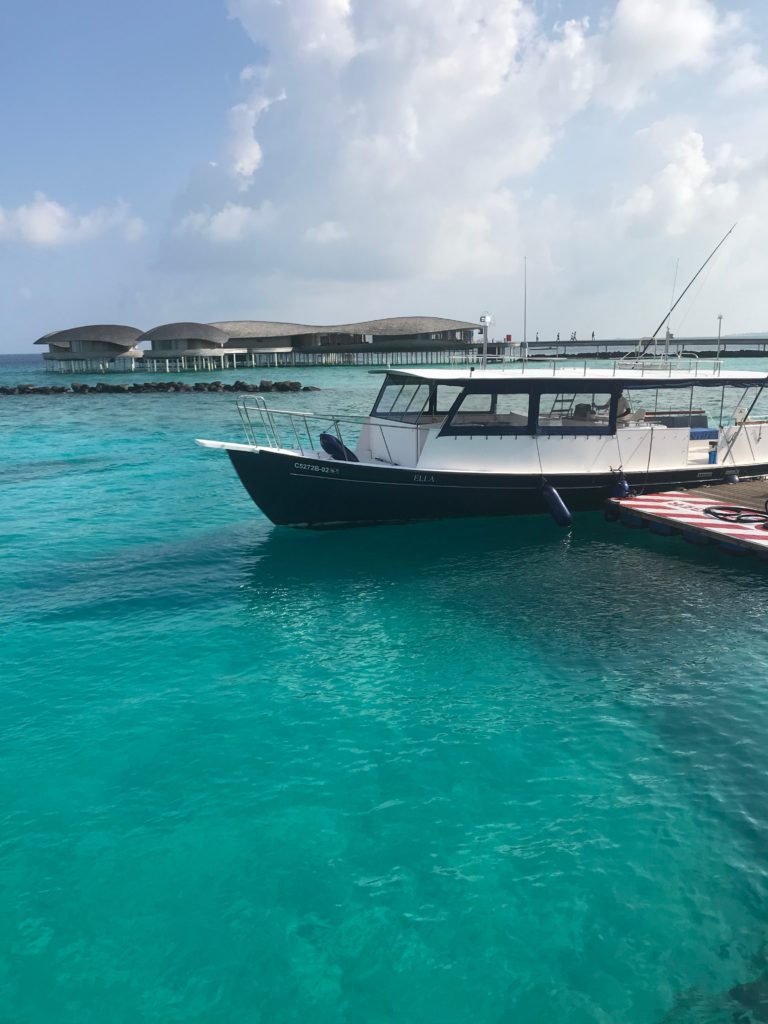 A small group of us boarded the boat to set out for a 1.5 hour boat ride. Matt and I hadn't been out on the water yet (aside from swimming), so we figured this would at least be a great opportunity to see the resort from a distance and to see some of the other islands.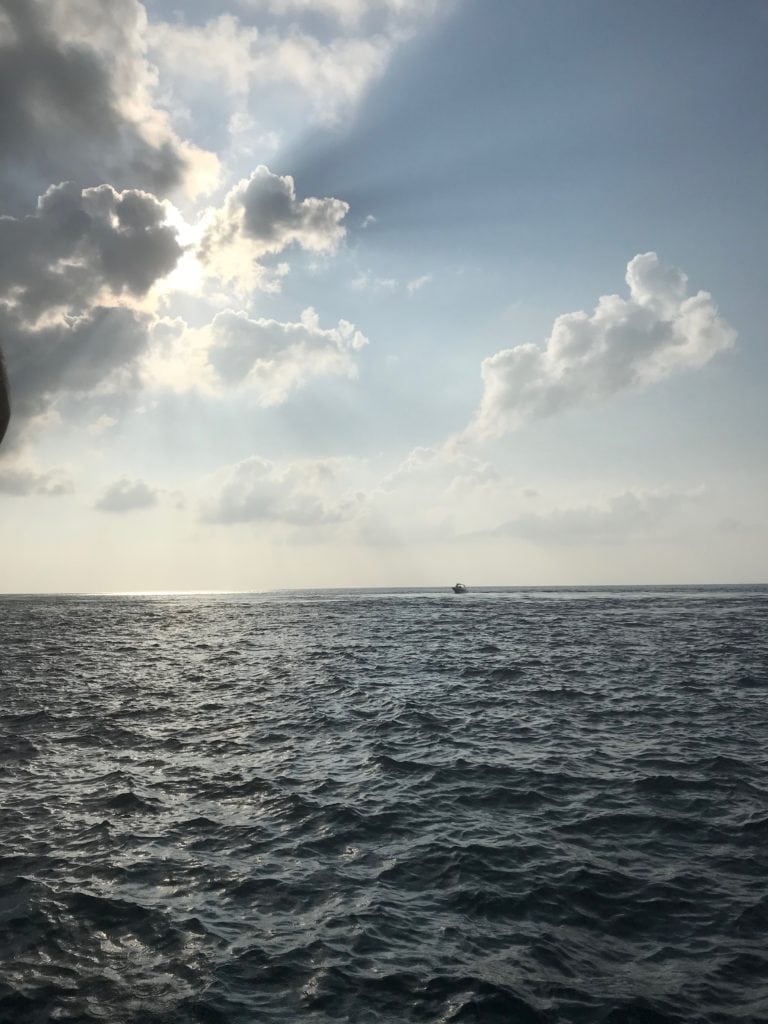 For the first hour, we had a beautiful view of the ocean but no signs of dolphins. The way the sun radiated from the behind the clouds as it started to set was so striking and peaceful - it provided another moment when I was able to just appreciate the moment and feel so grateful for our entire magical trip.
Half way through our boat ride we reached an area where the boat slowed down and circled several times. I figured this was where the dolphins were usually sighted and we all kept our eyes peeled for any signs of them. We saw several jumping fish which are super cool and provided some amusement, but no dolphins. After a little while, the boat turned around and started to head back. On our way back, I commented to Matt that I wasn't surprised that we weren't going to see any dolphins. The trip had gone so perfectly, it would have seemed too good to be true if we also were given that special treat.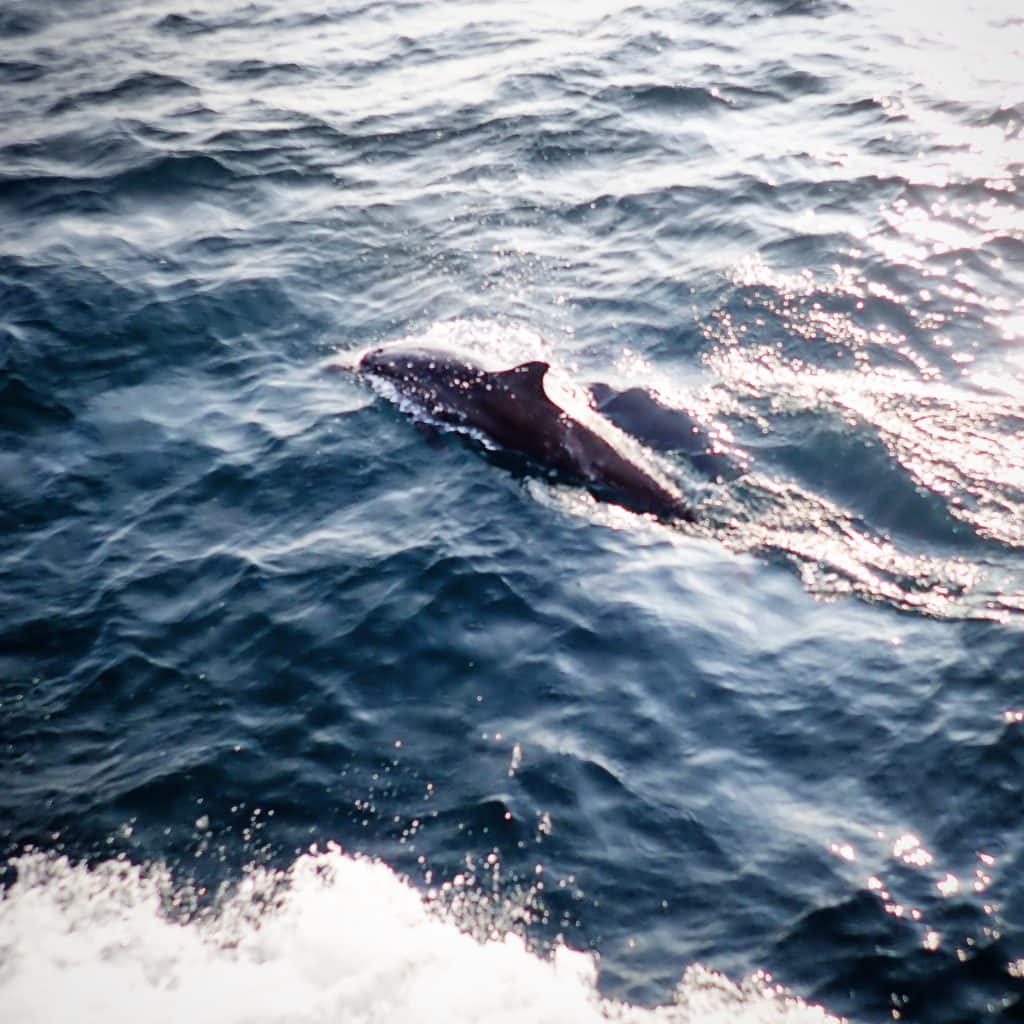 Only a few minutes after saying that, there was commotion at the front of the boat as some of the passengers had their first sighting. We headed out to have a look and were amazed to see an entire pod of dolphins (probably around 12) popping up all around our boat.
The dolphins swam right next to our boat for a remarkably long period of time. They were so much fun to watch - playfully twirling and jumping out of the water. You know what's virtually impossible to take photos of on an iPhone? Jumping dolphins. I now have a lot of photos of a small splashes in the water post-dolphin, but we do have some awesome videos of these incredible creatures. Matt was able to capture a few photos of them out of the water (see above). Being in the Maldives with my husband while watching a pod of dolphins play in the wild was one of the most special moments that I'll remember forever. I don't mean to be sappy, I just want to portray how incredibly lucky I felt for having that experience.
Eventually the dolphins went their separate way. As we headed back, we were able to capture some views of our resort (and the tiny island that it is on!). This was just a preview to the great views we would get the following day while parasailing.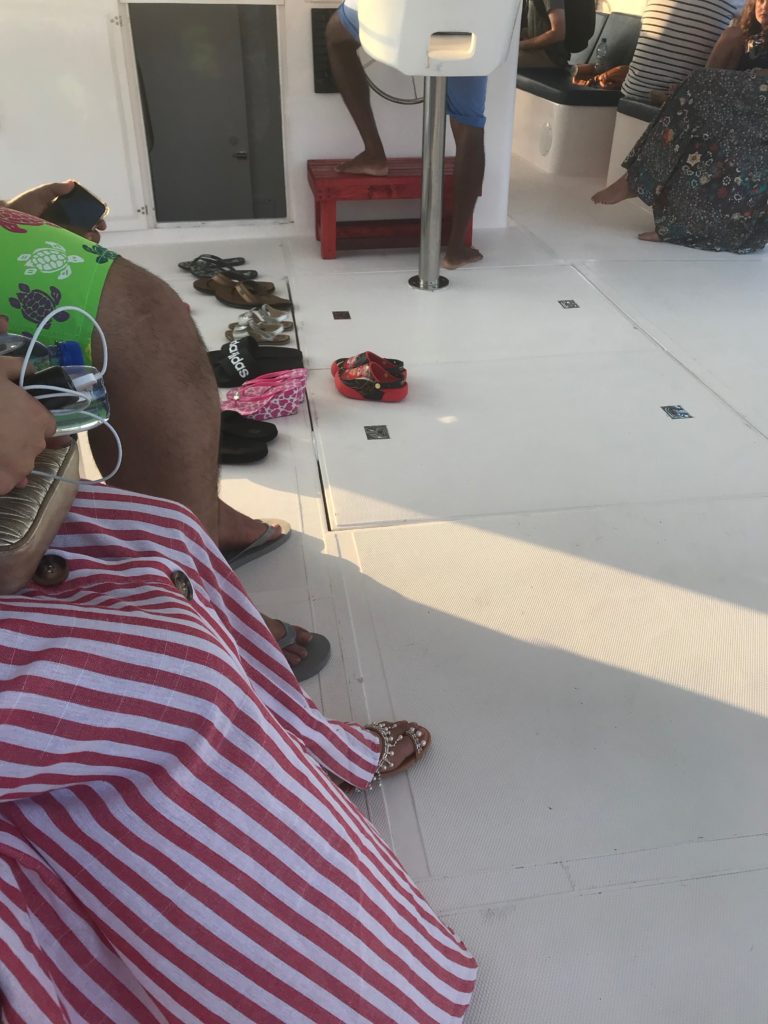 At the end of our boat ride, we were once again reminded of the incredible level of service at the St. Regis. We were brought cool towels, and I was surprised to find all of our shoes perfectly laid out as we prepared to disembark.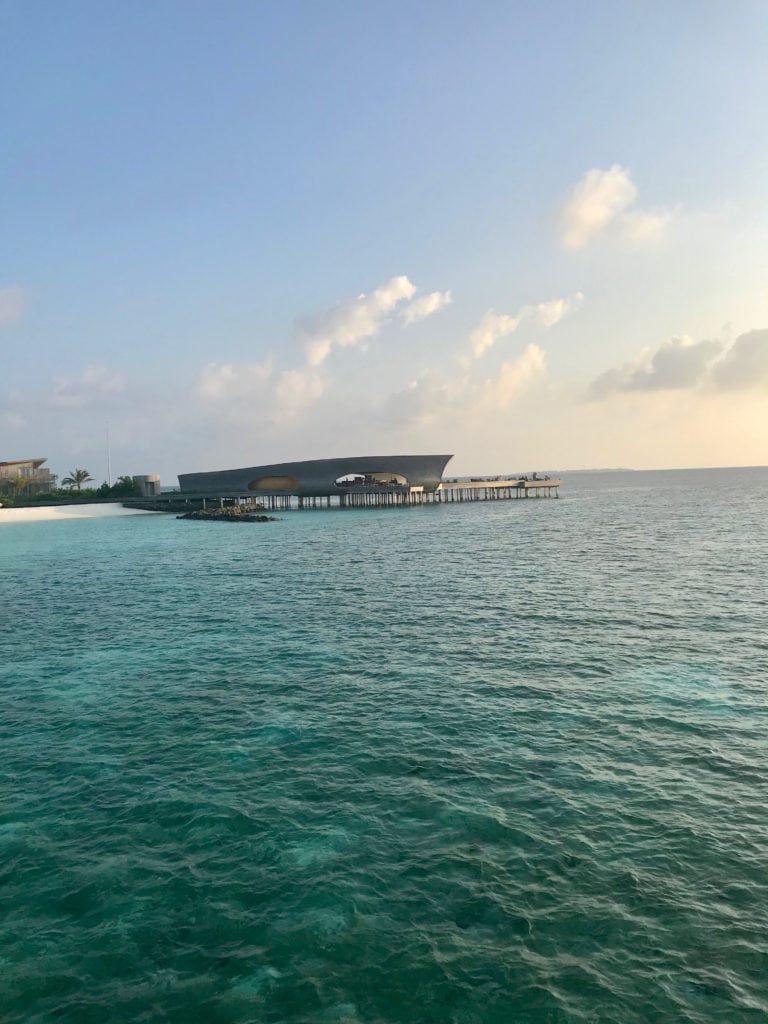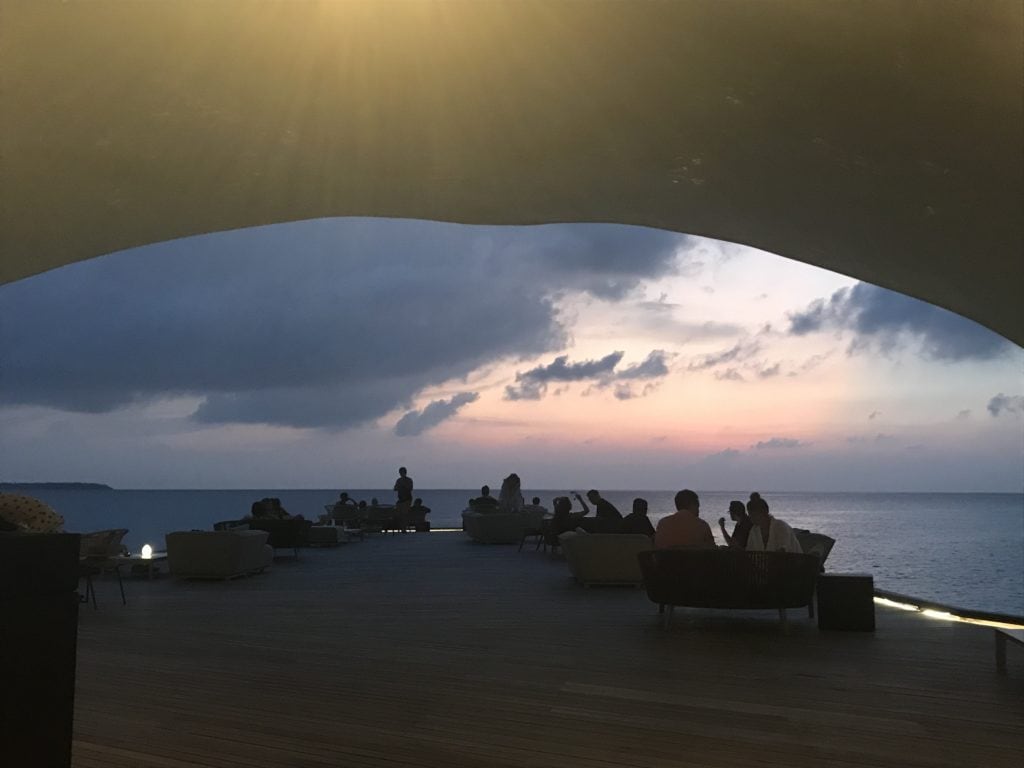 Matt and I loved our time at Whale Bar so much the first time, that we decided to head there for another evening. Kumi was able to arrange a last-minute reservation for us at the restaurant, but we opted to stay out on the overwater lounge area instead. Matt wasn't very hungry, and I was interested in the tapas menu that they served. More than the food, we were craving Whale Bar's perfect ambiance created by the trifecta of incredible views, delicious cocktails, and live music.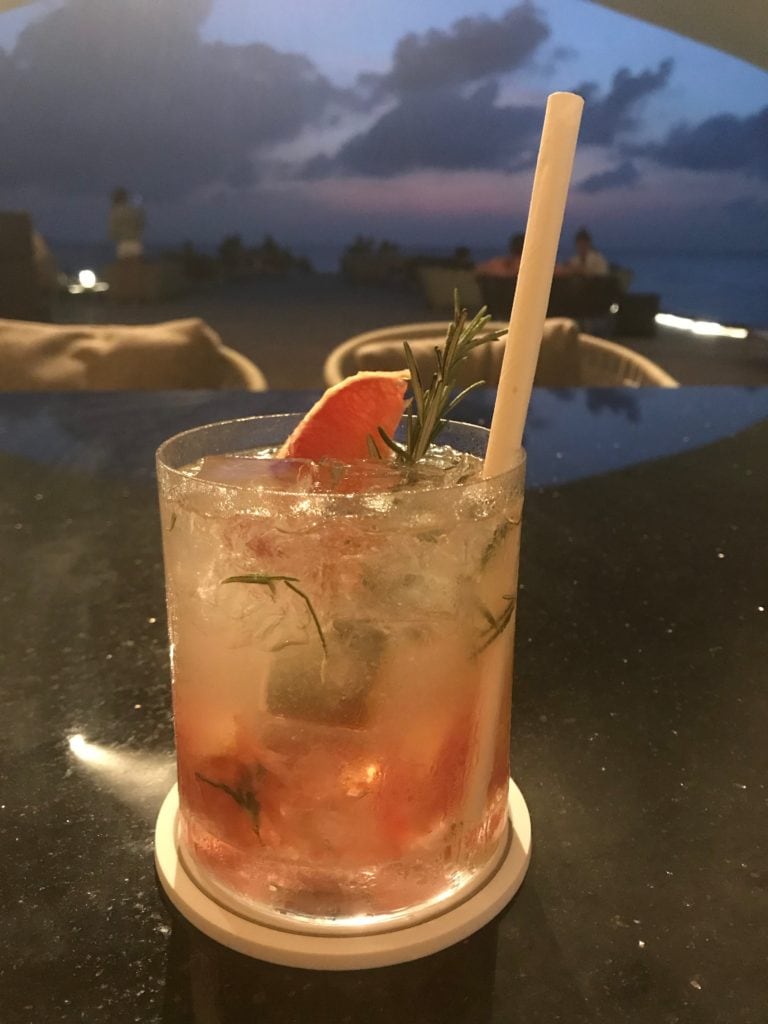 When I started to order the same cocktail I had enjoyed the first evening we dined there, the waiter offered to have the bartender create a cocktail based on my preferences. I LOVE it when bars offer this, so I happily agreed asking for a gin based drink that was herbal and not sweet. They returned with my version of a perfect cocktail composed of gin, rosemary, grapefruit, and lime. Matt has become quite the skilled bartender at home, so recreating this magnificent beverage is his next project.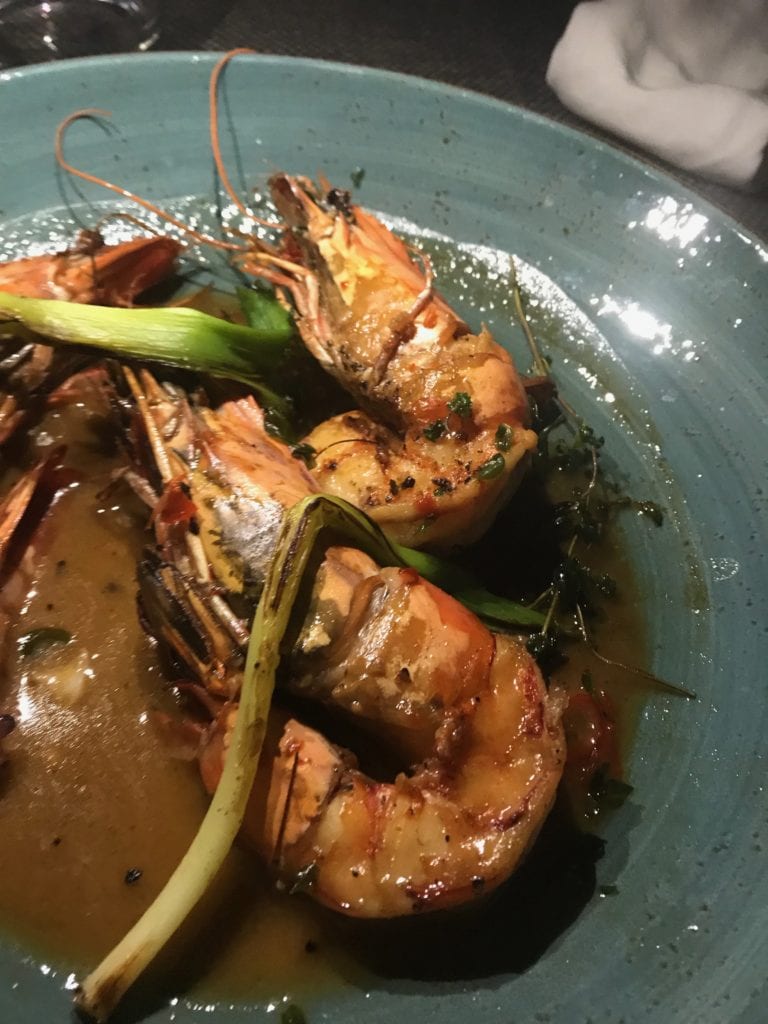 We enjoyed another complementary snack plate while perusing the tapas menu. I ordered a mesclun salad with avocado and balsamic dressing and a king shrimp dish. Both plates were perfectly delicious and satisfying. They were meant to be shared, but in reality I ate the majority of it. This awkward close-up photo of the shrimp is the only photo I have of the food. I'm sure you're grateful I'm sharing it. Only the highest quality food photography for you peeps.
After a day filled with fun adventures we headed back to our villa, applied aloe (keeping it real...we were still going strong with sunburns), and quickly fell asleep.
Stay tuned for Part 3, the final recap of our stay at the St. Regis!

Just a heads up that this post contains an affiliate link. Thanks for your support. <3