Amelia's Amazeballs: Salted Chocolate Coffee No-Bake Energy Balls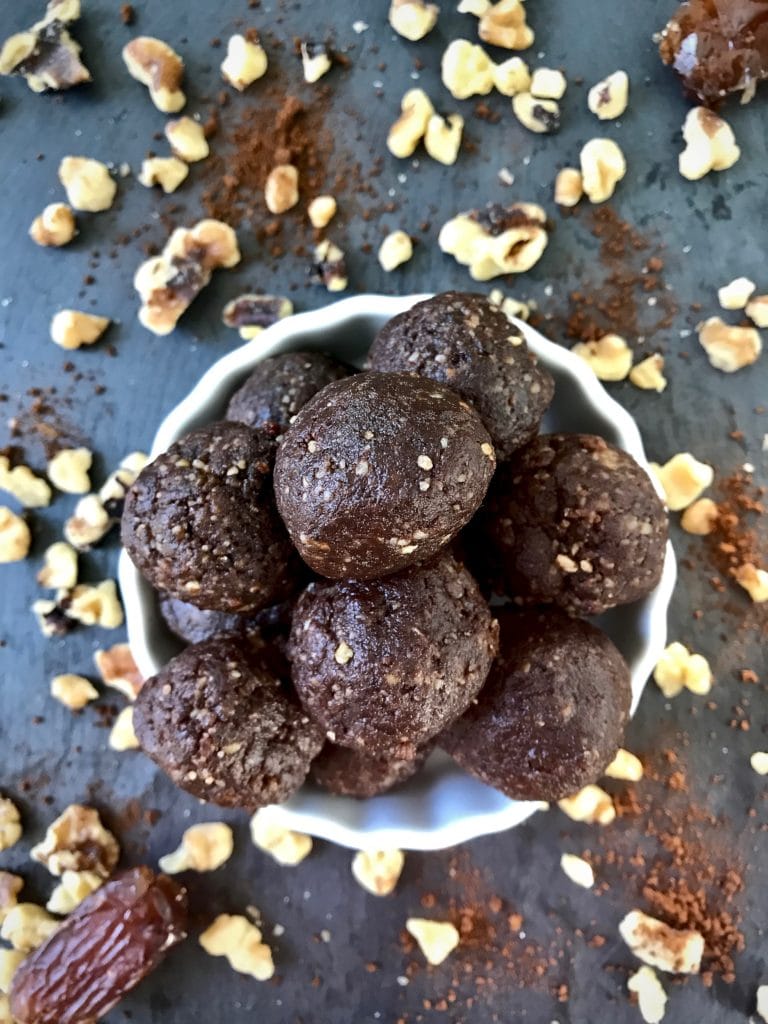 You guys. I hate to play favorites but when chocolate and coffee are added, is it really a level playing field? I made these last week and then popped them in the freezer curious how they would hold up. Yeah...put these puppies in the freezer. They maintain a nice texture and biting into the slightly chilled chocolate tastes a whole lot like a truffle.
Like all Amazeballs, these are crazy easy and quick to make. They don't have any added sugar, but the dates provide plenty of sweetness and combined with the chocolate they taste truly decadent. Pre-workout, during a long run, for breakfast, a snack, or dessert...I'm having a hard time thinking about when these aren't a good idea.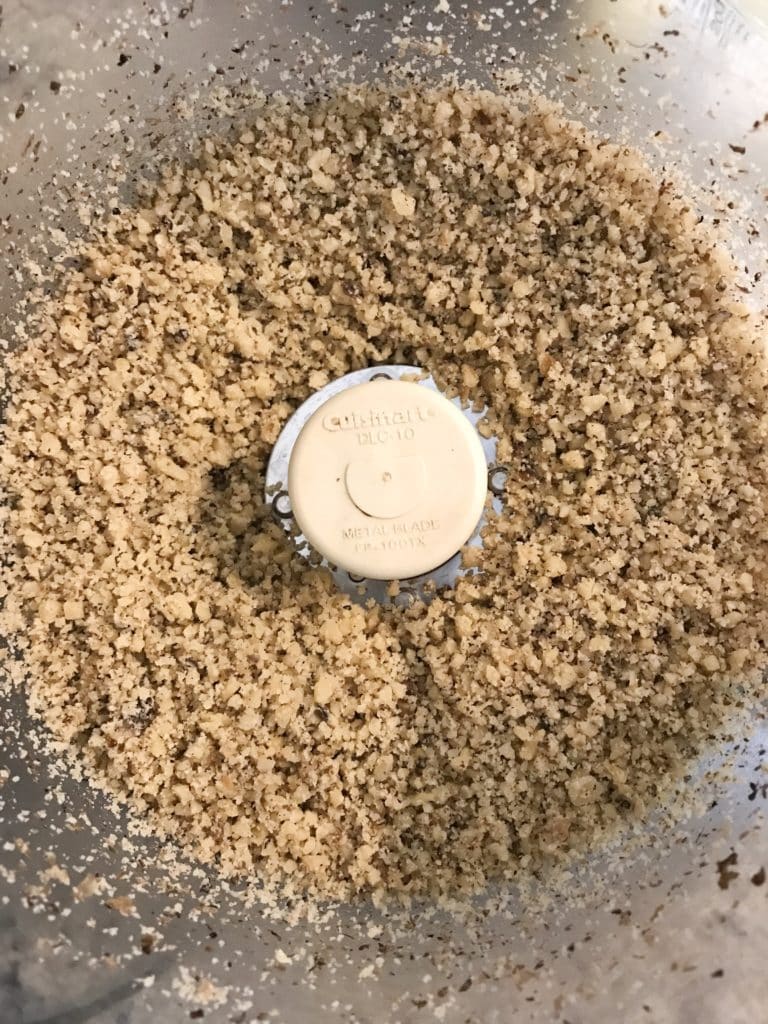 Let's go over a few tips for this recipe. You know what's challenging? Describing the consistency of pulverized nuts. After consulting with my mom and aunt who are amazing cooks, we settled on a "course crumb consistency". Basically, we're going for somewhere in-between whole walnuts and nut butter, but if you're more of a visual person see the photo above.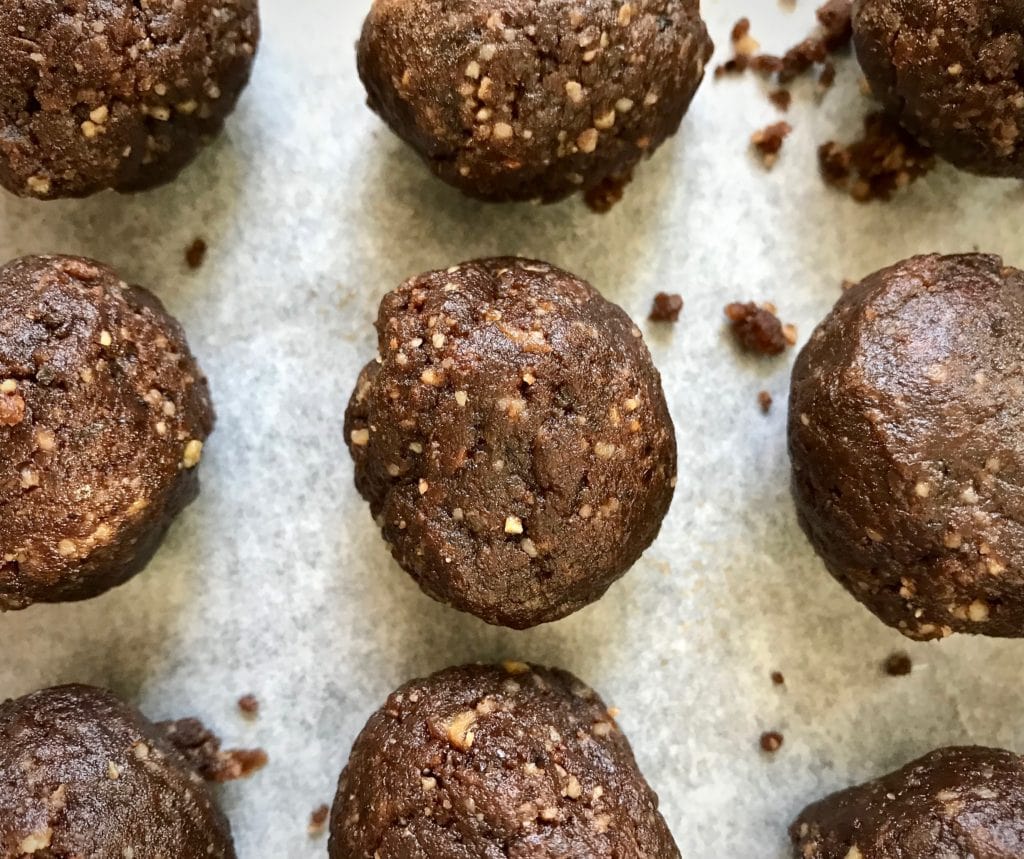 The most time consuming part of making amazeballs is forming the actual balls. In order to avoid getting my hands super sticky and to expedite the process I like to take a tablespoon, scoop a heaping amount of the nutty mixture, and then press it against the side of the food processor to pack the mixture into a semi-circle. Then I use a small spatula or knife (or really whatever utensil is nearby), and use that to pop the semi-formed ball onto parchment paper. Once I have formed all of the balls, I put them in the refrigerator to chill for a few minutes. Chilling the mixture makes the balls less sticky, then I use my hands to roll them into tighter balls. All of these steps are unnecessary, but it does make it a little less messy.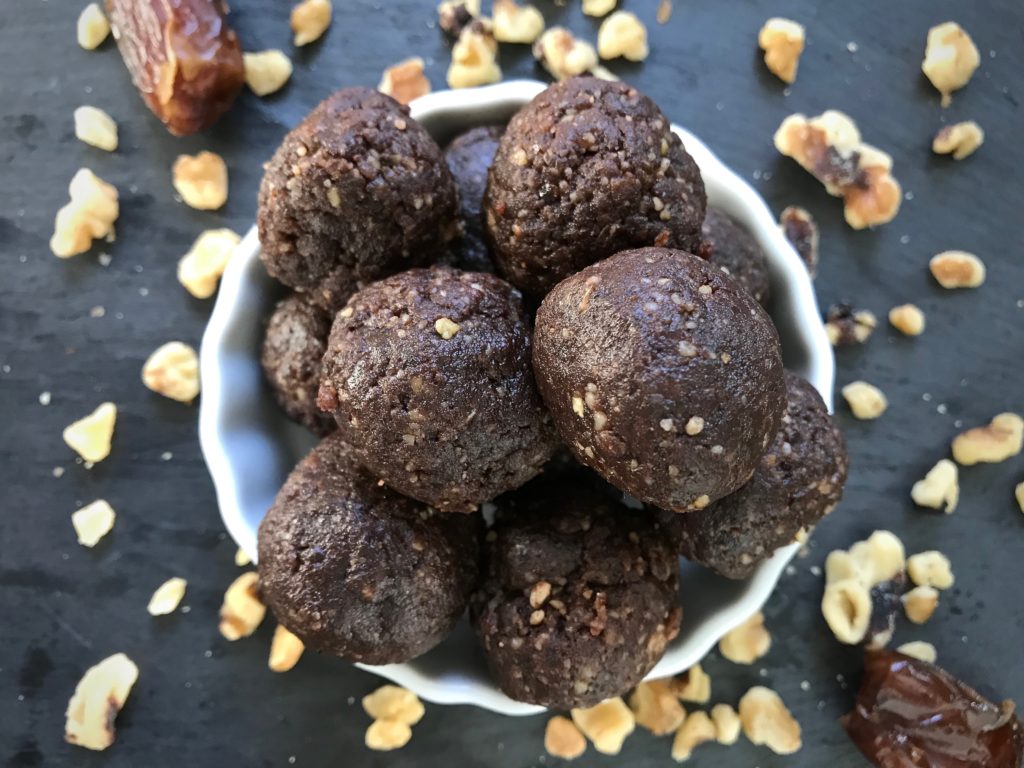 In other news, I now have a million photos of balls on my iPhone. I kind of just want to leave that sentence as its own paragraph and move on, but I guess I'll elaborate. I'm the kind of person who appreciates photos - I love to have them and I love it when other people take them, but I'm terrible about documenting anything and never take photos myself. Well, that's about to change. I have a blog now, and what's a blog without photos? Boring. So this is a completely new adventure in learning how to take pictures. I love that this little space is going to force me to document more, but bare with me as I figure out this food photography thing (actually, photography in general). These photos were brought to you from Matt's office where the natural light happened to be and using a baking sheet for reflecting, because that's what the YouTube video told me to do. Fun, right? In a few days I have gone from never taking photos of my food to having balls for days on my iPhone. I'm rolling with it, and I hope it inspires you to roll up a batch of Amelia's Amazeballs.
Amelia's Amazeballs: No-Bake Salted Chocolate Coffee Energy Balls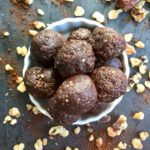 These chocolate and coffee filled energy balls taste decadent but are a healthy treat to power you through your day!
2 cups walnuts
1.5 cups dates
4 Tbsp cocoa
3 Tbsp instant coffee
1 tsp vanilla extract
1/4 to 1/2 tsp Himalayan sea salt, to taste
Add walnuts to food processor and  pulse until a course crumb consistency is formed.

Add dates and pulse until well combined and ingredients start to clump.

Add remaining ingredients and pulse to combine.

Using a tablespoon, form into balls.  Store in refrigerator or freezer. 
If your dates are dry, I recommend putting them in a bowl, covering them with hot water, and letting them soak for about 5 minutes.  Drain the water, and then add the dates as described.
Feel free to sub any nuts you have on hand or to add collagen powder for added protein.
These are a delicious snack straight out of the freezer!